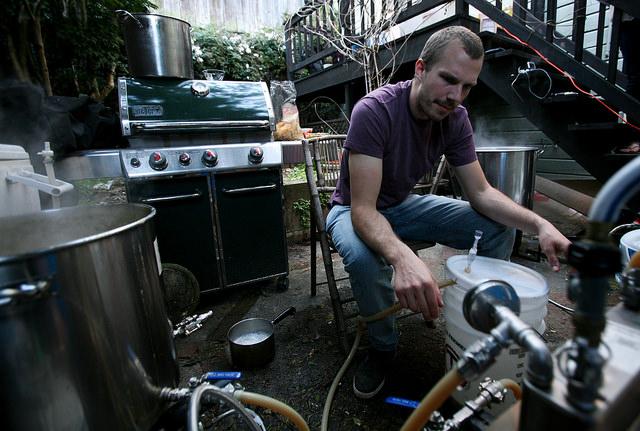 Paul Tiplady, one out of four guys in Method Brewing, keeps an eye on the water pump and plate chiller as they transfer and cool the beer into buckets right before adding the yeast as they were making a few batches of beer in San Francisco Sunday, Feb. 22. Photos by Daniel Porter
By day, they are scientists—immersed in labs, handling cells, and manipulating sterile cultures… But when the weekend rolls around, they are debugging data on the science of brewing.
Ryan Dalton and Kenton Hokanson, graduate students of the University of California San Francisco's neuroscience program, began homebrewing together shortly after becoming roommates.
"Essentially everyone in the life sciences seems to brew their own beer. This is like the only skill you pick up as a biologist, other than doing biology," Dalton says.
Dalton and Hokanson began attending other people's brew sessions and picked up on the process of beer making. Soon after, they met Paul Tiplady, a software engineer, and Robert Schiemann, a software developer, through mutual friends, and bonded immediately.
The Method Brewing team was formed from pure experimentation and have been homebrewing obsessively for the past three years. Their expansive drink list includes hundreds of unorthodox flavors not typically seen in the realm of craft brewing, including: jalapeño, coconut, mole, and yogurt.
"It used to be an afternoon social occasion," remembers Tiplady.
They would get together, brew bubbly concoctions, and make a mess of the house. Shortly thereafter, they began throwing around unconventional ideas for flavor combinations, eventually brewing them all.
"We brew every recipe that we can think of to see what works and we're not really afraid of making a bad beer–just dump it if we don't like it," shares Hokanson.
On Feb.11, their innovative beers made their first appearance at San Francisco's Beer Week. Their event, BrewFlood VII, drew favorable responses from the beer community and local entrepreneurs.
Their beer recipes are created with just about anything you've ever had in your fridge. The idea of creating their signature Jalapeño Imperial India Pale Ale (JIIPA) came about simply; they all liked jalapeño and they all liked beer.
The five-hour process to create a 10-gallon batch begins with a culture of yeast bubbling in a flask on top of a hot plate.
Outdoors, in the shady backyard patio, Hokanson begins to mill the grain, crushing it, just enough to expose riveted sugar pellets. Behind him, fire raises the temperature of 15 gallons of water to 185 degrees. The scalding hot liquid is poured into the accumulation of grains, and as it settles, begins to bubble ferociously. The batch begins to look like a witch's brew as Schiemann stirs it with a large wooden paddle.
The simple name of the JIIPA, sitting in one of the 23 kegs made for SF Beer Week, is enough to send beer expert Jared Funkhouser running for the hills.
"I'm a sucker for spice," he exclaims as he picks up the imperial IPA loaded with fresh jalapeños and house made jalapeño tincture.
First, he takes a whiff. "The first thing I smell is the initial bite of the jalapeño," he says, nervously.
Then, he takes a sip. "It's amazing," Funkhouser blurts out, along with a shocked expression. There is just enough spice, without being daunting. It's nice and smooth with a settle floral note to balance out the flavors, he says.
Two unseeded jalapeños go into each gallon of beer; today's batch has 20 total. Tiplady remembers when they first began using jalapeño in their beer and when he used his fingers, as opposed to a spoon, to un-seed.
"It was a searing pain that lasted for days on the inside of my fingernails," he recalls.
The beer's spice is regulated by creating a tincture made by soaking jalapeño seeds in Everclear, a grain alcohol. This method results in a concentrated neon green liquid that is Scoville tested, a systematic spice measurer.
"We don't try to make a pepper beer that everyone likes, we try to make a pepper beer that some people won't like but the people who like peppers will love and kill for," tells Hokanson.
On a recent Monday, they sit on the roof of 326 1st Street, a rundown building in between the SOMA district's skyscrapers, and the future site of their brewery, Methodology.
The brewery, set to open after a full-blown demolition and remodel, will have a ground level bar, modeled after an industrial laboratory with their beers on tap and a rooftop beer garden that will alternatively serve as a relaxed, warm setting.
Historically, San Francisco has been underserved in terms of bars per capita compared to beer meccas like Portland, according to Tiplady. In 2014, nineteen new breweries opened up in San Francisco, and nine are currently in planning, according to San Francisco Brewers Guild. Tiplady predicts that in the next five years, local brewpubs will grow exponentially, as well as provide the freshest of beers.
"There are a lot of breweries that are doing classic styles, and a lot of people like that kind of beer. But we are trying to push out and do very experimental, very weird stuff and that's kind of a niche but there's no one doing that in San Francisco," says Tiplady.