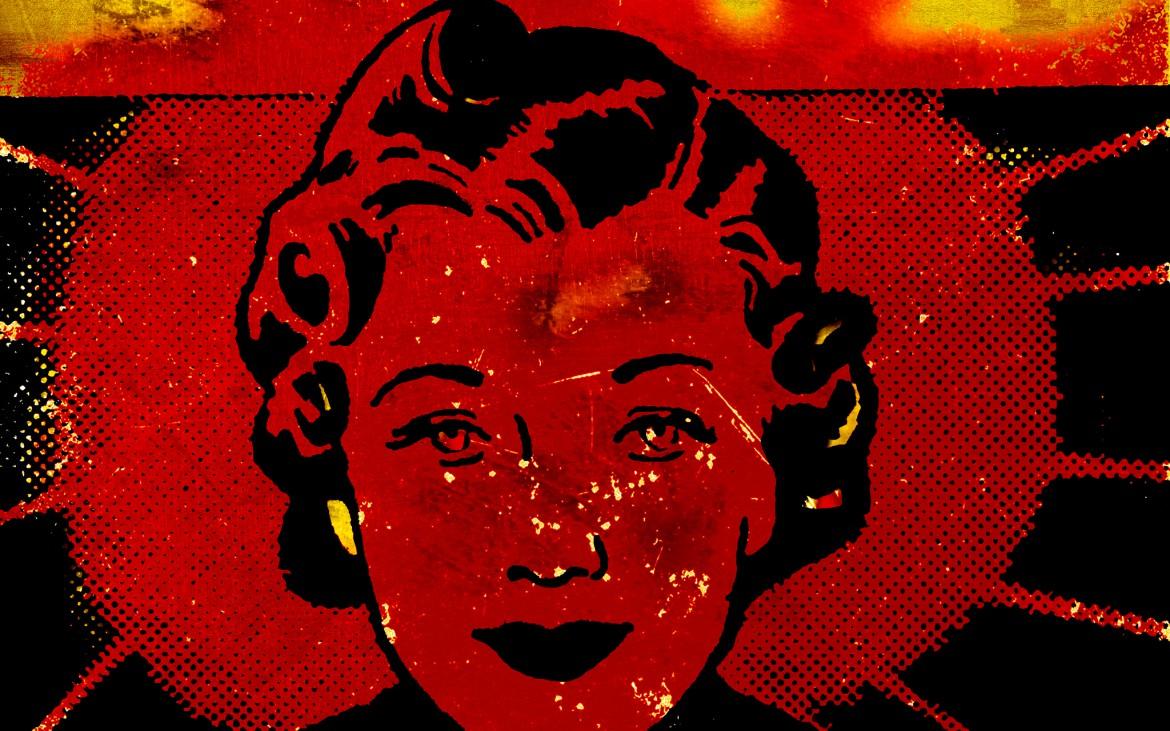 "Calendar Girl" courtesy of AK Rockefeller via Flickr
It is 1968. Women gather at the Atlantic City Boardwalk for the Miss America Pageant, furious and fed up with the stereotypical ideals of beauty for women in society. The women scream, they chant, and, hell, they even throw their fists in the air. Considering that this is a vital moment for history in the making, the women all take off and burn their bras. Why? To object to the constricting elements women have to deal with for the pleasures of men. This was a significant event in the Women's Liberation Movement; but surprisingly, none of it actually happened. Starting a fire on the boardwalk back then was illegal. Instead, the women held signs of first-wave suffragists that read "Our Heroines"; yet, the image of hysterical women screaming over ideas of equality still burns in the minds of many.
It is this scary image that leads women today – despite their affirming to the basic principles of feminism – to distance themselves from the label.
So let's take a step back; what the heck is 'feminism' and why is it so scary?
According to Jonathon Whooley, adjunct lecturer at SF State and University of San Francisco as well as the previous Managing Editor for the International Feminist Journal of Politics, feminism is the creation and inception of multiple waves of activism and advocacy for issues of equality and emancipation between genders.
Multiple waves? Well, you see, women didn't always possess the type of "equality" that they "have" today. Many scholars, like Whooley, have found that feminism has experienced three momentous waves. The first being in the early 1900s when suffragists fought for women's ability to vote, thus bringing women into the public and political sphere. The second wave, which includes the Women's Liberation Movement, was after the end of WWII when women, who helped fill the holes in the job market when most men were overseas, were told to go back to their domestic roles. This was deeply unsettling to those who realized their potential impact on society. The third wave of feminism, the current wave, reaches to expand freedoms and acceptance to all classes, races, and sexual orientations in post-modern society, and for that society to be acknowledging of all.
From the beginning, the idea of feminism sprouted with the suffragists, moving through the era of ambitious, undomesticated women in the '50s and '60s, until today where society has seen brave individuals, men and women, fighting for the feminist cause: to promote equality.
If Bell Hooks was right when she wrote "Feminism is for Everybody," then why aren't more people eager to take on the title of "Feminist"?
"I don't think I would ever use that as a part of my identity, even though I agree with all of it. I wouldn't be like, 'Hi I'm Sam I'm a feminist,'" says Samantha Silvestri, an English major at SF State.
"I don't really think I am a feminist, but I definitely support feminism," says Alex Goodwin, a Fine Arts Education major at SF State.
These students have more in common with some celebrities than one may think, because celebrities like Lady Gaga, Carrie Underwood, Demi Moore, and Kelly Clarkson all have said that they do not consider themselves feminists either.
Katy Perry, an advocate for the empowerment of women, told Billboard, "I am not a feminist, but I do believe in the strength of women."
Wait a second… Doesn't being a feminist include supporting and empowering women, as well as all sexes? So if there is nothing wrong with the definition, there must be something wrong with the label itself.
"I think that women who claim to be feminists are looked at differently. People won't look at her weirdly, but they will look at her differently because some people associate feminism with crazy women and that's just not true," says Sarah Steinmetz, an International Relations major at SF State.
"When I think of the word feminism I usually think of the stigma behind it, therefore I wouldn't necessarily call myself a feminist," says Bryan Gonzales, an SF State Physics Department graduate.
So there it is; the stigma. The stigma is what people are apprehensive about. The mythological, yet disgraceful, image of crazed women without bras yelling at men in the streets still manages to leave its false imprint on the word "feminism."
SF State's Women's Center recently held the 4th Annual Empowered Women Empower Women Conference, where Maria Elena Vargas, a Women and Gender Studies lecturer at SF State and doctoral candidate at the University of Maryland-College Park, was a panelist.
"What leads to the stigma is not understanding the history of feminism. It is supposed to be inclusive, and for me it means to fight for everybody's equality," says Vargas on the topic of feminism.
Education is the key to beating the stigma behind feminism, and increasing the label's appeal. To truly understand the complex issues of feminism, one must first understand the message. When the message is clear, then so is the context. When one can apply the context to their lives, that's when one can adopt the label. In this case, the message is equality for all, the context is equality for all, and the label is… well, you know, "feminist."
If the label still doesn't suit you, no problem; Vladimir Putin, Bill O'Reilly, and Rush Limbaugh probably wouldn't consider themselves feminists either.
"As a movement that tries to include everybody's voices and give everybody basic human rights, I don't see what's controversial or negative about that," says Vargas.
Are you a feminist?