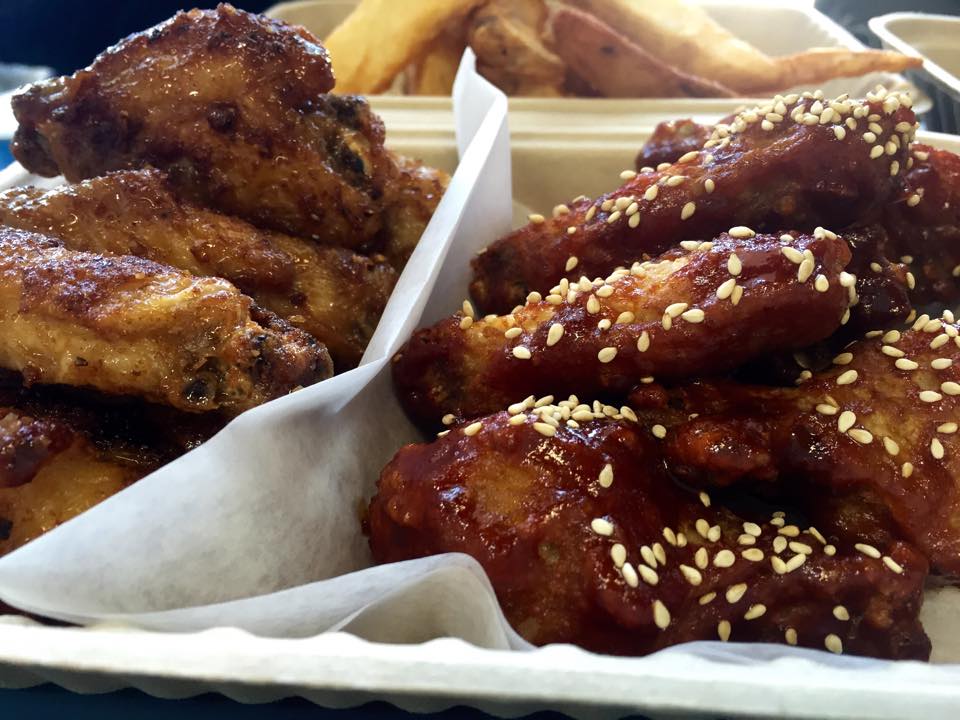 A look at Hot Sauce and Panko's panko parmesan and Korean fried chicken wings. All photos by Catherine Uy
I was overridden with guilt when I devoured four chicken wings in less than three minutes, but let's be real: good food overrides potential calories.
At Hot Sauce and Panko, Terrence Luk serves up a variety of unique chicken wings, from ramen crusted to siracha caramel.
Located in the Richmond District, Hot Sauce and Panko is really a hole in the wall. The small outpost on Clement Street is quite charming and its funky decor definitely keeps you entertained while waiting for your food. One wall is lined with shelves with rows and rows of hot sauce, from ghost pepper to habanero. There are Star Wars figurines,  a small Spider Man bust, kitschy signs and a wall adorned with a small urinal. The Christopher Walken "We accept Walkens" sign just adds to the restaurant's quirky humor.
I went to the hot wing joint during lunch with a group of friends. We got the following wings: Chris's, Korean and Panko Parmesan. We also got a side of fries.
The wings are surprisingly cheap. For $6 you'll get wings that are significantly bigger than Buffalo Wild Wings or Wingstop.
The Chris wings were the most basic as compared to the bolder flavored wings we tried, but nonetheless delicious. It contained a nice balance of sweet and salty flavors. It's well seasoned with honey, salt and black pepper. The wings were  sticky due to the honey glaze, but it still had a nice crunchy texture.
The Panko Parmesan wings were fried to perfection, crisp on the outside and both tender and juicy on the inside. My only issue was that some wings had a little too much parmesan. But tossed in their Siracha ranch sauce, it tasted even better. The Siracha added a nice kick, making the wings slightly spicy while the ranch created a mixture of salty and tangy flavors.
Unlike the Panko Parmesan, the Korean wings required no dipping sauce These wings were dressed with sesame seeds and gochujang, a Korean chili paste. The sesame seeds gave it a nice crunch. At first bite, these wings were sweet and sour, but once the spice kicked in it left me feeling like I got slapped in the face.
The fries weren't anything special, but they made for a good side dish.
The only downside is the restaurant's space.  It's small and gets crowded easily; seating is limited. There are two small tables inside that could seat five people and two standing tables outside. Ordering takeout might be your best bet during lunch hours.
The verdict: The wings at Hot Sauce and Panko are made the way wings are supposed to be: crispy, juicy and full of bold flavors.
★★★★ out of 5
Hot Sauce and Panko, 1545 Clement St