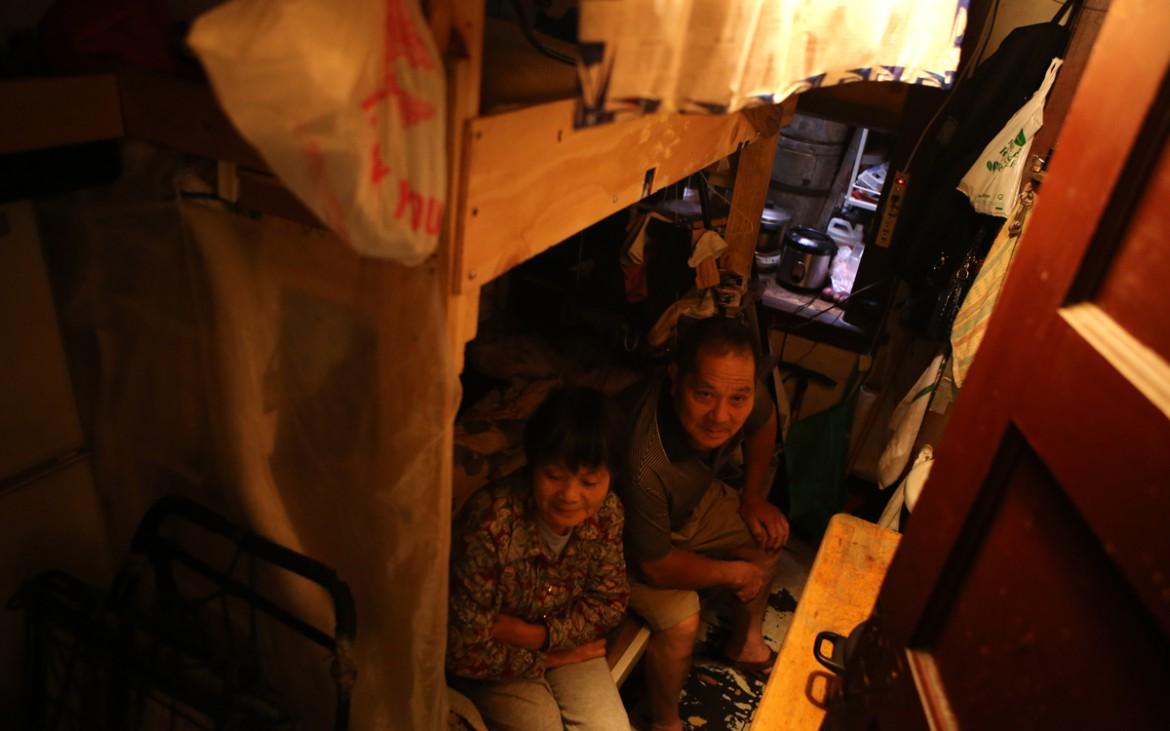 Mrs. Yu (left) and Mr. Yu (right), who both refused to provide first names because of privacy concerns, sit on a twin-sized mattress inside of their Chinatown SRO. San Francisco's Chinatown has experienced a 60% increase in average rent costs from 2013 to now according to Norman Fong, Executive Director of Chinatown Community Development Center. Photo by Joel Angel Juárez
By Ashley Goldsmith
Culture For Sale: San Francisco's Chinatown, one of the last neighborhoods to be touched by gentrification, is at risk of losing the identity it has so strongly protected.
[dropcap size="50px"]A[/dropcap] three-story building on Stockton Street with a weather-damaged and crumbling brick facade sat above a dim sum shop, nestled between a travel agency and a Chinese-language high school. A short trek up a precarious staircase littered with board games, plastic buckets and cleaning tools led to a small 8-by-10 room with one bunk bed. The scent of rotten food from a communal kitchen filled the air. It was so cramped there was only enough space for Ms. Kuang and a translator to stand shoulder-to-shoulder. When Kuang attempted to move around, white plastic bags that read "THANK YOU" in red letters – filled with a variety of Asian condiments – fell to the floor. She explained in Cantonese that three of her oldest sons lived here, while she stayed in the next room over with her husband and youngest son.
Kuang told the translator that her family has been living in this single-room-occupancy hotel since 1999, which has allowed them to pay a below-market rate for two units at $500 each. This is the only place they have lived in San Francisco because their limited English skills have prevented them from finding better jobs with higher wages. Kuang cares for seniors in the community while her husband works in construction or as a handyman, but she said that his work is not steady. She explained that other rooms in the building rent for $700 to $900 each. After noticing an increase of evictions, Kuang is extremely cautious about upsetting her landlord for fear of losing the deal she has now and was unwilling to give her first name.
Single room occupancy hotels, also known as SROs, are multiple-tenant buildings with rooms that house one or more residents. According to Kitty Fong, project coordinator at the SRO Families United Collaborative, there are more than 100 SRO buildings that house over 450 families in Chinatown. Typically these rooms are cramped living spaces and can be as small as 7-by-10 feet. Tenants are living in close quarters as though they are in a dormitory, sharing bathrooms and a kitchen with other residents on each floor. For low-income and immigrant families, these spaces are the only way to assimilate into the community.
"They're the only option for new immigrants," Fong said. "Without these buildings, they couldn't even come to San Francisco anymore. Without family support and a community that they are familiar with, it would be even more difficult for these families to create a better life for themselves here."
Recently, community organizers have brought attention to the neighborhood because some landlords are renting vacant units to individual occupants, some of whom are high-salaried newcomers, rather than families.
"As much as those who make a six-figure salary deserve to choose where they want to stay, these families and these workers also deserve to choose where they want to live," said Joyce Lam, senior community organizer at the Chinese Progressive Association, a social justice organization seeking to improve tenant and worker rights. "The city has a moral responsibility to ensure that these SRO families get to stay here if they choose to."
Since its inception in 1948, San Francisco's Chinatown has become the largest of its kind in the United States. The neighborhood and its affordable SRO units have been a landing place for immigrant families who need time to assimilate into American life. Because of this, SRO buildings are one of the main reasons why Chinatown has been preserved and untouched by gentrification for so long.
Community activist Wilma Pang said the "blessing of our ancestor's commitment to the community" is what has helped to save the neighborhood from losing its identity. She explained that older generations of immigrant families bought buildings and were committed to maintaining the community by renting to other Chinese families at reasonable rates; allowing the Chinese to preserve their culture in that corner of the city.
Between November 2014 and January 2015 the SRO Families United Collaborative conducted a census of SRO families. The collaborative is made up of five community-based organizations, including the Chinatown Community Development Center and the Chinese Progressive Association, which works closely with families living in Chinatown SROs. These organizations had not studied the community in this way since 2001 and the results that were released in October showed significant changes in the population. Over the past 15 years, the number of families living in residential hotels in San Francisco has increased by 55 percent, reaching a total of over 450 families in Chinatown alone. During the nine months since the study was completed, the average rental price for an SRO in the neighborhood increased from $700 to $900 per month.
At the census release event, organizers who worked on the study agreed that one of the most surprising statistics they found was that nearly 90 percent of SRO residents who were considered to be the "head of household" were employed.  Their ideas of SRO residents living in these conditions because they weren't working was incorrect. Instead, many were working full-time, mostly in restaurants or in construction, yet over 80 percent cited insufficient income as the main reason for not moving out.
A survey of Chinatown restaurant workers released in 2010 by the Chinese Progressive Association showed that half of the workers received less than minimum wage.
FIGHTING FOR THE NEIGHBORHOOD
The effort to protect Chinatown SROs is not a new phenomenon. The International Hotel, an SRO on Kearny Street, was demolished in 1981 in an effort to expand the Financial District into the Chinatown area. Although they lost the fight for the hotel, many residents came together to "safeguard the affordability of the community for seniors and to help maintain Chinatown as a gateway for immigrant families by forming community rights groups and fighting for stricter zoning laws," according to Malcolm Yeung. Yeung is the deputy director of the Chinatown Community Development Center, a non-profit organization that has been fighting for affordable housing and tenants rights in Chinatown since 1977.
Last spring, the development center helped organize a protest for residents of a 32-unit SRO building at 2 Emery Lane after many had received eviction notices. Their new landlords, Emery Vallejo LLC, cited practices like hanging laundry in windows or Chinese New Year decorations on doors as a violation of lease agreements. The company eventually backed off and rescinded their notices, though a deal between the landlords and tenants was never reached in writing.
"The Emery Lane evictions were an interesting case because no deal was ever signed," said Norman Fong, executive director of the development center. "Enough people organized and protested against this blatant attack against low-income families, so it was clear that the company's motives were purely financial."
According to annual reports by the San Francisco Rent Board, "breach of rental agreement" is the leading cause of evictions in the city. The rationale behind breaching a rental agreement is fairly arbitrary because landlords set the standard for what qualifies as a violation of the lease. This leaves renters in a vulnerable spot. With evictions being served more frequently, many community leaders are afraid that an increase in residents who are not Chinese could do more than just change the demographics of the neighborhood. Though landlords are just beginning to turn these buildings into what Norman Fong refers to as "tech dorms," the neighborhood appears to be one of the last in San Francisco to experience gentrification.
Lam added that while the movement of those who are not Chinese into the neighborhood is an issue for many residents, the media has intensified the struggles between the two groups.
"In the context of this conversation it's important to understand that this is not about saying that these young tech workers don't have a place in the city," Lam said. "This fight is not saying 'you have no place in Chinatown,' but what it does say is 'let's figure out how you can stay in Chinatown without displacing Chinese immigrants and families' and I truly believe that is possible."
The neighborhood offers supportive services for monolingual, Chinese-speaking residents like doctors, legal advice and housing education. A thriving Chinatown allows for new immigrants who are seeking the American dream to have a more comfortable introduction to the United States. Despite the current gentrification and housing crisis in the neighborhood, many immigrants from China have not been deterred.
LAND OF 'OPPORTUNITY'
While conducting the census, Raúl Fernández-Berriozábal, senior coordinator of the SRO Families United Collaborative, remembered speaking to many families who were shocked by the conditions they were destined to live in upon arrival. As an immigrant himself, Fernández-Berriozábal shared the sentiment of these families when he recalled his decision to move to the U.S. from Mexico.
"Something that I kept hearing during interviews with families from China was that so many people see America as the place for opportunity," Fernández-Berriozábal said. "They told us 'you know I had a career and a house in China. I would never expect to live in a place like this SRO if I were back home.'"
Since the SRO Families United Collaborative began, the group has only seen 40 families make the transition from an SRO into an affordable housing unit over the course of 15 years. This is not just in Chinatown, but in all of San Francisco. Nearly half of these families moved this year because the development center advocated for a specific amount of apartments in a new building on Broadway and Sansome Streets to be subsidized as affordable housing units. Over half of the census participants claimed that they have been on a housing waiting list for more than three years.
"How San Francisco deals with this housing crisis and maintenance of affordable and public housing, will likely impact how other cities manage their affordable housing," Norman Fong said. "People are watching. Flavor and diversity is the heart and soul of San Francisco. We must preserve this so that this city does not belong only to rich people."