But Where Are The Women? — Representation of Queer and Trans Women in the Bay Area
Sitting on the back patio of Toad Hall, a gay bar in the Castro District, Jillian Salazar ignores the crowd of men who glance with raised eyebrows at the only two women in the bar. She explains that the Castro has always been a place that catered to queer men, not queer women.
"I chose this spot because whenever my gay, guy friends want to go out, a lot of times in the Castro, I'm like 'All right, well I'm going to carve out a space for myself then.'" Salazar, a queer woman who has lived in San Francisco since 2012, says. "There really isn't a space for queer women in the city anymore."
The Lexington Club, one of San Francisco's last lesbian bars, closed its doors in 2015. Another bar in the city, Wild Side West, prides itself on being a lesbian bar, however this is not exclusively the case. This lack of space for queer women in the city evidently leaves the community with very little to call their own.
A plaque, which many former bar patrons helped fund, was cemented into the ground outside of where the former Lexington Club stand, and commemorates the last true lesbian bar in the city. The plaque reads, "Here marks the site of the Lexington Club, 'your friendly, neighborhood dyke bar' where 'every night is ladies night', which cultivated a close-knit community among San Francisco's LGBTQ community over the course of two decades and touched many in this city and beyond."
And while the plaque does justice by attempting to make sure that the bar is not forgotten with the passing of time, it also seems to represent the state of the queer women's community in San Francisco — a marker declaring where the last bit of community space for queer women was lost.
"My friend once said to me, 'My friends are in town and they're looking for the hot, lesbian scene in San Francisco', and I was like, 'Oh no, that doesn't exist, so sorry about that,'" Salazar says.
One will no longer find an exclusively lesbian bar in the city, however there are events that take place nearly every weekend, including one called Guerrilla Dyke Bar, where once a month, queer and trans women take over a random bar in the city and turn it into their own.
Another queer and trans women event is UHAUL SF, where women dance and party to music played by, usually, queer-women DJs. This was the scene downtown at club F8, as women danced with each other to the thumping music while a haze of fog blanketed the crowd. Dancers in black-spiked bras took the stage with the hip-hop DJ, while the words UHAUL, Lesbian Ln., and the Venus symbol were projected onto a screen behind them.
Among this crowd is Jolene Linsangan, who created several queer women parties, including UHAUL SF and the Cotton Pony Party. She is also the creator of the queer women dating app, HER. Sshe explains that these events provide a safe haven for the queer women's community, as well as a place for women to be themselves when there aren't many other options.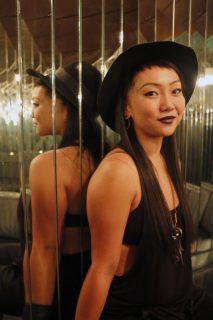 Yet for some, holding just events and parties for queer women is not enough. Cassidy Crofton, a queer woman who has lived in San Francisco since 2011, feels that there needs to be more than spaces for partying.
"I don't go out as much anymore because … I don't like going out and drinking and partying every time I want be around queers. And that's pretty much the main option you have, either that or your occasional queer open mic," Crofton says.
Crofton also expresses that for queer women of color, the representation is even more lacking within the Bay Area, and talks about how painfully whitewashed some of these events can be.
"As queer, white women, we really need to do a better job of impacting our whiteness at the organizational level and stepping down even and letting folks of color take over," Crofton says. "The fact that queer women of color feel so marginalized in our community is a product of our own racism that we oftentimes overlook and pretend that we don't have."
Juliana Delgado Lopera, a queer woman living in San Francisco, speaks strongly on this point of representation queer women of color. Delgado Lopera immigrated to the United States from Colombia when she was fifteen. Having been interested in the experiences of LGBTQ, Latina immigrants, Delgado Lopera wrote a book documenting the stories she heard from the many Latina immigrants she met in San Francisco. She recalls meeting many of these women through a friend of hers, Adela Vázquez, who she refers to as her "queer mom." Delgado Lopera recalls going to her queer mom's house almost everyday, where she would listen to the captivating stories told by the older women around her, who had all grown up queer and had come from another country.
"Queer women of color are not represented within San Francisco at all," Delgado Lopera says. "They're largely marginalized when it comes to these events."
For Delgado Lopera, it is not enough to just host parties for queer women to have a space.
"You're not just gonna go walk around the city and find a place where queer women will be — doesn't happen anymore, unless you go to the parties," Delgado Lopera says. "That's all we have for the queer-women community … We have all these parties but we don't have any community space and that's huge, and really horrible."
Salazar echoes that the marginalization of queer people of color is an effect of the fetishization of whiteness in our culture, as well as the normative beauty standards that women of color often do not fit into.
"For spaces that are dominated by masculine individuals — like the Castro — there should be a conscious effort to let queer women of color and queer people of color in general know that they are welcome," Salazar says. "This could mean having a night or two a week that explicitly say that queer women of color and queer people of color are welcome."
Crofton explains that in order for the queer women to be better represented, the first thing that would need to happen is to have men step down from making decisions that affect the community.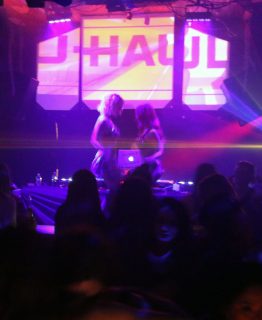 "We need to have men step down, cis or trans, and I think we need to uplift queer women of color in these leadership and organizational positions and not just on the organizational level, but on the social and personal level as well," Crofton says. "We need to decenter whiteness from the queer spaces. And de-corporatize our queerness; not everything is so corporate these days."
Salazar also speaks to this, and says that San Francisco feels like it is dominated by white gay cisgender men.
"I think that there is unchecked sexism that circulates in queer spaces," Salazar says. "You can feel this when gay men purposely run into you when they walk by you or wait to serve you last at the bar. My hope is that all spaces in San Francisco, especially queer spaces, would actively check their sexism, racism, femme-phobia, and trans-phobia, and make a conscious effort to be welcoming to all queer people."