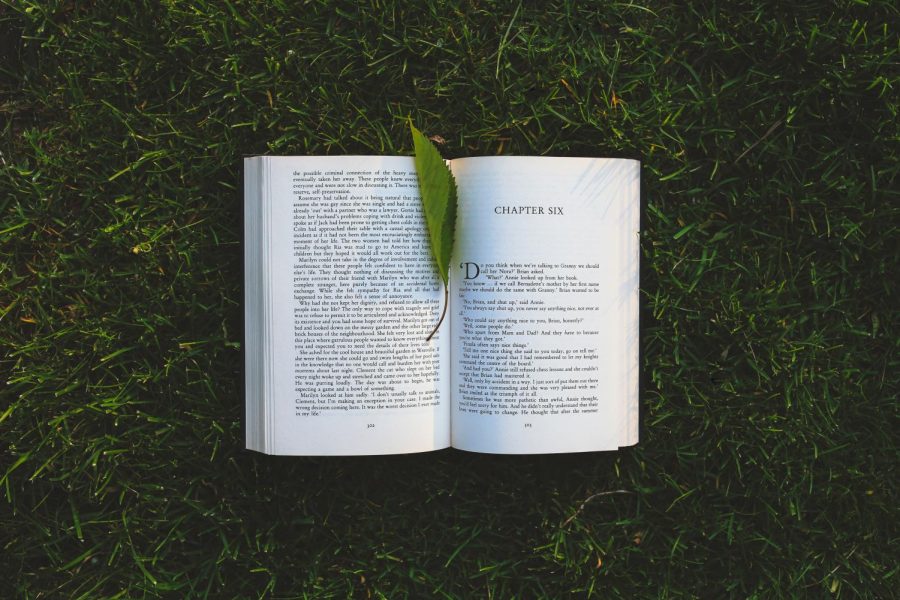 Via Pexels
Currently, as local libraries and bookstores follow shelter-in-place guidelines, many avid readers have turned to e-books and audiobooks that can be accessed through public library websites. Digitized book services like Kindle and Audible offer low cost (under $10) to free e/audiobooks that readers can access through their mobile devices.
This worldwide pandemic has prompted many people to explore their creative interests, from recreating Tik Tok dances to coffee recipes. To help pass the time, a lot of folks have started reading more books during lockdown. Bookstagrammers are at the forefront of this popular quarantine hobby, giving readers book recommendations via their Instagram feeds. 
"My Instagram feed is basically a bookish blue chalkboard. I explore other photo opportunities and styles but at its core, it's various books paired with chalk art," Dayle Zimmer, a self-proclaimed book enthusiast, said. "It's fun and a way for me to express, in a more visual way, my enjoyment of reading and Instagram provided the perfect platform for that."
Zimmer, 35, reads, reviews and promotes all things books on her Instagram profile @theliteraryllama. 
View this post on Instagram
🖤 #CurrentlyReading 🖤 • Just popping in real quick to share my current read, FROM BLOOD AND ASH (thanks again to @1001darknightsbooks for the free copy), a new adult fantasy romance from @jennifer_l_armentrout … and I am obsessed! I'm so hooked on this book. All I want to do is read it, it's that perfect kind of addictive. 😍 • Ok, all of you go away so I can read some more. Shoo! 😜 • • SYNOPSIS: A Maiden… Chosen from birth to usher in a new era, Poppy's life has never been her own. The life of the Maiden is solitary. Never to be touched. Never to be looked upon. Never to be spoken to. Never to experience pleasure. Waiting for the day of her Ascension, she would rather be with the guards, fighting back the evil that took her family, than preparing to be found worthy by the gods. But the choice has never been hers. A Duty… The entire kingdom's future rests on Poppy's shoulders, something she's not even quite sure she wants for herself. Because a Maiden has a heart. And a soul. And longing. And when Hawke, a golden-eyed guard honor bound to ensure her Ascension, enters her life, destiny and duty become tangled with desire and need. He incites her anger, makes her question everything she believes in, and tempts her with the forbidden. A Kingdom… Forsaken by the gods and feared by mortals, a fallen kingdom is rising once more, determined to take back what they believe is theirs through violence and vengeance. And as the shadow of those cursed draws closer, the line between what is forbidden and what is right becomes blurred. Poppy is not only on the verge of losing her heart and being found unworthy by the gods, but also her life when every blood-soaked thread that holds her world together begins to unravel. 🩸 • • • #jenniferlarmentrout #fantasybooks #frombloodandash #mustread #newbook #reading #tuesdaytreat #tuesday #bookstagram #bookaesthetic #romancereads #newadultfantasy
"Reading has always been a part of my daily routine. It's a very big constant in my life. So reading is grounding and in a time such as this, the worry and uncertainty are definitely eased by having that routine and certainty of a book or e-reader in my hand or an audiobook in my ear every day. It feels normal," Zimmer said. 
Book blogger and reigned "Baking Queen" according to Hadewych, 17, who goes by the Instagram @thereaderinpink and whose feed could probably best described as warm and cozy flatlay, starts each new post with "Hello Bookworms (yellow heart emoji)" as a call to this community of readers.
"I show my enjoyment of books the most in my Instagram stories because they are more real than my pictures on my feed. The pictures on my feed are more for the feed itself and I try to talk about my books in the captions," Hadewych said. For her, she feels more attached to bookstagramers through her insta stories. 
View this post on Instagram
Hi bookworms💛 How are you? I'm doing good, but I'm a bit sad, because my school trip to Italy is canceled, because of the coronavirus. Anyways, I had an amazing day yesterday at the @kindnessreadsbookclub and I was so happy that I could finally meet @alissasbooktopia 😍😭 Today is my mom's birthday, so we're currently at the restaurant and I'm waiting for some delicious food! – Okay now let's talk about books. Actually these are not books. On the picture you can see the picture book of Kiki's Delivery Service, the graphic novel and ofcourse the movie. I can't explain how much I love this movie. I watched it as a child, but trough @bookswithchloe I rediscovered it and I'm so thankfull for that. – Q: Do you have a favourite movie? If yes, which one? – #kikisdeliveryservice #studioghibli #bookstagram #bookgram #booktography #instabooks #booktography #booknerd #booklove #books #bookaddicted #book #youngadult #ya #youngadultbooks #booklove #sharethebooklove #reading #ireadya #boekliefhebbersunited #currentlyreading #bookishsupport #alwaysreading #bookishlove #bookpile #readersofig #boekenliefdeNL #cozybooks #hellobookshashtag #bookishmood #readingmood #instabooks #booksofig
Based in Texas, Morelia Garcia @strandedinbooks, 22, is all about books and movie recommendations, along with being a part of the internet's obsession in worshipping Keanu Reeves.
"My Instagram feed could be currently described as a colorful chaos, which is always great because the beauty of bookstagram is that you are able to do as you please with your space! It's one thing one moment, and then something entirely different the next. One thing I have been incorporating recently are more pictures of myself, beverages and outfits to go with my reads and I find that this just adds that personal touch that people want to see," Garcia said.
According to a healthline article, there are several benefits to reading, such as increased brain strength and prevention of age-related cognitive decline. As a form of stress relief,  if incorporated into your nightly routine, reading can also help improve sleep patterns.
Along with health benefits, the current book community has become more diverse. Inclusion in both the books that are being written and the authors themselves, shows that there is a book for everyone to connect and immerse themselves with a good read. 
"There are as many books as there are types of people. Some require complete escape so fantasy and sci-fi are their refuge. Some want a mystery or thriller to occupy their brain. Some like to exercise their mind with learning or discovering new areas of non-fiction. Some need to be seen and understood, so finding books similar to their current situation makes sense. This list goes on and on," Zimmer said.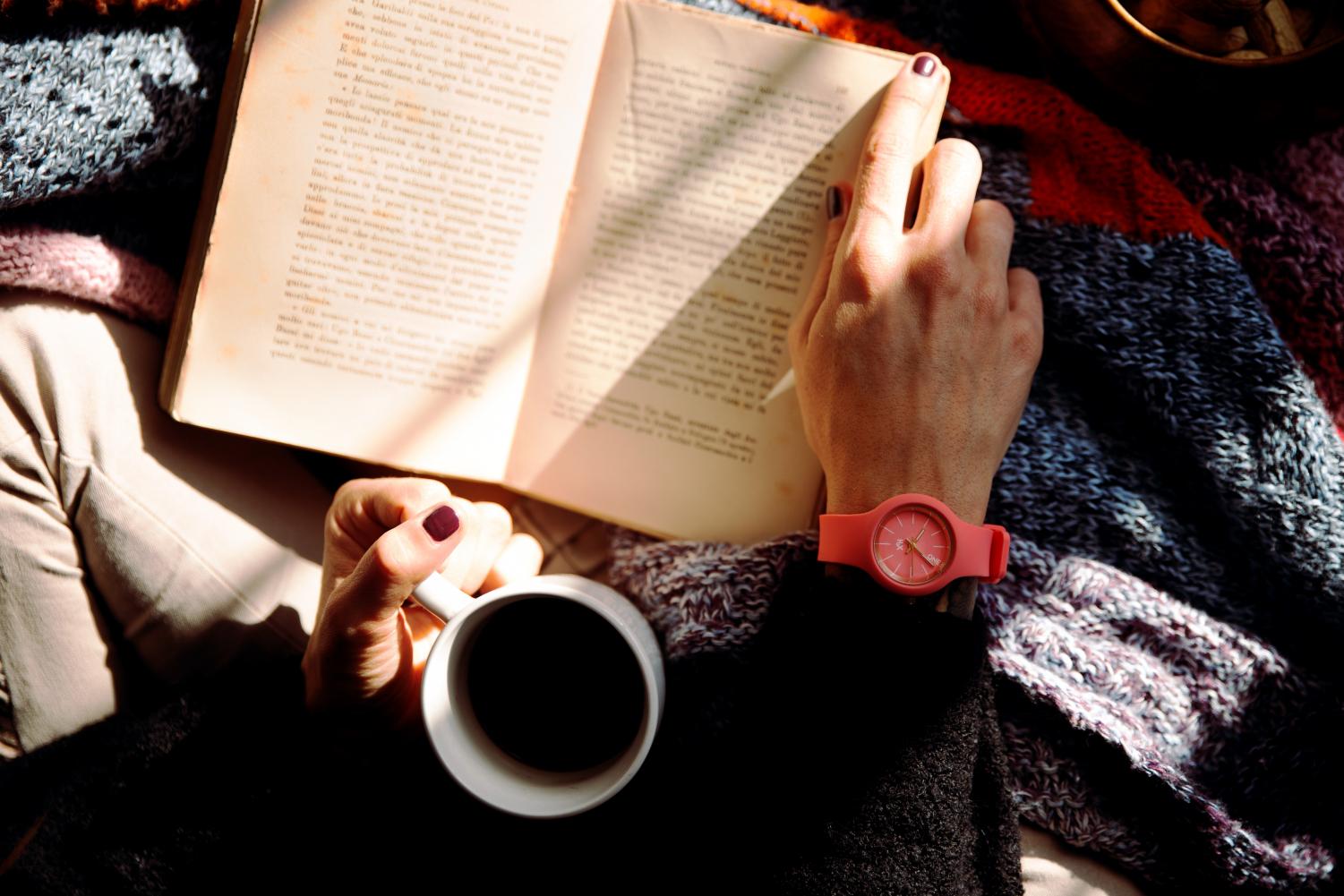 Reading is a chance to escape, to try new places and to have the worries of the world fall away as you turn the pages of a book. In the current climate, it can be hard to escape from anything pandemic related. But reading gives you this chance.
"When this all started, I could not focus on reading anything to save my life. I saw that the uncertainty of everything was also affecting other readers and our much-desired reading time was just not for reading. Nowadays, as we all have somewhat become accustomed to this new routine, I find that picking up a book helps ease the mind a bit, especially when reading some sort of thriller or fantasy depicting an entirely different world," Garcia said.
With the shutdowns in place, across the nation, many of us are regulated to our homes without our usual lives to keep us busy. This gives people the chance to dive back into old or new hobbies they may have not had time to pursue before. 
"I escape through books to another world and that helps me to relax and to set my mind off the outbreak. Because of the lockdown, we have to stay inside and that gives me also the motivation to get through my unread books. But I also have the feeling that I need to read more because I now have more time to do it," Hadewych said.
View this post on Instagram
Who else misses going out for some good coffee?? ☕️ // REVIEW ✨ . First of all, a massive thank you to @quirkbooks for having sent me this gorgeous early copy of THE SOUTHERN BOOK CLUB'S GUIDE TO SLAYING VAMPIRES 🍑! . WHAT. A. BOOK. I'm not even sure how one goes about properly putting this book into words, but here I go! 🍑 Where have I been that this was my first time reading Grady Hendrix's work? I could not have fallen more in love with Hendrix's storytelling and writing. A true beauty. 🍑 This story went beyond my expectations and it had been a long time (or maybe ever) since I had become frustrated with myself for not being able to read faster (a true nail-biter!!!). Just UNPUTDOWNABLE. 🍑 I've previously mentioned that I envisioned the women and neighborhood of 'Edward Scissorhands' (haven't seen 'Steel Magnolias, whoops!) with the slight humor and gore from 'Shaun of the Dead'—sans zombies, and more Dracula—and I have to say…it's still very much that. *chef's kiss* 🍑 I LOVED the author's note at the beginning of this book. "I wanted to pit Dracula against my mom" is basically the entirety of this and I just loved how your "typical housewife" is the one out their kicking ass and taking care of her family 👏🏼 ya know, QUEEN SHIT. . I will say, there is a moment there somewhat on the middle where the story lulls a bit. I now realize that the book just starts taking its turn into darker territory, and so it's just gaining its footing again, but it made me contemplate putting the book down for a while. There are also some *v* disturbing scenes in this book that I still can't quite wrap my head around, but I'll live. It's also quite funny how a lot of reviews can agree on how disturbing some parts were and yet, we can also agree what a good read this one was. It truly goes beyond the horror. . Overall, I'd recommend this one for the attachment you'll grow with these kickass ladies (looking at you, Patricia!), the action, the horror, the humor, and just for the wild-of-a-ride that this story was. Also…vampires?? I've said enough 🧛🏻‍♂️ . 4//5 ⭐️ . *tw/cw: (child) suicide, rape, death of a pet . . .
"I definitely think books help us navigate through stressful times. Whether it's because someone's fictional life has it worse than us morbid, I know because it's just another life to be a part of and look into for a while, or because that character may be going through whatever it is you're also currently going through and you see them prevail," Garcia said.
"Whether you're new to the book scene or have been following aesthetically pleasing accounts with book recommendations for years, the #bookstagram community is always open, no matter your skill levels with a camera or creative setups, there is a place for you in and on #bookstagram. You will find friends and like-minded people, no matter your reading preferences. Book discussions and finding new titles is a large part of what we do. We build each other up and actively engage daily to keep this community together and reading. It's our passion and social media gave us readers a place to explore it in new and interesting ways," Zimmer said. 
#Bookstagram is definitely an outlet for being an enthused reader and creating community. You can show your books in any way that you want and you can fangirl as much as you want about your books,Hadewych said.
"#Boookstagram is the sort of community I wish I had back when I was in high school. Everyone's love and enthusiasm for reading really encourages and excites you to get between the pages of a really good book and it's always amazing to see how books affect each of us in a different way," Garcia said.
April Book Recommendations by Dayle Zimmer, @theliteraryllama:
"I always have book recommendations. But as a complete, but short, variety is chosen from the books I've read recently: "
My Dark Vanessa by Kate Elizabeth Russell
The Bookworm Crush by Lisa Brown Roberts
In Five Years by Rebecca Serle
Get a Life, Chloe Brown by Talia Hibbert
Dear Edward by Ann Napolitano
The Holdout by Graham Moore
The Sun Down Motel by Simone St James
House of Earth and Blood (Crescent City) by Sarah J Maas."
"My Dark Vanessa" by Kate Elizabeth Russell
"The Bookworm Crush" by Lisa Brown Roberts
"In Five Years" by Rebecca Serle
"Get a Life, Chloe Brown" by Talia Hibbert
"Dear Edward" by Ann Napolitano
"The Holdout" by Graham Moore
"The Sun Down Mote"l by Simone St James
"House of Earth and Blood (Crescent City)" by Sarah J Maas.
—
"The last book that I read was 'Only Mostly Devastated' by Sophie Gonzales and I definitely recommend this book. The book deals with a lot of hard subjects such as cancer, the loss of a family member, homophobia, and fat-shaming. I really loved how every character in the book dealt with those heavy subjects and also really loved that the spotlight is not entirely on these subjects, but also on fun things like love and friendship. This book gave me also a lot of insight into the fact that we live in a world focused on people that are hetero and how hard it is to be "different." 'Only Mostly Devastated' is a mix of 'Grease', 'High School Musical,' and 'Clueless,' so if you are in for that please take a look at this book, because I had such an amazing time with this book," Hadewych says.
"I have been pushing "The Roxy Letters" by Mary Pauline Lowry to everyone I can! It recently released and it is just the perfect read for anyone who needs a good laugh and an overall fun time with such a relatable main character! For my romance readers, I definitely recommend "The Ravenels" series by Lisa Kleypas! Historical romance just plays out as some of the best addicting soap operas ever and the entire series just has some of the best characters. I also have to push "The Seven Husbands of Evelyn Hugo"  with all of its glitz and glamour, and of course, it's heartbreak. Tissues, please," Garcia said. 
Editor's note June 22, 2020: An additional paragraph was added near the end of the article that was accidentally left out of the original post.