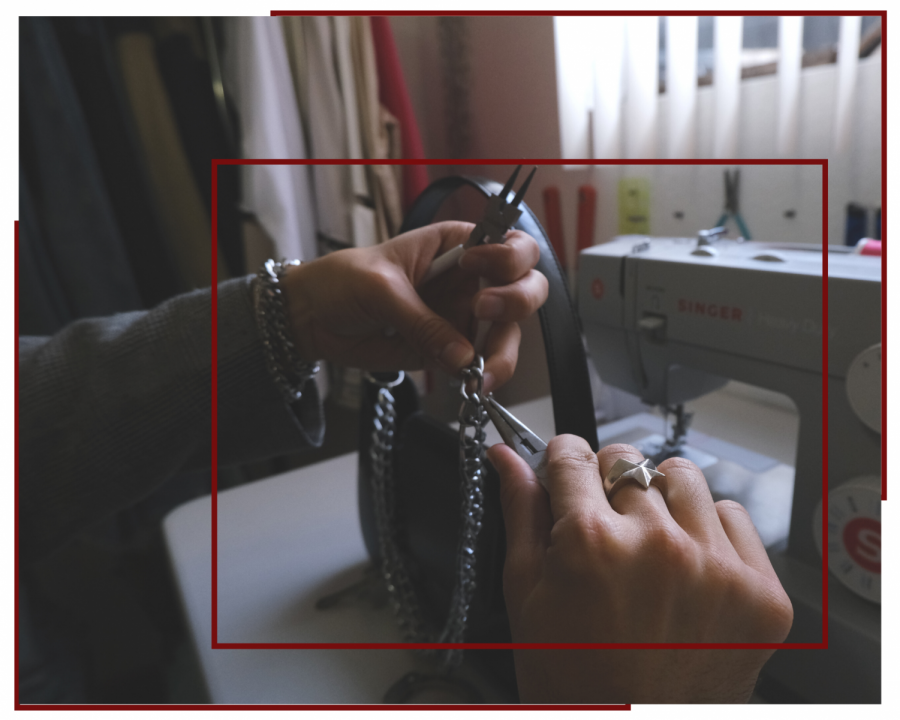 After looking at the ecological impact of fashion, Julio Cesar Tello spends his time refurbishing found thrifted garments and gives them a new liberated life.
Consignment stores collect garments that have remained intact after surviving their first owner. Thrift stores full of plain dress shirts that have been exiled after accumulating sparkled bleach stains. Ripened denim, once-stonewashed sit at vintage shops while they simmer down into a soft pale complexion. Leather replicas sit in flea markets selling the story of past trendy purses. 
Before being donated, the garment had a story. Perhaps there were stains, or tears became holes, heat deterioration, but at the moment each garment is picked to be a part of Venenosa Ropa, an online-clothing store selling refurbished garments for all genders, the garment's leave behind their early life and in exchange, join a collection of garments who've all been given a new vision.
At the intersection of environmental awareness, spunk queerness, and polished streetwear, sits the creation of Julio Cesar Tello, 24-year old man and founder of Venenosa Ropa. 
Through each collection, a story gets told. The dress shirt collection of 'Your Dad's Nudes,' is about sleeping with that hot dad and keeping his work shirt as a souvenir. 'Bottoms are superior' is a denim jeans collection that speaks to the reference of people who are on the receiving end of sexual intercourse. 
Values and fabric are held together through patches, sewing, chains and safety pins, all strategically placed and secure to elevate the everyday strut. Confidence purchased through Venenosa Ropa, harnessed by Tello.  
Tello fell in love with clothes as an adolescent when graphic shirts felt like a form of inner self-expression. Clothes proved to be an antidote for body weight concerns. After coming to terms with his body, sexuality, and curiosity; Tello's confidence began to build. 
Soon enough Tello realized he wanted a career in fashion but when he came into adulthood, he felt he wouldn't be able to pay a university tuition. Instead, Tello began working in vintage shops throughout San Diego to keep his social security running until he became unemployed in August 2020. According to the Congressional Research Service, the unemployment rate in the U.S. peaked during April 2020 to 14.8%, the highest since 1948.
In May 2020, sewing machines were in high demand as a surge in fabric masks increased, which led Tello to purchase a sewing machine from OfferUp. After letting the machine sit for a month, Google and YouTube became a useful resource that he used to work on garments in the early mornings and the late afternoons.
Venenosa Ropa's oversized looks stem from contemporary streetwear: shoulder bags, re-structured jeans, safety-pinned shirts. Tello finds his materials at Goodwill, Salvation Army, and swap meets; items with superficial imperfections that he reworks into polished-queer punk apparel. 
In October 2020, Venenosa Ropa presented their first collection titled 'Your Dad's Nudes,' button down shirts that use safety pins to hold connected sleeves and bottom parts of the shirt. 
Venenosa Ropa is a "one man show" with Tello creating a concept, gathering materials, creating the garment, handling the photographs, captioning the photos, publishing online content, packaging and shipping all purchases. He feels successful not for what he sells but for doing the damn thing, or simply, being committed to his passion. 

Q: Is the name, Venenosa Ropa, a depiction of the story you're telling? Or does it differentiate from wanting to give garments a new life?
A: "The name Venenosa Ropa is in Spanish, my first language and it translates to 'poisonous clothes.' in English. When I was thinking of the name for it, I was really stuck on what I wanted because I knew that this was going to be a part of my life for, I hope many, many years to come.
 And when I was thinking about the fashion industry and clothing, I felt like a lot of people have this perception which is really true. I mean, the fashion industry production, mass production causes such a poison to the earth through pollution. And you know, that's why I kind of wanted to adjust the definition of the clothes that I'm doing, in a way it's not necessarily poisonous anymore because it's all secondhand. And it's not like I'm mass producing the items myself. So then I guess, it becomes more of a play on what I'm doing. It's already out in the world, at one point it was poisonous which now isn't, then it starts to go hand in hand with the name, but it's not meant too literal." 
Q: Where does most of your inspiration come from?
A: "I always really loved [the clothing brand] Vetements, and how they take everyday pieces like jeans, sweaters and hoodies, and make them so different. So there's someone that I've always looked up to for many years. That's where I saw you can take jeans and make it really high fashion. I also really look up to Fecal Matter on Instagram @fecalmatterworld, they take everyday items that they make so-so-so-so cool, and personal to who they are. They make items that once you see them, you're like, oh, that's Fecal Matter, something that I hope I can continue to create with my brand. Those brands have paved the way and really made their own lane in the fashion industry."
Q: Where does your confidence come from?
A: "When I first discovered Tom of Finland [pseudonym for Touko Valio Laaksonen who became popular for creating a hyper-masculine homoerotic aesthetic] I felt such a strong connection as if in my past life I was one of Tom's men. And I still do to this day. I started to do research on it, watched the film, the whole thing, and saw how he took day to day professions like a cop, a sailor, a mechanic and made them sexy and showed there's people in these professions lived these kinds of like, you know, secrets. Tom of Finland publishing that work for the world was amazing. The men were drawn exuding so much confidence, like I'm with the cop and like, yeah, I'm a cop too showing that they didn't care, I just felt like I wanted to reflect that."
"I remember I even had a phase where I was only wearing, like, denim jeans and a white tank top, and the leather jackets, because I just like, wanted to be one of them exuding that confidence."
Q: What was a lesson you learned from working retail that you've incorporated into Venenosa Ropa?
A: "I mean, if there's anything that I learned from retail that I still carry on till this day, is visually having cohesive products, placements and having a story to tell. Because when I was doing visual merchandising, I would have to create stories out of clothing and, you know, create a vision out of T-shirts, shorts and jeans. And I feel like that's something I did in a store and saw the presentation come together. I knew in the future I was going to be doing with clothing as well, like I was going to be taking that lesson with me, what I didn't know at the time was where I was going to be taking it into, like what I was going to be focusing onto or whatever. But I just knew that when it came to clothes, telling a story. Like I knew that that's what I was going to do. So, I think visual merchandising is definitely what helped me realize that, you know, it's not just clothing, it's stories that you can tell with clothing."
Q: You mentioned making customers feel sexy. How does sexuality play a role in your work?
A: "The clothes that I create, the names that I give everything, the way that I market or promote my lines, is just really sexy to me. When it comes to the photos, I try to make it sexy. The names of the collections of my brand are sex related, takes on those sides of the sex world like 'Your Dad's nudes', 'You're (Hard) and I'm A(ware),' 'Bottoms are superior,' which are a part of a cohesive storytelling that's has a sex driven focus."
"I feel like sexy is what you make of it, I don't feel like there's a box. For example, the first collection, those are just button downs that tell the story of someone who found a dad, one who's probably having an affair, on Seeking Arrangements. Which then is about getting into a mentality through the clothes you're wearing. That's sexy within itself. Using that confidence to carry you throughout your day."
Q: Is there a targeted audience, or specific type of person that you'd like to see wearing your clothes?
A: "I want anyone and everyone to wear my clothes. I want someone who is looking for essential jeans that aren't just a bootcut anymore. People that want a little rip and tear or fringe or fray. You know, someone who's trying to explore with their fashion. I want that person, or you know, a queer gay boy that wants to buy his first bag but isn't sure what kind of bag and doesn't want to buy just like a simple bag from Forever 21This brand is for everyone. And I feel like you know, if there's anything to take from this brand is confidence, feeling sexy, and you're gonna feel that with these items that I sell. And I just want everyone to feel great and what they're wearing and why not feel great with something from Venenosa Ropa."
Q: What story is your refurbished-clothing storytelling?
A: "So, with my brand, the story that I hope that people take from it when they see my clothing is that someone's old trash is my new project and baby that I took in and, you know I nurtured, tweaked here and there, and gave a completely new life for someone else to a brand new and loving home. That's like the one thing that I hope that people take for my brand is that I genuinely am just taking accessories and clothing items that people no longer wanted. Since everything that I do is repurposed, and re-work is all secondhand. And you know, I hope that people just really see that with my brand is about how I just am giving unwanted goods a completely new life to be loved again."