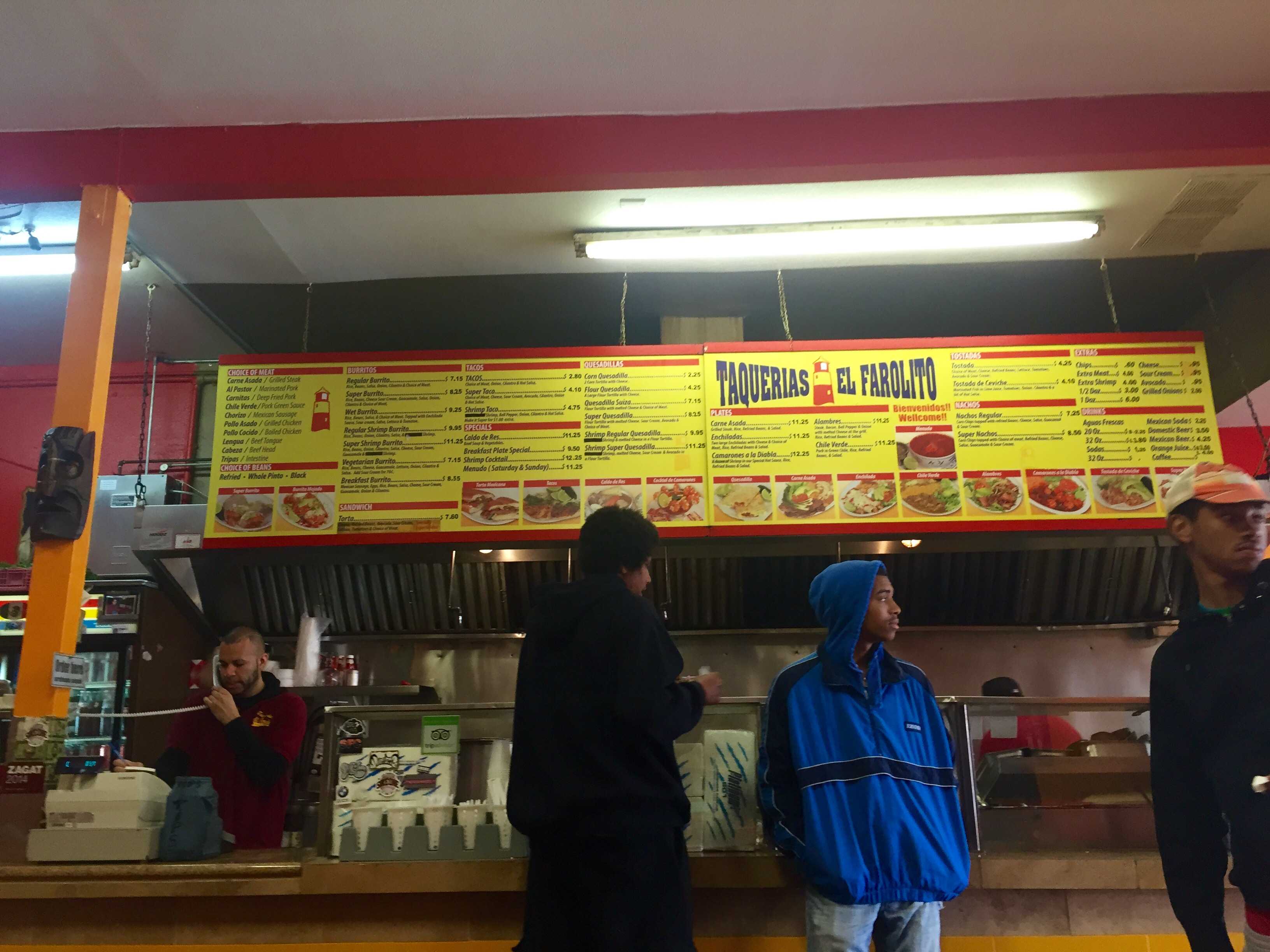 A look inside the popular Bay Area Mexican chain restaurant. All photos by Catherine Uy
Located in the outer Mission, just a few blocks from the BART station, a rich aroma of smoke emanates from inside a small Mexican restaurant. Inside you'll find walls in the colors of the Mexican flag and red tables with wooden booths on each side of the space's tiled floor. In the background, mariachi music plays as a chef places tortillas on a large skillet.
El Farolito looks like a restaurant straight from the 80s with its fluorescent lighting and festive colors, but its  flavors and dirt cheap prices make up for its decor. It's the type of place where you can enjoy a quality burrito at 2 a.m. when you need to satisfy the drunchies.
The al pastor burrito is extraordinary, filled with pinto beans, tomatoes, onions, cilantro and salsa. It's filled with strong flavors and textures: a slightly crisp tortilla, tender slices of pork and fresh and flavorful vegetables. Compared to other burrito joints the fillings aren't overly soggy. There's just the right balance between chewy and crispy textures.
The small restaurant also serves up a variety of authentic Mexican foods, like nachos, enchiladas, and tostadas de ceviche.
The tacos here are everything you could ask for. The tortillas are rich and buttery, filled with juicy bits of grilled steak. The soft, thin flatbread carries an appetizing medley of diced onions, cotija cheese and cilantro. It has all the elements of the perfect taco: pico de gallo, well seasoned meat, and a chipotle sauce, that's sweet with just a little bit of spice.
The nachos, however, are nothing special. The chips are topped with mounds of beans, melted cheese, avocado, sour cream, and jalapeños. The tortilla chips have a nice crunch, but are way too salty and greasy. Despite all the toppings, you can't have good nachos without good chips. It's a shame though considering the salsa is so damn delicious. Word of advice: try the green sauce.
During the day it's packed with hungry customers, but the service is quick and friendly. The food is mouthwatering and delicious, but the restaurant loses points for cleanliness. Some of the tables have remnants of food or trash from its previous eaters.
The verdict:  Craving a good burrito? Need to satisfy the drunchies? El Farolito is the place to go.
★★★ ★out of 5
El Farolito
, 4817 Mission Street San Francisco