Campus Impawsters
The battle between Emotional Support Animals and regular pets on SF State's campus.
As students make their way to Cafe Rosso and their classes on campus, so do their animals. Tails wag as dogs walk next to their owner, and cats in backpacks peer out at the students from inside their bubble. 
While pets are permitted on campus, it's not always possible for them to go in buildings and on-campus housing if they are not emotional support or service animals. With over 3,000 students in university housing, some residents suspect that regular pets are posing as emotional support animals in order to live on campus with their owners.
Emotional support animals are recommended by mental health professionals that believe a pet will help their patients through hardships. While it's easy to think of every pet as its owner's emotional support animal, the title is not something that should be abused. Although there is no specific training required for an ESA, they have to be well-behaved and nondisruptive in public places.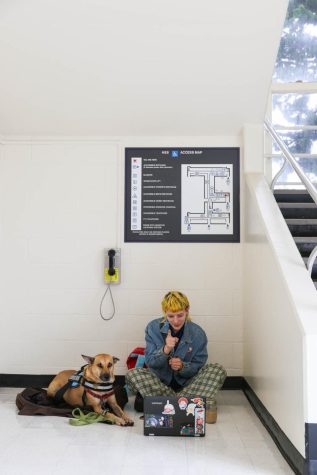 SF State student Babe Truco has been training Faba, their brown Taiwanese mountain dog, for the past five years to desensitize her and be calm in chaotic spaces like in a classroom. 
"You have to train them well," Truco explained. "They have to be able to listen to you and understand what you want from them. They can't be mean to other people, and they have to be good around other dogs. There's things that you should put effort into if you want to call your animal an emotional support animal."
Mariah Aganoda is a full-time student majoring in sociology. In 2015, a nutritionist recommended an ESA to help with her mental health issues. She picked out Milo, a white shih tzu, in remembrance of her past dog she had as a little girl.
"I would cry a lot, and he was always there," Aganoda said. "He always knew when I was sad and would put his head on me. It was like someone was hugging me. At the time, it felt like he's all I had."
Aganoda expressed concerns about imposter ESAs misrepresenting real emotional service pets. For ESA owners, their pets play a crucial role in managing their mental health. But regular pet owners sometimes see the label as a way to access more places with their pet.
"Sometimes it feels a little bit like a slap in the face," Aganoda expressed. "It depends on your attitude towards it. But other times, it's like this person is taking mental health and making an excuse out of it to have a pet."
According to the US Service Animal Organization, owners of an emotional support animal are not required to show any certification for their pet. However, SF State University Housing requires documentation giving evidence of how the animal supports its owner. The Disability Programs and Resource Center offers assistance with housing ESA and service animals.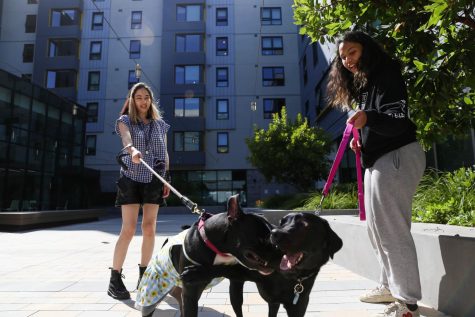 Obtaining the required documentation for an emotional support animal takes a toll on some students, such as Marissa Vaidales. Vaidales is a full-time graduate student majoring in creative writing. In 2019, she tried to work with her DPRC counselor to get her emotional support animal, Binx — a black, curly-haired poodle — to live with her. 
"They wanted a letter from my neurologists that could not be provided, because there is no proof or research done that [says] ESAs or service animals help epileptics," said Validales.  
University Housing requested documentation explaining why she needed the ESA. Stressed due to the lack of support from the DPRC, Vaidales provided medical records and personal files to help her case. She was frustrated with how easily other people seem to fake their animals as ESAs, while she could not get her actual emotional support animal in.
"In this building [Manzanita Square], for example, there's some animals you can clearly tell are not ESA or SAs. It's visible in the sense that there's no training and it's lacking," said Validales. 
Some websites state that they can provide a letter or approval by doctors for an emotional support animal, but they're not always legitimate.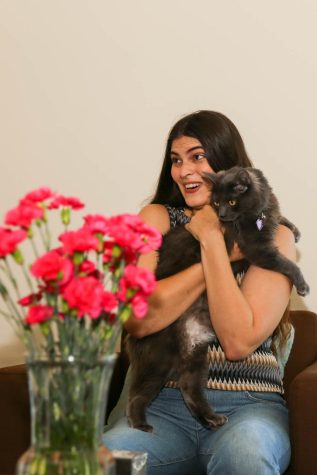 Jessica Wood, a nutrition major, was recommended for an ESA due to mental health issues from past trauma. Ella, Wood's gray, medium-haired cat, is like her soulmate and responds when Wood begins to feel anxious or starts to cry. 
Wood received Ella when she was a kitten and realized the cat's calming nature would make for a great fit.
"I feel it every day, but when recovering from that trauma, it was tough getting out of bed and doing things," Wood said. "Waking up, having her slow blinking at me, cuddling me and wanting to play was such an optimistic force where I knew she was the one. She grounds me." 
Wood deals with social anxiety —  especially when she goes to grocery stores or deals with big crowds. She feels better when she feels Ella pressing against her back as she sits in her specialized cat backpack. 
"There have been some days where I'm too anxious to go to the store alone, and I haven't gone for weeks," said Wood. "But having her able to go with me is nice."  
Emotional support animals help students every day get from the classroom to the grocery store, and through any other challenges their day may bring.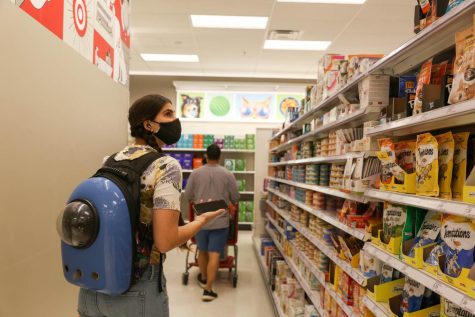 "I don't think of myself as singular anymore," Truco said. "This is a duo. Emotional support animals are companions with a purpose for you, and are doing this job to help a person through their trauma."
Leave a Comment
About the Contributors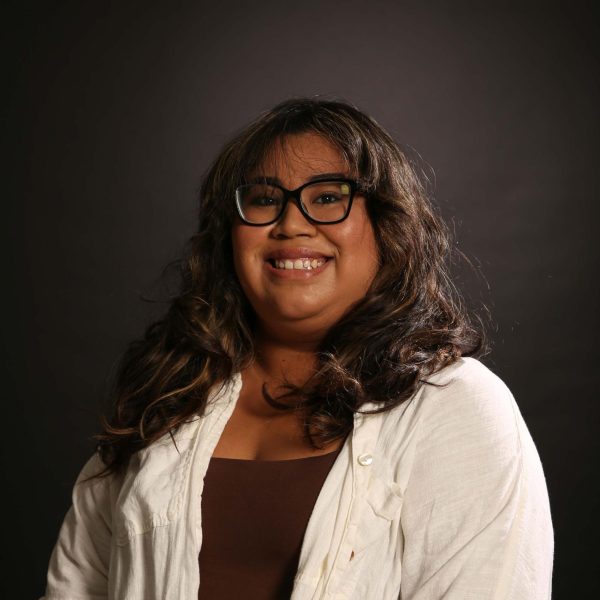 Nadia Castro, Diversity Editor
Nadia Castro (she/her) is the diversity editor for Xpress Magazine. She is majoring in journalism and minoring in business management.  She likes to write...