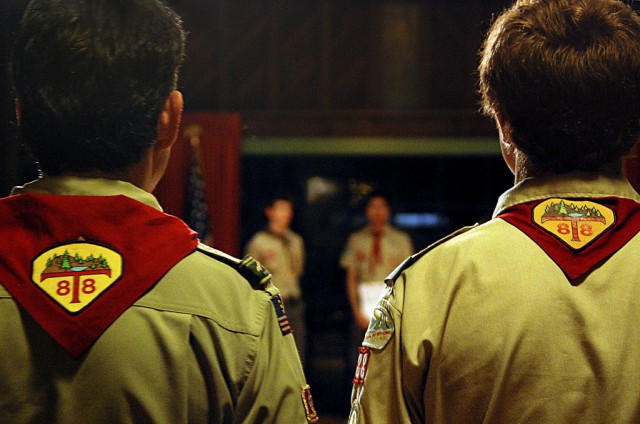 By Rhys Alvarado
Photos by Jessica Worthington
Andrew Dotson studies the climate.
Everyone in Troop 88 refers to him as the "weather man," one of many hats he wears as assistant scout leader and meteorology major at San Francisco State University.
Every Wednesday, Troop 88 meets at the Forest Hill Club House. Same place, same time, the troop's been gathering since 1920. Before each meeting, Andrew makes sure the scouts are properly uniformed, their neckerchiefs knotted high, baseball caps off, while some ask him questions about what steps they must take to earn their next badge. The lost sheen of Eagle Scout plaques, mounted on the building's dark wood and red brick walls decorate the building.
The twenty-one-year-old Eagle Scout, who runs the troop alongside his father Michael, has taken on somewhat of a big brother role among its forty-three members. Andrew prefers to be called "Mr. Dotson" by his troop. They call him Andrew anyway.
Though they may butt heads, like any father and son, each has his place as a leader. Michael holds the compass. Andrew, the map.
"I give the sage, old man advice, and Andrew gives the youthful, energetic advice," says Michael. "They (the troop) would rather listen to someone closer to their age."
Joining the scouts after moving to San Francisco in 2002, Andrew, an only child, found an early passion in the hiking, camping and the social mix of people in different grades. Being an assistant scout leader is Andrew's way of continuing the same welcoming attitude he was shown when he first stepped through the door, iffy about the sight of "dorky" tan and olive green uniforms.
"What I still get out of it is the interaction between different age groups, where no one is discriminated," says Andrew.
On Feb. 6, The Boy Scouts of America tabled the proposal to lift the ban on openly gay members and leaders, a policy that extends to atheists and agnostics. The pending changes would allow scout troops across the nation to individually decide what kind of policies they would uphold. The BSA's National Committee — the blanket organization that oversees all troops in the U.S. —will decide on the matter during their annual meeting in May.
In his years as a boy scout, Andrew has become familiar of parents pulling their children out of scouting because of the organization's stance on gay members. During a recent food drive, doors were slammed on members of Troop 88, without giving them the time to explain their own personal stance on the policy.
"When you come and join, we don't ask you what your sexual orientation is," says Andrew. "Our troops policy has always been that we don't discriminate."
In 2001, a year before Andrew joined the scouts, concerned parents of Troop 88 sent a letter to the national committee denouncing the non-discriminatory policy.
The letter reads: "We are proud to report that we know of no Scout or parent in Troop 88 who believes that discrimination and bigotry is right. To deny participation in Scouting for factors beyond someone's control is hateful and harmful and we will not teach this to our children."
There are just short of twenty thousand scouts within Bay Area troops, teams and crews, and that number has increased 6.4 percent in the past two years, says Ryan DiBernardo, Director of Field Service for the Bay Area Council. Scouting enrollment nationwide, however, has suffered a severe drop in recent decades. In 2011, there were 2.7 million registered scouts, down from a peak of 4.8 million in 1973. Dotson believes that this drop is due in part to the organization's selective restrictions.
"This is what they're doing —they're preventing boys from learning leadership skills to further their future," says Dotson. "Once it's lifted, more and more will join the scouts."
Since the late 1970s, the Boy Scouts national leadership has discriminated against gay members. Last July, Moraga teen Ryan Andresen was denied his Eagle Scout badge by the national committee after telling friends and family that he was gay. Bay Area scouts and supporters have been a driving force behind attempts to lift the ban. Following a two-year study in 2012, the national committee reaffirmed the ban, deeming their decision "the best policy for the organization." Groups like Scouts for Equality, an alumni association dedicated to ending BSA's policy on excluding gay members and leaders, have helped gather more than 1.4 million signatures among their various campaigns. Zach Wahls, a son of two lesbians and founder of Scouts for Equality, was hopeful of the national committee's delay on the decision.
"Though the vote did not go through, this is the first time in thirty-five years that the BSA did not re-affirm their ban," says Wahls.
A Religious Backing
Opponents who wish to keep the ban in place include many religious organizations. Of the more than one hundred thousand scouting units across the nation, nearly seventy percent of all units are chartered to faith-based organizations. Mormons, Methodist and Catholic churches make up the three largest religions to back scouting troops. Troop 88 is chartered by the Forest Hill Association. Tony Perkins, President of the Family Research Council, a think tank that promotes Christian core values, has been a key figure in standing by scout oath and law, policies both adopted in 1911.
"The mission of the Boy Scouts is 'to instill values in young people' and 'prepare them to make ethical choices,' and the Scout's oath includes a pledge 'to do my duty to God' and keep himself 'morally straight,'" Perkins said in a press release. "It is entirely reasonable and not at all unusual for those passages to be interpreted as requiring abstinence from homosexual conduct."
Dotson says that the interpretation of "morally straight" is confused between proponents on both sides of the ban.
"People are using the oath's 'morally straight' in the wrong context," says Dotson. "We interpret morally straight as doing what's right for yourself and other people."
Mitch Mayne, a recognized gay LDS church leader and former scout, has seen a compromising shift in the Mormon Church's view on gay members. Mayne works closely with Mormon leaders, parents and siblings of gay Mormons, assisting them with ways to accept their LGBT loved one. Once married, Mayne admits he's lived a charmed, celebrated, yet uncommon life of a gay Mormon. He taught Sunday school. He was invited to events. Wore a wedding band. Loved by his church community.
After his marriage had ended two years ago, Mayne was presented with the opportunity to serve as a leader in San Francisco's Bay Ward.
"I could either say 'no thanks' and choose to get remarried and go back to my comfortable, gay Mormon life that I had, and could have again," says Mayne. "Or I could walk away for the time being and make myself a very public figure and try to create what I had for other people."
Mayne says that he no longer has to handle the overwhelming amount of calls and emails from Mormons worldwide asking for help on how to integrate gay members into the church. He now has bands of people in different pockets around the globe who help share the message of inclusion.
In the past eighteen months, grassroots groups like Mormons Building Bridges, a Salt Lake City group, has vocalized their support for accepting LGBT individuals. Another group, Mormons for Marriage Equality, an online meeting place where Mormons or those affiliated with the faith can provide mutual support, share stories, and organize activities and initiatives, have formed to span the connection between the church and LGBT members.
Mayne says that gay Mormons often leave the church before coming out —or instead of coming out —because often times, these members are ex-communicated.
"The key to being a healthy, gay Mormon isn't about stuffing down our Mormon side, nor is it about stuffing down our sexual orientation. It's about integrating those two sides of our identity in a fashion that allows us to balance two parts of our identity," says Mayne.
Growing up in Idaho, where many of his church's leaders were also scout leaders, Mayne, who was vocal about being gay at a young age, says fellow scouts picked on him while leaders turned a blind eye. In return, Mayne had to veneer his identity, eventually leading to him dropping out.
"Scouting is supposed to teach us how to be people that make the world better —how to be kind, how to be diligent, how to be good citizens," says Mayne. "What I walked away from in my experience in scouting is how to lie about who I was, how to be dishonest, about how to be inauthentic, how to cover up who I was to please other people — and that flies right in the face of what scouting is all about."
Mayne says that the pending changes of the BSA reflect the evolving Mormon Church.
"The proposed changes to allow Troops to decide who they allow to join would mirror what's going on in the LDS church today. There's a lot of leeway given to local congregations to decide for themselves what's best for their congregation and how to institute policies," says Mayne.
Links to the Military
Aaron Belkin, a Political Science professor at SF State, has weighed in on the topic because of the close relationship the boy scouts has historically had with the military. Ties between scout practice and the military date back to 1908 England, when British military hero Robert-Baden Powell first published "Scouting for Boys," —modeled after a military field manual he wrote prior — that taught youth skills on observing and tracking.
Belkin is also Director of the Palm Center, a UCLA law school think tank that conducts research into gender and military issues, and author of "Bring Me Men" that overviews the recently repealed "Don't ask, Don't Tell" policy in the military. Belkin says that what interests him about the repeal of "Don't Ask, Don't Tell" is that "even though the military has moved on to a more inclusive policy, the scouts are stuck in the 20th century."
In recent decades, the BSA has been confronted with cases of child molestation from some of its leaders. Last year the BSA released more than twelve hundred previously secret files, revealing cases of child molestation from 1965 to 1985 within the organization, including about two dozen from the Bay Area.
Belkin says that the ban on gays from being members or leaders does not address prior problems of child molestation within scouting.
"Rapists who rape boys – that's not about homosexuality, that's not about being gay. That's about mental illness and power. Many child molesters who rape boys are not gay. If you want to police predation, police predation. But do not treat that as an issue of sexual orientation," says Belkin.
Oregon-based attorney Paul Mones works on cases involving people from around the country who were molested in scouting. Mones is actively working on cases dating back to the 1970s. In 2010, Mones won an $18.5 million dollar case against the BSA involving a man who was molested by his former assistant Scoutmaster. It is the largest verdict against the BSA involving sexual abuse to date.
Mones says that in many cases, people take decades to tell anyone else about being molested. In California, this poses problems for those who have been molested but have taken an extended amount of time to tell authorities.
Under the Special Childhood Sexual Abuse Statute of Limitations, victims have eight years (up to age twenty six) or three years after the date "the plaintiff discovers or reasonably should have discovered that psychological injury or illness occurring after the age of majority was caused by the sexual abuse," to bring a case to court.
"Some perpetrators get away Scott-free," says Mones. "The main reason people have a hard time coming forward is the shame, they blame themselves for the sexual abuse and think that people will think less of them."
A petition named The Childs Victim Act has been sent to Gov. Jerry Brown and the California Legislature by those who support the elimination of the civil statute of limitation for child sex abuse. If passed, victims may, at any time, sue their abusers and the institution that allowed their abuse to occur.
National studies of sexual abuse reflect that one-in-six boys are sexually abused before they turn eighteen. Mones says that many confuse reports of sexual abuse within the organization with being gay. Mones said that some of the cases he's handled involve molesters who were married.
"People think that people who sexually abuse are gay," says Mones. "That has nothing to do with being gay or straight."
Funding Losses
Many corporations have withdrawn their sponsorship of the BSA because of its exclusive policy on gay members. The largest notable pull of scout sponsorship include the Intel Corporation, headquartered in Santa Clara, that donated seven hundred thousand dollars in the 2009 tax year. Wells Fargo Inc., headquartered in San Francisco, has also withdrawn funding after donating more than two hundred thousand dollars in the same tax year.
Two of BSA's national board members, James Turley, CEO of professional services organization Ernst & Young, and Randall Stephenson, CEO of AT&T Inc., have publicly come out against the ban on gays, promising to move the organization away from its exclusive policy. In a press release issued last June, Turley says that the "membership policy is not one I would personally endorse."
Looking Ahead
During a recent visit to Troop 88, it was election night, where scouts vie for the senior patrol leader post every six months. Pierce McDonnell, a fourteen-year-old Star Scout, with kind eyes and light brown hair combed over to the side, lost the election for the second time in a row. But for McDonnell, that's OK.
"In troop 88, we don't leave it up to the person in charge to make all the decisions. Power is distributed equally, so I know we'll all be able to have an influence," says McDonnell.
A shy kid before he joined the scouts, McDonnell says that he learned to be more vocal.
"I believe that when you're an SPL, you should be loud and big. I'm not very loud and big, so I have a plan," says McDonnell during his pitch before grabbing a chair to stand on.
"My loud and big plan! And what I'm gonna do is…I'm gonna plan these meetings! And plan 'em loud and big like Lincoln!" yells McDonnell.
"Will you always be standing on a chair, yelling?" asked one of the scouts sitting in the front row.
"If it helps you, I'll always be standing on a chair, yelling!" says McDonnell as the troop laughs with him.
McDonnell says that in his time as a scout, he's learned to get his ideas across, and he's often the first to raise his hand for school volunteer opportunities. During a recent class presentation, McDonnell decided that he would clear up any confusion about Troop 88's stance on the BSA's policy on gays.
"I think that a lot of people in my school can't see past some of the policies that boy scouts have and don't see the benefits of scouting," says McDonnell.
To earn his Eagle Scout honors, McDonnell wants to make a movie interviewing city and scouting officials documenting the thoughts and feelings of the ban against gays. He hopes to present the video to the national council later this year.
"We can all learn these skills cooperatively," says McDonnell. "Instead of just teaching the leadership to certain people, we want everyone to have the power to lead."