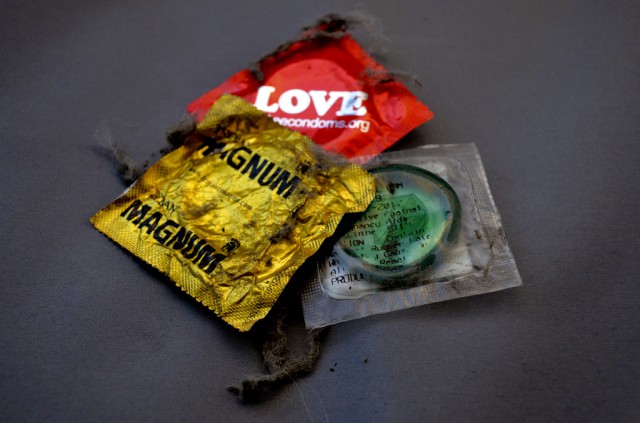 Written by Jennifer Moreno
Photos by Amanda Peterson
No condoms. No fear. No regrets. That's the motto Josh Landale, the thirty-year-old blogger behind Confessions of a Bareback Sauna Slut, lives by.
In the 1980s, men having unprotected sex with each other, or barebacking, was considered the surest way to contract HIV. Safe-sex and anti-AIDS campaigns were everywhere in response to HIV being spread through unprotected sex.
But now, barebacking is making a comeback. With hook up apps like Grindr and websites like BarebackRT.com, finding fellow barebackers is easier than ever.
For Landale, his enthusiasm all began when he was eighteen and fresh out of sixth form college (the British equivalent of graduating high school). He was finally coming to terms with his sexuality and ready to tell others he was gay. His libido was at its peak and the world was full of sexual possibilities.
Every hot guy could be a new encounter, an adventure, but condoms were getting in the way. During this time, he realized he was unable to achieve or maintain an erection once a condom was in the mix.
"I knew that as someone who liked to get fucked, I wasn't happy with the sexual experience," says Landale. "I somehow felt cheated, that the sex hadn't been fulfilling or as rewarding as it might otherwise have been had condoms been forsaken."
Of course, he was aware of the risks. Well sort of. He knew foregoing protection meant he was vulnerable to getting a myriad of STDs.  Some could be treated very easily, while others, like HIV/AIDS, were seen as the beginning of the end. He chose to bareback, but when he reached his early twenties, he decided to become educated about the risks.
All of this newfound knowledge filled him with self-doubt, leading to a decision between health or good sex.  At first he would practice sero-sorting (matching partners of the same HIV status together in a bid to reduce the risk of transmission) by sleeping only with those who said they were negative. But it didn't always work. Many of his encounters participated in anonymous settings like bathhouses, dark barrooms, and public restrooms. Places where it was less talk and more action.
Every encounter left him worried, up until he got his most recent HIV results. The combination of early negative tests and risk-taking behavior, created a mild feeling of invincibility. He describes it as constantly winning round after round of Russian roulette. Except in his case, the barrel didn't have five loaded chambers, but hundreds…maybe thousands.  But his luck ran out when years later he tested positive for HIV.
To better understand Landale's thought process, it's important to mention that he's always been a bit of a risk taker. At sixteen, he was all about rock climbing and hang gliding. When he was twenty-one, he got a motorcycle and raced around the roads of Yorkshire with reckless abandon. Where most people saw danger and retreated from it, Landale was drawn to it like a moth to a flame. So the moment he discovered risky sexual behavior, it was an instant attraction.
"My desires and logic were at odds with one another," Landale recalls. "A war raged in my mind. It took a good year or so to reconcile the risks with myself."  His love for barebacking eventually won the war, and he hasn't stopped since. And he's just one of many making the exact same choice.
As Monica Lee, a health educator at the San Francisco Department of Public Health (SFDPH) puts it, "The reality is people are barebacking all day long." According to a recent survey conducted by the Community Health Network, about 46.4% of the gay and bisexual men who use apps like Grindr said, they always bareback. However, amidst all of the reveling, there are others concerned about this surge in popularity.  And the worrying isn't unwarranted. According to the Center for Disease Control and Prevention, in 2010 men who had sex with other men (MSM) accounted for sixty-three percent of new HIV infections in the U.S.  Between 2008 and 2010, there was a twelve percent increase in new HIV infections among MSM. However, it isn't just HIV that's increasing. A 2011 CDC report found that syphilis rates among gay and bisexual men has increased and accounts for over seventy percent of all syphilis infections.
It's Saturday night and Robi Bucayu is getting ready to go out. Is the top he's wearing showing enough skin? Check. Is his hair perfectly in place? Check. Is he ready to do some community outreach to promote safe sex? Quadruple check. Just one check wouldn't suffice to capture Bucayu's enthusiasm for his job.
Bucayu, a gay twenty-two-year-old Stanford grad, works part-time at the SFDPH as a Community Field Specialist for the Community Health Equity and Promotion program. The program was created to address the needs and problems facing gay and bisexual men in the Castro and SoMa districts. His responsibilities include sometimes going out on the weekends to do outreach work at popular gay bars, clubs, and one time a sex party. This particular party was a CumUnion party, and for Bucayu it was an eye-opening experience. CumUnion is an international sex party that advocates a pro-choice philosophy. It doesn't matter whether you are HIV positive or negative as long as you are honest and everything is consensual. Only one rule; no drugs.  Condoms are available along with on-site STD testing but everything, including barebacking, is allowed. Bucayu and his coworkers' job was to inform men walking in that they offer free STD testing.
"Most of the men we talked to at that party assumed that when we said testing we meant HIV testing," says Bucayu. "So they just said, 'Oh, it's too late for me honey,' and kept on walking.
Scott Morris, one of the co-founders of CumUnion, tells a very different story. He states the amount of guests getting tested has increased substantially over the years, because CumUnion talks about testing in a fun, friendly, and sexy way. Morris feels this approach opens up the conversation for people to disclose their status without fear or judgment.
"Most people already know their HIV status, but they don't know about their status for other STDS like chlamydia," says Morris. "They'll be like, 'What is Chlamydia? Is that a girl disease?' "
Morris also says that he sees more people using condoms at CumUnion parties than at parties where barebacking isn't allowed. Despite the misconception that only young men are the ones barebacking, Bucayu states most of the men he saw at the party were older and looked like they were in their fifties.
While some bareback for just the pleasure, others do it to make a statement. "There are some gay men who are just sick of the stigma surrounding HIV and the pro-condom agenda that was everywhere during the AIDS epidemic in the Eighties," remarks Bucayu. "They want to live on their own terms."
Although CumUnion encourages open communication, Lee states it's common for people to attend the sex parties without disclosing their status.  However, Bucayu says guests know going in that the possibility of getting HIV is part of the territory. For some that might even be the goal.
According to Nick Lionberger, a local glassblower who doesn't bareback, there is a rumor about "bug chasing"—the slang term used when some men engage in unprotected sex with HIV positive men in the hope of getting infected. "It's considered the ultimate rebellious thing to do," explains Lionberger.
Landale states a common misconception is that all barebackers are bug chasers. In reality, only a minority participates in the practice.
In spite of all of the risks at these events, Lee says you are far more likely to get HIV or STDs from someone you know that hasn't been tested than at a sex party.
Even in gay porn, the condoms are coming off. Barebacking in gay porn used to be a rare thing, but over time some big studios like Sean Cody have changed their tune due to the popularity of the videos. Mitch Mason, the director of marketing and customer engagement at the first, self-proclaimed bareback porn company Treasure Island Media, thinks the recent change of heart by those who previously were against barebacking "leaves one to question their motives and ethical integrity."
The controversial Treasure Island Media is infamous in the industry for not testing their performers for HIV and touting HIV positive performers in some of their videos. The way Mason sees it though, those who bareback are crusaders in the fight to protect the integrity of sexuality and Treasure Island Media is just helping the cause. "There is meaning in the complexity of sexual behavior that goes deeper than pleasure and certainly far deeper than pornography's commodification or public health's reductive dicta," says Mason.
One often overlooked aspect of the debate is the precautions some barebackers partake in like regular STD testing and Pre-Exposure Prophylaxis (PrEP). According to Bucayu, PrEp is a medication used by people who are HIV negative and are at very high risk to get infected, to help decrease their possibility of contracting HIV. While it is an effective medication, Bucayu states it shouldn't be the only thing people do to protect themselves from HIV.
For barebackers who are HIV positive like Landale, they get viral-load tests, which detect the amount of HIV in one's blood. Landale states his viral load is undetectable—forty-t0-seventy copies in a blood sample—so he can't transmit HIV to anyone else. "So rather than jumping to conclusions and pointing the finger at me (or others like me) saying that we are disgusting and spreading the virus, they should take a look closer to home," Landale asserts. "To those people who haven't been tested, or don't get tested regularly. Those people, who say they practice safer sex, yet under the influence, forget to use the condoms.  It is these people who are spreading HIV and fueling the current epidemic."
And Landale is right about viral loads, to an extent. According to AIDS.gov, having undetectable viral loads does greatly decrease the risk of transmission, but it isn't one hundred percent certain you can't infect someone.
This is typical subject matter for Landale's blog as nothing is off limits. He has the special honor of owning the longest running bareback blog on the internet and wears it like a gold medal. Starting in 2006, it was like a diary to document his wild youth. A place for Landale to share the places he was visiting and his sexual escapades.
He never expected anyone to read it or for it to become so popular. According to Landale, his blog gets around twenty thousand unique visitors a week. Along with reading, visitors can watch a short video clips or gander at pictures that accompany some of the posts, to get the full experience. "I've written about about my HIV status, the ways to clean one's ass out in preparation for being fucked, legal issues surrounding bareback sex, and the legality of disclosing your HIV status," says Landale. "It's something that is designed to make you laugh, cry, ponder, and just to entertain."
Landale feels great responsibility in his role as a barebacking authority. In his own words, he describes himself as a "genuine blogger" that has maintained his integrity and stayed true to himself. In the future, he hopes to continue sharing his adventures and break down the stigma surrounding barebacking: one blog post at a time.