Home Is Where The Art Is — Homeless San Franciscan Creates His Living
Ronnie Goodman spends a lot of his time in the black-walled basement of the Redstone Building in San Francisco's Mission District. Before he takes anyone down there, he makes sure to light an incense stick to somewhat mask the mugginess. He's also sure to play some music in the background — most of the time it's Billie Holiday. The room is lit with different festive ornaments: purple Halloween bat lights and white Christmas lights dangle haphazardly from the walls and ceiling. There are no windows.
Goodman, about sixty years old, calls himself a homeless artist and "creator."
"I think I was born an artist," Goodman says. "I think I came out of my mother's womb with a paintbrush."
He recalls first being interested in drawing when he saw his older cousin sketching Batman. He had never seen anyone draw like that before and remembers thinking his cousin had just done a magic trick.
Goodman did not begin school until he was about nine or ten years old because he didn't know how to read or write. He recalls his teachers having him draw pictures around the holidays because he was the best artist in the class.
"I didn't really see words, I mean I saw it but I thought it was artwork," Goodman says. "Everything was like a drawing."
He realized from a young age that he could make money through his art. He'd sell his work at school for lunch money because his mother, who had him when she was fifteen years old, was unable to give him money. Goodman's disadvantages influenced his art, but so did his other passion: running.
"I got my best artwork from running because when I run, it takes me outside my art; I'm able to look at stuff through a different visual lens," Goodman says. "When you step outside and run or do something differently, a different part of your mind works."
After being incarcerated at San Quentin State Prison for various robberies, varying from banks to jewelry stores, he found that he had no place to live. Goodman eventually found shelter in a tent under the bridge on Fifteenth Street and San Bruno Avenue, where he lived through rain and storm.
"I came to be homeless because of the fact that I had been locked down for a very long time," Goodman says. "I've been in and out of prison most of my life."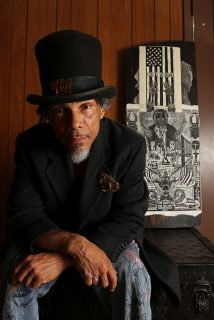 He remembers almost being killed, beat up, jumped on, and shot at while living on the streets. Although he doesn't use his tent as often, he claims that he still carries it with him everywhere he goes. When he can, he rests in the Redstone Building while he takes care of it. He also goes to Hospitality House.
Hospitality House's mission is to serve primarily homeless and poor adult residents of the Tenderloin, Sixth-Street Corridor, and Mid-Market neighborhoods. According to the organization's website, they serve by alleviating the strain on emergency services and raising the quality of life for their residents in various ways.
Goodman was able to have some of his art displayed through the Western Regional Advocacy Project (WRAP). He was introduced to WRAP when Art Hazelwood, Minister of Culture, went to San Quentin to scout artists who were interested in helping make political art. One of the first projects that Goodman remembers doing through WRAP was designing a sweatshirt to promote "No More Homeless Deaths" — a Hospitality House fundraiser.
"Art [Hazelwood] is an angel to me — he helped me with making sure I did work and sell work as an artist," Goodman says. "He gave me the opportunity to do shows."
On the second floor of the Redstone Building is the WRAP organization. WRAP's mission is to eliminate the causes "of civil and human rights abuses of people experiencing poverty and homelessness in our communities."
Art is the main strategy that WRAP uses to accomplish its goals. According to the organization's website, artwork has been the most successful way of engaging its audience when launching a new campaign.
WRAP uses art to depict different statistics in the homeless community when the organization is campaigning for a cause. For example, people who volunteer for WRAP go out and ask homeless people to answer survey questions. One question is, "Have you ever been arrested for sitting on the sidewalk?" Once they get their percentages and form charts, they have artists like Goodman create a work of art from it, making it more appealing to the eye, while not compromising the exact numbers.
"We did a report called 'Without Housing,' and in the report it has all these charts about data and stuff and all of that information is in artwork," says Paul Boden, director of WRAP, as he points to a poster. The art on this particular poster is done by Hazelwood. In big bold letters the poster says, "WITHOUT HOUSING: DECADES OF FEDERAL HOUSING CUTBACKS, MASSIVE HOMELESSNESS, AND POLICY FAILURES." On the left side of the poster there are houses piled on top of each other, but the pile starts to get smaller as it reaches the left side. Soon there aren't any houses and there are people left without a place to live. There is red line that charts the decrease in housing by showing abundant housing to zero as time progresses.
Boden has been involved as a client, volunteer, and staff member in San Francisco's homeless programs since 1983, and part of WRAP for the past eleven years. He, along with some of his peers from the National Coalition for the Homeless, formed WRAP in 2005.
Boden helped Goodman gain access to the art studio in the basement of the Redstone Building. In return, Goodman helps to maintain the building for different amounts of time that vary from day to day.
Unlike Goodman, Boden claims that he became homeless because he chose to, not because he didn't have any other choice.
"I was sixteen when I became homeless," he says. "I was twenty-two when I ran into Hospitality House, so I had several years to feel sorry for myself, to be like 'Oh poor me my mom died, my dad is an asshole. I'm in the street — poor little white boy.' I got over my shit and started realizing as fucked up as I think things are, there's other people that got it a hell of a lot worse than I do, and it just really changed my life."
Boden goes on to say that after hearing people's stories and seeing what they have gone through, he realized there are two different Americas: There's the America that poor people live in and there's the America that everyone else lives in.
"Why wouldn't a government want and strive for the people being governed, to be healthy, to be housed, to be educated," Boden says. "Learning something new everyday is fucking awesome — that's a good day. Having a decent place to live is really important, and having access to the best medical that we as a country can offer the people that live here."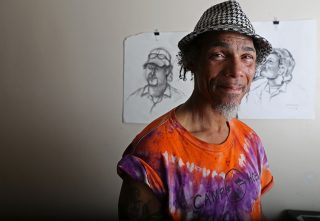 Although he is determined to stay out of prison, Goodman says he learned a lot about "creating" art in jail, for which he is forever grateful.
Goodman believes that homeless people do bad things not because they are bad people, but because they have been stripped of everything, including their rights. He uses art to depict what he sees in the city, and is glad he is able to bring light to it by partnering up with WRAP.
"I was tired of being locked up," Goodman says. "I just want to draw, I want to paint, and I want to create. I just want to be free."