Twelve Rounds On Industrial Way — Boxers At Fire In The Ring Go The Distance
The inside of the boxing gym is a percussionist's dream. The sound of speed bags play the fills while jump ropes carry a constant beat against the matted floor. It's a place dense with activity, from the chaotic buzzing-about of young kids, to the confident, purposeful movement of their coaches. One of two twenty-foot rings creaks under the combined weight of Laron Mitchell, a thirty-six-year-old heavyweight boxer on a 14-0 winning streak, and Oscar Avila, a volunteer, who holds mitts for a young boxer who is clearly new to the sport. It's the kind of juxtaposition that's common at Fire in the Ring.
"The stress, the struggle of living in an urbanized area can either break you or make you. Not everybody has it easy out here," says gym manager Clyde Sison. "Some do, some don't. But the ones that don't, Fire in the Ring gives them that platform to become wise and tough to survive in this environment."
Fire in the Ring started in 2000 — the ring was small, in a structure that also houses two restrooms and the dugout for the baseball field at Crocker-Amazon park. The "fire" was Jimmy Ford, a boxing veteran who spent his fair share of time both in the ring, and coaching before founding Fire in the Ring. Now, with a bigger gym in Brisbane and a team of volunteers, Ford provides a safe place for kids and adults to learn how to box.
"I didn't want to be caught up in all the competition," Ford says. "My thing is that I've gotta keep the kids off the street, I've gotta keep them out of trouble. There were some people who truly believed in me when I was a little kid, and all I'm doing is giving that back," Ford says.
Ford started boxing at ten years old. He credits boxing to keeping him out of trouble as a young man growing up in San Francisco's Excelsior District.
"Every time I left the gym, I got in trouble," Ford says. "Every time I was in the gym, and I surrounded myself with positive people, my life was good."
So he stayed in the gym. During his time as a competitive boxer, Ford fought for three years in the Junior Olympics, fought in the Golden Gloves amateur boxing competition, and attended training camp at the nationals in Minneapolis.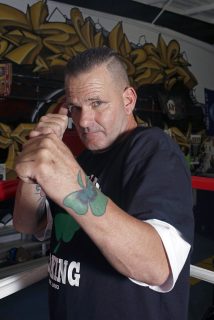 Ford calls the Crocker-Amazon gym a "diamond in the rough." After the closure of World's Gym, Ford needed a space where he could continue to train three Italian boxers. He was sitting on a bench at Crocker-Amazon park when he happened to see the park director in the parking lot. He asked if they had a space where they could train.
What he got was a storage facility, built under the bleachers of the Crocker-Amazon baseball field. The Crocker gym is about two blocks away from Church of the Epiphany, a Catholic church where Ford worked as a boy, selling concessions at the church's gym.
"The gym here was a disaster," Ford says. "[I] fixed it up, painted it up — next thing you know, a gang of kids walked in from Epiphany [Church], in a single-file line, and wanted to box."
Things at Fire in the Ring tend to happen like this, with each new growth catalyzed by a sign — seemingly from God — that the time is right. It's a testament to Ford's faith, to which he credits much of his success.
"The man upstairs, if he believes your motives are right, it's just gonna blossom," Ford says.
It was a matter of time before Fire in the Ring underwent another transformation.
"As I was cleaning [the gym], World's Gym called me up and said 'Jimmy, you know, I got a ring, I got a lot of equipment, and I'd like you to have it,'" he recalls. "So I bought all that [equipment] for $2,500."
When the twenty-by-twenty-foot ring didn't fit into the Crocker-Amazon gym, and with membership at Fire in the Ring increasing, it became clear that it was time to expand. With that twenty-by-twenty-foot ring as the seed, the Brisbane gym grew into a warehouse that now features two full-sized rings, punching bags of all kinds, exercise bikes, and colorful murals on the wall.
A short distance from the intersection of Bayshore Boulevard and Geneva Avenue, Fire in the Ring's Brisbane location is a colorful standout in an otherwise industrial setting. The painting of the Fire in the Ring logo, a shamrock with boxing gloves hanging from its center, is a stark contrast from the relatively lifeless "ALLIED ROPES CO." painted on the wall across the street.
A signed Jerry Rice jersey is framed above a group of speed bags, and the walls are covered with framed photos of boxers, spray-painted murals, and flags that declare allegiance to the United States of America, the 49ers, and the San Francisco Giants. In a corner near the back door, a large cardboard box overflows with used devotional candles. Similar candles can be found burning throughout the gym. A string of pennants featuring flags from around the world hangs from the ceiling, alluding to the culture of acceptance that is encouraged at Fire in the Ring.
There's an atmosphere that anyone who has been in a martial arts gym would recognize, but something that differentiates this gym from others. As two brothers prepare to spar, it's impossible not to think of the potential for boxing to be a mediator of conflicts. However, there are less tangible elements of boxing than providing a safe environment for people to punch out an issue.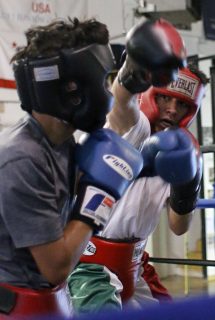 "[Boxing] teaches you confidence, first of all." Sison says. "It teaches you sportsmanship. It's exercise. It teaches you how to defend yourself. It brings you to being a fighter, not necessarily physically, but it brings you to being a fighter mentally. It's basically a blueprint to how to live your life, in my opinion."
Avila is a Fire in the Ring alumnus, and current volunteer. He started coming to Fire in the Ring as a thirteen-year-old because he didn't have the grades to play high school sports. Now he's applying to colleges to study chemical engineering, and he's back as a trainer.
"Jimmy … He's saving kids from what the streets have to offer," Avila says. "What the streets have to offer is death."
One of Avila's trainees is Saul Soto, a sixteen-year-old who heard about Fire in the Ring through the Internet. Soto uses boxing as a way to relieve stress, and is looking forward to fighting competitively.
As a boxing gym, Fire in the Ring supports young boxers who want to compete, but it doesn't push them into competition. It's a model that focuses on empowerment rather than pushing people into the stress of competitive boxing.
"Instead of having a stable of ten fighters, I'd rather just train all of them, let them come through and just have a blast," Ford says. "And the ones who do want to go there, I'll make sure they're taken care of and they can get there. Whatever dream a kid comes in here and wants to achieve, we make it happen."
The locker room at the Brisbane gym has about sixteen lockers. Most of them are labeled with boxers' names written on blue tape, even the locker of Laron Mitchell, a current professional heavyweight boxer and Olympic trial finalist. Mitchell's locker is signed by former Irish professional boxer Steve Collins, "The Celtic Warrior." In the mid-nineties, Collins held world championship titles from the World Boxing Organization for the middleweight, and super-middleweight weight classes. On Mitchell's locker, the Celtic Warrior wrote, "To Laron Mitchell, A Future World Champion — Keep Punching."
Ford's lockers stand side-by-side with the letters "FORD" stenciled across them, black paint appearing bold and permanent against the beige lockers. Collins signed Ford's locker, too. It reads, "Maker of Champions."