Fostering A Family
GSP students Zemaye Jacobs and Joel Martin-Dill join GSP caseworker Melanie Ramirez-Carpio during a cooking class at the San Francisco Cooking School. Recently, the program added a few new events, like the Cooking Project Event to create student bonding. Lauren Saldana // Xpress Magazine
Move-in day at San Francisco State University is always a chaotic time. Luggage and boxes are everywhere. Cars, filled to the brim, try to find the best parking spot. Emotional families help their young college students settle in.
Among the new students this year is Zemaye Jacobs. The night before move-in day, Jacobs, with two suitcases full of clothes and a few pictures, took a Greyhound bus from Riverside to San Francisco.
She arrived at SF State before the chaos of the day began, and lugged her heavy suitcases through the campus. She was lost and confused among the buildings as she tried finding the designated sign-in area to receive her dorm keys. After a while, Jacobs found where she needed to be, and was soon unpacking her clothes in her apartment-like dorm located in the Towers at Centennial Square, a tall building on campus reserved for freshmen housing.
In no time Jacobs had unpacked her suitcases. She then sat down on her bare bed and watched as her roommates began to show up with their families, carrying boxes and luggage. She worried about how she would get all of the things that she needed.
She was about to go to Target with her roommates to buy bed sheets and other necessary items when Jacobs received a call from Melanie Ramirez-Carpio, a lead case manager for the Guardian Scholars Program at SF State. Ramirez-Carpio told Jacobs that there was no need to go to Target, and to instead come meet her and other members of the program.
The Guardian Scholars Program, or GSP, works with the School of Social Work and the Educational Opportunity Program to provide former and current foster youth students — like Jacobs — with the tools and support they need to obtain college degrees.
The program makes sure the students have priority housing, including housing during school breaks, as well as the materials they may need, such as bedding and toiletries. They also provide emotional support, school and life advice, as well as career opportunities.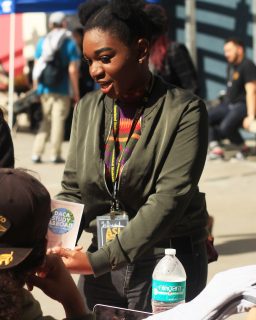 "I also met my mentor that day, Ashley, and she helped me make my bed and put on my covers, sheets, and everything," Jacobs says, smiling as she recalls that first encounter with the program. "I started crying I was so happy — because I didn't have any of that stuff, and was worried about that." She remembers taking clothes out of drawers and hanging them up in her closet with the hangers the program provided her.
GSP is taking on a large amount of new students this year, approximately twenty and counting, according to Ramirez-Carpio. And instead of feeling daunted by this influx of new faces, the program and its members feel excited. They take the time to get to know each newcomer, welcoming them into the "GSP family,"as it is often referred to as.
"We're definitely expanding our services and we're handling it well," Ramirez-Carpio says regarding the number of new students. "We're excited that more and more students know the reputation, that when they come to SF State … they have a family in GSP."
She explains that the program has been fortunate in gaining support from donors and community partners, enabling GSP to implement a new database that allows them to track the program's outcomes more sufficiently. By doing so, they can see what is working for the program and make it better.
One thing the program strives to do is connect the Guardian Scholar students to one another. According to Ramirez-Carpio, GSP provides new students with a t-shirt and sweater that say "Guardian Scholars Program" as a way to show pride for the program, and connect students who may not otherwise know that another student is involved with GSP. They also try to have students live with or near one another. Jacobs lives in the Towers where numerous other GSP students reside, making it easy for the students to create connections.
Jacobs often hangs out with another freshman GSP student, Ivan Manriquez, who is studying astrophysics. "He has photos of people like Isaac Newton on his walls," Jacobs says, referring to his room just down the hall from hers.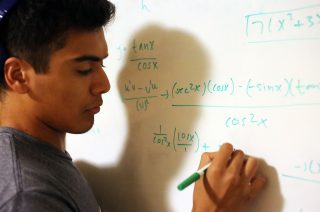 Manriquez also experienced the same generosity and friendliness from GSP on move-in day, and even received a bike from the program to make traveling easier. While he has been enjoying his overall experience at SF State, he still misses his home in a town near Los Angeles called Montebello, and his girlfriend, whom currently attends University of California Riverside. Like other students, Manriquez often goes to the GSP office to talk to the members about his day and his struggles.
"They listen to me and hear me out," Manriquez says. "They give me advice, like keep in touch with them and keep yourself busy, which helps a lot. It's great to have people like that around you."
Each member agrees that the the program's events are amongst GSP's highlights.
"We have a lot of fun at these events." says Ramirez-Carpio, reminded of the many memories from each one, such as the annual Halloween Karaoke Costume Contest.
Recently, the program added a few new events, like the Cooking Project Event, where GSP members attend a cooking class put on by the San Francisco Cooking School.
On October 10, a group of GSP members took public transit downtown together to one such cooking class. They gathered around a table, all dressed in aprons, and watched as the instructor showed them how to make a puttanesca sauce. They laughed and joked with one another about how to cut the garlic, and who did or didn't like capers and olives. Joel Martin-Dill, another freshman who is part of the cheer team at SF State, said he would be trying out everything in his sauce, even the optional anchovies.
"You should always try something new," Martin-Dill says.
Martin-Dill has also benefits from the GSP. He loves making new friends within GSP and attending all of the events he can manage. While sitting across from the Student Services building on a patch of warm, sun-lit grass, he takes in a deep breath and sits back, thinking about what he is most proud of in life.
"I'm proud when looking back from where I started to where I am now," Martin-Dill continues. "Because I know now that [life] will just keep getting better and better in the future. Because I have plans, and I want to get further and I want to achieve a lot, so I'm really proud of myself now."