Under Pressure — How Access To Mental Health Resources Affect Academic Success
As Amanda Campbell walks through campus, she calculates if there is enough time to grab a bite to eat after her third class of the day and some time before her eight-hour work shift. Whilst juggling her schedule, she remembers that she still needs to run an errand and finish an assignment, all the while managing her time for her commute from San Francisco to Dublin. Campbell, a full-time fine art major at San Francisco State University, is so often preoccupied with thought, that she is unable to enjoy the beauty of trees and trails on campus — often times wondering how some students have time to play frisbee in the grass so freely.
Balancing all of these responsibilities can be overwhelming in itself, and as stress and anxiety intensify, the heavy feelings begin to manifest physically in a moment's notice.
"All of my adrenaline rushes straight to my chest area. It becomes hard to breathe. My mind is racing, but it isn't clear. I can't control it. I freeze up, my muscles cease," the twenty-three-year-old senior says. Campbell is describing her panic attacks, which can last anywhere from twenty minutes to an hour.
These attacks happen on a regular basis. In most cases, during a panic attack, uncontrollable feelings take over the mind and body, which prevent a person from being able to do anything during the time. Campbell is diagnosed with an anxiety disorder, which means that she has major anxiety attacks and depression, combined, which sometimes prevent her from showing up to classes.
She's not alone. One-in-four students has a diagnosable mental health illness, according to the Centers for Disease Control and Prevention. Mental health is a prevalent concern in college students. Although some cases are not fully developed or reported, according to the National Alliance on Mental Health, most psychological disorders first show symptoms between the ages of fourteen to twenty-four. As if the college years are not already a challenging transition to adulthood, some students have to deal with their own internal struggles on top of their academic responsibilities and social pressures. Untreated mental illness can have significant implications for academic success.
Campbell recalls finding herself missing classes, always playing catch-up, and then ending up having to finish "incomplete" classes after missing too many. Despite the prevalence among college students, the stigma of mental illness lingers, and it can prevent those experiencing it from seeking the help they need. Before coming to SF State, Campbell was an honor roll student who looked forward to one day getting her master's degree. Once at SF State, she found herself almost failing her classes and knew she needed help long before she sought it.
"I almost flunked out last year," Campbell says. "I was placed on academic probation after I had a breakdown and missed half of my finals during the fall." This was the predicament she found herself in before Campbell found a counselor that fit her needs and taught her to manage her stress and anxiety.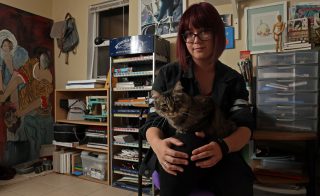 According to Derethia DuVal, director of Counseling and Psychological Services (CPS) at SF State, "The majority of students who utilize the CPS present [sic] with academic stress, anxiety, and depression among other issues." Instead of getting help, many students cope with these problems by turning to substance abuse or self-harming. Constant stress and anxiety, especially when mixed with substance use, can lead to lower grades, higher chances of dropping out, and even suicide.
Nineteen-year-old Danny Grey, spent a semester trying to succeed in school while self-managing their posttraumatic stress disorder and anxiety disorder. Like many students who don't seek help, Grey began using drugs to remedy their mental health problems that weren't being addressed.
"I was trying substances constantly — it started with weed then it escalated to harder drugs," Grey recalls. "I was doing drugs and not getting proper help. I got to a point where I was having constant meltdowns."
Students often don't know where or how to seek mental health care, and anxiety increases with the idea of doing so. Much like Campbell, Grey knew they needed to seek professional care. The distinction between their circumstances is that Grey did not seek help, but in Campbell's case, she had a supportive network that pushed her to get the professional guidance she needed.
"I was nervous," Campbell shares. "I was so scared to see the psychologist for the first time. I nearly had a panic attack waiting in the office."
After seeing a psychologist, her depression was more manageable. But often, cases go unrecognized and if untreated, can have tragic results.
"Forty percent of students do not seek help when they need it, and depression is a gateway issue and can lead to students dropping out of school," Kevin McCarty, California State Assembly president, says in an article published by Capital Public Radio News.
The American Psychological Association reports that suicide is the second-leading cause of death among college students. The recent death of SF State accounting student, Maxim Tolstov, who was found dead near Stonestown Galleria on October 6, was investigated as an apparent suicide. The timing of the incident was closely aligned with midterms week, which led authorities to investigate whether or not this tragedy was influenced by the heightened stress factor associated with the academic season.
The health services staff participate in outreach activities, including New Student Orientation, Sneak Preview, Welcome Days, athletic games, and student organization sponsored events among others. Still, with great frustration, Grey expresses that, "the mental health resources are not advertised nearly enough on campus." Both CPS and Student Health Services are promoted via #SFStateCares, a joint campus social media campaign that advocates for student health and wellness. While the health department shows great effort with hopes to reach students through social media, all three, Facebook, Instagram, and Twitter platforms have low following rates in comparison to enrolled students.
SF State students pay a health fee of $157 per semester. Vice President of Student Affairs and Enrollment Management, Eugene Chelberg, explains via email that the total amount of fees collected is distributed between the Counseling & Psychological Services (CPS), Health Promotion & Wellness Center (HPW), and Student Health Services (SHS). The current CPS budget is just slightly above $1.5 million, which covers the salaries and benefits of 8.75 full-time equivalent counselors and six and a half additional mental health service employees, as well as the operating expenses of the department.
While not all students use the counseling services, and the budget reflects the average amount of mental health employees hired at public state universities, DuVal mentions that CPS services are usually overbooked, leaving many students unsatisfied and neglected.
"When and if students complain about CPS, they typically are concerned about the wait time for an intake appointment (especially later in the semester), and/or they desire additional sessions/longer-term therapy," DuVal says in an email.
Depending on the time of the semester, students can usually get an intake appointment with a CPS counselor within a week or more from their initial request. Throughout the academic year, students are typically seen by counselors for six to ten brief sessions.
"Sometimes it is hard to get an appointment the week of, so I try and book an appointment every two to three weeks with the psych counselors," Campbell reveals.
As enrollment continues to increase, the need for mental health services increases as well. Governor brown recently vetoed the bill, AB-2017 College Mental Health Services Program, which was created with the purpose of improving access to mental health services on college campuses. Capital Public Radio News states that, "AB 2017 would create the College Mental Health Services Fund, allowing the state to match money spent on mental health services via competitive grants. If a university needs $100,000 to hire mental health faculty, the state would pay half of that amount." AB-2017 is subject to a future appropriation and could be the answer for an increase in resources for the CPS.
Even with her share of concerns about counselor availability, Campbell recommends the services to other students. Campbell graciously shares, "The mental health services are a big reason for my success in school. They saved my ass!"