Pushing Vegan — The Vegan And Skateboarding Communities Intersect
Thirty-five-year-old Kerry Weber wakes up at six in the morning to commute to work at a tech campus in the South Bay. Weber is a lab engineer who skateboards any chance he can get, whether that be at his workplace or after hours when the parking lots are empty. On the weekends he prefers to skate in the early mornings, to avoid younger teens who just lounge around skate spots. After his skate sesh at Berkeley Skate Park, he proceeds to brunch at Oakland's vegan cafes, Hella Vegan Eats or Timeless.
Weber is a Bay Area skateboard enthusiast who created the Vegan Skate Blog in hopes of fusing two unexpected ideas — veganism and skateboarding. It's a website for fellow skaters, who are also vegan, to find animal-cruelty-free shoe brands, and to share their adventures and concerns.
Weber has been a vegan for two decades, so he prefers not to wear just any pair of suede or leather shoes to skate. Suede and leather materials typically come from various cows, goats, lambs, or deer carcasses. To some skaters, rocking a new pair of skate shoes is about aesthetics, but not to Weber and many other vegan skateboarders.
Weber lists shoe brands on his site to help other skaters find shoes that don't use animal products and will not deteriorate after the first use. Leather shoes are preferred because of their sturdier quality; however, a vegan's next best option is canvas skate shoes. The grip, stitching, padding, weight, and the material itself are among the most important details that skateboarders look for when finding the right shoe.
Weber tests several different brands and shreds day after day evaluating the quality so he can give honest feedback about the product. If he works closely with a brand, he will check their stock level for sizes, as shops are quick to run out. Among the local Bay Area skate shops, Weber suggests that skateboarders look to DLX, Red Curbs Skate Shop, and 510 Skateboarding to find vegan shoe options.
"I thought that it would be kind of cool to collect those [shoes], because whenever I was contacting companies they would say 'We used to have vegan stuff, but we don't know if there was really any interest anymore,'" Weber says.
Shoe companies responded when professional skateboarders like Ed Templeton and Mike Vallely demanded vegan-skate shoes, but as their fame decreased so did their movement.
Weber sensed that there were still several others who were dealing with the same predicament. He started off with only a few followers in July 2011, but his following quickly blossomed.
For many people, the clothes on their back, the products they use, and the food they consume can be manufactured anywhere and by any means. To be vegan is to be conscious enough not to utilize or consume products that have been produced by or at the expense of animals.
"Most of the world says you should eat animals, you should like bacon, you should like cheese but for people who choose to be vegan, or choose to make conscious decisions about their consumption, those are things that are self-motivating that come from within," Weber says.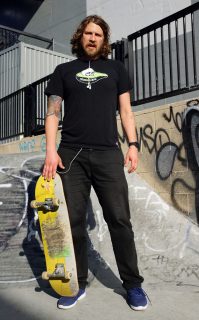 Yet, accessibility is an issue for vegans and non-vegans. Even if a person is in search of vegan alternatives or eco-friendly items, the high costs can make the products unattainable.
An article by Monmouth University Professor Corey Lee Wrenn published on The Vegan Society website states that "'ethical vegan mobilization' is, statistically speaking, primarily a Western, white, and affluent phenomenon … the fact of the matter is that fresh fruits and vegetables (and even water) can be more expensive than their processed counterparts: particularly in the US."
Dietary constraints is an immediate thought when a person mentions they are vegan, but it is much more than that.
"Veganism is a philosophy and a way of living, which seeks to exclude — as far as is possible and practicable — all forms of exploitation of, and cruelty to animals for food, clothing or any other purpose," according to The Vegan Society website.
At first it might not be apparent as to why and how skateboarding and veganism would intertwine, but as Weber mentions, it encompasses a lot of self-determination.
"When you're skateboarding you look at the world differently, and you interpret the world differently, and you try to inspect things," Weber says. "We are in this plaza right now and all around I see ledges that I would want to skate, I see rails that I would want to skate, I see steps that I would want to do a trick down."
In his blog, Weber incorporates a forum-style page called "Vegetable Shredders," where readers like twenty-six-year-old James Alby, who has been vegan for five years and a skateboarder for twelve, can submit their stories.
"I try my best to keep everything I wear vegan," Alby says. "I remember shopping for backpacks and having a hard time because a lot of them had little pieces of leather."
As the Internet increased the visibility of his site, Weber noticed an increase in others' desires to share their stories online and through social media.
"Even though they might have been a skater first or vegan first, or one or the other, those two things are inseparable in their lives," Weber says.
Although Weber was able to find a fairly affordable solution to his footwear dilemma, products from environmentally conscious brands, like San Francisco's Rothy's, can be quite costly.
"Rothy's are constructed of soft fibers made from recycled water bottles, a carbon-free recyclable-rubber outsole, and insoles made of recyclable foam," says Roth Martin, chief creative officer of Rothy's.
While Rothy's are a positive alternative for the environment, they can also be a substantial negative to one's bank account. Ranging from $125 to $145 a pair, the cost of being environmentally aware is not always cheap.
As of now, Rothy's shoes can only be found online, which does not give clientele the option to test how truly comfortable the recycled material can be on the sole of the foot.
Just as people are requesting non-gmo and organic foods, a similar push is occurring in the apparel industry. Newer brands and companies are recreating existing methodologies for vegans and non-vegans.
Synergy Clothing, a vegan-conscious company located on Valencia Street in the Mission District, is excited about its apparel that follows new Global Organic Textile Standard (GOTS) guidelines.
"Synergy uses all organic or eco-friendly fibers, giving their clothing a lighter footprint," Marketing Director Chelsea Gurnoe says. "The fabric is also dyed with low-impact dyes."
According to GOTS's website, the standard was created "to define world-wide requirements that ensure organic status of textiles, from harvesting of the raw materials, through environmentally and socially responsible manufacturing up to labelling in order to provide a credible assurance to the end consumer."
It is common to look at inanimate objects like shoes, coats, or clothes in general, without considering that there's more to the product than a stitched piece of fabric. Being cognitive about what a brand represents through their textiles, eco-footprint, and policies ultimately affect both the vegan and non-vegan world.
"I think with anything you buy, you should always be conscious of whether or not it's cruelty free," Alby says. "Doing as much as you can is important."
Correction: In the print edition, Florie Hutchinson was attributed as Rothy's director. She is a spokesperson for the company. Kerry Weber was identified as Kelly Weber in the photo captions.