The Line Between Free and Hate Speech
Yen Avery, a San Francisco native, poses for a self-portrait that she hopes will portray a positive image of Palestinian culture.
When Yen saw the advertisement pass by her on the side of a San Francisco bus, she felt anger and disgust. The red block letters spelling out "Palestinian Authority Teaches Children to Hate" and "End all U.S. aid to the P.A." were layered onto three pictures of Palestinian children in gruesome situations. To Yen, the purpose was seemingly to provoke, and that consequent emotion resounded in her.
The advertisement, which first appeared on San Francisco Municipal Transportation Agency buses in early September, were funded by the American Freedom Defense Initiative. Pamela Geller, the President of AFDI and a verbal political activist in the right-wing community, was responsible for getting these ads dispersed throughout San Francisco.
Geller is Jewish, which may spur her political stance on Palestine. The ads denouncing Palestinian authority were a direct response to "Boycott Israel" ads that ran on San Francisco buses in August. These ads were funded by the Seattle Mideast Awareness Campaign. SEAMAC's ads have historically promoted equal rights for Palestinians and advocated to stop U.S. funding to the Israeli state.
The dissonance between Palestinian and Israeli people dates back to the early 1900s, when the Palestinian and Israeli communities began to solidify their national identities and sought land to call their own. When Israel won the Arab-Israeli war in 1949, Israeli forces pushed passed the borders that had been designated for Israel in 1948. Consequently, Palestinians were expelled from their homes and more than 700,000 Palestinian Arabs became refugees in surrounding Arab states.
After the 1967 Six-Day War between Egypt and Israel, state occupation by Israel of the West Bank and Gaza began to multiply. The division of Palestinian land made it increasingly difficult for Palestine to become an independent state. Today, it is regarded in the United Nations as a "non-member observer state." According to Israel's Central Bureau for Statistics, more than 700,000 Israeli people still inhabit Palestine's territory.
SEAMAC's website states, "We oppose racism against Jews, Arabs, or any other people.
Criticism of Israel is not criticism of the Jewish people. Israel is a nation-state, and should be held accountable to the same international humanitarian and legal standards as any other country."
SEAMAC was reached out to for comment, but did not reply.
Geller's September 9 tweet, announcing the ad campaign on SFMTA buses reads: "#AFDI new ad campaign rolled out on hundreds [of] San Francisco buses countering the Jew haters."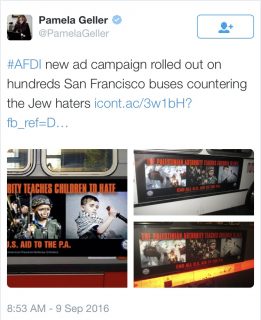 The AFDI's mission is to "stop Islamization of America." Their campaigns span a wide range: they advocate against Sharia law, in favor of their version of free speech in Texas, and promote equal rights for Jews amongst many other anti-Islam movements. This is not the first time AFDI's advertisements have raised attention. Ads attacking honor killings were removed from Canada buses, anti-Sharia ads were censored in London, and Quran ads, according to AFDI's website, were "suppressed" in New York.
Yen Avery, a twenty-four-year-old native San Franciscan who prefers not to disclose her last name, reached out to SFMTA as soon as she saw the ads running on Muni. She then began a petition on change.org, which garnered 2,735 supporters.
"I could not believe that an agency here in San Francisco would allow such a hateful message targeting children," Yen says. "I attempted to reach out to my fellow Palestinians and loved ones about it, and their response was also that something needs to be done about it."
SFMTA's response to her was, "We apologize if people are offended by these ads, but they fall within free speech protection under the First Amendment."
Yen, whose son's father is full-blooded Palestinian, struggled to find the words to explain to her little boy when they saw the advertisements in San Francisco: "It hurt me so much that my innocent toddler has no idea of the pain of his people. I thought to myself, 'Baby, if only you knew.'"
She adds, "Our children and people of America should know the truth of the sufferings versus seeing hateful propaganda around their school or on public transportation."
Paul Rose, the official spokesperson for SFMTA, backed up its original response to Yen in an email, saying, "These types of ads sometimes run on Muni vehicles because the posting of this type of ad in general has been upheld in federal court under the 'protected speech' clause of the First Amendment. The First Amendment limits the SFMTA's ability to run ads with messages that we support while excluding messages that we find offensive."
He then mentioned that their advertising policy "…states that our transit vehicles are a limited public forum and that governs the types of ads can be placed on SFMTA vehicles. This advertising policy has been in place for more than ten years. Intersection does have a process and determined that these ads were required for posting."
Rose wants it to be clear that the SFMTA "does not endorse these ads."
In an interview with Breitbart, a conservative-American news and opinion network, Geller says, "San Francisco really is the last city where the 'Geller ban' is not in effect. We've seen this where we tried to run ads in response to some fallacious ads that the Jew-haters are running, whether it's SEAMAC or American Muslims for Palestine or some other nefarious group that is running blood libel against Israel."
Geller's term 'Geller ban' is a self-realized acknowledgment of the controversial, and now infamous, nature of the ads, and the consequent action cities have taken against them.
Geller and AFDI plan to continue targeting cities where "freedom of speech is not banned." Geller also told Breitbart that "[The ads are] highlighting the truth about this ideology that calls for the genocide of the Jews. What better way than to use their own photos to show how they indoctrinate and inculcate their own children into this unfathomable and genocidal ideology."
In San Francisco, where the source of ads are typically the latest app development, medical marijuana clubs, or Dignity Health's "Humankindness" campaign, vocally political advertisements can be a stark contrast, especially when they concern foreign affairs.
David Greene, who is the civil liberties director and a senior staff attorney for the Electronic Frontier Foundation in San Francisco, commented on the national legislature allowing these ads in an email:
"The US Supreme Court has found in 1974 that a public transit agency could decide to ban all political advertisements, though it would then have to craft a careful definition of what it is actually banning), but once it decides to accept them, it cannot pick and choose among them. A ban on political speech — all of it — is considered to be content-discrimination, which is permitted as long as it is not a public forum, and not viewpoint discrimination, which would only be banning political speech because of the specific viewpoint it expresses."
The advertising policy that Rose draws attention to, which has been in place for ten years, states seven standards. Among not being able to advertise a declared political candidate and campaigns that are false or deceptive, it also states, "SFMTA advertising contractors shall not post any advertisement that is clearly defamatory or advocates imminent lawlessness or violent action."
This proposes a question: what constitutes defamation? Would the Palestinian Authority, or Palestinian Americans, be able to use this standard to fight against Geller?
According to Greene, "For this ad to be defamatory it would need to make a demonstrably false statement about a 'person' that injured that person's reputation. Although an entity or organization can be a 'person' for the purposes of a defamation action, it is highly doubtful that a political entity like the Palestinian Authority could claim personhood for a defamation action."
In order to begin a legal process against the ads, Greene says in an email that someone would have to prove that the ad's claims were false, which, in his words, "can be difficult with speech that discusses controversial issues for which the truth or falsity is in great dispute."
The kind of speech that caught Yen's attention on the San Francisco MUNI buses is protected in the First Amendment, bottom line. In America, words are a privilege, even ones that provoke its citizens. Disseminating words and opinions is the nation's richest currency — for better or for worse.