Follow Request Accepted — Fashion Enterprisers Market Themselves Using Social Media
Photographer David Ho (left) talks with make-up artists Sarah Espinoza (right) while stylist Allison Caragena (center) looks at her phone at San Jose State University. Brenna Cruz/Xpress
The pop of her cheekbone highlight brightens the intensity in her eyes that holds the vision for this day's "look book shoot." Coffee in hand, self taught SF/Bay Area makeup artist, Sarah Espinoza stands alongside wardrobe stylist Allison Cartagena, and model Avalon Peterson, waiting for photographer David Ho to unlock the studio where the magic will happen.
After hauling in luggage full of clothing and makeup into the studio, the quartet of artists, whom met via social media, set up the necessities to bring their creative ideas to life. Devoting her Sundays to work on a collaborative shoot is the norm for twenty-six-year-old Espinoza.
Espinoza is a modern day entrepreneur known as @sarahsowse on the social networks she utilizes to self-market her work. She uses networks such as Pinterest, Twitter, and YouTube in company to Instagram, which is her prominent platform.
"Without social media I would have to resort to word of mouth which can only take you so far, or just a website, although that would require me to do Google Ads or find a way to be the number one hit on Google search," Espinoza giggles at the thought of solely spoken advertisement and business cards. Her website receives a large revenue of views, which she attributes to linking it to her Instagram bio.
Espinoza credits social media for allowing her to capacitate working an eight-to-five job as a sales coordinator for three hotels while building up to her dream career. She says, "My future goal, makeup wise, would definitely be print magazine or runway work. As great as the side income freelance work brings in is, I would want to do something more creative."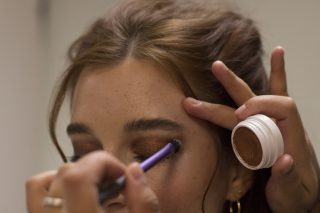 Before she started advertising her work online two years ago, Espinoza began working on family and friends's special events. They recommended her to others, which helped boost her clientele and experience, but social media introduced opportunities that word of mouth couldn't provide. According to the Pew Research Center, 65 percent of American adults use social media networks. Instagram gave Espinoza a place to quickly establish her niche, improve her lead acquisition, and to network.
"The majority of messages I receive start with, 'Hey I saw your work on Instagram and I wanted to inquire about . . .' a wedding, publication, or anything," Espinoza shares.
Espinoza posts a minimum of three new "looks" a week. She says, "People lose interest if you don't give them something to look at." She believes that posting self-disclosing material and staying relevant are key. She says, "My website is more of a professional profile but it doesn't give an insight to me as a person the way my Instagram does. I post some of my personal life aside from my work on there because I think sometimes you can like someones work but will be more inclined to work with them if you have an idea of who they are as a person."
Her marketing tactics involve being consistent and using smart hashtags. "It's important to be precise with hashtags, you can't just hashtag anything," Espinoza says. She uses hashtags to target different follower communities. To reach clientele looking for a special occasions freelance artist, she uses hashtags such as #motd (makeup of the day), #mua (make up artist), and #sfmua (San Francisco makeup artist). Hashtags such as #hudabeauty, #anastasiabeverlyhills, and #dressyourface are tags of popular makeup brands and makeup bloggers, used to target followers interested in the artistry.
Cartagena, who is also a style blogger and social media marketing manager believes hashtags are a major contribution to the audience a post receives. She has gauged the difference hashtags make by experimenting on similar posts — using hashtags for one and none for the other. She found that the posts incorporating hashtags receive 60-70 more like than those without.
"Although having a large following will help you expand, it is important to grow an organic based following as opposed to bought followers," Cartagena emphasizes. "I like to make sure my following is one where my followers are actual people that like my content and find my style interesting."
As "You Remain" by The Kings plays in the background, Espinoza and her team of artists work diligently to assure that the gradation of colors in Leigh's makeup is captured using the correct lighting, that her dress drapes off her shoulders ever so effortlessly, and that all aspects join together to complete the aesthetic they have envisioned. The product of the day's shoot will not only expand their work experience, but also give them new content to showcase on their interactive multimedia platforms.
The process of preparing for a collaborative shoot is done completely through social media. Espinoza explains, once artists have emailed or direct messaged each other to inquire the type of work they want to do, they use other media platforms to put their vision together.
She discloses, "We make a 'mood board' on Pinterest, which is our inspiration to get our juices flowing and create a concise look for our meet up day."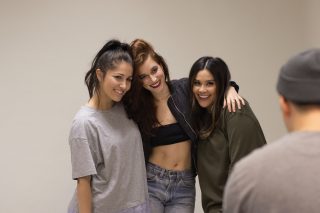 This operation is a contemporary method of preparation for a production that replaces hours of transportation and business meetings that would normally be held when using an old school business model.
Espinoza says the benefit of using Instagram is that it facilitates networking.
"Everyone you work with has a different market. When I [collaborate] with other people I'm definitely looking to get some of their followers to work with." Her Instagram now serves as a modern day portfolio which she ascribes to contracting her first print publication this year with Cliché Magazine. She expresses, "It's exciting and gives me new goals to aim for."