Who's Driving You?- SF State Bus Driver Connects With Students in a Disconnected Environment
For John Barry, his job description goes beyond being a bus driver for San Francisco State University. Instead of shutting the doors on students chasing the bus, he opens the doors to let them in. Those who commute during the week may have seen Barry assisting someone who is disabled, or making people laugh on the bus with his charismatic personality.
It wasn't until Barry found a job, just across the Bay Bridge that put him in a new position to open up and challenge himself. "I used to be a bus driver in East Bay, and I worked with autistic children for a year," Barry said. "I learned a lot from five-year-olds with autism."
"What are you doing with our children that's making them happy?" Barry recalls parents asking him as they notice a more talkative, and joyful, shift in their children's attitude. "I'm sitting to them at eye level, speaking to them as soft as I can, and trying to do anything to put a smile on their face," Barry answers.
Simple yet humble gestures that open the door for conversation, and bring delight to children who may not always have positive interactions. Barry's ability to relate to others is based on the experiences he's endured in his own life.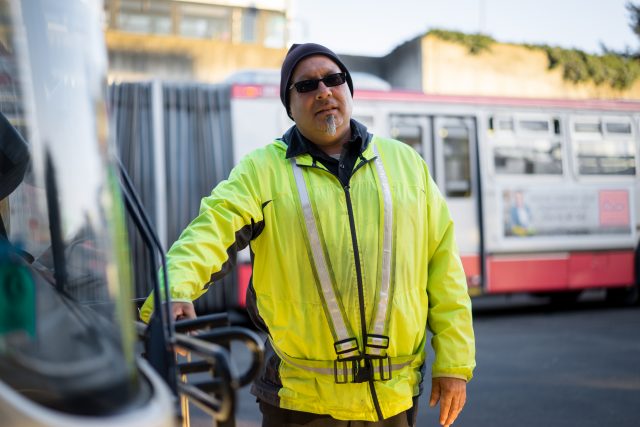 Though he grew up in San Francisco's Sunset District, Barry's ancestry consists of Japanese, African American, Irish, Italian, American Indian, German, and a bit of Armenian. While being able to relate to others came naturally, it did not make life any easier.
After graduating high school, the San Francisco native left home to pursue higher education at the University of California, Santa Barbara, to study civil engineering. Barry's dedication to his schoolwork led to an early graduation just three years after his enrollment.
With his newly-earned degree, Barry returned to San Francisco, filling out job applications, and slashing check marks through boxes titled 'Asian' under the ethnicity category.
"That racial barrier was up so I didn't have a chance because of my ethnic group," Barry said.
He has been denied job opportunities based solely upon his race. Again, Barry was faced with the redundant question he had heard growing up: "Well you don't look Asian so what are you?"
After having spent a life with racial ambiguity, and a rough upbringing, Barry knew the only person he could look to was himself. "I had to look at the bigger picture because for a while I was looking through a foggy window," Barry said.
He decided to grow through the adversity he is confronted with, rather than growing bitter toward others.
"The influence I got with my mom being the Japanese culture taught me a lot about how to be a survivor," Barry said. Upon his mother's decision to be a singer, she was banished from Japan, raising Barry on her own, teaching him to live life realistically, and free.
Barry reminds himself of the moral foundation his mother raised him by, which keeps him focused on staying true to himself, and true to others. "When I'm honest with myself, I know I have to treat people better if I want to be treated better."
Miwa Ikema, a former philosophy student at SF State, grasps onto Barry's arm, as he assists her up the escalator at the Daly City Bart Station; she rides his bus three days a week. Ikema uses her cane to navigate due to her blindness and knows that she can count on Barry for help whenever needed. Ikema has known Barry for nearly a year, and said he is the only bus driver that walks her through the gate, and up the escalator when the bus stops at the Bart station.
"He is friendly to everybody, not only to me," Ikema said. "Sometimes he stops [the bus] when he sees other students and waits for them."
Ikema was initially hesitant to accept help from Barry as she thought it was not part of his job to help her up the escalator. "He told me, 'No it's okay'," she recalls. "Then he tells everybody 'wait for a minute, I'll be back'."
"If I can make someone feel good or give them a helping hand to get them going on then I did whatever deed that was supposed to be done," Barry said.
Often times, it is unheard of for someone to stop and help another person due to the concentration on our own lives. But Barry sees it as his duty to assist others on and off the bus, believing that if he doesn't, he is not doing his job.
As the only night shift bus driver during the week, Barry continues his rounds as fewer and fewer students trickle on the bus. Denise Nichols waits on the sidewalk as she spots Barry's bus approaching, instantly recognizing Nichols he swings the doors open and shouts, "Come on!"
Nichols, a senior at San Francisco State studying kinesiology, expects top-notch transportation for all the money she pays for tuition. "Ever since I've been here, he's been so open to just have a conversation," Nichols said. "He's passionate about his job,and that's why I love the guy, anybody who's passionate about their work definitely needs some recognition."
Barry's sister, Mika Baba, believes Barry has always had a generous heart and describes him as an "underdog fighter".
"If you define a person as a friend, he's definitely one of those people who will be there," Baba said. "He doesn't even have to know everything about you."
[ngg_images source="galleries" display_type="photocrati-nextgen_basic_slideshow" gallery_width="600″ gallery_height="400″ cycle_effect="fade" cycle_interval="5″ show_thumbnail_link="0″ thumbnail_link_text="[Show thumbnails]" order_by="sortorder" order_direction="ASC" returns="included" maximum_entity_count="500″]
Barry admits his respectable work stems from the life-altering experience he had working with autistic children, who never put up a racial barrier. "I was being accepted, but I was only being accepted by one group. When I started working with the mentally disabled they opened my eyes," Barry said. "I had to dig deep and put out that fire that was burning my heart, and make it softer so I could deal with people."
When Barry was asked what is one thing he would change in the world, he paused briefly, and responded with 'attitude.' "Attitude is the one thing you need to change first to get anything together."
The compromising situations Barry has experienced have shaped his attitude into what it is today.
"My mom always told me a close[d] mouth doesn't get fed," Barry said as the bus reached its stop. "Regardless of how bad a person is, be nice because you will get it back in a whole different way."
Ever since Barry started helping others he has been rewarded in a whole different way; a way that he needed. Often times it is easier to stay closed-off in a disconnected environment, whether on a bus or on campus. But the genuine action of communication gives people a chance to respond. Barry leaves us with a question to answer on our own,
"If everyone is going to be bitter against each other, how are you going to ask for help?"