For Your Eyes Only: Realities Of Unwanted Photo Sharing
The flesh of my chest burned red as I desperately attempted to scrub off the greek letters drawn in black Sharpie. No amount of water and soap could be combined to remove the physical reminder of the photos I had drunkenly posed for. It wasn't until months later that I would learn about the devastating way those images of me would be shared.
According to a 2013 study done by cybercivilrights.org, 90 percent of non-consensual pornography victims are women. With the creation of the internet, and its ability to connect people in the broadest form yet, abuse of this communication has grown. We are learning more frequently about the extent the internet is being used to disseminate sexually explicit images of individuals.
There is a trend among men in leadership roles participating in secretive groups established not necessarily in order to share these images of women, but often used for that purpose. Platforms such as Facebook and GroupMe are utilized due to the option of creating private chat rooms. The secrecy of these groups is what makes it so difficult to monitor them without someone stepping forward with information.
Facebook, however, has been taking measures to push back against revenge porn and nudity by using programs that match images to ones reported by visitors of the website. After review by a Community Operations team member, this technology prevents any photo, which has been flagged, from being republished on both Facebook and Instagram.
The use of these platforms isn't limited to friends and family. Last March over 30,000 US Marines were found to be a part of a Facebook group, titled Marines United, whose purpose was to share photos of women in the marines. These images were published along with full names, rank, and military duty station, according to Thomas James Brennan, the reporter who broke the story. Brennan is a marine veteran turned journalist for the non-profit news organization, The War Horse.
Similar to the marines, fraternal men have adopted the same kind of groupsl. Their association with strong bonds of brotherhood is strengthened through secrecy. Combining this expectation of confidentiality with modern social media platforms has led to an issue that has become detrimental to women. These organizations have fostered a culture that allows men to solicit images of naked, or nearly naked women, while receiving little to no backlash.
Not all fraternity men are photographing women and dashing to these platforms in order to flaunt their, as the marines allegedly call it, "win." The majority fails at being proactive bystanders; the majority has become complacent, allowing the minority to act in a way the majority would not.
"I don't think it's right that you can post someone's pictures like that, but I'm going to be realistic. Guys will always try to show it off,"
says Mark Saur, Vice President of San Francisco State's Phi Kappa Tau chapter. "To them it's a trophy, an award. It's what makes them masculine because you have a picture of a woman all naked and it just shows like 'Hey look what I was able to accomplish.'"
When we criticize these perspectives, we often use the "what about the women in your life" argument as a way to personalize the conflict. The concept is that if we wouldn't want something to happen to those we love, why would we allow it to happen to anyone. The issue with this argument is that it throws out the basic respect men should have for women as a whole, regardless of relation.
"It's selfish if someone would do it. We're risking our name for this chapter and then someone else, kind of, you know, takes advantage and we get the blame even though we didn't do it," Saur says. "That's our part as a Phi Tau man, we think "we" and not "I" so if someone fucks up it's all our fault."
On the night my photo was taken, his sheets were warm from two drunken bodies having the kind of fumbling sex only two strangers could have. Everything in his room was foreign to me, and the adrenaline of getting to go home with an older fraternity guy made my blood rush. Once he reached for his marker and his phone, the pressure set in.
"Can I write my letters on your chest," he asked so confidently with his boyish charm, it was as if he knew I would say yes.
I hesitantly allowed him to press his marker onto my skin and when he was done, I sat there with my hands shielding my breasts.
It was when he asked to then photograph me that the real discomfort set in. I knew it was a bad idea. This was a man I'd met maybe once before through a friend. I didn't know him very well, but my naive belief in the good of others, combined with my early need to be liked, caused me to permit him access to this enormous responsibility of trust.
The next morning, I begged him to delete the photos and he promised he had. My gut told me he was lying but I wanted it to be true. Taking him at his word, we continued a casual sexual relationship. He had a level of authority by owning those photos, and the fear of what upsetting him would do drove me to attempt to please him.
Walking through the busy hallway to the basement of the library, the light from an iPhone screen lit up my face, and a normally infectious smile greeted me.
"Oh my God, is this you," shouted a close acquaintance whom had access to the platform my photo had been shared on. His intentions were innocent and he never expected the tears that quickly washed over my blushing cheeks.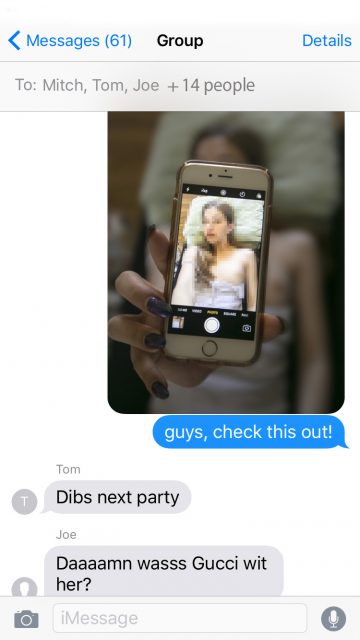 Two years later, and the fear of what that photo may bring still haunts me. I understand that my images aren't special. No one cared about them when they were first published and I can list possibly five people who would care about them now. The truly concerning issue is the continued occurrence of this type of abuse on women.
Men we trust, those in all branches of the military, up and coming leaders in fraternities, and even ex-lovers, are using this form of abuse with a lighthearted feeling of entitlement. According to a Data and Society survey, one in twenty-five Americans have experienced revenge porn. The larger issue is the complete disregard for women that exists once men are within a closed circle of comradery.
Currently, thirty-five out of fifty US states have laws in place to deal with revenge porn. Repercussions vary widely across the country, with California requiring up to $1,000 in fines for the first offense and six months of jail time. Any offense after results in $2,000 in fines and a year spent in a county jail. Other states, such as Florida, treat the first act as a first degree misdemeanor and a third degree felony for repeat offenders, according to the Cyberbullying Research Center.
On campus, staff are considered mandated reporters and therefore must report any form of sexual assault brought to their attention. Students may also put forward their own complaints through the Title IX section of the SF State website.
"My number one priority is making sure that when students come in to file a complaint that they leave here knowing that they got the support and they are taken care of,"
says Mary Ann Begley, SF State's Dean of Students, Senior Deputy Title IX Coordinator, and fellow greek member.
A mandated annual program is held with the intent of educating greek students on Title IX policies,discrimination, harassment, and retaliation. Title IX is a federal civil right which prohibits institutions from discriminating based on gender and sexual orientation. Feedback from the men attending these events has often been that they feel attacked due to the overlining message of men most often being the culprits of sexual assault.
"One of the things that we're doing, and this is part of what Health Promotion and Wellness is doing, is they are working on specifically a men's education program," says Begley. "It's essentially to teach men that you know you can stop a lot of these activities or behaviors that you're seeing and here's ways to do that."
I walk into the Pub with the Dodgers playing at the bottom of the 7th, and him sitting at the bar,his back turned to me. We grab our beers and I nervously follow behind as we find a corner for some privacy. As we sit across from each other in the Depot, awkwardly sipping his choice of beer, Sierra Nevada, we briefly reminisce. The man who shared my photo takes me by surprise and apologizes with no sarcasm in his voice. He doesn't fidget a bit and not once breaks eye-contact, forcing me to look away.
"I'm sorry, and I know that what I did to you was wrong."
A pile of my split ends grow on the table as a sign of my anxiety.
"You said I was in a position of influence for guys younger than me, and I want to help."
I sip on my beer as his eye-contact continues to unwaver. I've come a long way from who I was my freshman year, and so has he. Part of me clings to the belief that compassion is human nature. I also hold onto parts of that naive girl who believed the world could be a better place. I accepted his apology that day, while also accepting the necessity for the inclusion of men in this conversation. Men must check men in the end, and women must not falter.