Indivisible SF: Liberty And Justice For All
A throng of protesters marched through downtown on route to Civic Center wearing lab coats, shouting support for science, and holding up clever signs with science puns and references taking a jab at President Trump.
Coinciding with Earth Day, April 22's March for Science brought protesters outside on a cloudy, but pleasant, day in San Francisco to display their support for all things . The protest highlighted the error in climate change naysayers, in Trump's promise to deregulate the coal and oil industry, and in the proposed budget cuts to the EPA. Humor permeated the march even as the protesters brought attention to weighty topics.
"What do we want," A man asks the crowd using a megaphone
"Science," responds the crowd.
"When do we want it?"
"After peer review!"
Some signs poking fun at Trump, depicted him as a step backwards in the ladder of evolution and showed rising sea levels flooding Mar-a-Lago, Trump's resort in Florida where he's spent seven out of the thirteen weekends he's been president.
If it seems like marches against policies of Trump's administration are becoming a common occurrence, it's because they are. Since Trump took office in January, at least nine nationwide marches have protested Trump's attitude towards women, his stance on immigration, his failed muslim ban, and his reluctance to release his taxes. Sudden and abrupt as some of the marches are, they might appear to be mushrooming out of nowhere, but they're actually part of a growing grassroots movement across the U.S that is organizing in opposition to Trump's presidential agenda.
Clustered together among the various protestors, one group composed of people of different ages and occupations met to take part in the March for Science. Finding a thread of connection in this group requires more observation than a mere first impression, but over the past three months this group of organizers has taken part in a movement called Indivisible, which has been growing in numbers, consolidating, and participating in most of the nationwide marches that have passed through San Francisco.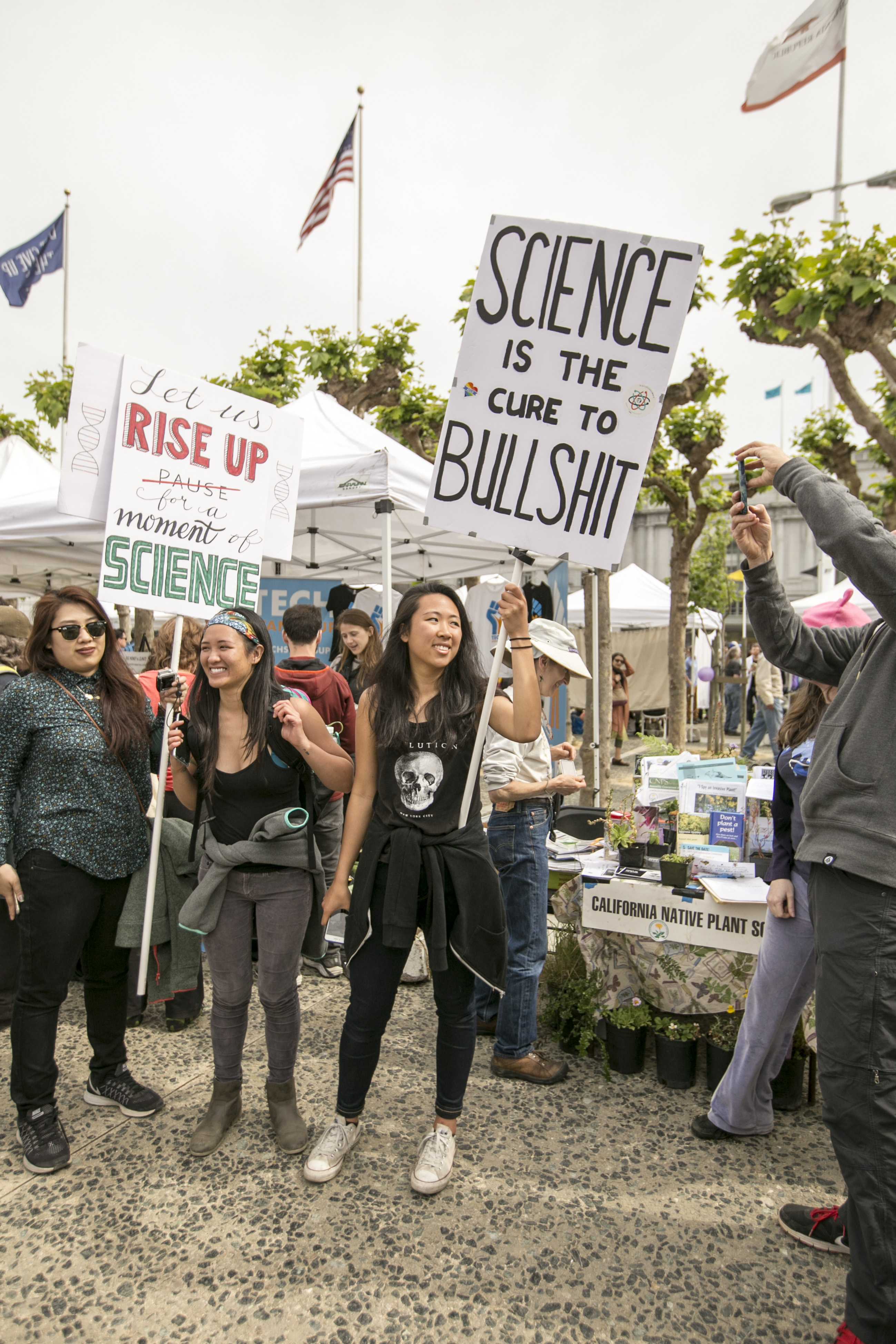 The members of Indivisible San Francisco swear by the Indivisible guide, a tutorial that borrows many ideas from the Tea Party's success with grassroots advocacy, which has allotted them influence in Congress, despite their modest numbers. The guide encourages members to keep track of their local congressional representatives by calling them and having their voices heard in town halls.
"I thought the guide had a backbone to it that Occupy didn't. It had a way to stay engaged,"
said Kristen Magnuson, a member of Indivisible and another grassroots movement called 350 San Francisco. She attended the March for Science because she felt that now was a critical moment for climate change.
According to the New Yorker, the indivisible movement began in the wake of the 2016 presidential election by two former congressional staffers who took from their experiences in congress and began to draft a document with tactics to resist the Trump administration. The guide lists steps anyone can take if they want to start their own group. It instructs how to volunteers can take on different roles and help the group operate. Anybody interested can look for a group to join in their community or begin their own if there isn't one.
"The publication that Indivisible put out was almost like a how-to guide and that was very strategic because people who have not been politically active before don't know how it works. There's something positive about that because people with new, fresh eyes can see how they can be more effective in ways that people who have been involved might not," said Ronald Hadyuk, professor of political science at SF State.
Members of Indivisible say that being part of the movement has helped them reclaim their political voice as constituents, it allows them to be active in the political process and has also provided a safe space to vent their frustrations. They've had a presence in town hall meetings held by Kamala Harris and Diane Feinstein, Feinstein even credits Indivisible's persistence as a key reason she held her first town hall in the twenty-five years she's served in the senate.
Jiggy Athilingam and Julia Ferguson are two young faces active in Indivisible SF. Athilingam is a phD student and Ferguson works for a startup, both are well-spoken and energetic. They heard of the movement through word of mouth and got involved because they wanted to be activists.
"Since the inauguration the news cycle is overwhelming, and I was an emotional wreck for a while. I honestly felt like being in Indivisible was almost like therapy for me. If I wasn't doing anything I would feel so hopeless, "
said Athilingam, adding that as a woman of color and an immigrant, the anti-immigration rhetoric of Trump's administration left her feeling concerned and wanting to take action.
One of the features that makes the grassroots movement successful is its insistence on organizing locally. There are currently 87 Indivisible groups in the Bay Area and IndivisibleGuide.com states that there are at least 5,800 registered Indivisible groups across the U.S. Furthermore, they estimate that their guide has been viewed eighteen million times by three million unique users.
"Because we are Indivisible San Francisco we have two districts, our constituents either vote Nancy Pelosi or Jackie Speier, depending on where we live, and then of course we focus on Kamala Harris and Diane Feinstein.," said Ferguson. "We just focus on them because we have the most impact on them. We don't call any other senators or elected representatives. We try to push elected officials left on issues that Trump is for. It's a pretty narrow scope."
Athilingam adds that the Indivisible guide focuses on the democratic process. "Our elected representatives are here to listen to us, it's their job and what they care about is getting re-elected. If you can speak up and they hear a lot of dissent amongst their constituents giving them feedback can strongly affect their policy. If they come back from a town hall and they're getting thousand and thousand of calls from their constituents, saying 'hey I'm not happy about this,' then they're going to start to fear for their re-election."
If Indivisible wants to be successful at re-taking political power, Hadyuk foresees some challenges for Indivisible. "Democracy is a commitment and it takes time and financial resources. One of the ways the Tea Party has been successful is they got a lot of funding from right-wing organizations that had money. They pumped big cash, huge amounts of money," said Hadyuk. "To really be successful over the long haul that's what it's going to take. It's not just about commitment in terms of desire, but capacity."
It's too early to tell if Indivisible will have a larger, nationwide impact, but as the movement grows and more people dedicate themselves to resisting Trump's agenda, the guide might take a larger precedence in the political process. If anything, slowing down and bringing attention to Trump's political moves and playing a role in the system of checks and balances.