Take the Rock: Serving Those Who Serve, and Have Served
It is strange to see the San Francisco skyline completely pitch black. The shadows of skyscrapers cast a watchful eye over the marina. There is a stillness, broken only by the sound of the waves lapping at the Hyde Street Pier.
The masts of the boats sway softly, untouched by the triangular appendages of gulls.
A familiar scent lures us into the corner of the pier. The smell of coffee mingles with the salty air, and with it a shallow murmur of conversation.
A small group of veterans and organizers are already here, setting up registration and taking out the swim caps for every swimmer.
Looking out across the chilly water, towards the island in the middle of the Bay, one might ask, "why Alcatraz?"
Kirk Mckinney, a commercial real estate developer and one of the coaches for today's swim, believes that it's one of the main things that draws people in.
"There's something special about Alcatraz," Kirk begins to explain.
"…We just thought it was so iconic and so San Francisco, that we figured that [Alcatraz] would be the thing, and that would hopefully attract people from all over. And it's starting to do that."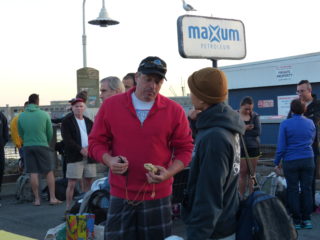 What makes Alcatraz so special, of course, is its history, particularly when referring to the multiple attempts that were made by prisoners to escape the island in its years as a Federal Prison. During its heyday, the maximum security prison held the creme-de-la-creme of the criminal world, including Al Capone and Robert "Birdman of Alcatraz" Stroud.
According to FBI files, the attempts that were made to escape the Rock were deemed unsuccessful, with escapees being shot, captured, or found drowned. However, five were labeled as missing, and presumed drowned. The records of the meticulous planning that went into these escapes have puzzled law enforcement, and the public alike. These stories have spurred excitement and a challenge to overcome for adventures seekers to try the swim from Alcatraz, in an attempt to prove that this escape could have, in fact, been plausible.
The "Take the Rock" Veteran Swim Challenge is an annual, non-profit swimming challenge that takes place in the fall. This year the event took place on October 1, with the final chance to qualify for the event the day prior, on September 30.
Consisting of a 1.3 mile swim, participants are dropped off via boats in the water near the shore of the island off the southeast side to swim back into Aquatic Park. Due to the 60 degree Fahrenheit water, as well as the strong current, swimmers are surveilled by volunteers with canoes and boats during the entire swim, as well as joined by coaches and experienced swimmers in the water.
The event is free and sponsored by the Vietnam Vets of Diablo Valley, as well as the Nadadores Locos swim club. These two organizations help to pay for the insurance fees, and help put together the event. Working alongside with the organizers, they notify the Coast Guard of the event, and find volunteers who will use boats to keep the swimmers safe. It is open for veterans from all over the country, as well as family members and active service members.
"The idea is it's serving those who serve and those who have served," expounded Coach Mckinney.
[ngg_images source="galleries" container_ids="20″ display_type="photocrati-nextgen_basic_thumbnails" override_thumbnail_settings="0″ thumbnail_width="240″ thumbnail_height="160″ thumbnail_crop="1″ images_per_page="20″ number_of_columns="0″ ajax_pagination="0″ show_all_in_lightbox="0″ use_imagebrowser_effect="0″ show_slideshow_link="1″ slideshow_link_text="[Show slideshow]" order_by="sortorder" order_direction="ASC" returns="included" maximum_entity_count="500″]
At this years 5th annual "Take the Rock" challenge, the event brought in 80 participants, with the eldest being in his 70's.
Earle Conklin, a member of the Vietnam Vets of Diablo Valley, the Nadadores Locos swim club, and one of the main organizers of the event, explained that in order to qualify, certain conditions must be met during training at Aquatic Park in San Francisco.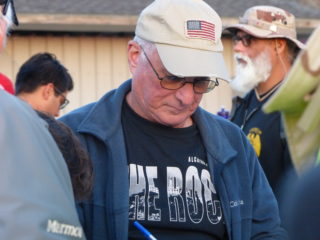 "We have a lot of coaching, kind of in a seminar format," Earle explains.
"We get into the water, we start with some basic skills. We teach the people how to hold their hands and how to twist their body, how to breathe, and how to use the ocean to their benefit, to help them swim."
"Participants in the event are not allowed to swim without completing this final preparatory swim."
During the last day to qualify for the event, Earle explains why seminars like this are so important for swimmers.
"The main thing was to build confidence in our swimmers – so we had them swim a route that is actually more difficult than the Alcatraz swim, and the idea was to look at their technique, coach them a little bit, help them with their goggles and their stroke, and how they're managing their body," he says, gesturing through the swimming motions.
These exercises also help the swimmers develop stamina and endurance through technique development.
"At the end of the swim we were in the water for almost two hours, which is far longer than it takes to swim from Alcatraz. We did almost 2 miles."
Without taking into consideration the effect of the current, the swim from Alcatraz should be a little less than 1.3 miles, according to data recorded from previous swims.
"So two things were accomplished: one was we got to see everybody swim, we got to do a little bit more coaching, and the other thing was is that at the end of the swim, we can tell people you have done a swim that is more difficult than the Alcatraz swim."
Joining the group of regulars, and returning swimmers, were twenty active duty members from Fort Huachuca, Arizona. They had driven up the night before in order to participate in the qualifying swim.
Miranda DeSpain, a member of the US Army, and originally from North Carolina, was excited to get into the water.
"Every year our commander likes to do different things like this. So this year he put it out and asked for volunteers, so we decided to volunteer. And we've been training for a little while, because it's colder here than our waters in Arizona, " she expressed, blinking at the sunlight bouncing off the waves.
"I am excited for the experience and to be able to say that I actually did this, but I'm a little nervous because it's not like a swimming pool."
When it comes to events like these it is always fascinating to hear who is trying to accomplish what by participating in this feat. While Miranda would be swimming in order to set a personal goal and prove something to herself, Bill Chan would be swimming with something different in mind.
Bill Leon Chan, a full-time international business student at San Francisco State University, is a part of the VETS at SFSU program, which stands for Vets, Education, Transition, Support. This organization is active in helping current and former members of the Armed Forces in pursuing their education. VETS also provides benefits and community, both of which are vital for returning veterans.
"Take the Rock" is only one of the events that the veterans find out about while being a part of this program.
"I learned how to swim at an early age – my mom kinda threw me into the pool and it was either sink or swim," Bill laughs as he recalls his first experiences with swimming.
"Ever since then, I loved swimming. It's great exercise."
For Bill, swimming is not only about the workout, but also provides a sense of community through the opportunities it has provided.
"Swimming has always given me great opportunities in life. Being able to swim when I was in the Marines, opened up the opportunity to join a unit that was more specialized in amphibious assault."
As for why he had decided to "take the rock", Bill had a few reasons.
"Growing up, it always seemed like Alcatraz was the prison that nobody could escape from because it's the island. By doing this swim, I just really wanted to pay tribute to my aunt. She escaped communism by swimming from mainland China to Hong Kong, and I wouldn't be here today if it weren't for her doing that swim and risking everything, just for the idea of freedom."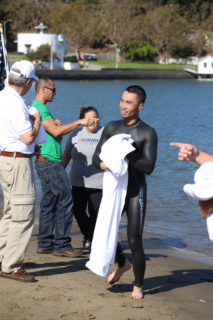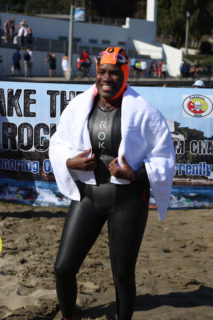 This idea was echoed for many of the veterans and family members swimming. A few of the veterans had their children completing the swim with them, not only as a bonding experience, but also as a tribute to what the body and mind can accomplish, even when it has gone through so much.
For Terri Parker, former Coast Guard veteran, the swim is all about speed and passion. This being her 3rd Take the Rock Challenge, Parker wanted to focus on setting a personal best, while actively reaching out and introducing more veterans to this amazing event.

"I did exactly what I set out to do. I have four veteran swimmers that I bring from the North Bay to SF every weekend, and I also got another veteran who's kayaking for us, so now I'm with my tribe."
Terri had initially found out about the Take the Rock Challenge from Earle Conklin.
"This swim that he [Earle] has invented, and has been doing for years, has given all of us veterans the opportunity to not only to hang out with each other and find our tribe, but also the benefits of cold water swimming," Terri elaborates.
"We are really passionate about that, because it's very helpful with things like PTSD, physical injuries due to the cold water and reducing inflammation – there's so many positive things about swimming in the bay."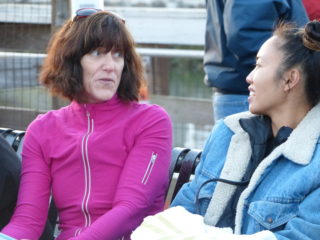 The passion and thought that go into an event like this is overwhelming. On one side there is the physical feat that it trains your body for. On the other side there is a mental challenge where it helps with endorphins and a natural way to feel adrenaline and pride.
Terri underlines the importance of this swim.
"We are both very passionate about getting veterans to the water, not only to find their purpose but also to find their tribe. It's very difficult to transition into civilian life when you've been in the military, I don't think it matters how long you were in, you know, you are changed forever."
According to the National Alliance on Mental Illness, 1 in 4 active duty members show signs of a mental health condition. When it comes to returning to civilian life after active duty, there are three major health concerns that are most encountered while serving in the military.
Post-traumatic stress disorder, depression, and traumatic brain injury are the most commonly found conditions in returning Veterans, and can be severely debilitating to quality of life. PTSD can be caused from witnessing or experiencing a traumatic experience, such as military combat, assault and disasters. This condition can have lasting effects, manifesting in insomnia, anger issues, and a potential for substance abuse, among others. From the NAMI research, the rate of PTSD is fifteen times more likely in veterans than in civilians.
The rate of PTSD differs depending on the missions and operations a veteran was a part of, as show in a study from the U.S. Department of Veteran Affairs (USDVA). Their statistics show that for the Operation Iraqi Freedom (OIF) and Enduring Freedom (OEF), the rate of PTSD ranges from 12 to 20 percent in a given year.
The USDVA does provide resources on their website for ways of treating PTSD, TBI, and depression. There are questionnaires available, as well as resources for various therapies, including cognitive processing therapy, prolonged exposure therapy, acceptance and commitment therapy. An extensive catalogue of veteran stories, as a part of Make the Connection Program where families and veterans both can research, compare stories, and look at mental health solutions is also available.
However, this is not the only way people seek respite from their problems. For some, leaning on a community, and a communal activity, is a treatment on its own.
Exercise helps decrease rumination and negative thinking habits, according to Psychology Today, and being a part of a community that values exercise and camaraderie only helps with creating a stronger will to continue exercising and swimming. Thus healing your mind and body.
As Coach Mckinney put it, not only does it help veterans with PTSD because of its meditative and physical components, there is potential for coping and healing on a mental level.
"They start feeling healthier about themselves, about their bodies, and what's going on, and it really does help them move past some of the challenges that they are dealing with."
One returning swimmer in particular stood out to Coach Mckinney.
"The second year we did this I had a veteran come up to me and tell me… he was considering suicide. And he said, 'Hey, swimming from Alcatraz was on my bucket-list. I wanted to swim, and then I was going to kill myself.'"
This swimmer went on to tell Coach Mckinney that the camaraderie he experienced in this community, as well as the exercise and the beauty of the bay, changed his mind. Being a part of something bigger, something so hopeful and strong was life-changing for him.
"So after that, I was hooked – and that is the epitome of why we are here and what we are doing."
Serving those who serve, and those who have served.