Plus Size
"I use the word 'fat' a lot," says former San Francisco State University communications student, 26-year-old Natalie Meany. She is now a communications professor at Fresno State University and focuses on Fat Studies.
Fat Studies is an academic area of research about fat human bodies. It focuses on the social, political, cultural, and historical aspects of how "fat individuals" are portrayed and treated.
"The world isn't kind or built for fat bodies, why is that?" asks Natalie.
In 2012, Natalie wanted to write a speech on plus-size issues and she was told by her coach, who was also a plus-sized woman, that the topic "wasn't important enough." That is the problem: we (plus-sized women) are constantly told, in many ways, that we are not important enough to care about. That no one will love us because we are not pretty and we are not pretty because we are larger in size than other women.
Natalie hates the term "plus-size."
"I am not an excess size. I'm just my size. I don't want to think of myself as an extra person."
Growing up, she was able to be comfortable in her skin at a young age. Natalie's mother and sister were both thin and she found it hard to fit in with them at first.
Estrella Y, a political science grad student at SF State, grew up being told not to eat certain things or not to wear certain patterns and colors because it would make her look fat. In the fourth grade, she noticed she was "the big one" in her group of friends. She was constantly thinking about weight because her mom was always on a diet and she had an aunt that was bulimic. She felt "huge" but looks at pictures now and wishes she knew then what she knows now.
Now 33-years-old, Estrella sometimes still faces her insecurities, but she is more accepting of her body now than when she was a child. One could say she is more "woke" now: instead of blaming herself for having the body she has, she blames marketing strategies, globalization, and societal beauty standards for trying to make her feel bad about her body. When it comes to the term "plus size," she stated she doesn't know "where people are putting this threshold… if you're a size 5 and I'm an 18, then you're a 5 and I'm an 18." She doesn't understand why there is the need to have a certain size that declares if you are a "straight" size or a "plus" size.
As for many women, Estrella fails to understand why every article of clothing in the store is not always available in bigger sizes.
"Why can't one rack have sizes from small to 4X? Why do they have to be separated?"
She explains how creating a section specifically for the larger sizes is a way to make people feel shameful about having to shop in those sections. However, in the stores that have larger sizes, they use a type of "psychological marketing," as Estrella calls it. Psychological in the sense that they carry sizes 14 and above but Torrid, for example, uses a sizing system ranging from 00 to 6 – size 00 being a size 12/Large to a 30/6XL – to make the consumer feel smaller by not adding the "X" to the end of the number. In this way, the consumer may feel like they are a size 2 rather than a 2XL.
Another struggle that women of all sizes face is the chaotic mismatching of size labels with actual body measurements. This often leads to women not being able to fit in the same label size because one blouse might say 3XL but when you put it up to look at it, it looks like a medium. According to the study "Exploring apparel purchase issues with plus-size female teens" published in the Journal of Fashion Marketing and Management, the authors Laurel Dawn Romeo and Young-A Lee realized one reason for this mishap. "There are no relegations surrounding how a brand must label its sizes or if the size must relate to actual body measurements" in the United States. Meaning that brands are allowed to label their clothing however they want, even though the labels might not coincide with the actual measurements of the clothing.
Globalization also plays a role in this structure. When large companies have their brands clothing made in a different country, those countries might have a different idea of what each size is. For example, an XL in China is relatively different than the XL in the United States. Some brands might not be doing this intentionally, but they don't bother to try to fix this either.  
This is why I, a plus-size woman, have shirt sizes in my closet that range from a medium all the way up to a 3X and pant sizes that range from a 14 to a size 18. When it comes to shopping, I have become accustomed to not necessarily looking at the size, but instead looking at how wide and long the article of clothing is. It took me a while to accept the fact that I had to size up not because of my own fault, but because all the clothing brands don't label their clothes the correct way.
There has said to be what people call a "fat tax" on plus size clothing, meaning anything above an XL costs more than an XL and below. It is not a secret that several brands do this. Why? Basically because they can. Of course they're not going to admit that this is true, so they'll say something along the lines of "it costs us more to make it, hence the extra fabric, hence the extra charge." But if this is the case, why don't they charge for the difference between a small and an XL? They know women in the larger sizes will pay those extra bucks because we need to clothe our bodies so we have no other choice than to make our own clothes, which not many people do in the 21 century.
Natalie lived in leggings, knock-off UGG boots and a sweatshirt when she was a student at SFSU because it was the outfit she could afford to wear often.
Though there are stores that claim to sell plus-size clothing, they fail to realize that just like the thin women, plus-size babes might be on a budget as well. These chain stores and sections of these chain stores include Torrid, Lane Bryant, Forever 21+, Charlotte Russe Plus, H&M, Target, Old Navy, and more. Torrid and Lane Bryant probably have the better quality of all the ones listed above, but they are exceedingly expensive. The average cost for jeans run from $50 to $120, a screen t-shirt ranges from $30 to $50 and dresses range from $60 to $130.
You bet I'm taking my ass to Ross or TJ Maxx.
"It's a struggle to find something that hides my fat," said 24-year-old Stephanie Ortiz.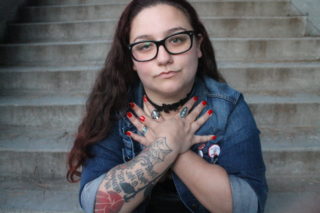 After having her daughter over a year ago, the SFSU student found it harder to accept her body. Although she doesn't blame her daughter for her body change, she admits to the fact that her shopping habits for clothes has definitely changed, in fact, most times she doesn't even want to go shopping (but who could blame her?). When she finds herself looking for clothes, though, she looks for long, flowy shirts with sleeves, leggings, and high-waisted jeans. These are the articles of clothing that Stephanie feels she can hide her least favorite parts of her body, but why must us plus-size women feel the need to hide ourselves?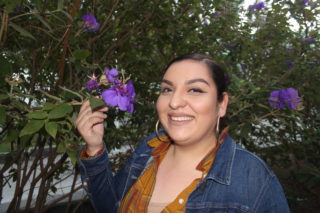 The problem here is that people make the plus-size community, especially women, feel like they cannot wear what they want. Stores will have a small, sectioned-off corner for plus-size clothing but the options are limited. They do not make the same exact article of clothing that is sold in the straight-size section in the plus-size section, and if they do, it usually costs more, as previously stated. We are forced to wear what the industry wants us to wear because it might be "appropriate for them." They want us to hide behind all black clothing, because it "makes us look thinner" or they don't want us to wear short skirts and crop tops because "it'll be too much skin."
A few years back, Natalie wore a crop-top and high-waisted pants, only showing about an inch and a half of skin. Her aunt told her that she was dressed inappropriately for her size. She shook it off and eventually ended up buying a handful more of crop tops.
"It feels like companies are like, 'Here's what we've deemed appropriate for your body," said Natalie.
This is how she feels about plus-size companies not making clothes that make us feel sexy because society believes curvy women can't or shouldn't be seen as sexy. The clothes made are very conservative at times and that's not what all women in their 20s and 30s want to wear.
"Don't tell me what I can and can't wear. I'll decide," added Estrella.
Stephanie sees people in Spanish-speaking soap operas, commercials, and television shows and realizes that the people are all thin.
"I don't fall into that category," she says.
"So it makes me feel like I have to cover it up."
Recently, there have been more ads and campaigns that encourage body positivity and plus-size advocacy, but it's still not enough. For example, Sports Illustrated Magazine released their 2016 swimsuit edition with the first "plus-size model" to ever be featured on the front of the magazine. However, their definition of plus-size is a size 12, which is the size that Robyn Lawley, a "plus-size" model, is.
"My head will turn when they have a size 20 model," Natalie said, "but they won't do that because it's not deemed as traditionally attractive."
For Natalie, it wasn't enough because she considered how the new average U.S. size for women is a size 16. "More realistic standards would be nice."  
"I need more than just people telling me to "love my body," said Stephanie. Stephanie emphasized that although they label Robyn as plus-size, her body size and shape is not realistic compared to millions of women who are also plus-size.
"There is a difference between curvy and chubby and that woman is curvy," Stephanie.
She wants a model that accurately represents what an average plus-size woman actually looks like.
"Plus-size models have big boobs and a nice butt but I don't have that, I have a big stomach."
She also pointed out that it's not realistic to have that body when one has no time to maintain a good diet and work-out while going to school, working and being a mother. "My daughter is more important than my figure."  
Stephanie thought that in order to be considered "pretty," she had to be skinny. Throughout the years, she's been able to learn to love herself more and more and she is currently in a state where she is not fully confident but she is better than ever. However, when she was in high school, boys would mistreat her because of her body size. She was also bullied by other girls and her self-esteem sunk.
"Kids are cruel," Natalie said about the same topic, "we're STILL in a time where it's socially acceptable to bully someone because of their weight." There are plus-size women who don't get bothered by what others say and there are plus-size women that only care about what people say.
There have been several cases where I've seen when plus-size Instagram gurus who will post a photo of herself, such as Jessica Torres, or founder of @EffYourBeautyStandards, Tess Holliday, and people post rude comments. Some comments are filled with disgust because "they are embracing and encouraging living an unhealthy lifestyle."
People tend to automatically correlate fat with lazy. There are several diseases and illnesses that cause weight gain such as hyperthyroidism, Cushing's syndrome, and depression. Medicines and birth control often can be the reason for rapid weight gain as well. Of course, a poor diet and a lack of exercise can be a main cause for obesity but it's not the only reason. Obesity is the result of depending on environmental and genetic factors. However, people fail to realize what a person's life might be like when they are constantly comparing others to themselves. Not everybody has time to go for a 5-mile walk and not everybody has the money to buy healthy, organic foods.
In conclusion, the plus-size community wants people and clothing lines to be mindful of them because the truth is, 67 percent of the women in the U.S. is considered to be plus-size, according to the National Institute of Diabetes and Digestive and Kidney Diseases. With such a large population in this country, it is hard to believe why it is so hard for companies to realize this. Not all plus size women are conservative and rich so it's important to be diverse when considering the cost and styles when catering to the plus sized community.