Freedom of Film
The night begins with music. On the screen, a man playing guitar transitions into a kaleidoscopic avalanche of political commentary. A cutout of the current United States Attorney General, Jeff Sessions, dances with a similarly non-human Ben Carson, the Secretary of Housing and Urban Development. The two twirl around in dresses made of tinfoil.
The film projector stops and the whole room is plunged back into darkness. A smattering of applause, and the room collapses into animated murmurs.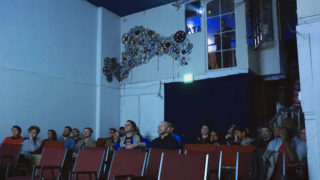 The projector flashes back to life and the next film starts. It is a breakneck, dizzying travelogue through lost worlds and parallel dimensions led by the world's worst janitor. ("It won't be clean, but it will be done," he says. Then, later: "By setting the mind's equator with the distinct line of the horizon, you will become inseparable.")
After some technical difficulties and shouting from the projection booth, the next film plays. This one is a part live action, part animated short titled "Ass Eatin' Rock." It features a tiered rock formation that happens to be just the right height for … well, you know. It's sort of a surprise to see this one on the big screen. Normally it just runs on San Francisco's public access channel.
Thus goes Open Screening night at the Artists' Television Access gallery and microcinema in the Mission District.
ATA is a long-running collective non-profit, comprised of volunteer filmmakers, artists, and general creative types. On the first Thursday of each month, the group opens its small theater space to any and all filmmakers. There are no restrictions on genre or style, so long as each film clocks in under twelve minutes. What the pieces tend to share is an underlying desire to push boundaries. The films playing at the most recent Open Screening, on February 1, exemplify this ethos.
"We accept all films," Arthur Johnson Weiss, an ATA volunteer and one of the evening's showrunners announces at the top of the program. "As long as they're not racist, sexist, homophobic, misogynistic, sexual violence – none of that bullshit. As long as you're making good things that are fun to watch."
Arthur wears a red plaid button-up shirt, sleeves rolled up to reveal his tattooed forearms. Dark sunglasses perch on the bill of his camo baseball cap. He is a filmmaker himself, with a few experimental works under his belt. His day job involves grants management, but he declines to get more specific than that, out of fear that his films could get him fired.
"I kind of have a double life," Arthur says. "My films deal with gay sexuality and dildos and, you know, crazy shit … I create a clear dichotomy between how I survive capitalism and the work that I make."
The other showrunner of Open Screening is Tim Johnson. He wears a plaid shirt of his own, blue and unbuttoned to reveal a white undershirt with black lettering that reads, simply, "90's." Tim attends San Francisco State University, focusing on Liberal Studies.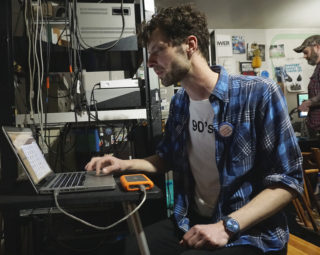 He became interested in video in high school, when friends gave him a copy of "Sonic Outlaws," a documentary film by indie filmmaker Craig Baldwin. Years later, after he moved to San Francisco, Tim searched for somewhere that embraced video art. He found ATA and decided to volunteer. When he knocked on the door, Baldwin himself answered.
Tim has volunteered with ATA for around four to five years, Arthur about a year and a half. Each month they run things in the projection booth. It's a complicated process, as they're constantly switching between formats, film and digital. They usually don't know what they will be playing until someone shows up for the show with their film in hand.
"Since I've volunteered here, I've always been enthusiastic about making sure Open Screening happens, because I don't know anything else like this," Tim says. "Bring your work, screen it. … Bring your friends. You're all going to watch whatever it is you came up with, and you're going to watch what other people came up with. This is …" He looks to Arthur. "I don't know, is it democratic?"
Arthur thinks for a second, then says, "It's egalitarian."
The allure of an open screening is the sense that anything can happen.
"We get a lot of folks who straddle all different genres. The common thread is that this is all artist made and all fairly experimental," Arthur says. "It's always weird."
"It's just a really cool idea," filmmaker Dave O'Shea says. "I feel like so much of San Francisco, like the authentic, grimy underground of San Francisco, is just getting polished away."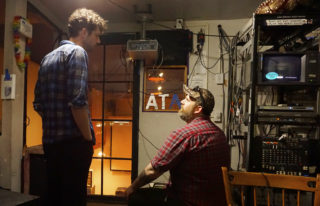 O'Shea produces an irreverent comedy program for SF Commons public access channel 29 called "The Glory Hole" that airs Fridays at 11 p.m. He has been going to Open Screenings since last summer, routinely showing clips of his self-described "weirdo shit." O'Shea is the guy to blame for the aforementioned "Ass Eatin' Rock."
"[Open Screening] is a cool way to meet other filmmakers and maybe get inspired and hopefully inspire other people," O'Shea says. "It's a very kinda open-minded vibe that I don't see too much of anymore."
Another filmmaker, JC Collins, has shown his films at one past Open Screening. His most recent work is "Silence," a heartfelt, unflinchingly explicit visual essay about gay sexuality and shared longing for connection.
"[ATA] is one of the first places I sought out," Collins says. "I think it's a great place to get your stuff out there, test it out, see what works for you, see on the big screen."
The production duo Boredom (Patrick Sean Gibson and Luke Lasley) premieres their music video for the song "Raindrop" by San Francisco's own Hot Flash Heat Wave. It's a dazzling, '60s inspired blast of color and sound that weaves between elaborate animation and live action 16mm film footage. The two had been to open screenings before, but this is the first time they have presented a film.
"I think that the intimacy is super good for young filmmakers," Gibson says. "ATA is legendary."
ATA began in 1983, formed by a couple of San Francisco Art Institute students as a sort of punk art collective. Founders Marshall Weber and John Martin lived out of their converted storefront space in South of Market, before the area became trendy and the rent became impossible. Gleefully fueled by a blend of drugs and artistic fervor, the two set about creating their idealized workspace. The collective developed a following, grew in size, registered as a non-profit, and began to earn a place in the city's cultural history.
Three years after it began, the whole place went up in flames.
After the fire, the crew relocated to 992 Valencia Street, in the Mission District. There they have remained, putting on events for the past thirty years.
Craig Baldwin has been with the organization for thirty-three years. He lives in the residential space on the third floor of the gallery and spends much of his time in the basement archives. He focuses his efforts chiefly on ATA's Other Cinema, a regular screening of short films that is more focused and consistent than the open screenings.
Baldwin attributes ATA's longevity to the fortitude of its members.
"It took really hardcore patience, struggle," Baldwin says. "Ability to take hits, ability to pay a little more rent every time, ability to get ripped off from roommates when you hang out with slackers. Stuff like that. It's really just being able to endure it."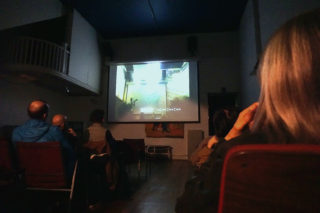 Today, the ATA building stands like a sort of anomaly, hiding in a dark crack that the surrounding shiny establishments keep forgetting to clean out.The neighbors are stores that sell two hundred dollar flannel shirts and display their selection of hats like they're in an Apple store. The Mission has changed since ATA first came to town.
"Artist run centers like ATA are at risk in the city," SF State art professor Paula Levine says. "The future of similar spaces and opportunities for artists are dwindling."
Levine has a long history with ATA. She partners with the group to show student work in their gallery space, on the big screen.
Baldwin says he's uncertain how long ATA will be able to remain in its current space. They're halfway through a five-year lease. When it ends, there will be negotiations and an inevitable rent hike.
"I'd be broken-hearted if something happened to ATA's space," Tim Johnson says. "But the idea is that ATA will live on even if it's not in the space it currently is."
To Baldwin, the key component of ATA's success is access to community.
"Our whole concept has to do with intercourse between the street and the place," Baldwin says. "People have to know what's going on and know the people and make films and come in and visit and show their work at open screenings. You know, that kind of dialogue. We've got that going."
At the end of Open Screening night, after all the films have played, the lights come up and the audience mingles. Some of the filmmakers book it straight out the door and some stay to trade kudos and business cards. Eventually people filter out onto Valencia.
Tim and Arthur have gotten everything packed up. They kill the lights and lock the door behind them. Craig Baldwin is still inside somewhere, probably in the archives. Outside, the night's showrunners chat with the few stragglers hanging out on the sidewalk. Soon, the conversation dies down and everyone goes their separate ways.
ATA's screening room sits dark, and as the projectors cool, the space sits silent, empty; it waits patiently, for the creatives to return, and for the screen, yet again, to act as a canvas for moving art.
Photos by Diego Aguilar/Xpress Magazine