Black is the New Black
According to a well known saying, "______ is the new black." Black is the standard of fashion. Clothing trends come and go, but recently pressure is being put on the fashion industry to let more go then just last season's wardrobe go.
The lack of diversity in the fashion world goes far beyond the runway. Without cultural representation in major studios there are a great number of problems looming.
For too long designers have not had someone push back on styles and looks that disrespect various cultures. The fight for plus size models, for example, is a story within itself.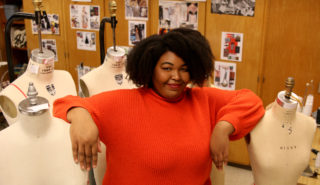 Skin, body type, sexuality, and culture are all being put into a senior fashion line produced by Chrysalyn Morehead-Tucker. Chrysalyn is a 24-year-old fashion student at San Francisco State University. It was her plan to study fashion at SF State.
"If I was gonna progress in the idea of bringing communities that aren't represented in the fashion industry to the forefront, it would make more sense to come to a school that has those same views," she shared.
Chrysalyn's goal in the fashion industry is to change "the norm." She explained that giving credit where it is due is the first priority on her list.
"Understanding some of the things that black culture has brought to the fashion industry but has not been given credit. I would love to say that this is something a black person did, this came from the black community," Chrysalyn shared.
Changing how fashion is interpreted is an important aspect for designers like Chrysalyn, who use their talents to create a dialogue that shifts thinking. She explains that "being a fashion student at SF State kind of opened my eyes to more of what the fashion industry needs rather than what the fashion industry is asking for. I think the program here definitely emphasizes more on being able to change the industry for what it is."
Chrysalyn is working on various projects that reflect her goals of including communities often overlooked by the fashion industry, such as her senior line that focuses on Afrofuturism. Chrysalyn describes Afrofuturism as "the idea of having black bodies in a futuristic setting and futuristic places."
Inspired by Star Trek at a young age, Chrysalyn explains, "I've always been fascinated with the art form of Afrofuturism… "
Chrysalyn's idea is to concoct a combination of sustainability, futuristic settings, and Afrocentricity. She walks through the process and explains that she is "taking traditional African garments like Dashiki and repurposing them for my fashion show."
She explains why sustainability is an important portion of her work by adding, "consumers are understanding that we need to be more mindful and conscious of what not only our clothes are made out of but what we do with our clothing once we feel like they reached the end of their cycle."
Chrysalyn explained that sustainability was a process in Africa that was almost second nature to textile producers.
"There's so much spiritual connection between African weaving, and African dying, and African printing, that means more than just aesthetics. There's spiritual connections to it and I want to do it justice by showing the prints and the colors that makes Africa stand out from everyone else," she expresses.
The fashion show put on at the end of year by fashion students is no small project because it pushes students to take everything they have learned and incorporate it into three to six pieces to display in front of their immediate community.
Dr. Dorie, the instructor and an alumna of the program, gave insight on what designers face for the fashion show.
Dr. Dorie explained, "We're really trying to prepare them to go into the fashion industry and have a strong design aesthetic, so they leave understanding the elements of design and how to execute them," Dr. Dorie explained
She jokingly added, "[The designers] won't sleep all semester."
She gave the timeline of the tireless semester and narrowed it down.
"If you think about a look for one model, that's about three garments for one model it's a lot of work."
Even though the sleepless nights and the ever-changing fashion world, Chrysalyn sets her sights on creating a space in fashion for all people who do not feel like fashion is for them.