Life on Four Wheels
Lake Merced Boulevard is abuzz as cars, buses, and recreational vehicles rush by, honking and screeching. Down the side street of Winston Drive, there is a long line of vehicles parked inches from the passing traffic. One of them, a faded orange Bounder RV, stands tall enough that the blustery wind rattles tree branches against the roof. A sliver of sunlight streams behind the camper, the blue of Lake Merced peeking out just behind the rear corner.
M.B. stands beside her oversized vehicle, arms crossed, a cool expression on her face. She looks small in comparison to the RV towering over her, but the look in her eyes is anything but vulnerable.
"I have a friend that's visiting from Bakersfield," she says. "She's staying in the west wing, the guest wing." Her face breaks into a smile. "You know, she has to yell very far to get my attention."
M.B., who requested to be identified only by her initials, lives here, in the RV, with her husband and daughter. This has been their arrangement for about two years, after a family altercation with her in-laws resulted in them losing their housing situation in Fresno, California.
"It is what it is," she explains. "The idea is to get caught up on anything in your bills and have your money situated. We're almost to that point, in that position where we could move. But now, you have to find housing."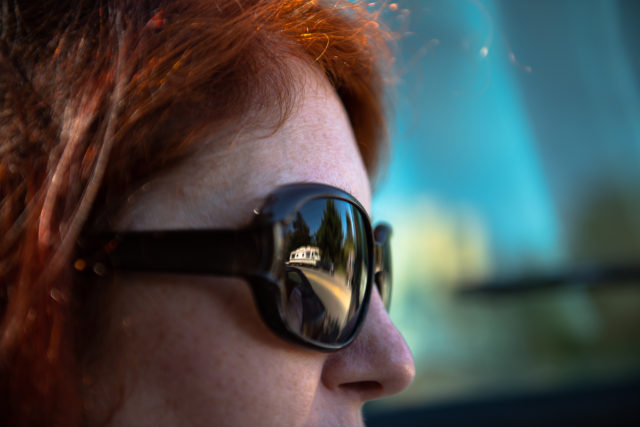 M.B relocated her family to San Francisco for three primary reasons—better shelter resources than Fresno could provide, availability of work, and the climate.
She points to the RV. "This thing is like a tin can. If I park this in the heat, it's going to be boiling."
M.B. and her husband made the decision to purchase the RV after researching the feasibility of such a lifestyle. The RV provides the family with necessities such as running water, a working kitchen, and bed space for each of them.
"I have a child, she maintains a 4.0 GPA and she's doing a lot of activities in the area," she says adamantly, "Of course, she'd rather be in a home. She's seeing, even with the biggest setback, make a plan and then, execute."
Both M.B. and her husband work for ride sharing companies with their other vehicles to produce income. The greater demand for ride sharing services in the city is another reason they moved to San Francisco.
Outside of work, M.B. uses her free time to organize online resources and websites that may offer information about beneficial programs, housing opportunities, and places to maintain upkeep on her vehicle.
Some services she searches for in the San Francisco area include locations to wash her RV, dump septic tank waste, and comfortable showering facilities.
She offers advice to people new to the area, who have been looking for a safe place to park their vehicles overnight. It's easy for her to sympathize with people facing the same fears her family has experienced in finding a comfortable location to live.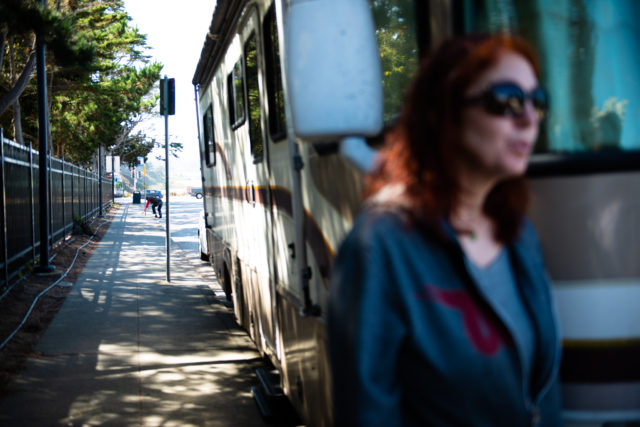 "It's been a two-year journey, trying to gain this information and get it out to people, so they know," M.B. says solemnly.
M.B. and her family parked the RV near the San Francisco airport for a while. Then a passing car side-swiped them and snapped off a mirror. After that, they relocated to a spot on John Muir Drive, on the West side of Lake Merced. M.B.'s husband had seen other RVs parked near the apartments there, and decided it would be a safe location to park. A few days after they arrived, a police officer approached them.
"I said, 'We are completely legal," M.B. recounts. "'It's not been seventy-two hours and, you know, you don't need to harass me.' And he says, 'I'm gonna look for anything to ticket you on. If your wheels are turned wrong, if there's anything I can ticket you on, I will. We're getting complaints from the residents.' Then he directed us here," M.B. said, eyes stern behind her glasses.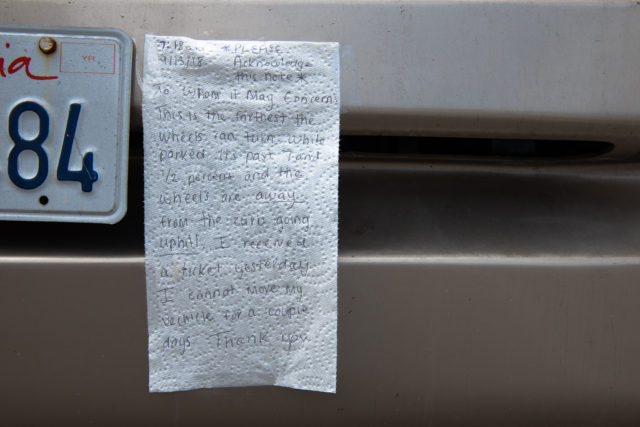 The family's RV has been parked along Lake Merced Boulevard since then. Their future there is hardly secure.
In November of 2013, the San Francisco Municipal Transportation Agency introduced the Oversize Vehicle Overnight Parking Restriction Pilot Evaluation and Recommendations. The document addresses SFMTA policy for oversize vehicles parking within city limits and discusses large vehicles occupied by humans as living quarters.
The document states that any oversized vehicles used as housing can be subject to law enforcement intervention. Vehicle habitation is a misdemeanor, though citations can only be served directly to the individual in question. If a resident does not answer the officer's call, technically they should not be cited.
"There are a lot of RVs in this city," M.B. says, eyes flickering over to the line of other camper vehicles along the street. "Nobody here can afford a ticket."
Across the street, tucked under the windshield wiper of a green RV, a flourescent yellow parking violation ticket catches the light.
District Seven in San Francisco, which encompasses the Lake Merced area, has risen from twenty-nine recorded homeless individuals to ninety-one, between 2015 and 2017, according to the San Francisco Homeless Count & Survey 2017 Report.
Everyone's experience is unique, when it comes down to the permanency in the area. Some like M.B. and her family, have a small community of others living nearby for a longer period of time. Others, like Juan Martinez, are newer to the area, and potentially just passing through.
Martinez shares a Coachman Mirada with his friend, Fernando Faria. They have been moving their RV around the Daly City and San Francisco area. So far, the two haven't encountered any law enforcement.
"We've only been here a few days, no problems," Martinez says.
Martinez moved from Brazil to the United States seven months ago. He came to San Francisco even more recently. He and Faria have chosen to live in their vehicle as they save up money to sign a lease.
"I like San Francisco because its easy and accessible," he says, grinning widely, "I no miss Brazil."
The San Francisco Homeless Count and Survey estimated 7,499 people in 2017, sheltered or unsheltered, were determined to be homeless in San Francisco. This count includes those living in vehicles.
M.B., back in front of her RV, crosses her arms across her chest, clenching her fists against herself. She is quiet for a moment.
"I'm working really hard to try to not be homeless," she says finally, her voice full of conviction.
Until then, her life—and the lives of many others—remains mobile. She wakes up on four rubber wheels and retires to them each night, hopeful that those wheels will one day turn to a stable foundation.
Listen to writer Megan Jimenez speak about the people living inside the RV's with our Multimedia editor Jacob Tucker on his latest episode for Beyond the Story.