Here comes the Wag Brigade
The Wag Brigade is San Francisco Airport's animal therapy program that helps ease the stress and anxiety of passengers.
It's an hour before your flight and an announcement comes over the loudspeaker at San Francisco International Airport: Your flight is cancelled. You hate flying and all you want is to go home and see your dog. As you check the clock to see what time it is and calculate the new time you will get home, you see a furry friend with a wagging tail coming towards you. It's the Wag Brigade.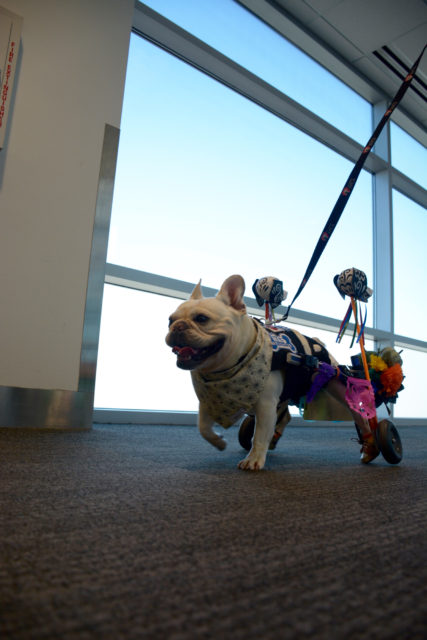 San Francisco's Wag Brigade is a program that brings trained therapy animals to the airport to ease the stress of travel. The program currently consists of about twenty dogs and a one hundred pound Juliana pig.
"Our goal is to ease the stress and anxiety of travelers," Eric Espejo, a Wag Brigade volunteer, said. "A lot of times when we first get here, we will look for delayed flights because there are always a lot of upset people at delayed flights."
Espejo is a team with his dog, Benga!, a Pekingese and Poodle mix. They typically spend one day a week at the airport helping travelers. They have been volunteering with the Wag Brigade for a year and a half, but have been doing therapy work for three years.
The Wag Brigade has been at San Francisco International Airport for five years. Jennifer Kazarian started the program, modeling it after a similar program at Los Angeles International Airport. She runs the program as part of SFO's guest services team. Kazarian and her dog, Dino, a Yorkie, were one of the first Wag Brigade volunteer teams.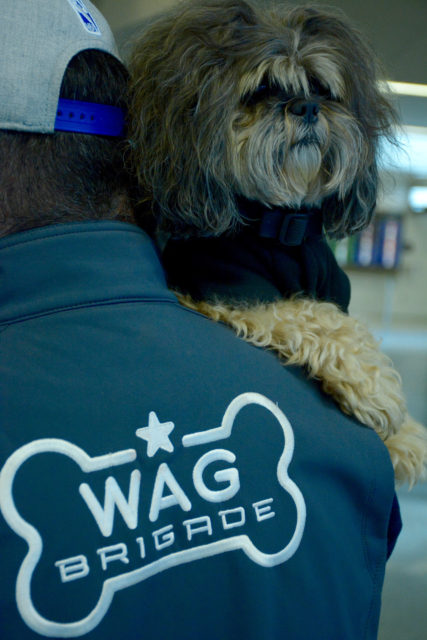 "Most people that haven't experienced it before and experience it here for the first time are kind of blown away that this isn't a more common thing at other airports," Espejo said.
Having therapy animals at the airport can assist travelers. More airports are adding animal therapy programs due to the success of the established ones such as the Wag Brigade.
The program requires training for both dogs and handlers, starting with the Canine Good Citizen xtest through the San Francisco SPCA. It also requires fingerprinting, for security reasons.
"Obviously we had to be certified by the SFSPCA, which we were," Jane Twomey said. Twomey volunteers with her two Cavalier King Charles Spaniels, eight-year-old Prancer and two-year-old Brody. Twomey has been a Wag Brigade member for four years and has been providing animal therapy for twenty years.
"Brody went to canine good citizen classes and passed the CGC test," she said. "We had to take a computer-generated test on security at the airport. Then we were shadowed a few times by Jennifer to ensure that my dogs (and me) were good for the program."
Pet therapy is the reason Amanda Remington and her dog, Tristan, joined the Wag Brigade. Tristan, an eight-year-old French Bulldog, has spinal cord damage in his hind legs, which requires him to use a wheelchair to get around. Seeing the positive reaction people had when they saw Tristan in his wheelchair inspired Remington to do pet therapy.
"Sometimes we get passengers who have left their dog behind because they are traveling and they say 'oh, I miss my dog so much but this really cheered me up,'" Remington said. "That is always rewarding."
Remington sees the Wag Brigade as a way to bring joy to others.
"All the passengers just are so excited to see the dogs, especially international passengers," Remington said. "We get people that come from countries where dogs aren't necessarily thought of as a companion, they're maybe not as popular as it is in America where they are a part of your family . . . It's fun to spread the message about pet therapy, it has kind of a global outreach."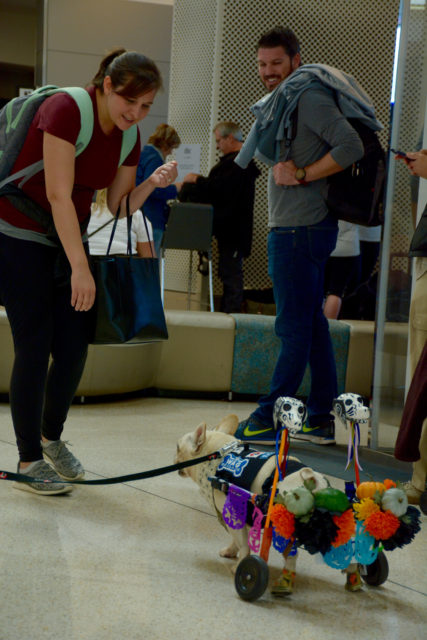 Animal therapy is a driving force behind the volunteers of the Wag Brigade. Many will also volunteer with hospitals, schools, or other animal therapy programs.
Every member of the Wag Brigade team has memorable moments. Often they include children, people missing their animals, or scared travelers. Earlier this year, Espejo met a large gentleman who was taken by Benga!.
"He saw her and grabbed her and picked her up and embraced her and just started crying his eyes out," Espejo said. "Apparently he had just lost his dog and this was the best thing in the world to him, was to see another dog that he could interact with."
Twomey met a young woman that told her about her boyfriend who was terrified of flying. She brought him to meet Twomey and her dogs.
"When he returned we sat for maybe fifteen minutes talking to this young man about flying and some of the tricks that I do when there is turbulence—I close my eyes and imagine I am in an old truck on a country road that would be bumpy but not dangerous," Twomey said. "I gave him Prancer's card and said whenever he was feeling a little stressed, maybe looking at the card and remembering our visit would help."