The Unavoidable Commute
Story by Ingrid Mera and Antonio Dos Santos Lau.
For many people, commuting in a train filled with characters such as those who wear crazy colored wigs and trash bags around their head, may not be out of the ordinary, and often times can be expected as the doors open before departing a station. But for riders on Bay Area Rapid Transit, the acceptance of everyone has created fear and betrayal within the system. Commuting, for many, is the only way of getting to work, school, and events. One's commute may differ to someone else's as the system has ridership from four a.m. to eleven p.m. at most stations.
BART has seen a steady rise in violent crime over the last decade. 419 violent crimes were reported on BART in 2017, which is almost double the amount reported in 2014. So far in 2018, there have been 222 reported acts of violent crime last year. That means that BART is on pace to top the numbers reported last year, a stat that is rightfully alarming. While these numbers generally go unreported and unnoticed by the public, a recent string of high profile acts of violence have prompted BART's Board of Supervisors to consider implementing new security measures.
On July 22, 2018 a vicious attack on the platform of the MacArthur BART station rattled the Bay Area. During the attack, eighteen-year-old Nia Wilson and her sister, Lahtifa Wilson, twenty-six, were stabbed by twenty-seven-year-old parolee John Lee Cowell. The unprovoked attack left Nia Wilson dead at the scene and her devastated sister injured.
This savage attack occurred only one day after forty-seven-year-old Don Stevens was killed on the platform of the Bay Fair Station. Stevens died after hitting his head on the cement of the platform as a result of being punched by Jashawn Combs, twenty-four, who later turned himself in to police.
Three days before that, another attack led to the death of fifty-one-year-old Gerald Bisbee at the Pleasant Hill station on July 18. The victim was involved in an altercation with twenty-year-old Abdul Bey, which resulted in a laceration to the back of Bisbee's knee. The cut would later lead to a deadly infection that ultimately claimed Bisbee's life.
Three deaths in a span of five days. All of them due to some form of violence on a BART platform or train. While the Nia Wilson story has garnered major media attention and has brought a new light to BART security, those who ride the trains daily know that sketchiness on BART is really nothing new.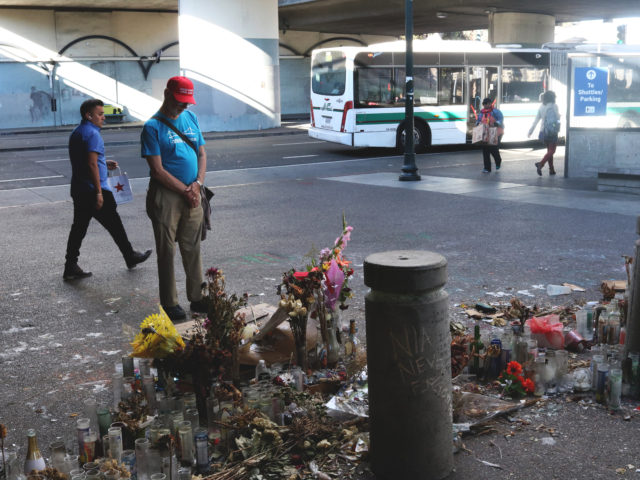 Kat Boumann steps foot into the Pittsburg/Bay Point line five days out of the week. As she walks onto her train, she finds a seat near an area where there are other civilians sitting, for safety precautions.
"I still see a lot of people using BART mainly to get to work," she describes as she stands in line to get onto a train at the Powell Bart Station. "Same for me, BART does scare me but it's my only way to get to work so it is a conflict for me."
Fortunately for riders, BART officials have taken notice of the violence that has occurred as of late and have begun implementing new security measures. Mimi Bolaffi, who serves as Manager of Security Programs, explained how the recent violence has prompted the BART Police Department to take action in hopes of making BART a safer place.
"Recent high-profile cases have certainly raised public awareness about security on BART but doing all we can to make sure our riders are safe has always been the top priority of the BART Police Department," said Bolaffi. "There's no quick fix to addressing societal concerns like crime, drugs, and homelessness. These issues are challenging communities across the Bay Area so it isn't surprising that BART would feel an impact as well."
After Nia Wilson's death over the summer, BART rider Jenny Barajas recalls seeing the murder suspect on the same train as her, but not realizing who he was until his mugshot showed up on her TV screen later.
"I remember seeing him, but since he was out in the open and acting normal, I figured it wasn't him," said Jenny Barajas. "You really do not know who is riding with you, no matter how normal they are acting," she says.
People around the Bay Area continue to pay their respect at stations like Dublin/Pleasanton and MacArthur where memorials lie for two victims killed at or near the stations. With the year coming to an end, the hope for safety and prevention for more murders continue to be BART's focus as the outreach to hundreds of commuters has continued to fail with new stories developing within weeks.