The Ones that Fly Over the Tech Nest
The innocent look in their round, brown eyes attracts attention more than the colors that make them up. Their faces are veiled with a deliciously bright, cherry-red mask, and their feathery bodies are such a vibrant green, you could call it neon. A bold beauty suits them with ease, and the cuteness of their waddle will inevitably melt your heart.
But they are horrifyingly loud. Their calls resemble sounds that are more along the lines of a demonic baby with a deep voice, laughing at something that's not funny. Or to some ears they may sound like a satanic rubber duck, squeaking in a bathtub of fire.
The wild parrots of San Francisco have come and gone in many different flocks, and in two different recorded species. They fly secretly above our oblivious heads, finding shelter in our trees, parks, backyards, and even our homes in almost all parts of this city.
In April of 1990, Mark Bittner, author of The Wild Parrots of Telegraph Hill, saw the birds for the first time.
"It was never my intention to make a big thing out of watching the parrots," he writes. "But I found all of the noise and commotion so entertaining that I kept coming back to the window for 'one last look.'"
He continued to watch the birds for years. He studied them, fed them, and even went so far as to name them. Bittner, who has spent years interviewing people and researching the parrots, says that the parrots that arrived in San Francisco did not come by choice.
In the 1970s, when parrots were becoming popular pets, breeders were not able to produce enough parrots to keep up with the high demand. So, they turned to South America to import birds for naive Americans to domesticate, until the practice was banned by the U.S. government in 1992. The birds were sent through quarantine stations upon entering the U.S. to check for disease, and they were then banded, like prisoners.
But many of the birds—because they're birds—went free. Some of them escaped and others were deliberately released by their caretakers.
One of the successful fugitives was a bird Bittner named Eric. He was a large red-masked parakeet that first appeared in San Francisco with a flock of canary-winged parakeets, also banded fugitives. Eric was welcomed into the flock and became one with them as they flew from Mission-Dolores Park all the way to the Embarcadero—until one day he disappeared.
Where he went, nobody knows. But, he most certainly returned, this time with a plus-one. His mate was whom Bittner called Erica. Eric and Erica established dominance among the canary-winged parakeets, and eventually became so powerful that their flock was able to takeover Telegraph Hill as their territory.
"Eric and Erica chased the canary-winged parakeets away from Telegraph Hill," Bittner explained slowly as his mind traveled back to the past. Hence, the dawn of the Eric's empire at the top of Telegraph Hill was established somewhere around March of 1989.
That is according to Bittner, however. To Laurel Wroten, then called Laurel Gilbert, she first noticed the birds perched against her neighbor's feeder in March of 1987. To Wroten, Eric was named Victor, and Erica was named Inez.
Bittner describes the first time he met Wroten in 1993: "One afternoon, I was standing on the fire escape feeding the flock when I noticed a woman standing on the Greenwich Steps watching me. She was unusually interested—she stayed for the duration—so at feeding's end, I went down to speak with her . . . She told me that the parrots used to come to her bird feeder on Russian Hill. She'd observed them for several years until she moved away. I asked her for some details, but she couldn't remember much; it had been so long ago. In the beginning, there'd been two cherry heads, whom her husband named Victor and Inez."
According to Wroten's "Bird Diary," which she began in March of 1987, Eric and Erica were a strange-acting pair. They were nervous, and they would take-off with "lots of squawking."
"Another rainy day, Bird behavior unusual again. No sign of pigeon or parrots as of 9:15," she recorded on December 5, 1987. "Parrots came to my feeder yesterday after I reluctantly let two pigeons feed for a while. Strange and funny observation—early afternoon. Sun out briefly, storm let up. V & I at one feeder, pigeons at another, finches at mine. Parrots suddenly take off squawking. All the other birds immediately abandon their feeders and take off with them, forming a strange, ragtag flock. Has Victor become some sort of leader among the birds?"
For years, the flock Eric led continued to grow and became a semi-famous attraction in San Francisco.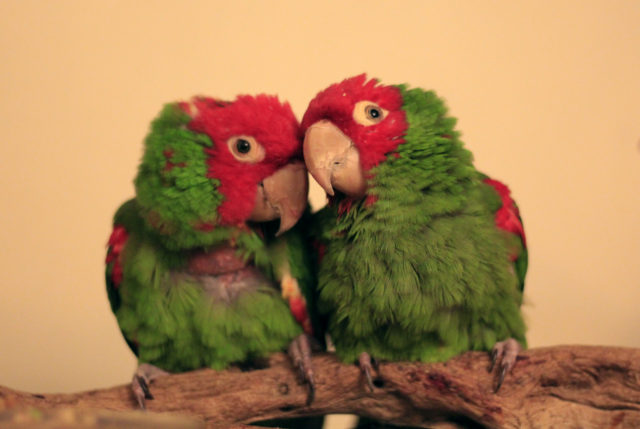 On a late, summer afternoon in July 1989, Wroten writes, "INEZ BACK! Exactly 21 days since her last appearance, which is incubation time for conures. Baby parrots!?!"
Erica did in fact have babies. According to Bittner, Eric and Erica had four of them, which quickly dwindled to three. But every following year, she would have more.
As the year fluttered by, and Bittner grew more curious, he would keep record of the flock as they grew and shrunk on a monthly basis. With Eric's death around 1995, Erica disappeared for eight days as if she was in mourning, but found a new mate and a new emperor for her empire of birds upon her return.
"He was a tough bird, nobody messed with him," Bittner said as he described Eric. "He was aggressive but respected. You got this this feeling that all the birds in his flock respected him."
For years, his flock would continue to grow and become an almost-well-known attraction of San Francisco. As of 2017, about two hundred of the parrots now fly over this bustling tech nest.
"They are a mixed flock of Cherry Headed Conures and Mitered Conures," Leila Marcucci explained. Marcucci is a San Francisco native who rarely ever encountered the parrots before she became a veterinarian for the Bay Area Bird Hospital.
"I grew up in Cow Hollow and there was always a flock of parrots in the palm tree by what is now the Palm House. It was an urban rumor that escaped parrots would go join the flock but I never actually saw any of the birds. Just heard them occasionally. I have no idea if they were actually the conures we have today or not."
Marucci went on to explain that the flock we have today is not purely of Cherry-Headed Conures.
"Presumably there has been some interbreeding—this can happen with closely related species. There have been other birds seen in the flock, such as a Blue Crowned Conure, in the past and there may be other species currently. They have increased in number over the years and have split into three flocks, but have not yet made it over to the East Bay."
Today, Bittner lives a quiet life with his wife Judy Irving, and his two red-masked parakeets that he rescued.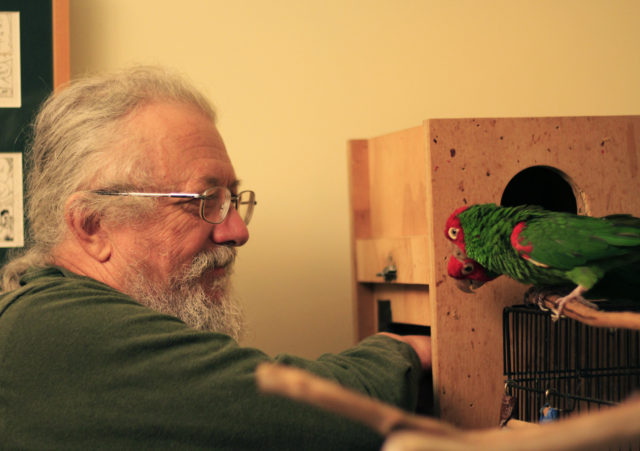 "I've been working on an album," he explained, his keyboard and recording equipment sitting patiently in the corner of their quaint studio apartment in San Francisco. Bittner hasn't been in the spotlight for about nineteen years. He may agree to the occasional interview about the parrots, but he hasn't been deeply in the press since he decided the attention was overwhelming.
His love for the birds never ended. He takes care of two injured but happy birds named Big Bird and Parker. He knows when they're grumpy, excited, how they interact when visitors show their faces, and how they interact with each other.
Through Bittner's body language, you could see his love for the parrots that extends back twenty years with his smile and gentle movements. Although the parrot's legacy is unnoticed by many, it will ever-flourish within the care of Bittner and volunteers that rescue them everyday.