The Power of Paint
They are everywhere. While the city churns through the day and sleeps at night, they run on rooftops, sneak in the back of MUNI buses and BART trains, crouch under overpasses, scale billboards, hustle through abandoned buildings, and lurk in the shadows.
Are they squirrels? Superheroes? No—they are the largely invisible graffiti community of the Bay Area, using public property like a canvas, creating art that everyone can see.
Despite decades of street art, mural, and graffiti culture in the Bay Area, taggers and "writers,"as they refer to themselves, are always at risk of felony charges and jail time if caught. This summer, the San Francisco District Attorney's office filed fifty-two felony indictments for graffiti against seven young men who they believe contribute most of the city's graffiti. Those crude Bart Simpson faces on bus stops, abandoned businesses and skate parks? The artist was one of those seven.
These guys and girls are breaking the law, aren't getting paid, and their art may only last a couple hours or days before the city paints over it. For what seems like so much work and risk for so little reward, why do they do it?
Last year, Public Works responded to over 35,300 requests for graffiti removal. That's roughly ninety-seven a day. Removal efforts cost the city twenty million dollars annually, according to SF Public Works.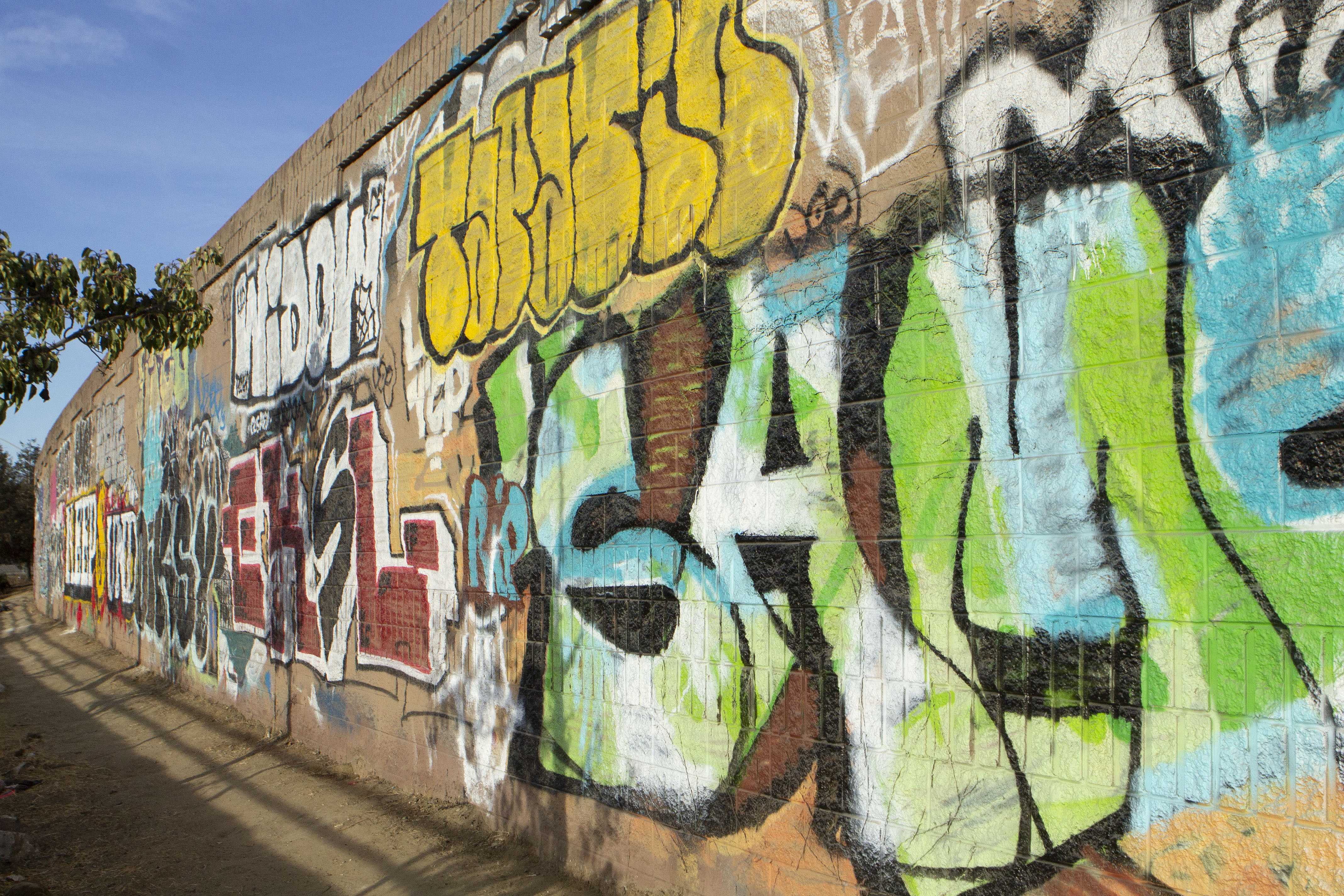 While spray paint and Sharpie tags litter bus terminals, BART trains, school bathrooms, mailboxes, and alleyways, the city has allocated a great deal of real estate to murals and street art that are made, according to Susan Cervantes, "with permission."
Cervantes is the co-founder of Precita Eyes Muralists Association, a nonprofit collective of artists who collaborate to produce murals, employ muralists and street artists, and beautify the city—mainly the Mission District and Bernal Heights. Precita Eyes has two buildings, a storefront on 24th and Harrison streets where artists can buy paint and the curious can buy mural maps, and a studio on Precita Avenue across from Precita Park where children can take art classes. These murals cover themes like remembrance for murder victims, the four elements, portraits of neighbors, the environment, birth, and death.
"We don't do murals that attack problems," Susan clarifies. "Through the artform we can find solutions," by creating dialogues and reaching out to communities about their priorities.
Every third Sunday, Cervantes hosts a mural history tour around the neighborhood. She looks the part of a hippie San Franciscan rolling with the punches of gentrification and techie-fication; she wears a floral-printed cap decked out with a lacquered hummingbird pin and a GitHub hoodie.
Cervantes began painting murals in the 1970s after meeting the Latinx and Chicanx mural collective, Mujeres Muralistas. They are a group of Chicanas who pioneered the female experience in an art form that was, and remains, male-dominated. Backed by grants and community collaboration, Cervantes is the artist responsible for the murals at the Precita Valley Community Center, Leonard R. Flynn Elementary School, and Garfield Pool, among many others. Despite her officially sanctioned role as an artist, she couldn't be more cool about the upstart graffers who play by their own rules.
"For me, we've always encouraged graf art, sanctioned graf art," Cervantes says. "We very much respect each other. There's a lot of walls. The early mural movement opened the gates for street art."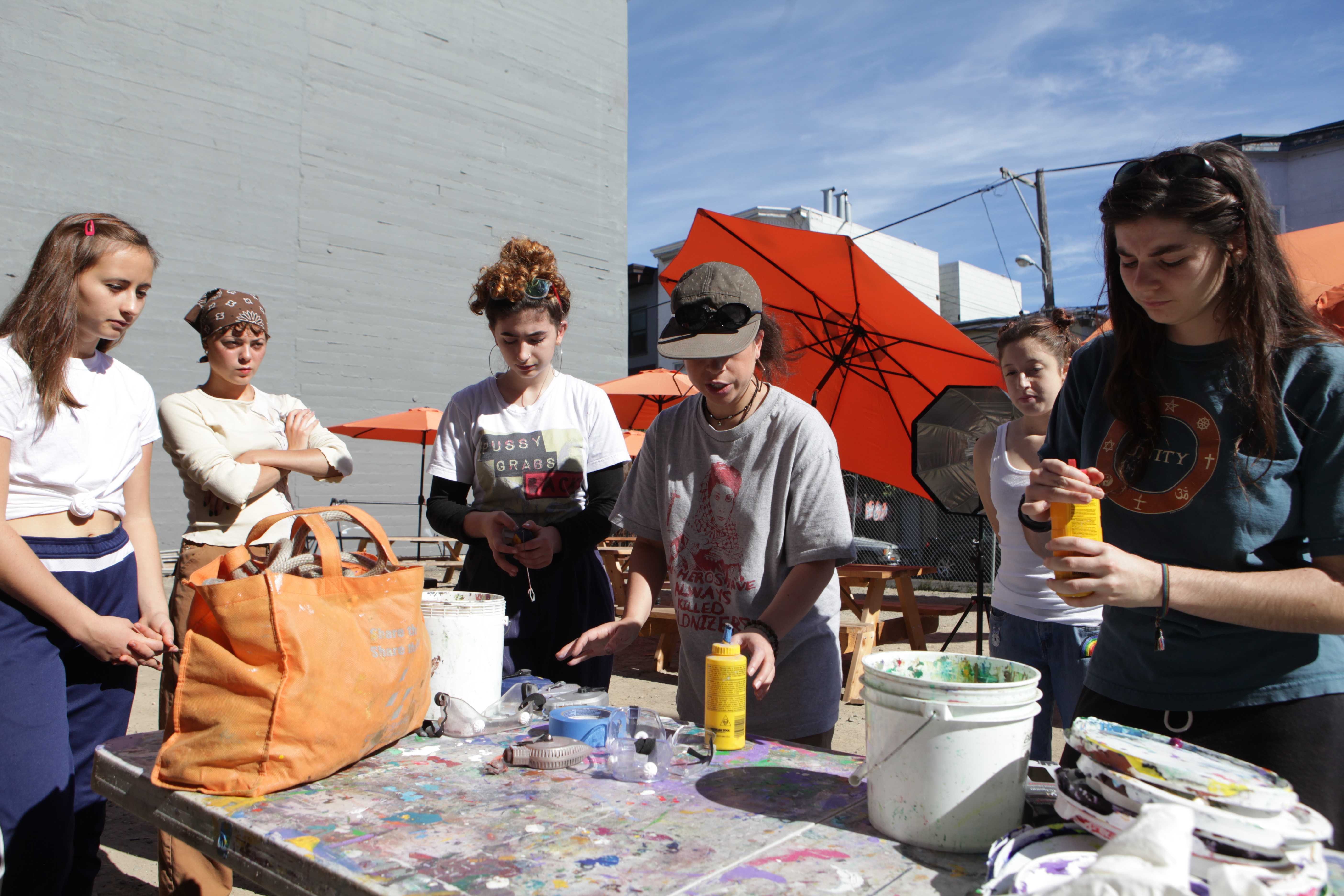 Just a few blocks from where Cervantes ends her tour is Balmy Alley, a block-long outdoor gallery where every garage door is prime real estate. Cervantes had a hand in the production of numerous murals there, along with artists from San Francisco, El Salvador, and Honduras, to name a few. One of the new murals is by Mission native, Lucia Gonzalez Ippolito, and her collaborator, Fernanda Parker Vizcaino. It is titled Women of the Resistance. The mural was commissioned by Paseo Artistico, an organizations under the Calle 24 Community Council based in the Mission district to facilitate art and cultural events for the neighborhood. and unveiled at the monthly block party celebrating Mission neighborhood artistry.
The mural is roughly ten feet high by twenty feet wide, and features thirty-nine global feminists figures of various generations arranged in rows; one of the youngest in front is Ahed Tamimi, a teenager from Palestine who was filmed slapping an Israeli soldier. Some more broadly recognizable women such as Angela Davis can be seen in the third row. Above the women are suited figures with various animatronic heads: One is President Trump on a TV screen, one is a gas pump, one is a bomb, and one is the White House.
Ippolito and Vizcaino are both trained fine artists specializing in painting. They began their activism while in school at the San Francisco Art Institute. There, they began a collective called San Francisco Poster Syndicate to protest on behalf of underpaid faculty. Many of the members of SF Poster Syndicate also collaborated on the Resistance mural.
Vizcaino says the message is, "for young girls walking by to have something empowering. 'This is who I can be also.' Why aren't there more examples of women who succeed?"
The entire process took months, starting back in June. They had scaffolding and some paint, but without a donation box and the summer foot traffic, they might not have been able to do it.
"It's a lotta work, lotta thankless hours," Vizcaino says with a sigh. "There's a lot of time that's just you and the wall."
As her artistic aspirations become more clear, Lucia would like to revive the Mujeres Muralistas group for the new generation, as she and Fernanda still see a gender divide in the mural and street art world. Graffiti doesn't bother her.
"It's more about wylin out in the city and having fun. Sometimes I feel they are separate, that's its own thing," Lucia says of the graf kids she has crossed paths with and shared space with over the years.
The SFPD, in collaboration with the Mayor's office, District Attorney, and Public Works, have offered 250 dollars for information that will lead to a graffiti artist's arrest. That means this article is worth at least 500 dollars.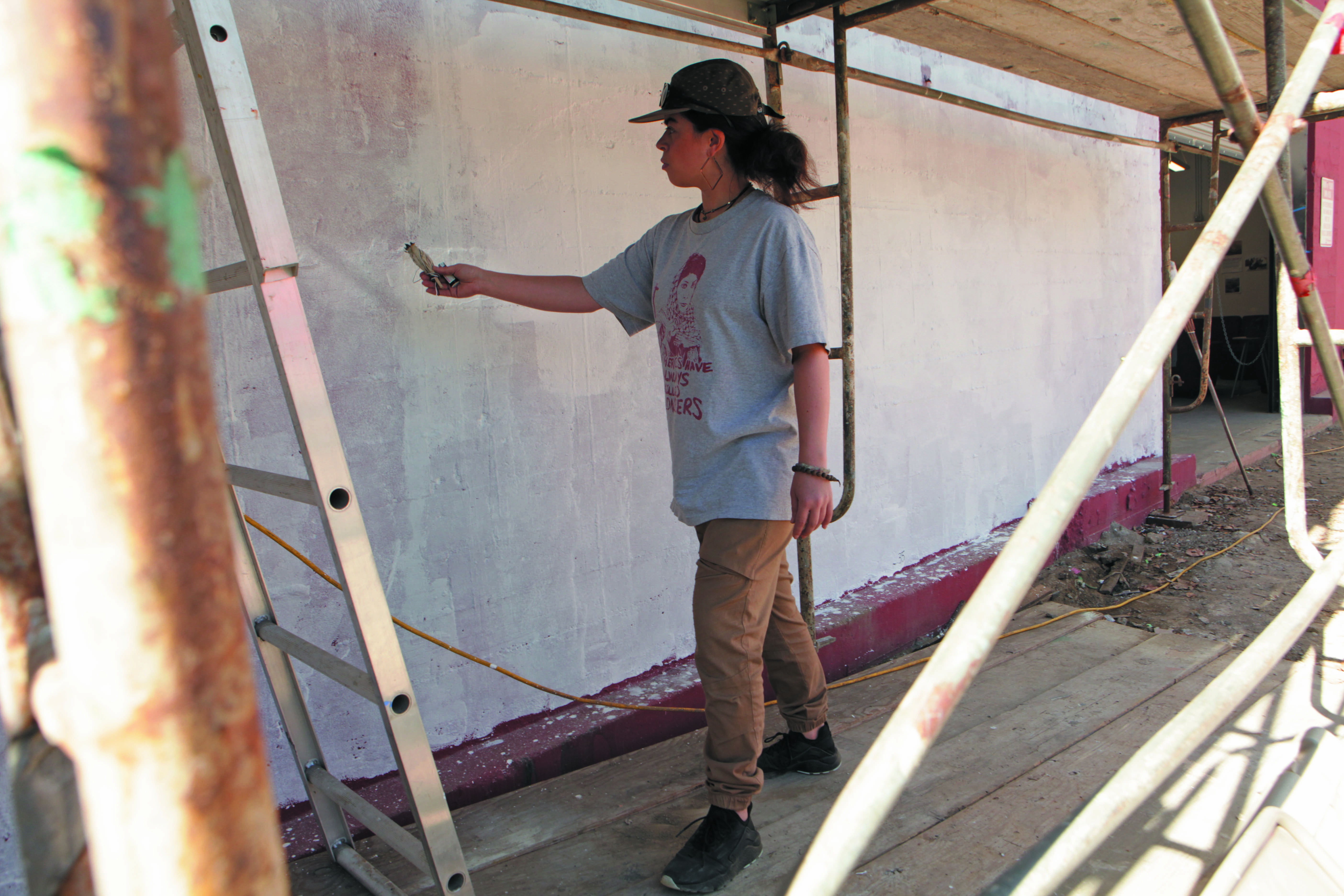 Unlike a graffiti piece, murals do not simply appear and disappear. They are just expensive as they are laborious, and not everyone respects the cost.
"I always knew I was going to be an artist, specifically a commercial artist," Sirron Norris says unwaveringly.
Norris is a multifaceted painter, cartoonist, animator, and occasional muralist. He grew up in Ohio and later attended the Art Institute of Pittsburgh. He has lived in San Francisco for over twenty years. One of his first ever art shows after moving out to the Bay Area was at the Luggage Store, a gallery space on Market and 6th streets that features artists, photographers, musicians, and—judging by the staircase pockmarked by tags and stickers—graffiti writers.
His murals decorate the Mission, from Balmy Alley to the new Zuckerberg General Hospital to Jay's Cheesesteak. His style is distinguishable by his animated aesthetic and ever-present blue bear characters. Makes sense, since this is the same guy that designed and illustrated Netflix's Bob's Burgers (the Belcher family house is modeled after the old buildings in the Mission). Norris also teaches an animation camp for kids at Precita Eyes in the summers. He believes the various forms of street art have their own value, which the public has begun to distort.
"Up until seven years ago, graffiti and murals were heavily separated," Norris says. "Now because of Banksy . . . it's more about what looks good in a photo. You have a responsibility. Kids are growing up with your shit. If you don't drill in to make the world better, you missed an opportunity. It's an honor."
Across the water, in Oakland, the lines are a little more blurred, and the art lasts longer. While SF pours twenty million dollars annually into scrubbing the tags, scraping off the stickers, and painting over the "throwies," Oakland spends just over a million dollars annually on cleanup. Local ordinances have been passed to put the responsibility on building owners rather than the city.
Girl Mobb, aka Nina (last name withheld for privacy/legality concerns), is a writer and muralist from Cincinnati, Ohio. She moved out to Oakland ten years ago for the artistic climate because she found the Bay to be much more tolerant of street art and graffiti. Still, the gender imbalance remains.
"I don't see graf as being a crime, personally," she says. "Street art is so immediate—it's for everybody. It's really important for women to have a voice in that. It's always bothered me, I always felt singled out."
To help offset this, Girl Mobb founded Graffiti Camp for Girls—a weeklong crash course that teaches a dozen or so girls at a time. They learn the basics of using spray paint, designing, and executing a large-scale mural. The kids get to plan the visuals.
"The whole premise of the class is to execute a mural, start to finish," she says.
In her own art, Girl Mobb explores more "confrontational" themes within feminism in anarchy, using "pussy riot characters, upside down cop cars on fire, lipstick lips," and a new grim reaper character.
Maven, who also asked to be identified only by his graf name, is another graffiti transplant from the burbs of Los Angeles. His art centers around his name, "Maven," and the medium through which he can interpret it.
"I really try to do every aspect," he explains. "handstyles, stickers, rollers, bombing, throwies. I'm still learning. It's not gonna last forever."
Maven hopes to take his graffiti international, to popular "spraycation" spots like Taipei, Taiwan, but the variable legality of the art form is holding him back.
"I got warrants," he explains.
While he doesn't plan on asking for permission anytime soon, Maven does try to keep his cans away from the murals.
"I won't touch people's murals, I try not to go over them," he says. "They help the neighborhood look nice." Of course, if someone has already tagged a mural, it's fair game for writers to descend on.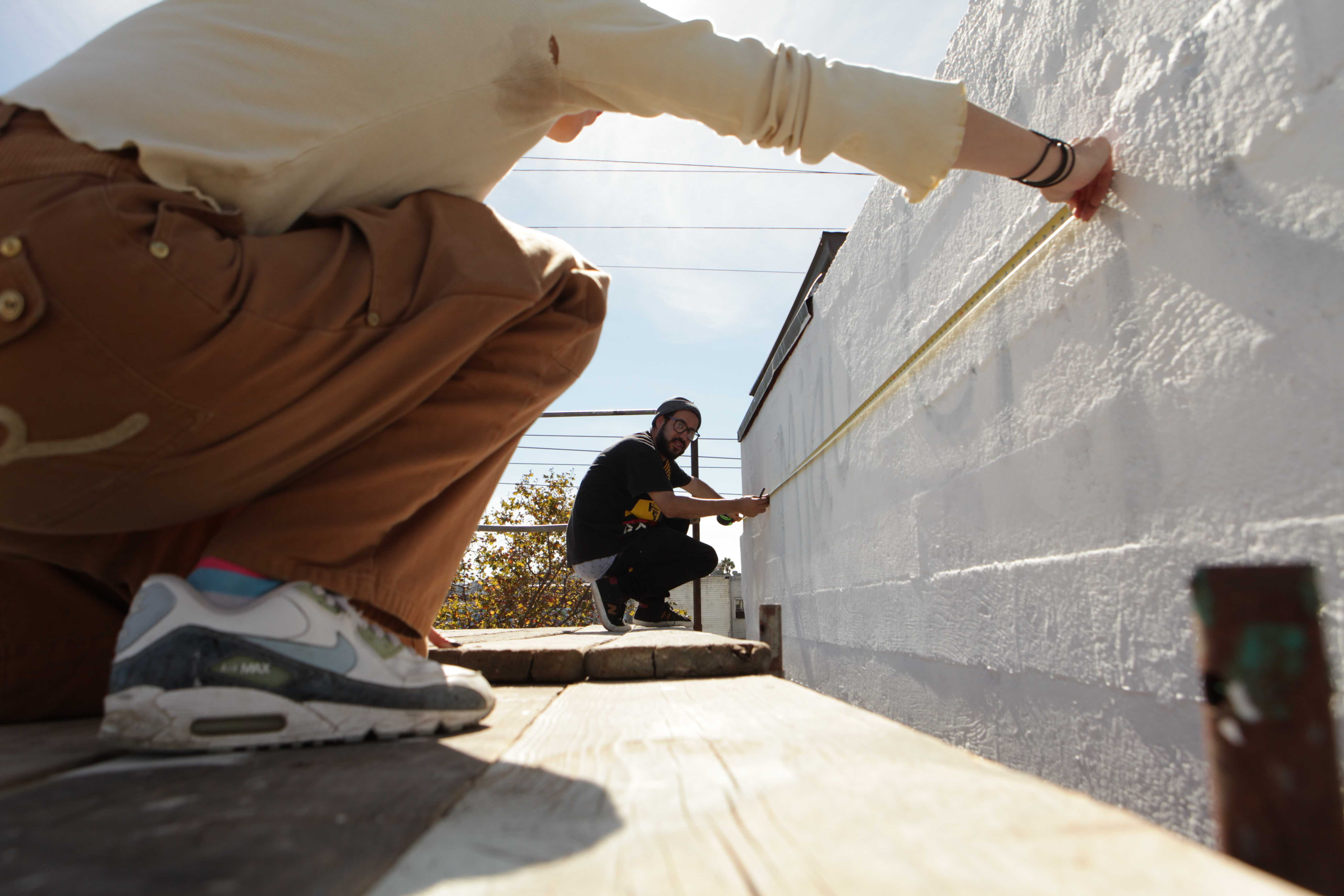 Right now at 15th and Mission, Precita Eyes volunteers are working on a new mural, thirty-five feet by seventeen feet on the backside of the Impact Hub, a cultural meeting space and incubator for entrepreneurs and activists. The collaborative design features a winding Muni bus, flowers, and a woman weaving a resistance blanket. The volunteers meet every Saturday at high noon, and they have begun the scaling process to make sure every element is in proportion to their sketches.
After signing a liability waiver, the muralists must climb multiple laddered scaffolding to reach the top. Someone had tagged the white wall a couple nights prior, and the scrawled letters can still be seen through the coverup job. But he muralists aren't deterred. Nothing to do but keep painting.