Retail and Life
Standing in front of a pile of recently-touched sweaters, a twenty-eight-year-old latino male is interrupted by two middle aged men as they step foot into the store, whilst music plays in the background. As they walk up to a pile of freshly folded t-shirts, they begin by unfolding the first shirt of the pile.
"Hi guys welcome in," says Jesus Moreno, standing at the opposite side of the store.
Before continuing his folding and size stickering of a stack of sweaters, he walks up to the two men and begins explaining the promotions going on in the store and lets them know he will be available in case of any questions.
As he begins walking away from the two gentleman, a man walks over to the pile of sweaters he left behind and begins unfolding the stack, in search for his size.
"I got it, what size do you need man?" asks Jesus, a hint of frustration in his voice.
Jesus Moreno, who works at John Varvatos as an assistant manager at the San Francisco Premium Outlets in Livermore, California, works full time and spends much of his day at work.
"I want people to know we are people too, so be courteous to us," Moreno says, folding the pile of sweaters over again for the third time. "Yes, it's our job to cater to the customer but don't disrespect us. Don't throw my $100 t-shirts on the ground and act like its ok because it is our job."
Although his duties as an assistant manager might include folding clothes for eight hours or dealing with difficult customer concerns, his responsibilities at home are the opposite. Outside of working retail, Jesus lives in Livermore with his wife, who is six months pregnant, and his one year old son.
"I try to make time for my friends and hobbies as well," he says as he continues refolding and attaching size stickers to the apparel sitting on fixtures next to the registers.
The San Francisco Premium Outlets is home to over 180 different brands and located forty miles away from downtown San Francisco in the Livermore valley. The outlet center welcomes local shoppers from the area and brings tourists from all over the world to experience America's consumerism first hand.
"I've been working retail for six years now," says Kelly Carstensen, a green-haired sales lead at Stance, only a few stores down from John Varvatos.
"I work retail because I love making personal connections with people every day and being able to put a smile on their face," Carstensen says.
According to the Bureau of Labor Statistics, as of 2016, there are 4,854,300 retail jobs. That number is projected to grow two percent by the year of 2026. Retail provides the opportunity for an individual to gain experience in customer service by helping customers find products they are looking for as well as processing different forms of payments.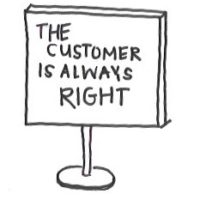 "There's a lot more to retail than most people know," Carstensen says. "All of us work really hard on the sales floor and behind the scenes to make it the best experience possible for anyone who visits our store. On top of that, you have to be a people person and be able to talk to anyone that comes to your store and some people just aren't cut out for it."
At this Stance location, a small group of people have become a family after spending most weekends out of the year together. Like many retail employees across the country, Livermore Premium Outlet employees are for the most part obligated to work during retail's popular holiday, Thanksgiving, which forces stores to open as early as 3:00 p.m. on Thursday, as well as the holiday season leading up to Christmas.
"If you love working retail, you don't mind working the holidays because you're servicing guests in the craziest times of the year," says Gabb Pintor, an employee at Stance. "I work both holidays and even though it takes away time from my family, I do what I love and my family [is] supportive of me."
"We usually hold holidays on different days, usually having Thanksgiving a week early or later," explains Jesus.
As the holidays quickly approach, certain individuals try to find a balance with their life outside of work, as they not only work but attend school and have hobbies.
Ralph Antonio, a nineteen-year-old aspiring photographer, recently moved to Southern California after working at the San Francisco Premium Outlets at both Stance and Vans. On top of working part time at Vans, he attends a community college and does photoshoots on the side.
"Since I am only working part time, I am able to find downtime during the week to make sure I spend quality time with my family and friends," he explains.
Retail, unlike other jobs, can allow people to balance their life outside of work. Many stores are flexible with schedules, as their employees are students, people with two jobs, and parents are.
"Although working retail may seem easy, it is not," Antonio says. "You have to adapt to being a team player and build a lot of patience. Dealing with customers on a day to day basis can be exhausting as well but having patience will only make your job a little less easier."
As consumers walk through shopping centers across the Bay Area, many retailers begin to put their hard labor into making the season of shopping an enjoyable experience by decorating their stores with multi-colored lights and Christmas trees.
Despite stores such as Sears announcing their bankruptcy earlier this year and Toys R Us closing, retail continues to provide an opportunity for people in search of something outside of the typical career paths such as teachers and doctors.