Zooming Through Traffic, Without the Gas
The cost of a car, insurance, gas, parking, and maintenance requires owners to shell out hundreds to thousands of dollars a year just to get from one point to another. As such costs continue to increase, along with the lack of space in the Bay Area, people have found alternative ways to get around while also building a community around it.
Kevin Grandon, thirty-three, is a software engineer for Uber and the Chief Riding Officer at AlienRides. He says that in 2014, he started off riding plug-in electric vehicles, or PEVs, just as a way for him to commute. "It kind of grew from there. My need to get around turned into a hobby, and now it's a lifestyle where I'm spending all my spare time around PEVs." He owns the YouTube channel for AlienRides, which helps to promote electric vehicles and the lifestyle that has shaped around them. He currently shoots and edits the videos himself, and the channel has grown to about 350 subscribers after being launched two years ago.
"The whole thing (the PEV community) is still new and growing. If you look at the numbers compared to bikes and cars, it's still tiny, but I imagine it replacing bike usage in the future." For Grandon, riding a bike is nice, but with riding an electric vehicle, you don't end up sweating while trying to get into work. Since San Francisco tends to have you going up and down hills, the power of an electric vehicle can be the difference between coming to work, school, or even an event dripping in sweat or not.
It is also way more affordable than owning a car. "To charge a scooter, you're looking at about $.25 to $.50 cents or so, and you'll be covering the distance of about 10 – 20 muni rides around the city. So you'll be looking at a fraction of the cost of any other form of transportation," says Grandon. With cars, that would be an even bigger price difference when you factor in the various things you need, from insurance to gas to parking.
For Grandon, and a lot of other riders, his experience riding in the city could be called "not great" when it comes to safety and the ease of getting around. "The bike lanes in San Francisco are pretty awful. There are tons of potholes in the road. But once cities improve their infrastructure with electric vehicles in mind, we can probably see a quality of life change for riders." Currently, the Embarcadero has plans to improve their bike lanes to have two-way bike lanes along the waterfront. He also believes that the current problem with rental scooters littering the sidewalks can be fixed with better bike lanes and safety regulations for riders. While he says that he has experienced a couple falls and spills, he has not been in any accidents with cars, however a lot of his fellow riders have.
Anthony Vano, thirty-four, from San Bruno, California, has been riding an electric unicycle since 2016. For Vano, he started because, "I wanted to go far, but I wanted to still have fun. But it [PEVs] turned out to be a great commuter for getting groceries and small stuff." Vano says that he was riding alone for about a year before he ran into a community of other riders. He currently joins weekly group events hosted by various groups around the Bay Area.
One of them was called Let's Do It, which was hosted by a group called Bay Area Esk8, also known as Baesk8. For Vano and a lot of other riders, riding in a group is more than just for fun; It's a great way make friends. It also raises awareness by exposing the community to the public, while also being a safer way to get around as opposed to riding alone. Riding as a group increases visibility and reduces the amount of accidents.
"When you're by yourself, it is a little bit more sketchy," says Vano. "When you're in a group, you're more safe, and you get a sort of pack mentality. I feel that a lot of people see us more in a group than when we are alone."
Vano also says he has been in an accident while riding alone: "I was going down Valencia off Van Ness, and I was going with the traffic on a green light when a car turned left down the street and almost head-on hit me, but I still fractured my leg in the collision." He currently says that his leg is fine after it was operated on and is currently enjoying his rides around the city. Vano, like every other rider in this group will be seen riding with a ton of protective wear, such as gloves, knee pads, helmets, and sometimes even cameras just in case of an accident. "It's not a matter of if you fall, but when you fall," he says.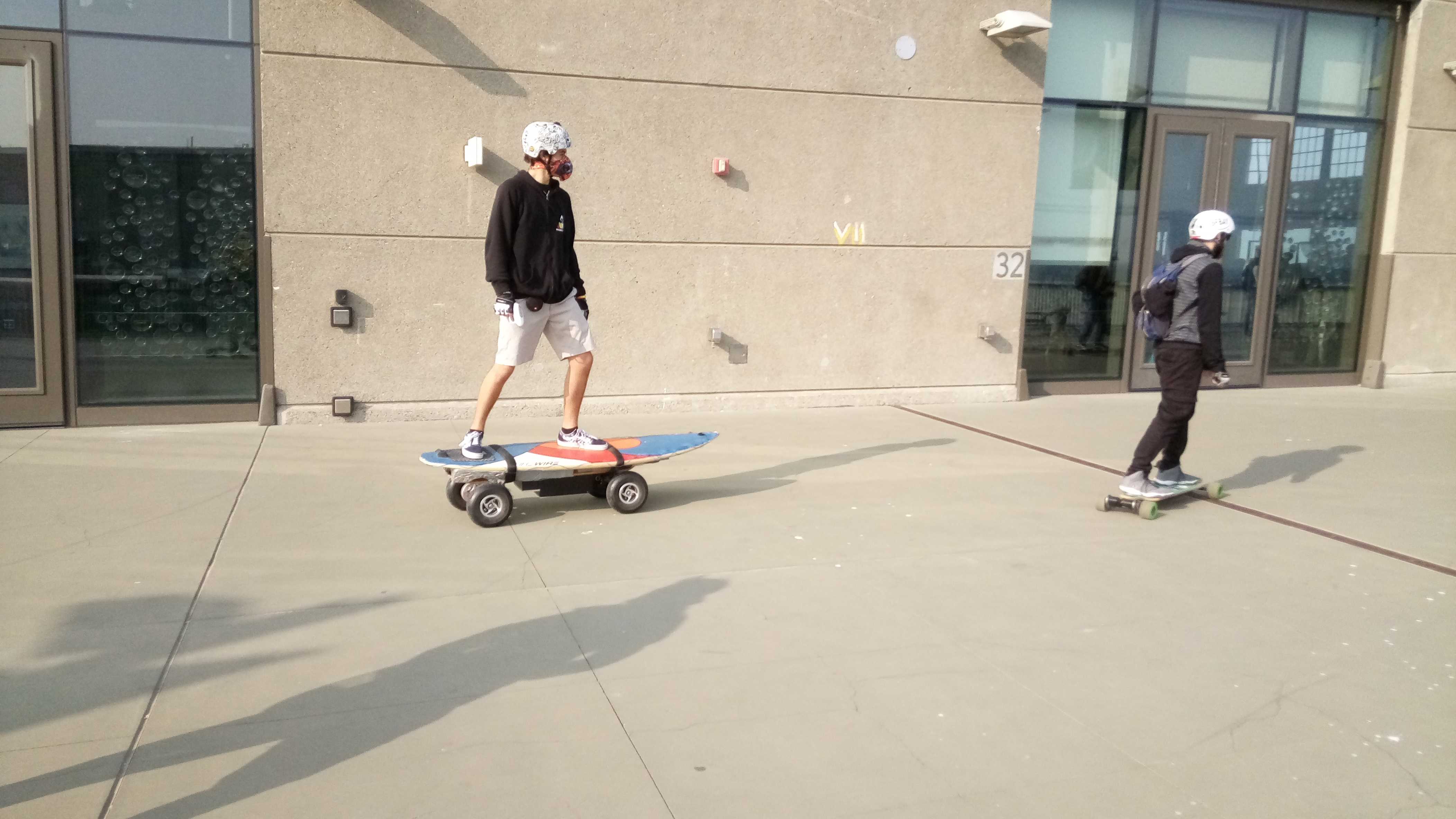 Sophia Tung runs the group Bay Area ESk8. They host group rides at the Exploratorium on the Embarcadero every Saturday weekend. Her first experience with PEVs was back in her college days, "so what happened was that I was really lazy, and I didn't want to ride a manual vehicle, and so I modified my longboard and put an electric motor on it." She is currently an engineer for Twitter and spends her technological skills on her electric vehicle hobby by modifying and building her own vehicles.
Grant Hall, fifty-four, from San Mateo California, is another participant in Let's Do It who started riding in 2017. "My wife wouldn't let me buy a second car, so I got a couple of different electric boards instead." Hall is a music producer who works in Las Vegas and keeps a board over in Las Vegas for whenever he has to travel there for work.
"You gotta actually try out a few before you buy," Hall says. He is another rider who says that the streets of San Francisco just aren't safe enough for his liking. "The streets are pretty tough. I've been in one accident. I was going on the bike path at around 15 miles an hour, and I went underneath some trees and I hit a large hole which threw me onto the ground and broke my tooth. I now wear knee pads and other forms of protection," he says while patting down his various protective paddings. "If I weren't wearing a helmet, I wouldn't be talking to you now."
Ray Spencer, forty-four, from San Jose, California, has been a part of skateboarding culture for the past thirty years and just recently started using PEVs this year. He builds his own PEVs, and has been doing it for the past four months. "I just had a passion for it, and I've built drones before. I like the technology behind it, and I wanted to try out a few builds for myself. And it's just fun." Spencer runs a page on Instagram called @esk8fightclub that showcases the boards he has for sale.
Plug-in electric vehicles have grown bigger over the past few years, and it seems like a majority of the modern community has only started riding within the past ten years or so. As their social media and street presence continues to grow, streets start to accommodate their safety needs. This is especially important for Californians who are stuck commuting longer distances, facing higher costs of living, and who want to get around our horrible daily traffic conditions. Compared to dockless rentals that can litter the street, having your own vehicle will put less scooters on sidewalks and more into our possessions.