A Very Expensive Haystack
In the Convent in San Francisco, morning prayers begin well after noon. The two dozen nuns live on two floors, in rooms that flank a main hallway. The confessional is on the ground floor, tucked into the wall on the right. It has a sticker on the back wall, "this is a good kissing spot." The chapel is at the end of the hall. It is pewless. Half of it has been blacked out into a photography dark room. Nuns rise from their quarters when they so please, or when work began. Each one is cluttered with sinful and earthly possessions. The walls have no stained glass apostles, but photographs of naked forms, abstractly painted projections of the mind, signs with the names of heretics. One sister begins her day with yoga in nothing more than shorts and a tank top. Two others, in only their sleeping garments, giggle from behind their open door which reeks of tea tree oil. A bird cage can be deciphered in the background. This is the Convent Arts Collective, tucked on the corner of Fillmore and Oak streets in the Lower Haight district. It is one of San Francisco's latest experiments in community housing.
Living like sardines in the Bay Area has been around for generations. Even before the Summer of Love, groups of people were shacking up in old Victorian homes throughout the city's Haight district. "Season of the Witch", by local David Talbot, one of the most comprehensive books of San Francisco's grittier sides of history, details many communal living spaces in the Haight occupied by weed-dealing hippies, runaways, and vegetarians. In her memoir "How to Grow Up," queer author and longtime SF resident Michelle Tea recounts her many years of living in "The Blue House," a (proudly?) dilapidated Victorian in the Mission with dirt cheap rent and dirtier floors. In the midst of the tech migration, even six-figure earning techies are cohabitating like a startup fraternity house.
Sister Bryan Steven Johnson Bradford is awake at ten, but he was supposed to be up "a lot earlier." He wears no headdress or robes but a "Silicon Valley" sweatshirt and galaxy-print sweatpants. Up until a year ago, Bryan Steven Johnson Bradford had seemingly carved out a living in a San Jose apartment with his partner and a management position in fast food. But he felt empty. Studying animation and illustration had not borne him any fruit, and once his drag identity Rockm Sakura was born four years ago, he knew his path had to diverge. He left his job, his home, and his relationship to move into a room on the Convent's main floor.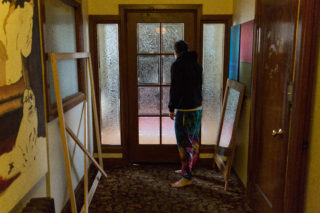 "All of us here live in old nuns quarters," he says. "I love living here. We're basically nuns," in a tone that implies anything but. There is enough floor space to walk the seven steps from the door, past the bed to the side bathroom, and nothing else. The left wall is engorged with a rack of mostly DIY skyscraper shoes and costumes made of anything from plastic spoons to the pages of a manga. The wigs live on styrofoam heads on shelves looming high above both sides of the room. Costume jewelry and pantyhose spill out of dressers hidden by the overfull racks of gowns and fringes. Bryan has one dresser and the bed. The rest belongs to Rockm Sakura.
A man in a bathrobe suddenly emerges from a door by the front of the building. Bradford waves to him as the robed man closes a bathroom door behind him.
Even by eleven a.m. on a weekday, it is near silent. Since the hallway is central and receives little natural light, it is also dark and slightly hazy, like the the final ebbing phase of a drug trip. Bradford's room looks like the peak of one.
"Doing drag is my full-time artistic prowess. My art comes first. The first time I did drag, I knew I would make a career out of it," he says as he strokes a styrofoam wig head with a teased-up blue hairpiece that defies gravity. "I was in a relationship I wasn't happy in. Things I wasn't able to express I took to the stage." This stage was a single bimonthly show in San Jose. Soon, as Sakura's star rose, Bradford's eyes wandered up to the city by the bay.
He found an ad for the Convent on Craigslist, and two months later he had a room in San Francisco and twenty-two roommates. In the first weeks of his living there, the house threw a medieval party that would put Game of Thrones to shame. There was a bouncy house on the rooftop garden, where "the King of England was jousting Pikachu. This space seemed too good to be true," he recalls, and replays the video of the event on his Instagram.
Bradford does not hold a day job, but capitalizes on Rockm Sakura at venues like Oasis, YouTube content (like mukbangs) with other queens, or choreographing and assisting his fellow performers. Some days, he wakes up at two p.m. But there are sacrifices.
For starters, it ain't cheap. A room, no bigger than a dorm in most cases, goes for between 900 and 1,200 dollars a month. The building is cold, without heavenly insulation, and the pipes hiss steam in the basement. There is a voluntary two hundred dollar food plan to spread the grocery bill around, and most artists are provided a studio space—a cubicle within the basement. While it prides itself on housing "working artists," many have day jobs like hairdressing, bussing tables, possibly working for NASA. Bradford pays $1,400 a month for the luxury of a private bathroom.
"SF is becoming so gentrified, people wanna know how you make a living not in tech. We don't pay for space in our rooms, but space for our artistry. I used to sleep under my garment rack. It's a completely different space than I'm used to coming from Silicon Valley. This place cultivates my art and success. You learn how to live with people. One view is not always right. There's more to communal living than being everyone's best friend, but learning to be lived with. It's not for everyone."
The Lower Haight is rife with adult dorm houses like these. Within walking distance from Oak and Fillmore streets are a half dozen other residences that are a part of the Haight Street Commons—a network of "affordable" housing for a myriad of people who are not able to survive the housing market otherwise, have no qualms with personal space, or actively desire the furor of an "intentional community."
The intention is built on necessity.
According to a census data analysis by real estate site Zillow, thirty percent of single American adults ages twenty-three to sixty-five live with roommates or family members, and the rate is almost twice that for adults in their twenties. Rent for a two to three bedroom apartment in San Francisco easily exceeds three thousand dollars in the best neighborhoods, and edgy art-makers are not exemplary capitalists. For hundreds in the Bay Area, it is more viable to live with two dozen people in various refurbished homes.
But the people living here are no longer dreadlocked activists fighting consumerism while preaching peace and self-sufficiency. Many of these residences were born in the last five years, and their rent reflects that. Their members are not painters or sound healers, but CEOs and tech entrepreneurs. Some rooms are available to guests on Airbnb.com. Forum platform Slack is referenced constantly to coordinate weekly chores, vote in new members, and organize parties and art events.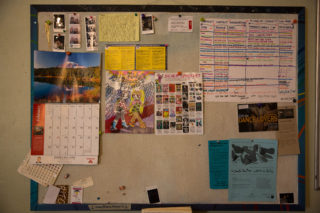 Every house in the Haight Street Commons varies in size, demographics, and reputation. Chateau Ubuntu is one of the biggest with about three dozen members, and the biggest party reputation. Others like the Red Victorian on Haight rent out some of their rooms hostel-style, and the two-year-old Archive is almost exclusively filled with tech entrepreneurs and CEOs. A few blocks up the street in Ashbury Heights is the three-year-old Chaortica.
"One of the things that sets us apart is we have no rules," says founding member Jonathan Schoonhoven, as he brings the groceries in. On the wall next to the doorbell are two finger-drawn hearts. They are labelled "chaos" and "order."
The house seems innocent enough, with a wood-shingled exterior and a pack of light blue American Spirit rolling tobacco left on a square of fake grass by the door. It is a delivery day, and since Schoonhoven is the only one up and out of his room at four p.m. on a Wednesday, he has to unload them. They are big cardboard boxes of communal living staples: packs of toilet paper, paper towels, packs of rice noodles, coconut milk, and oatmeal fit for Costco. All food is shared, split, and clearly labeled. Luna, the calico house cat, has to wear a cone for the week and bumps into things. In the empty dining room is a female mannequin in nothing but a blonde, curly wig and a cap that says "you look like I need a beer." On the whiteboard calendar, there is a "monthly orgy" scheduled for Valentine's Day. Schoonhoven laughs at this, "it probably won't be an orgy this time, but it happens."
The living room has tinsel hanging from the ceiling, and cushions strewn about the floor to accommodate a slouchy salon people or an "immersive theatre" performance, where the audience and the actors interact and the performer/participant line is blurred. Schoonhoven is one such performer. He works part time for a startup that wants to make carless cities. In the bathroom, everyone has their own white bin of toiletries lined up on a shelf. It is unclear if residents are at work or asleep.
"Most people here don't have regular jobs. The way society organizes itself doesn't lead to happiness. It's not that inspiring living alone. A lot of us romanticize the Summer of Love and we are proud of that," he says as he starts organizing where the oatmeal will go on the counter. The Summer of Love was back in 1967, a culmination of thousands and thousands of hippies and anti-capitalists flocking to San Francisco to enjoy the free love, psychedelics, and anti-war demonstrations. Those people might not be able to afford a room in Chaortica today, but the collective sentiment remains.
"Humans didn't evolve to live alone. Many of our basic needs come from being with people in an intimate way. Now that community living is a viable option, they're very popular. People just assume it's more of an alternative/edgy thing than it is. You do have to make tradeoffs. I get frustrated about clutter. You don't have much privacy. You have to put up with other people's decisions all the time."
Chaortica houses only a dozen members across eight rooms, which are often shared and range from $700 to $1,400 monthly. There is a Slack network, but chores are not assigned and house meetings occur only once a month.
While Schoonhoven prepares his dinner once all the grocery boxes are broken down and put downstairs in the "recycling" waste pile, housemate Elizabeth Matus starts cooking herself an egg. Matus has lived in communal housing before, when she was an undergrad student at Stanford University in the co-op house Synergy, one of seven the university owns. Stanford uses a quarter system, so all students in their residences pay three housing fees in an academic year. Most residences are $3,198 per quarter, while Synergy and other co-op houses are $2,785. This excludes meal plans and house fees.
"It was always my dream as a kid to have a big house and to live with my friends. It's a natural inclination of mine. You have to find what you're looking for and work to be a part of it. People are a part of your life, not next to your life," she says and pops the fried egg in her mouth.
Across the water in Berkeley, college students have been utilizing a communal system to save money on rent since the 1930s with the foundation of the Berkeley Student Cooperative, created to remedy the collapse of housing brought on by the Great Depression. There are twenty residences to choose from; some are apartment complexes and some are houses, each with an identifying theme, like the Afro House, the Oscar Wilde house, and even their own Convent. A UC Berkeley dorm goes for anywhere from $1,600 to $2,000 per month in an academic year. A room in one of the cooperative houses, according to the BSC website, is thirty-six hundred per semester, which is roughly $900 per month.
This not the idyllic hippie commune of yesteryear, which upon further investigation were not so wonderful even in their time. Many collapsed as soon as they emerged, or were done in by a splintering of interests and lack of financial planning. Many that exist now are far cleaner, "bougier", and costlier than their predecessors. One house on Broderick Street has truly achieved "free" living, for a time.
The Growlery is a three story house that homes anywhere from three to five artists free of charge. It is privately funded by art collector Jean Chadbourne, who got the idea from a impromptu solo trip to Transylvania. The catch? The stay is three months tops. Artists get a stipend for supplies, but must pay for their own food and their bedroom doubles as their studio. Kija Lucas is the house manager, connecting with Jean in 2016 during her own residency. She is the only long-term resident.
"It's very difficult to sustain as an artist here," says Kija. "We don't want them to stress. Be a good housemate and let them do their thing."
There is no Slack, no food plan, and no chore wheel. A housekeeper comes once a month. The house has high, white ceilings. It is spotless. The kitchen is fit for an episode of Food Network. The living room has been filled with paintings, some on the walls and some suspended. The artists live and work in their rooms on the top floor. The basement is a second gallery space, free of bins and cardboard boxes.
"We're different than a normal community living space. We're not dependent on grants, so there's no worry. I have not witnessed any orgies. There's a lot of work that goes on behind the scenes. It's kicking you out of your normal routine. People interact with those outside their normal community. As a creative person, we live outside our comfort zones. That's where a new body of work can begin."
The Convent was a nunnery in the nineteenth century rebuilt in the 1930s after the 1906 earthquake destroyed it. The real sisters moved out decades ago, and its neighboring buildings, the main church and the priests' housing are now the Church of Eight Wheels indoor roller skating rink and the Center, a tea house with its own communal housing for holistic healers and teachers. Its founder, Michael Latronica, saw that yogis, acupuncturists, and spiritual teachers were just as excluded from affordable living as the abstract painters and musicians.
Latronica moved to San Francisco twenty-three years ago from Philadelphia to do what many people who move to the city want to do: go to art school and figure out how to live off his inspirations. That didn't work out, but he found a niche for himself helping build out the infrastructure for communal artist workspaces, starting with an old warehouse in the Financial District downtown. Fifteen years later in 2010, the Convent's landlord asked if he wanted to dip his toe into the residential market.
"It was an experiment, a universal mission to collaborate and show art in one of the last spaces for artists," recounts Latronica, who was living with three roommates in an apartment at the time. He moved into the Convent and filled its twenty-four beds with bodies more ready to party than pray, and soon "it took on a life of its own."
A year later, the Center was started around the block to be a little cleaner, a little quieter, and geared towards holistic entrepreneurs, new yogis, and healers who appreciated the support. As the new community houses bloomed from the Haight sidewalks, Latronica was sought after by these successors to turn their cultish dreams to a long-term, viable reality.
"I've been told there's been a precedent for communal living. There's been a lull," he says, since the communes of the sixties. "People came out of the woodwork, now there's a line of people to get in. We learned a lot from the Convent. Communication is key. You make a lot of mistakes, you learn to create rules and protocol that artists tend to stray away from. It's not cheaper living, it's just a more interesting way to live. In my experience, living in community, there's a mirror held up to your face. There's no room for superficiality. You made the choice to be open. There's nowhere to run and hide. That can bring out the best in people."
Leslie Mueller lived and worked in the Convent for three years after she graduated from grad school for art therapy, from November 2015 to November of 2018.
"I had never lived communally. I wanted to be inspired and develop art practice. And it really did that for me; it helps bring artists together. There were a lot more working artists when I moved in than when I left. I made so many connections."
Why walk away from such a good gig? In short, money, dirty dishes, and drama. Mueller pays more than a hundred dollars less for her apartment in the Outer Sunset with two roommates than she did the majority of her time at the Convent. Mueller is now a working artist and art therapist, specializing in ceramics classes and school programs.
"I'd grown out of it. I work six jobs. I feel privileged that I can do that, but I don't have any savings." She plans to leave the city eventually.
Latronica doesn't like to dwell on the future.
"Communal living is gonna continue being sustainable for those who can afford it, likely not the minority demographics. We try to make it as diverse as possible but you can always get a rich, white techie who can afford to live in a creative space. I think it will evolve and grow, but there won't be spaces for artists and musicians. It's a cycle. Landlords have caught on to communal living. We've got one of the best spots in San Francisco."
Housing in San Francisco is like searching for a needle in a very, very expensive haystack. The city would do well to hold on to these needles.