Erasure of the L in LGBTQ
A tall, slender woman, probably in her late forties, strolls up to the bar, opulent in her beige fur coat. The bartender, who just finished up a transaction, walks over to her with a welcoming smile.
"What would you like?" the bartender queries.
"I want a fresh limarita and please don't use agave-based syrup to sweeten it," she requests with a haughty tone.
"Of course," the bartender says as she grabs a coupe glass, brushing the rim with lemon. She turns around and in one motion grabs the bottle of tequila and pours it in a shaker. Without taking her eyes off the pouring liquor, she adds another bottle. She puts a strainer on the glass and pours the translucent green liquid in, adding fresh lime juice and a slice of the fruit.
"Enjoy!" she serves with smile.
This is a dance that Lydia Rodriguez has been performing ever since she started working in the food industry at nineteen. Now at thirty-seven, Lydia is the lead bartender at the recently opened Jolene's Bar in San Francisco. Lydia helped set up the bar, letting her maneuver confidently through bottles while making drinks for the nuanced patrons the bar is garnering.
Jolene's Bar has rapidly gained popularity in the city, especially among the femme queer and lesbian community. Word spread of the bodacious boob wall, which is constantly getting censored on social media platforms like Facebook and Instagram. Lydia, who is lesbian, says that the bar is intended an all-inclusive space for everyone in the community, which is apparent when one walks into the bar greeted by a bright pink neon sign that says "You Are Safe Here."
"The vibe of Jolene's has all of my favorite aspects of working in a bar because we're so inclusive," Lydia says as she takes a sip of her beer. "We have brunch versus crazy club nights with dancers, and then we have happy hour where we see a lot of business people to older people, and older lesbians having cocktails at five in the afternoon. We want to reach our whole community, not just one section of the community."
In recent years, many lesbian and gay oriented parties and events have started to rebrand themselves, and Jolene's Bar does not label themselves as solely a lesbian bar. Jazmine Viera, twenty-six, is a dance instructor by day and go-go dancer for queer parties at night.
"I have danced at a lot of individual, back then identified as lesbian, parties that now identify as queer parties," Jazmine recalls. "Just 'cause the scene has taken this pivotal turn of trying to make everything inclusive."
It is important to note that the acronym LGBTQ (and the various identities it represents) and queer are not synonymous. Queer is an umbrella term that can be used to define sexual, gender, and romantic identities without limiting oneself to one label.
Jazmine has been dancing for queer parties the past five years, and adds that it is both a pro and a con to have things become more encompassing of the LGBTQ spectrum. The pro is that everyone can have a good time free from being judged and harassed. But it does beg the question of what is going to happen to lesbian spaces and identity.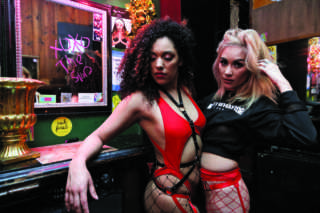 "So many parties have sacrificed the "L" in making the parties more politically correct," Jazmine argues.
There has already been a major purge of lesbian spaces in San Francisco. In her book, Wide-Open Town: A History of Queer San Francisco to 1965, author and SF State professor Nan Alamilla Boyd covers the long history of a once thriving space for the lesbian community in San Francisco.
One of its most famous bars was Mona's 440 Club, San Francisco's first lesbian bar, located in the North Beach district back in the 1930s. Mona's inspired other lesbian bars and nightclubs to open and North Beach flourished. However, these establishments didn't last long when the city started heavily policing gay and lesbian spaces in the fifties, Boyd writes. Lesbian spaces are still consistently being made invisible today.
Take San Francisco's Castro district for example, it is renowned as a LGBTQ haven, yet most, if not all, bars and nightclubs there are geared and advertised toward gay men.
"The boys have everything. The boys have everything—they have the Castro and they have their own circuit parties," Jazmine exclaims as she gestures her arms as if encircling the globe.
"They have essentially monopolized the queer scene, especially in San Francisco."
The most recent bar that proudly paraded as a lesbian bar was The Lexington Club (The Lex), which closed back in 2015. The Lex's slogans were "Your friendly neighborhood dyke bar," and "Every night is ladies' night."
"We had one bar," Lydia says of The Lex. "When that closed down, we lost something. Yeah there were parties here and there, but we didn't have a home base."
Even then, the parties shifted away from being centered for lesbians. Miranda Dancisin, who is thirty-five and identifies as lesbian, has been hosting parties for ten years. She has personally experienced some backlash in calling her events lesbian parties. One called "Party XO," which she has been throwing for seven years, was the party that Jazmine first go-go danced at.
"I have geared my party toward lesbian and queer women," Miranda proudly says. "I rarely hire straight male DJs to play at my parties, but everybody is still invited—as long you're a decent human being and you're going to be respectful, you're invited."
There has been a lot of discussion within the community regarding what terms should be used when it comes to spaces, events, and parties. Promoters and organizers have to find a balance between not sounding exclusive, while still trying to keep certain identities alive.
"When I throw a party, it is automatically a welcoming space for everybody," Miranda defends. "I think the problem in our community is, if your terminology isn't directly quoted then people think you're not invited, which is not the case."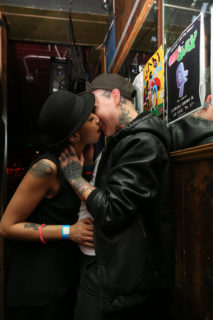 "I would like to see more lesbian spaces actually be called lesbian fucking spaces," Miranda asserts.
No matter the terminology, Miranda affirms that the most important part of throwing parties that are directed toward queer and lesbian women is the need for safe spaces. A space where they can feel comfortable having fun without having to worry about any form of misogyny.
For more femme presenting queers and lesbians, sometimes it's a struggle to enjoy a night out when spaces are not necessarily welcoming to them. Sophia Andary, widely known in the community as Sophie Andr, is the event organizer of Lipstick Lesbian Meetup and co-chair of the Women's March in San Francisco. Sophie moved to the Bay Area from Los Angeles back in 2008 with hopes of being able to freely express her sexuality without clashing with ideals of her Middle Eastern family and culture. But upon moving here, she realized that the Castro was not very queer or lesbian women friendly.
"There were times where I would go unnoticed for more than fifteen minutes waiting to be served," Sophia sadly says. "[I've] been told before 'go to your straight bars,' and I am like 'dude I am gay.' It's a gay bar, but it's a gay men's bar. It's not for women."
Sophie eventually came upon Lipstick Lesbian Meetup, where she ended up taking over as the event organizer even in her busy work and activist schedule. She knows the importance of holding a space not only to feel safe in, but to be able to meet other people who share the same identity, struggles, and experiences. She also believes that Jolene's Bar is a great step in the right direction.
"Jolene's is creating a space that doesn't exist in the Castro," Sophie says. "Creating a space where people can be themselves."
For event organizers and promoters like Sophie and Miranda, they work to give lesbian and queer women a place to be seen. A place to be heard. A place to party. A place to be lesbian. A place to be who they want to be.
"It's important we have lesbian and queer spaces because this is where connections are formed." Miranda stresses. "I want it to be an experience that a lot of times we don't have at other clubs and bars. I want them to be able to let it all loose and maybe meet their future wife."