"That bass was tickling my taint, I loved it."
Rumor has it, you can find a drag show in San Francisco anywhere, any day of the week. There's Rupaul's Drag Race (RPDR) viewing parties on Mondays, drag brunch on Saturday and Sunday mornings, weekday happy hours with the queens at bars in every neighborhood, and nightly in-your-face dive bar death drops.
No matter the date, Tenderloin gay bar Aunt Charlie's Lounge is full of queens and common folk. On Tuesdays, it's Chasers night with back to back performances that go well past midnight.
But this is not an episode of Rupaul's Drag Race.
The show, which took drag from a queer enclave's art form to a Monday night staple on VH1, brought drag as entertainment, culture, and language to even the blandest corners of middle America. In its decade on the air, RPDR has featured drag queens from all over the country (some even from out of the country) and from all manner of backgrounds—to a point. With over one hundred contestants to date in its decade on the air, not even ten performers have been transgender or non-binary, and most concealed this fact while on the show.
No cisgender woman has ever appeared on the show. There are plenty of drag queens and kings who don't identify as cis men, but where are they? Most are here, in our backyard.
Many millennial queens still draw inspiration from RPDR, despite the narrow gender representation. Silk Worm, twenty-five, moved from Atlanta, Georgia to the SF Bay Area at eighteen to attend Stanford University. She began her transition as a trans woman after she left high school, and in the midst of her theatre degree, got on the stage.
Her look tonight is shocking, but not because she's in a leather harness and pasties or glittered and cinched to the gods like her fellow performers. There's no makeup and no wig; her hair is braided in two long plaits that hang past her collarbones. She's in a purple blazer, slacks, and a yellow scarf.
Her song of choice is "The Way I Am" by Ingrid Michaelson, which was most notably featured in a 2007 Old Navy commercial, "if you are chilly, here take my sweater…" She does not roll around or gyrate or belt out her lip synching. Her presence is sweet, demure, like she could have been in that commercial. Someone in the hazy bar murmurs, "this is the cutest fucking thing I've ever seen."
"Drag Race actually inspired me. San Francisco is inclusive; I'm often not the only trans performer. I do drag with my partner a lot, who's a cis woman, and I think that was weird for her. New York has a similar vibe, anything goes. Atlanta is very polished, which feels less inclusive. The drag scene has the same problems as others—who gets booked first. It's the same way that feels weird just being trans in the outside world." By "polished," she means the scene in Atlanta is limited in its representation of gender and less welcoming to performers like herself.
Silk Worm has lived in the city since 2012, happily. While her move from Georgia was not an escape, her personal and medical needs off the stage weren't as accessible.
"SF has a lot of problems with racism and classism, but most places I've worked ask my pronouns, I have better medical services, counseling, housing," she says as she takes a smoke break in the downpour.
Aunt Charlie's is one of her regular spots, and it's full of regulars. It has a red neon sign outside and a nondescript door on Turk Street. It's on the kind of block where some shadowy figure calls you "friend" and offers you speed. Inside is an intimate, if not cramped atmosphere bathed in red. Crimson lanterns hang over the lights, and little paper houses lined with Christmas lights and cotton snow line a shelf above the bar. The drinks are cheap, and many patrons are already drunk. A woman in a Victoria's Secret tracksuit laughs to her friend, "Bitch I gotta pee."
The stage is a swath of well-lit space at the end of the bar. The queens mainly stay in the lit space, but venture down into the crowd, collecting dollar bills held out by antsy, but respectful fingers. There is no groping, no slurs, and everyone gets tipped. On this particular night, none of the performers are cisgender women, sometimes called "bio queens" or more respectfully, "female-identifying drag queens."
Another queen in the lineup is Loma Prietta (yes, like the 1989), "San Francisco's best natural disaster." Unlike most performers who flock from out of town, Loma grew up in San Francisco. She began watching RPDR in high school, but queen Loma wasn't born until 2016. While she does identify as a gay, cisgender man off the stage, drag created a space for her to confront and manage her ADD and anxiety.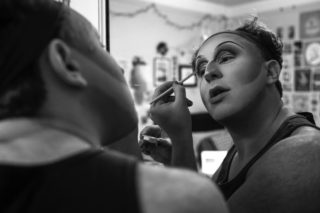 "I think for a lot of people, people do drag as an alter ego, like the mild-mannered techie. I moved around schools a lot. I did not have real friends. Drag has been therapeutic for me. It became a way to develop social skills I didn't have. It's a social profession. You don't get to not talk to people."
But during a mashup number of mid-2000s meme songs (think the Rick Roll'd song and "Friday" by Rebecca Black) with no pants on, you'd never know. Loma is "pretty," highly femme, and grounded in realism—but not much. Her makeup involves glueing down her eyebrows and powdering her face to a flat surface so her features can be redrawn more femininely. She makes her own wigs, which live on shelves above her desk in her bedroom, and curates her costumes around the glamor of the eighties and nineties. She claims to have accumulated over three thousand dollars worth of garb, but that's low balling it. Relatively speaking, Loma is aware of her privilege within the queer community.
"I don't want to say anything that incriminates me, I don't want ten angry Facebook messages, but there are a lot of discussions about RuPaul fans in casting trans performers. There's a lot of controversy. San Francisco prioritizes trans, non-binary, and femme performers in ways other cities don't. There's definitely a glass ceiling. But that's why they kick ass in SF. But my perspective is radically different than someone that's been doing it for ten years. I surround myself with kind and supportive people with good intent. The island of misfit toys, those are my friends."
Rockm Sakura by day lives as Brian Steven Johnson Bradford, a cisgender gay, Asian man. Her aesthetic is vivacious anime character. Her exaggerated, drawn-on "eyes" take up most of her face, the contour and foam hip pads soften her face and prepare her body for the costume to come. She has been a pirate, Joan of Arc, and a literal book of manga. Within a bedroom full of sherbet-colored wigs and costume jewelry, between performance of garrish pops songs and scissor splits, Rockm Sakura occupies her own place in Bradford's identity.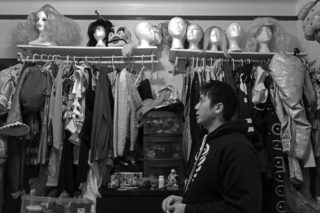 "In drag you're celebrated for things you aren't praised for as a dude, like my femininity. My first time in drag I saved the makeup wipe."
Bradford moved to San Francisco a year ago specifically for the variety of stages for Sakura. Sakura performs her own numbers, assists her fellow queens, produces YouTube content, and choreographs for others. She lent these moves to a younger queen, Loma Prietta, for her performance in the annual pageant Mother: Star Search at Oasis nightclub.
Rupaul, debatably the most visible drag queen of our time, has said before that "drag loses its sense of danger and its sense of irony once it's not men doing it, because at its core it's a social statement and a big f-you to male-dominated culture."
Well, yes, drag is indeed a subversion of patriarchal expectations for men. But it has also historically been a thread to bind queer and trans youth together in families they may not have had otherwise. This is best illustrated in the 1990 documentary Paris is Burning, which pulled back the hairsprayed, "yaaas queen" curtain to reveal how much joy queer, trans, and marginalized youth in New York City derive from drag and the pageant-like "balls" they would gather to perform at during the 1980s AIDS crisis. It also revealed how many performers did not neatly prescribe to gender, and how many of them suffered, if not died for it. In 2019 in San Francisco, you wouldn't have guessed anyone had a problem with anyone.
Female drag queen Snaxx is one such who would disagree with RuPaul's stance on drag. Snaxx, aka Carissa Hatchel, is a cis woman who, by multiple accounts, is the first cis woman to have won Oasis nightclub's Star Search pageant back in January. Her number was a mashup of a song about pizza and a body positive anthem in which she stripped down to her pasties and showered in silver paint.
Another Bay Area native, Snaxx spent ten years working in early childhood education before she became Snaxx. A theatre background had led to costuming jobs, and in 2016 she was asked to assist with a long-time San Francisco classic, the drag production of Golden Girls at the Victoria in late 2016. Her name, Snaxx, was actually lifted from the content of the show, in which character Blanche goes to the kitchen for a snack.
"Drag is an exaggeration of gender and a protest of the binary anyway, no matter what gender you start as. It's a heightened version of myself, a mix of all my interests."
Like most queens, Snaxx is both a drag daughter and mom. Most queens need a wing to tuck under, and a community to shape their taste and confidence. Drag moms and families are a lot like the mom who kissed your booboos and made your lunches; they pass down makeup techniques, critique music choices and show up to see their daughters perform. Snaxx herself would not be onstage if her drag mom had not made it clear that she was "allowed," that her gender did not exclude her. Her daughter, Roma Holiday, has already started her own show in Alameda across the water.
"The structure of drag families is really, really crucial, especially in the earlier days. Drag families function as your real family. People literally didn't have a place to live." Her biological family do not patron her performances. "I don't think they really get it."
Snaxx has also joined the national movement Drag Queen Story Hour, where queens read books and sing songs to children at their local libraries. Her local branch is in Alameda, which she claims is not as viable for queer people as the city, but the kids love it. The education doesn't stop with the classroom.
"When you have this expectation of gender and gender roles, that's when it gets confusing. It's an opportunity for kids to see people express themselves. It will continue to be normalized. It's really hard. I'm very broke but I'm so, so happy."
Kai Kai Bee Michaels was one of the judges that night who gave the crown to Snaxx. Like Snaxx, they were a bit older when Drag Race first came out, and it wasn't their foundational introduction to the art form and community around it. Michaels, who identifies as non-binary and uses both she and they pronouns, grew up in Detroit and discovered drag through the gay-straight alliance at their university.
But it wasn't until they moved to the Bay Area ten years ago, that they saw it as a viable outlet. Before drag, Michaels loved cosplay. One of her favorite characters is Steven Universe's three-eyed Garnet, of whom she wears two pins on the lapel of her hoodie.
"I was born female but I've always struggled to identify with my femininity. I've always felt more comfortable expressing my masculine side in my day to day life." Both drag and cosplay allow Kai Kai not only to engage with femininity, but to tell a story. At Cher's Tribute Night at Oasis, she is a pastel-goth cannibalistic mermaid, devouring one of her backup dancers who's dressed as a campy sailor.
"Sometimes it is a little obvious I'm not a boy and sometimes I've felt weird being in majority femme spaces. When I first came out I got some pushback from girls, like 'drag is for men.' A lot of [the stigma] is generational, but that's not an excuse."
Kai Kai, like Silk, is game for wherever they get booked. Even within the city's sizable queer community, there are still gatekeepers of sorts. For Oasis, that job belongs to "Otter."
By multiple accounts, he is Oasis's backbone, or like that singular palm tree in a mirage. He gives every queen an audience during rehearsals, corrals them onstage from the dressing room at showtime, and participates in the occasional bit. Oasis is the culmination of the legacy of Heklina, a local drag queen whose show, Mother (formerly Trannyshack), if it were a human being, would be old enough to go to the bar to see it. Due to its notoriety, the show has standards, but they aren't on the spectrum, and it's up to Otter to uphold them.
"I'm from Ann Arbor, Michigan. It's rigidly defined as gay men performing as drag queens.The ethos here is it doesn't matter if you were born male-bodied or female-bodied. Can you entertain the crowd? Tonight we have cis women, gay men, trans performers. I want everyone to feel they can get on that stage." He has even been known to book the rare straight man.
By the time the show's over at Aunt Charlie's, it's almost last call. Some of the queens are still hanging out by the bar, some left as soon as they counted their tips, some are wearing pants again. The rain that has dominated the first quarter of the year has relaxed, let up a bit so people can smoke their cigarettes and call their Ubers in peace and dryness. For a few scant hours there will be peace, then on to the next one.