No Cap — Graduation Canceled Once Again
February 18, 2022
 Paul Padilla's family cheered as he told them the news that they were finally going to see him walk in his college graduation. 

"It was a crazy accomplishment," Padilla said. "We bought all our flights. We had everything ready to fly out there." 
The long-awaited event was brought to a crashing halt as his in-person graduation was postponed yet again just nine days before the scheduled ceremony.
Disappointment related to graduation ceremonies was not a new feeling for SF State's 2020 graduating class. From being placed online during the final leg of their undergrad careers to having their names zoom by like movie credits during their online graduation to suffering major financial and mental blows due to their in-person graduation ceremony being canceled time and time again. The story of graduation has not been easy for these alumni.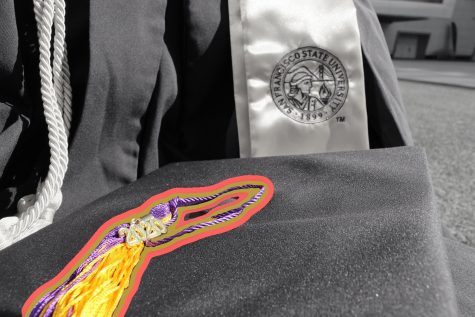 Padilla, a family business owner of The Search Bar in San Diego, recalled his virtual ceremony in 2021 as a rushed event and was not surprised to hear about the postponement of the January 8, 2022, in-person graduation ceremony. 
 "It was devastating. I was really excited cause that was my accolade. I don't care that I took forever to graduate. I still did it," Padilla said about the announcement. "Going through all that work and not able to have a graduation to show for it, it really had me pissed off. Like I didn't even feel like I went to college." 
Padilla and his family were offered full refunds on graduation tickets from the university, but the over $600 in additional costs for hotel rooms and accommodations were nonrefundable.  
Padilla had been flying back and forth from San Francisco to San Diego every Thursday to take care of his business while getting an education from SF State.
"It doesn't matter how you start. It's how you finish. If I was 40 years old, I still want to walk. If I was 50 years old, I still want to walk because the fact of walking across the stage, looking at my family, cheering me on and just shaking a hand and receiving a diploma in your hand like that. That's something you're not going to ever forget," he said.
SF State posted the official announcement on its Instagram on December 30, 2021.
 "I understand their hands are tied. I understand that completely, and I won't blame them for that, but I feel like they could do something to make up for it because we spent a lot. We spent a lot of money on living out there. We spent a lot of money on attending that school," Padilla said.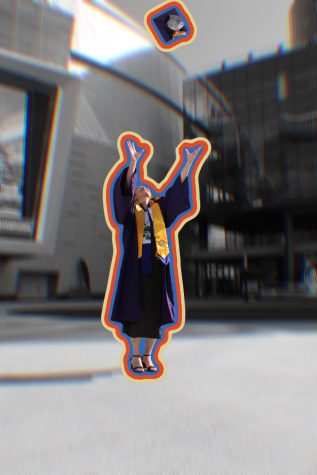 Bobby King, the director of communications for the president's office, provided a statement from SF State President Lynn Mahoney's about the Jan. 8 commencement, which stated, "As with all such decisions, the health and safety of our community, in this case — graduates, families, guests, staff and volunteers — was our primary concern. Given the timing of the projected peak of new COVID cases in the state and region, we believe it was the right decision. I do recognize the difficulties, pain and hardship this decision has caused for many."
Mahoney also mentioned that the school refunded all the money for guest tickets and that rented regalia may be held onto for the rescheduled ceremony, which will take place on May 26, 2022 at Oracle Park, according to SF State's Instagram post. Additionally, participants who did not wish to participate in the future event may return unused regalia for a "refund, less the shipping charges."

Mahoney continued, "I hope that all who planned to participate will be able to return for the rescheduled event, and we're doing everything we can to make that possible. They deserve to celebrate their accomplishments – especially given the many obstacles that they have faced over the past two years." 

According to the California State University website, many CSUs had in-person celebrations for their 2020 and 2021 graduates. CSUs San Marcos, Maritime Academy, and Chico held in-person ceremonies, whereas schools like Cal Poly and Sacramento State held drive-through "car-mencement ceremonies." 
"I wish they would have asked us if we even wanted to do this in the winter," Carolina Manzo said. An SF State alumna, Manzo was among those that had extensive travel expenses due to the in-person graduation. "The other thing I didn't understand is why did they pick a venue that was indoors during travel season for all the holidays when everyone gets sick in the winter. Whether it's COVID or not, everybody gets sick." 
She and her nine-plus family members had changed or extended their original travel plans from Hawaii, San Diego, and Washington, D.C. to make it to her graduation in San Francisco as well as take scheduled paid-time-off days that they could not get back. Manzo, alone, had spent an extra $200 to change her flights and about $60 on tickets for the ceremony. 
Being the first in her family to graduate from a postsecondary school, having an in-person ceremony meant a great deal. 
"Them seeing me cross the stage means a lot for them as well as it does for me. So, I can't not do it. I just wish they gave us more notice," Manzo said.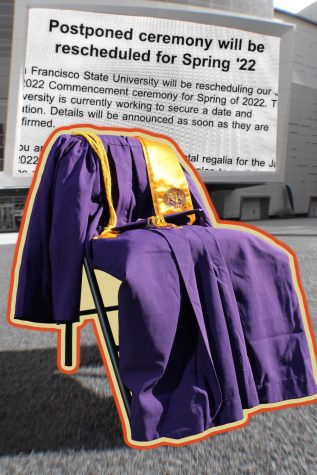 Many students in the 2020 class were left feeling distraught and frustrated with another push to their in-person graduation. Genesis Morales, an SF State alumna, was among those who were "disappointed but not surprised" by the news.
"It kind of feels like a slap in the face, like to me, to my brother too, my parents who sacrifice a lot and who, realistically, the graduation was more for them than for me," Morales said. "I just feel embarrassed having to tell them yet again, 'Hey, my graduation's canceled. I'm so sorry. Cancel your tickets.' Because it feels like it's my fault."

Morales had spent money on graduation-related things like the tickets and her cap and gown. Her family and her mentors had spent over $600 on travel accommodations for the ceremony. Most of which was non-refundable.  
"To do it so last minute makes me just feel like their students weren't a priority," said Morales, who felt disrespected by a university she had fallen in love with. "I had some of the best professors that I've ever had and ever encountered at SF State, that I still talk to now, but I think the university as an institution has failed students."