Old Scars, New Ink
Tattoos have long been used to cope with emotional scars, but what about covering physical ones?
February 18, 2022
Every time Crystal Poon goes to pick up their tattoo gun, they catch a glimpse of the tattoo on their outer wrist. Their client reciprocates their gaze, and they get into a conversation about what it is. This seemingly adorable tattoo has a much deeper, darker meaning that none of their clients expected, yet many resonated with.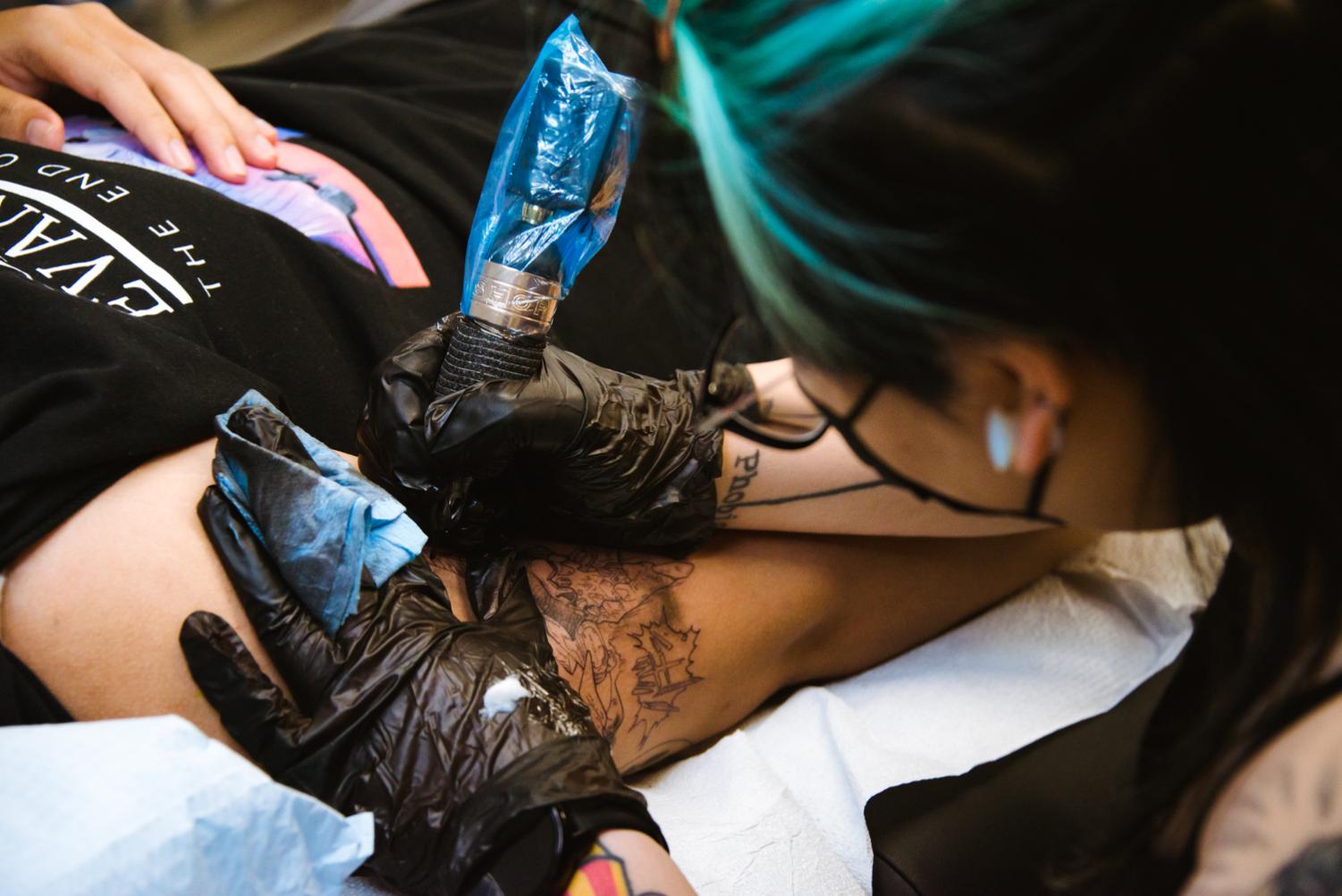 In 2018, Poon tattooed the cat-like Animal Crossing character, Blanca, on themself to cover their old self-harm scars.
"He's a little wonky, and it's kind of goofy looking, but I still like it," Poon explained. "It felt really good to be able to take that step forward and do it."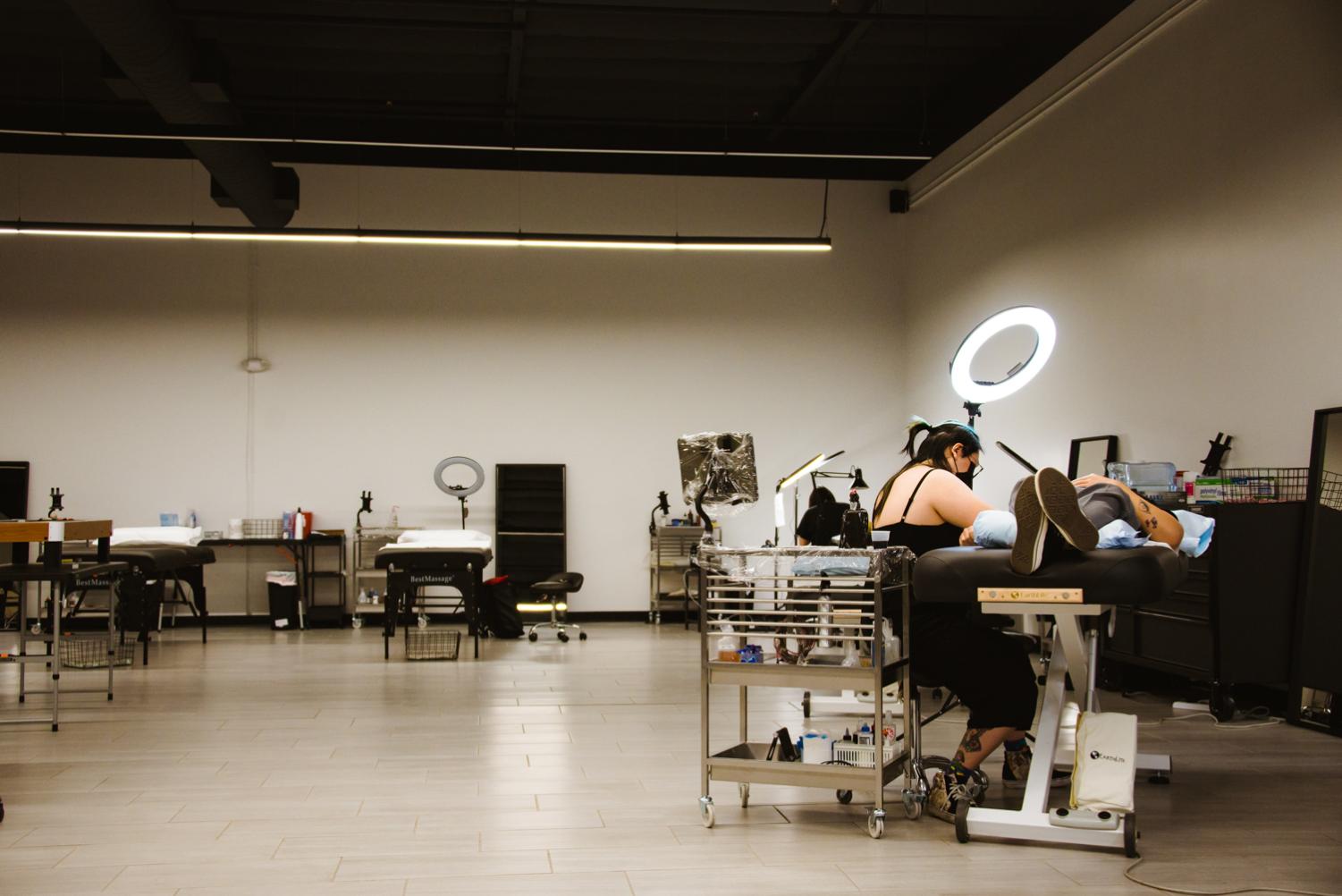 Poon was shocked at how much this small tattoo meant to their healing process. Not only did it cover their scars, which before had to be covered with long sleeve shirts, but it also gave them something to look forward to — a new start.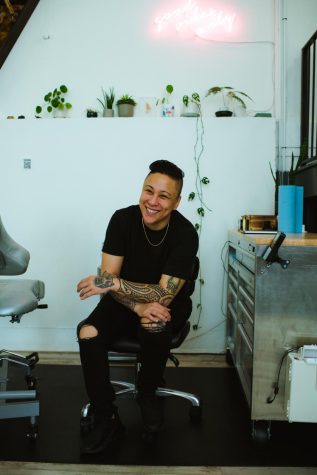 Regina "Push" Estrada, owner of Gold Leaf Ink, noticed that many tattoo shops do not offer scar cover-up tattoos—or do them reluctantly—in fear that it will dilute the quality of their work due to the fragility of the scar tissue. However, she believes that to the client, it is not always about having the best quality work, it is more about the meaning behind the artwork. 
"As a tattooer, we're not wearing these pieces; we're doing a service for somebody else," said Estrada. "It's so much greater than just artwork; it's the beginning of healing for that person."
Throughout her 10-year tattooing career, Estrada has worked at many Bay Area shops that frowned upon her willingness to tattoo over self-harm scars.
"When my coworkers or the shop owner found out, they got really mad that I was offering that," Estrada explained. "They're like, 'You know, this isn't some charity. You're basically lowering the value of our service.' I heard it all, and it was really discouraging."
Estrada would also have to hide that she was offering these tattoos for free. Many clients who came to her looking to cover up their scars were in bad situations and unable to pay for the tattoo. Instead of turning them away, Estrada decided to aid them in their journey towards healing.
The treatment she received from other artists drove her to open her own shop in 2018, Gold Leaf Ink on Market Street, where she would be able to make her own rules and help as many clients as she could take on.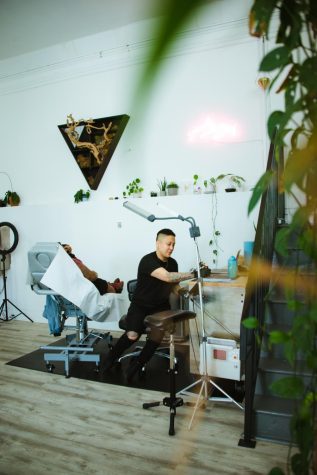 The tattoos people choose also help them cope with hardships and serve as a constant reminder of their strength through unbearable times. The tears streaming down their face after they see their finished piece tell a story not only of pain but also of rebirth.
"It is art that I'm not even wearing and that I'm probably never even going to see again," said Estrada. "But even just knowing that I did it and seeing it at that time, and then seeing their reactions in the mirror when they first see is just freakin' priceless."
For Poon, at Parallax Tattoo & Art Studio in San Jose—who also offers self-harm cover-ups—tattoos not only serve as decoration and a form of self-expression, but they are also a tool for those who struggle with self-esteem issues.
"A lot of people definitely struggle with self-esteem issues, so to be able to help them overcome them or even just like little distraction or just make themselves feel a little bit more at home in their bodies—it is such a rewarding experience," Poon said.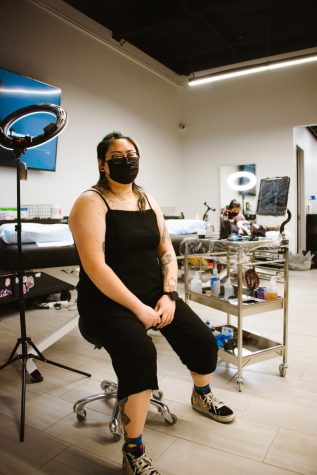 On October 14, 2018, Gabrielle Pariseau survived the unthinkable. She was raped. After the incident, she wanted to regain and reclaim her power by getting a tattoo of Medusa on her upper-right arm in June 2021. 
Medusa, one of the most well-known temptresses in Greek mythology, was once a beautiful mortal woman turned into a snake-haired monster by Athena. Many people, like Pariseau, believe that Medusa was actually raped by the sea god Poseidon in Athena's sacred temple.
  "When I got this tattoo, ever since that moment, I have just felt more empowered," Pariseau said. "It was in the way that I got to relate to her. [It was] that it helped me through it."
  Not only did the story of Medusa inspire Pariseau, but it also empowered her to become her own protector. 
  "It sounds cliche, but I've always had a dream where I wish that I could be her," Pariseau exclaimed. "I wish with one look, I could look at people when they're being rude or misogynistic, I just look at them with my eyes, and they get it, and they'd leave me alone."
For those who have lost a loved one, tattoos take the phrase "gone but always here" to a whole new level. The piercing pain of the needle hitting their skin 50 to 30,000 times per minute externalizes their grief and is a constant reminder of what they lost.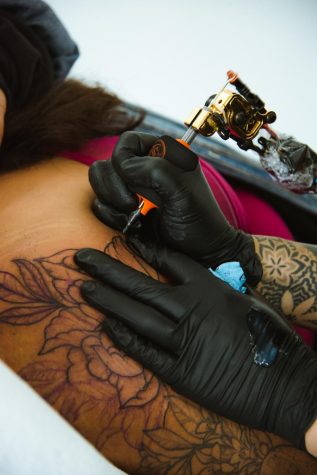 Nate Keenan's family was rocked when his uncle Patrick Keenan suddenly succumbed to his battle with alcoholism on March 21, 2019. During their grieving process, Nate and his father Gregory Keenan decided to get tattoos to commemorate Patrick's love of music.
"His music was always something that brought us all a lot of joy, and some of our best memories together were around the guitar," Nate said.
Nate's tattoo of a guitar pick that reads "bitchin" and his father's tattoo of the late Patrick's beloved guitar serve as a step towards acceptance and remembrance of Patrick. Every time they look down at their arms and see these commemorative art pieces, they feel the warmth and love they shared with Patrick.
"He went almost 60 years of his life without getting a tattoo, so this was a very special moment for him to memorialize his brother," Nate said when thinking about his father Gregory. "Both of us getting tattoos helped us process everything together and celebrate all the good in Pat."