Pop-up Culture — a Pandemic Trend on the Rise
Popups have become a mainstay of California bars during the pandemic. Who is profiting from the trend?
May 13, 2022
Under a big white pop-up tent with string lights hung up inside and lively rock music playing in the background are foldable tables with three portable pizza ovens on top. On the yellow tablecloths, painted with blue and red flowers, are a selection of pizza toppings and sauces. 
The scent of melting cheese fills the air as friends gather around the tent, beer in hand, waiting to order their pizza. 
Jeffrey Amber, the owner of Citizen Pizza pop-up, tosses up pizza dough and stretches it out in his flour-splattered dark gray apron before loading it up with cheese, meat and greens.  
Amber travels to bars and breweries around the Bay Area every weekend to sell artisan pizzas out of his portable setup. Although his setup is casual, his artisan pizzas are anything but. As he removes his famous Margherita pizza from the scorching hot portable oven, the cheese is still bubbling, and the basil leaves are perfectly placed on each slice.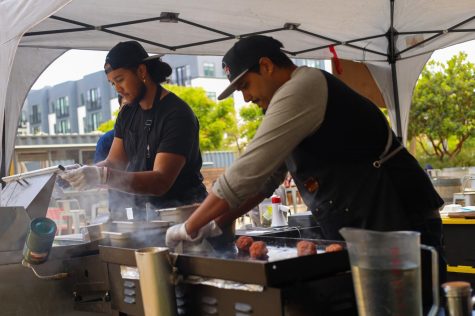 "It's kind of like camping," Amber said. "I show up, pitch a tent, and then I leave no trace and come back in a week." 
When COVID-19 restrictions forced breweries to start selling food with their beer, many venues turned to pop-up food options. This trend not only allowed breweries to focus solely on their beer but also opened the gate to many new small businesses, according to Amber. The symbiotic relationship between breweries and pop-up food vendors has created a space for a new community of foodies and beer nerds to enjoy their favorite brews with food.
Most breweries do not charge vendors a fee or require them to pay out a percentage of their sales to run a pop-up in their space. 
"It's really uncommon," said Jeffrey Amber, owner of Citizen Pizza.  "There are a few places that are like, 'Oh, we'll take a percentage of your sales.' And I'm typically like, 'We're good.'" 
Since so many breweries offer to hold pop-ups for free, these vendors have come to expect it and typically turn down places who ask for payment. 
Citizen Pizza operates on a catering permit, which costs Amber around $700 per year.  Amber reported that he spent approximately $5,000 to $6,000 for start-up costs, which is still less than opening a food truck or restaurant.   
According to the U.S Chamber of Commerce Food Truck Index, food truck owners spend approximately $28,276 on licenses, permits and ongoing legal compliances.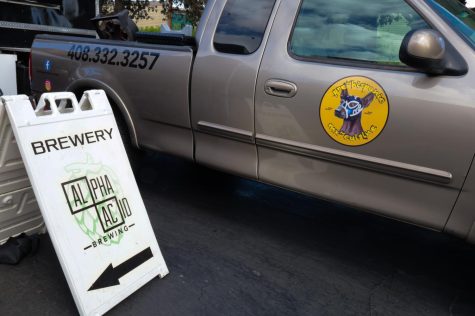 Although brewers, such as Blake Hanrath at Alpha Acid Brewing Co., reported increased sales on the days when there was a pop-up — the real payout lies with the connections and community they build.
"We're technically not even a microbrewery. We're a nano brewery," Hanrath said. "So it's a mutually beneficial deal where they come, make their money and bring people for us. We provide beer, and everybody's happy." 
These pop-ups help to mutually diversify the brewery and the pop-up customer base. By mixing beer and food, both businesses can share customers and build a community of all different kinds of people. 
"Now people aren't getting up to leave to go get food," Amber said.  "They sit there and have more beer, and they're able to stay there. They may be able to bring their kids and extend their group and how long they stay." 
Pop-up vendors such as Amber, who started Citizen Pizza in March, helped create the community of breweries and pop-ups through the relationship they established with the brewery. Amber has worked in the food industry as a chef in the Bay Area from a young age.
"Food is universal," Amber said.  It's something we all share, whether we agree or not. It's not even that it builds community; it is community."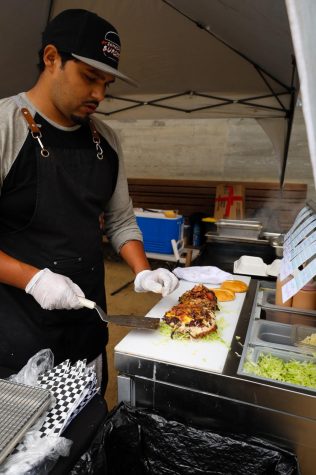 Amber explained that when choosing which breweries to hold his pop-up at, he looks for breweries that share the same values as Citizen Pizza and are somewhere he trusts. He said that when Citizen Pizza is at a brewery, they are also representing that brewery, and would only want to represent a product or company he believes in. 
The value of pop-up food also extends beyond money for Gil Sesma, owner of Shmash'd Burgers pop-up. Much like Citizen Pizza, Shmash'd Burgers operates out of a white pop-up tent and foldable tables. Sesma and his friend Juan Becerra run the traveling burger joint as a two-man team. As Sesma flips the beef short rib patties on the industrial grill, Becerra writes down orders from customers on a small notepad.  
Sesma likes to crack open a cold beer while he is cooking and frequently trades his mouth-watering burgers for a pint of beer. 
"Since I've been doing it, we've always traded beer for food for the employees," Sesma said. 
When Sesma first started Shmash'd Burgers in August of 2021, he would hold the pop-up in a parking lot behind the Around the Edge barber shop in San Mateo. The sizzling of the grill was harmonized with the buzz of the clippers. 
 After he had his first pop-up at a brewery, he knew it was a game-changer. 
"I definitely get more traffic," Sesma explained."People are gonna go to a brewery to sit down and have a drink. At the barber shop, you're only gonna get a few people in an hour." 
Sesma fills the brioche buns with melted American cheese, caramelized onions, savory bacon jam and flattened patties. He drizzles the specialty Shmash'd sauce on top of the patties and wraps them in a black-and-white paper while customers anxiously wait to devour their burgers. The sweet smell of bacon jam fills the air as Mac Dre plays in the background, almost like an anthem for the Bay Area-founded burger stand.
Not only do breweries provide small pop-ups with more customers, but they also are more cost-effective. 
Sesma recalled that when he started Shmash'd Burgers, he debated between a pop-up or a food truck. He decided to go the pop-up route because he felt it was more attainable as a first-time business owner. 
"You don't necessarily need a lot of money to do it," Sesma recalled. "You just need the permits and the supplies." 
Breweries such as Alpha Acid used to have food trucks every Friday. After the pandemic, they started adding pop-ups to their regular food lineup. 
"It's a recent thing because I think breweries have seen that there's an opportunity for one," Amber said. "It's guest-driven; the guests have requested it…Most of us are able to enjoy the beer that we want and have a variety of food we want, and it creates a sense of community, which I think is important to the survival of our business."