Everyday, thousands of students from across the Bay Area commute to San Francisco State University. For a university that is consistently known for its commuters, you'd think the school's administration would strike a deal with San Francisco's public transit. Fear not, they finally have!
We want to make our students commute cheaper and more convenient. We want to make life in this city better.
Last Spring, SF State's Associated Students Organization, a student run government, along with SF State administrators, State Senator Scott Wiener, Nick Josefowitz, a member of Bay Area Rapid Transit's board and the Gator Pass Project team, negotiated with the San Francisco Municipal Transportation Agency (SFMTA) and the Bay Area Rapid Transit (BART) in order for SF State students to receive a Gator Pass. A Gator Pass, similar to a Clipper card, gives students access to unlimited rides on Muni and discounted rides on BART.
Once negotiated, students at SF State voted on the proposition. More than half of student voters supported the proposition in May of 2016, leaving the Gator Pass Project Team about a year to negotiate with transit agencies, design the layout, and print 30,000 Gator Passes.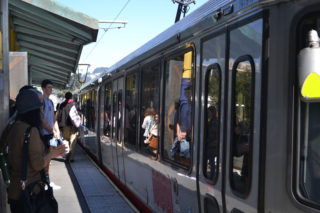 SFSU students patiently waiting for the Muni to open its doors. In San Francisco, CA. On Monday September 25, 2017.
(Golden Gate Magazine/Cristabell Fierros)
"Technically if you look at our timeline, we had about a year and three months to complete all 30,000 cards," John Gates, Director of Fiscal Operations at SF State, says.
"A lot of that time was consumed by negotiating and coordinating between the different transit agencies. The process of actually making, printing, and delivering the specialized and customized Clipper Card, took six months alone. We had to move quickly."
In May of 2017, Gates and the team printed 23,000 cards in order to distribute them as quickly as possible. They wanted to hand the cards off to students before the start of summer. They chose to do this in order to minimize the amount of time students spent in lines. By providing students with more opportunities to pick up their cards, the lines shortened, saving students time.
SF State is one of the last universities in the Bay Area to implement discounted transit fares for students. University of San Francisco has been discounting their students Muni rides since 2001, while UC Berkeley followed in 2006. However, SF State is the first university to score a deal with BART.
The deal negotiated with Bart gives students a 25 percent discount on rides arriving at the Daly City Bart Station.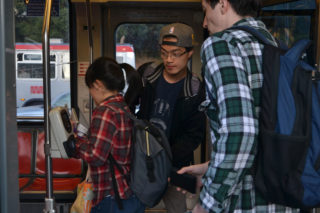 SFSU student's tapping their Gator Pass on the Muni in San Francisco, CA.
On Monday September 25, 2017. (Golden Gate Magazine/Cristabell Fierros)
Muni is the only form of public transportation that is provided to students at the University of San Francisco. UC Berkeley also only provides AC Transit, Berkeley's form of public transit, for students.
Associated Students, administrators, Wiener, and The Gator Pass Project Team knew that without BART, students wouldn't have voted for the proposition. According to a study done by the university, nearly 20 percent of SF State students use BART when commuting to school.
"We want to make our students commute cheaper and more convenient. We want to make life in this city better." Alexander Kozulin explains. He is the project manager and the brains behind the Gator Pass.
"Reducing the university's carbon footprint. By implementing the Gator Pass, we're definitely doing that," Gates added as an additional goal of the Gator Pass.
So, all of this seems too good to be true. What's the catch?
Not only are all enrolled students required to pay a one-hundred eighty-dollar fee per semester, but the pass only works during Fall and Spring semesters, leaving Winter and Summer student commuters empty handed. The fee has caused frustration among students who don't use public transportation as a way to get to school.
"I would say the feedback from students has been overwhelmingly positive because of the unlimited rides on Muni and the discounted rates on Bart," Gates says.
"There are some students who don't take public transportation and are like 'hey why do I have to pay this $180 fee?'. The fee is to benefit the university as a whole, not to buy out transit passes," concluded Gates.
Gates, along with his fellow Gator Pass team members, took into account that some students wouldn't be using public transportation. They came up with the one hundred eighty dollar fee after considering those factors.
While some students see the Gator Pass as a buy out, the majority of SF State students are enjoying it. The Gator Pass allows students to use their passes throughout the city. So whether or not students are using it to get to school, they're still able to use Gator Passes around the city as long as school is in session.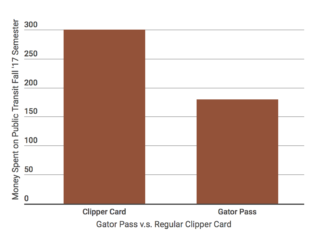 "I use the Gator Pass to get to work in the Marina a couple times a week," says Juliette Leite, a twenty-one-year-old senior, studying communications at SF State.
"It's nice that students are able to use their Gator Pass throughout the city. It makes the fee totally worth it."
Leite is right about the Gator Pass saving students money. In fact, it saves students one hundred and fifteen dollars each semester. That's if students are using Muni seven days a week. The 2017-2018-fall semester is approximately seventeen weeks long equaling to one hundred and eighteen days. If students rode on Muni everyday without the Gator Pass, they'd be spending close to three hundred dollars each semester.
University of San Francisco and UC Berkeley also provide their students with a similar deal. Both University of San Francisco and UC Berkeley issue their students stickers to put on their ID cards indicating free transportation. SF State, however, uses a Clipper card which students scan when riding Muni. SF State is the first university in the Bay Area to partner with Clipper.
The Gator Pass Program team, along with Alexander Kozulin and John Gates, worked extremely hard over the course of a year in order to get the Gator Pass up and running.
"Alexander does this thing where when he's worried about something he like pulls the hair on top of his head. I thought he was gonna go bald there for a couple months," Gate continues as the room laughs.
SF State, administration, Nick Josefowitz, the Gator Pass Program Team, Kozulin and Gates went above and beyond to make sure are SF State students were well taken care of and that their needs were met.
"It's a great feeling having this completed. There's still work to be done. We're thinking about the next steps. " concluded Gates.
Thanks to everyone's help, SF State students are sitting pretty on public transit.