Black Panther & Cultural Conversation
Another superhero movie came out this past month. That's where we are at now. Marvel movies are becoming as essential to American culture as the Super Bowl or the Olympics; we all have to see them.
Except Black Panther was more than just another Marvel film.
Black Panther is a platform for black artists and creators to create a lens into their culture. This was a first for a large demographic of kids. They get to see themselves as the hero; the main event. Black Panther stars Chadwick Boseman as the titular Black Panther, reprising his role from Captain America: Civil War, with Michael B. Jordan as the debut villain Erik Killmonger.
Michael B. Jordan played a heavy role in the film while also reuniting, for the third time, with writer and director Ryan Coogler—proving to be a match made in cinematic heaven. The two came together in 2013 for Fruitvale Station and again in 2015 for Creed.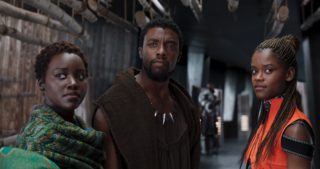 Zanesha Williams:
I love Marvel films. I always look forward to seeing the Avengers come together and watch the solo films in between. To be fair though, the other day I overheard a group of girls talking in the cafe and one of them mentioned that she didn't know that the Black Panther was a superhero. Most people didn't. I am also fairly new to the club.
Mitchell Walther:
I am a marvel fanboy. There's no use in me hiding it. While I don't read the comics quite as much as I did back in the day, I have done everything I can to stay up to date on the Marvel cinematic universe.
Black Panther was always a superhero I liked, but not a character that I found incredibly enticing on his own. Often when I read his stories he was paired with the X-Men or Reed Richards of the Fantastic Four. That being said, I was excited when I heard they were giving Black Panther his own film. I was even more excited when I heard Kendrick Lamar was going to be producing the album.
Zanesha:
Once it was announced after Captain America: Civil War that the Black Panther would get a full length film, the most exciting part was seeing updates on the cast. Who would've thought we'd being seeing Angela Bassett in a Marvel film? On and off the screen, "blackness" was praised and proved to be something worth watching. The selection for costume designers, the "inspired by" soundtrack, and the director.
Mitchell:
I will be honest and say that before Black Panther, I didn't know who Angela Bassett was. Bassett put forth a stirring performance as the mother of T'challa, the Black Panther. It's sad how long this movie has taken to get made.
Black Panther is another installment in a long line of Marvel films that pushes the envelope. Rather than serve up standard superheroes, Marvel has attempted to give us something unique. A talking raccoon and a giant tree voiced by Vin Diesel would never have gotten the green light when Iron Man and The Dark Knight were the pioneers.
Black Panther is culturally a more important film than Guardians of the Galaxy though. It is the story of a superhero who is also the king of a sovereign nation. In the comics Black Panther fights with politics almost as much as his claws. The story of Black Panther and his nation of Wakanda also carries a lot of racial and social commentary.
Rather than shy away from the issues, the movie leans into them and allows what made the story unique in the comic books to make it unique on screen. It's a movie about representation, juggling the identity of a comic book flick with that of a film about black culture. How did it do?
Zanesha:
Black Panther was a very different combination of excitement. You have so many new and unusual factors going in one mainstream film. The idea that a blockbuster depicts Africa as beautiful, self-sufficient, and most importantly superior to its surroundings is an anomaly. The excitement that black kids can look up to a superhero that looks like them, play with action figures that have the same features. This film supports an identity that was well overdue.
There's so much to rave about. You have Kendrick Lamar, an activist through his rap, producing the soundtrack for the film. Ryan Coogler's $200 million budget for a film he was allowed to make his own. Ruth E. Carter, known for her repeated work with director Spike Lee, and more recently her costume design for Selma.
Names that resonate in the black community are now widely known due the weight that Marvel films hold. The excitement comes from the shift in a community finally being able to show how profitable it truly is.
Mitchell:
It comes at a fortuitous time in Hollywood as well. Black Panther as a movie is poignant. Opening on Oakland, California in 1992, the film makes its goals clear while still entertaining us the entire way. Stunning visuals and an incredible soundtrack composed by Swedish visionary Ludwig Goransson never distract from the climax.
Black Panther is about a hero and a villain who both want what is best for their people. They both see the suffering and persecution endured at the hands of the privileged and the powerful. The crux of their characters fall on what the answer is. How do we as people fight against hundreds of years of systematic and institutionalized racism? Black Panther director Coogler answers as best as he can: we get involved, and we point a spotlight at the beautiful.