Art doesn't stop because of shelter in place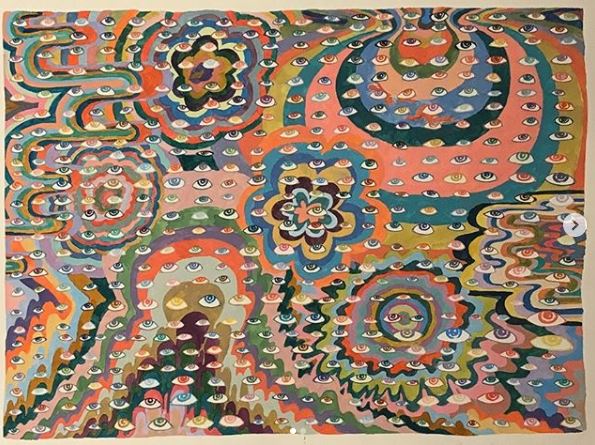 The current state of our world is turbulent, to put it lightly. Amid the panic of COVID-19, every country, city and the people within it are faced with the uncertainty of the future. Although America has allowed occupations deemed essential to progress — putting millions of other Americans out of work — self-employed artists around the country are trying to remain afloat.  
"You'd think that [being quarantined] would have a good effect, because I'm just stuck inside and have nothing to do," said Eric Lee (@comeonstrong), a Philadelphia, Pennsylvania based artist who uses silkscreening to print old, gay erotica onto clothing. "I've been too distracted [with] putting everything in place so I feel safe and protected, and my partner feels safe and protected."
In response to the shelter-in-place, independent artists like Lee, Sabrina Bosco (@comfortablefields) and Anthony DiDomenico (@pitchcanker) have adapted to life as artists on lockdown. Similar to many self-employed Americans, artists have braced for the financial, mental and creative impact of life under quarantine. 
Despite the unbidden stressors of quarantine, the amount of sales for each artist has remained surprisingly steady. However, for Lee the beginning of quarantine brought a sudden drop in purchases. 
"I think people we're just shocked that all of this was happening and they really clamped down their wallets — which I completely understand," Lee said. "But my personal sales so far have not actually suffered that badly. If anything people are stuck at home and they want something to make them happy, so they're buying shirts. And I think they're also trying to support small businesses and independent artists … and I really appreciate that."
If you take a quick scroll down Bosco's Instagram profile, you'd be greeted with muted, yet playful colors transformed into butterflies and serene women with gentle stares. Bosco, a watercolor artist based in Long Island, New York, describes her art as, "a reflection of the parts of myself that I can't really express through words."
She shared how a lot of her art relates to mental health, and this recent shutdown has put her own to the test. 
"Some stuff with my mom happened six months ago, and then I kind of healed from it. And then [the trauma] was brought back with this quarantine stuff, [but] it made me look at it differently," Bosco said. "It made me realize that I've healed a lot more, so that's been going into my art a lot — how much I've realized I've healed."
Bosco has even found inspiration through the anxiety of quarantine — prompting creativity to make some new pieces. One of them is a black and white piece with a rainbow running through a pair of butterfly wings. 
"Everything felt like, black and white … scary and unpredictable," Bosco said. "So, I just put a rainbow, so there's still hope and there's still something good to focus on. Even if [everything] feels so out of place."  
Similar to Bosco, Warwick, Rhode Island artist DiDomenico has also used this forced shut-in to release emotions many can relate to. DiDomenico — whose art exhibits minimalistic, hellish chaos using black and crimson red markers — has gotten more aggressive, yet empowered through his work. 
"I don't know. I feel like I've done a lot more frustrated work out of quarantine … I was already home a lot anyway so I didn't feel too affected at first. But it's starting to,— you know, I'm sure it's getting on everybody's nerves."
He said that despite the discontent of quarantine, he doesn't feel like he's changed much in his work. His intentions with his pieces were to represent the feelings of everyone — presenting an opportunity of relatability to his followers, showing them they're not alone. 
One of the newer pieces he's posted displays a stark black puppet held up by red strings. The caption reads, "AM I A PUPPET, OR A PERSON[?] I DO NOT FEEL IN CONTROL." Underneath are comments proclaiming their love and relatability to the black eyed puppet ripping out it's hair.