Ethereal Thread, the non-traditional clothing brand out of L.A.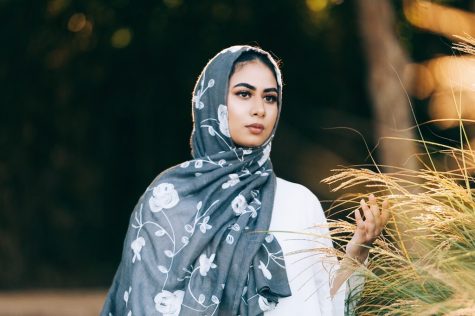 In Arabic, ethereal means, "something so beautiful that it's out of this world and thread is just like every scarf, every clothing item, everything starts with a single thread."  Anusha Durvesh, a small business owner from Los Angeles, sells scarves. Ever since COVID-19, Durvesh has been trying to find new ways to reinvent her business, Ethereal Thread. 
Durvesh launched her first scarf called the "Mandala Effect" in the fall of 2017 and started  a new wave of modest fashion. "It promotes empowerment in women from all walks of life," shared Durvesh on the phone from Los Angeles. 
To help start her business, Durvesh partnered with her sister, Samra Durvesh, close friends, and her father. Together they were able to get contacts and successfully get her business up and running. 
"I think of Ethereal Thread as a concept that is meant to be an empowering brand for women," says college classmate and model Stephani Alvarez. "I feel as though there are not many brands showing a lot of representation of Hijabi women and ET could be exactly that." Alvarez contributed to the growth of ET by being a model in some of the very first releases of the scarfs. 
Because ET is an L.A. based company, Alvarez feels that it can venture out into a clothing apparel line in the future. 
"Working with Anusha will always be something that is non-stop, whether it's brainstorming new ideas or just supporting her," Alvarez says. "With COVID, FaceTiming is one of the ways we have gotten work done and seeing my best friend so passionate about her brand is something that I love to see." 
Durvesh came up with the name herself, and then realized later on just how confusing it may be to customers which was why she made sure to elaborate on the name. Durvesh even joked around about her friends calling her to ask, "What's going on with ET?" 
"Like any other business it starts off small, but I knew it was going to grow from a thread to something larger and bigger beyond us," says Durvesh. 
Due to COVID-19 and the closure of the warehouse that stores her merchandise, Durvesh sadly had to shut down her website. Her last Instagram post was on July 26, 2020 with a caption saying, "So excited to pack and ship all of your orders today. Last chance for 50% off the entire site with code "PFH7". 
"COVID was definitely a big step in the road for me," Durvesh says, "I actually did take some time away from the brand, to kind of re-defined myself a little bit more. It was a time of intense soul searching, and realizations of my purpose." As a self-described control freak, Durvesh felt like her life was out of control when the pandemic hit. "It had me constantly thinking about what I'm doing but all of a sudden, it was just kind of like an aha moment! I felt very confused at first but I used that reality check to expand my mind on gathering more ideas for ET," Durvesh says.
Before COVID-19 emerged, Durvesh felt she was just doing things for the sake of it, but now with all cancelled engagements she has more free time. 
"It's all about recovery at this point, and of course rebuilding the brand," Durvesh says. "From a lot of the events that happened last summer with the Black Lives Matter movement along with a lot of oppression going on in different Middle Eastern countries and cities, I wanted to make this something special as to where I can pay tribute to different people. My main goal was to reach an audience that includes women, and women that were both employed and unemployed. I just want to feel like we all belong here."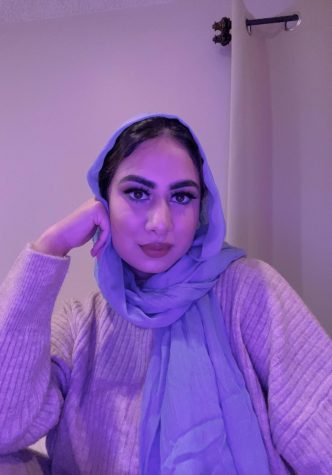 Straight out of high school in 2017, Durvesh explained that she was a bit of a social comedian. "I didn't have my own identity. I didn't know what I
wanted to do. I didn't wear the headscarf, but I realized there just came a point in my life where every woman in my life who was so empowered, just wore a headscarf." 
Durvesh credits most of her experiences from being around people that were fully covered in the Niqab (a garment of clothing that covers the face, worn by some Muslim women as a part of a particular interpretation of hijab) and finding inspiration in those committed moments. 
"If everyone is doing this one thing in my life, this must be a sign," says Durvesh. "I don't believe in coincidences. So, I started observing it right before college, and as I was starting college, I couldn't help but think about how beautiful all of this could turn out to be." 
Now having over 1,700 Instagram followers, Durvesh hopes her brand will help someone feel empowered by her creations. "I did a lot of research, looked at different manufacturers, and decided to work with a couple people," says Durvesh. 
"I honestly think it's a privilege to be able to work with Anusha and when she asks for my opinion it's so fun to come up with different colors or styles," says model Mayha Aejaz, who's known Anusha for 10 years. "Anusha has put so much time and energy bringing comfort to hijabis everywhere. I support anyone who runs an ethnic and moral business and keeps her customers first." 
Aejaz has played a big part in the development of ET by being a model for the hijabs and clothing pieces. "I have also been behind the scenes helping at conventions to sell with Anusha because I have experience being a customer and have worn the hijab for many years so I can relate to customers who want to know the quality of the pieces they are buying," Aejaz says.  
While hijabs are worn by women to represent their modesty and privacy from men, Durvesh is planning to change that narrative for her brand. 
"I hope to see this brand expand into more clothing," says Aejaz. "I love the style they have already built and I hope to see more clothing pieces and even hopefully venture out to modest wear such as dresses or street style." 
Because of Covid-19, the fashion world is different and people are now looking more towards comfort with a little style. "Since streetwear is so big in LA, I personally have been getting more into street style so let's see what can happen." 
Born on October 30th, Durvesh described her birthday as a "late" one,  because she was only 17 when she first started ET, and this played a vital role in the process and her own growth. "I'm a Scorpio sun and we're known to be incredibly creative by nature," Durvesh says. "Thanks to our self-awareness and the deep connection with our own emotional side, Scorpios know what they want and what they're aiming for with their work." 
Attending community college at Mt. San Antonio College, for two years, she explained that her course load was manageable with the business. "With only seven collections out, I'm proud of the photo shoots I've done with these beautiful women and all of the products I've sold because knowing that they felt so giddy about something that I was creating was one of the most incredible feelings in the world," Durvesh says. 
Meera Navlakha from Vice Asia mentions that the rise of Muslim fashion has been appreciated by women in the Islamic world. "Many who seek clothing which abides by their religion are now being able to turn to mainstream brands who are supplying just that," Navlakha says. "By 2023, Islamic fashion will reach $361 billion, according to Al Jazeera." 
Just in case things don't resume back to normal anytime soon, Durvesh is already working on her next moves for ET. 
"I'm in the process of a unisex, kind of apparel line. It'll be a loungewear drop since we're all at home working in comfy clothes…Whatever I do choose to come back and design, I want to make sure that anyone who purchases my products, or is involved in the process, feels heard and welcomed but most of all, this is a brand that they can really vouch for."  
"My main goal is to make women feel like they have a place in this world, and to ensure that they are welcomed and loved. It doesn't matter where you're from and what your story is," says Durvesh. "It's all about the present and the future." Even though she's still trying to navigate herself and what she wants to do in the future, Durvesh believes deeply in making sure that people don't ever lose themselves in the process. "It's tough to witness, but I would only hope that whoever I grow with, we grow together, and we hold each other accountable." 
Leave a Comment
About the Contributor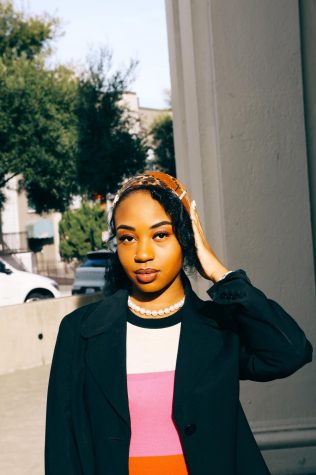 Sydney Welch, Social Media Editor
Sydney Welch is located in Fremont, CA, where she was also born and raised. She has been doing photography for about six years now and is also in the process...