One click, infinite realities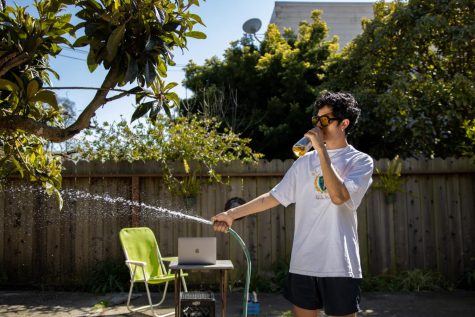 (Listen to Into the Virtual  a playlist comprised of songs that each feel out of this world, allowing you to wander through virtual realms while reading this story)
A mountain terrain covered in what seems like a fruity-kitchen fabric begins to shift as a model dances around in a floral-unzipped jacket that reveals a cloud-like shirt with "vulnerability" bedazzled on the chest.
A repetitive boing-boing-boing sound sets the tone for the virtual fashion show. Blasting over the mountains and down into each of the model's steps as they make their way towards the center of the frame, appearing as if floating in midair.
The internet has become a place to briefly disconnect and heal from what is being called COVID fatigue, an emotional state equivalent to feeling burnt-out.
'Change is Cute' is a fashion runway show that introduces a vibrantly animated world to explore and is one way that San Francisco State University student, Jassarae Acosta, uses to escape the reality of being isolated.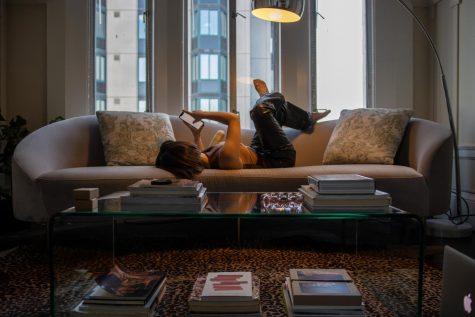 Released in September 2020, 'Change is Cute' is an immersive experience that pairs social representation with environmental awareness, all while draped in lively garments. Running through bushes, twirling in grasslands, and strutting down a doodled neighborhood; it presents models as themselves enjoying nature.
When Acosta spoke about Collina Strada's Spring/Summer 2021 virtual runway show, she could not resist smiling.
"She had pregnant women, older women, queerness, I love how inclusive it was and for that, it (the show) left a special place in my heart," said Acosta. "The show is at an intersection of social justice movements and high fashion. She brought awareness."
For people like Acosta, immersive videos on Youtube, finding inspiration through Instagram, playing multiplayer video games, allow themselves a moment to escape from reality.
"It's hard to escape, unless you go outside but still, then you're on your phone while you're outside," Acosta said.
A report covering Global Social Media Statistics by Datareportal, stated that at the start of 2021, 4.20 billion social media users were active around the world. From 12 months ago, 490 million new accounts were created and Instagram totaled 1.221 billion users.
"I think we're just attached to the hip with technology," said Ivan Salgado, also an SF State student. He thinks Instagram is often portrayed in a negative light but admits that it can also be used as a unique way to escape.
"You can see what someone else is doing in different parts of the world," Salgado said.
Salgado tries to abstain from using his phone in the mornings. He waits until he gets off work on Haight-Ashbury and gets a good seat on Muni for his commute home, where Salgado uses Minecraft – a video game where players survive by building a shelter from zombies – as his sweet escape from reality.
During his commute home, Salgado remains focused on his phone, transforming a pixelated greenland into a city by only using his fingertips.
"It's not like I'm playing god or anything," said Salgado. "It's a change of scenery, being able to tweak things and make them better, it's calming to have some sort of control."
He taps, slides, presses on the screen and after four days of collecting materials and placing individual blocks, Salgado has created a hotel big enough to mimic Trajan's Market in Rome.
Stone columns support arches on the first level, holding up the rest of the hotel that embraces a brick and wood aesthetic. Scarlet red tiles create a red carpet feeling that compliments pine green seating arrangements.
Rustic windows welcome light inside the building, illuminating the potential for a lively morning inn and a felicità evening hotel.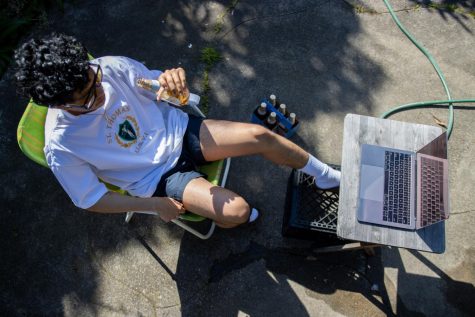 Salgado was first introduced to Minecraft at 12 years old by his older cousin. He found himself playing day and night and sporadically returning to the game as he grew up.
Going anywhere, especially abroad has been hard. Until then, Salgado dreams about spending the summer at Lake Como in Italy.
Dennis Castellanos Jr., a DJ named "Thedennison" based in the East Bay, dreams of dancing under the disco ball once again, feeling the music from the speakers, and seeing everyone celebrate.
Castellanos cannot contain himself in his seat. The groove is contagious, coming out of his laptop and for his dance moves. He's watching Honey Dijon, an American DJ perform at Sugar Mountain, an Australian festival, back in January 2018.
A light cheer begins to build within the crowd as Honey Dijon gets announced. A sonic tune bangs in the background until the beat bursts and the crowd cheers; all within the first five minutes. Everyone was shouting in an embrace.
"It's that moment of realizing, I'm not there (in person at the show), I'm here in my room and I'm still getting the same energy that the crowd is getting in that live production when it happened," said Castellanos. "I get that feeling every single time."
He describes the feeling as a sense of celebration, where everyone in the crowd is dancing, not one stiff body insight, and by the end, even Honey Dijon is sweating through her sunglasses.
This performance helps him disconnect, take a moment for himself, even if he can't go to a show this is the closest he'll get, and he doesn't mind it one bit.
"There was a time and place when we got to enjoy moments like these, and as much as I wanna say we might have taken for granted, it'll make post-pandemic going to music events even more enjoyable," said Castellanos.
Castellanos remains hopeful about attending shows someday, perhaps not anytime soon, but he believes concert attendees will value being able to attend concerts post-pandemic.
When music touches people, an instinctive rush to pull out a phone and begin recording blooms. In that moment, while feet are planted on the ground, the minds focus on capturing the moment.
"Is it better to have that moment on video or internally have it and process it for the rest of your life?" Castellanos asks and without hesitation answers, he believes having a memory of a special time in people's lives is better than having a video of it.
He offers Boiler Room, Soundcloud, Spotify, Apple Music, Youtube as antidotes for going back in time to that particular show. Someone will always be recording.
He advises anyone attending a concert to resist the urge, breathe and "live in the moment."
Leave a Comment
About the Contributor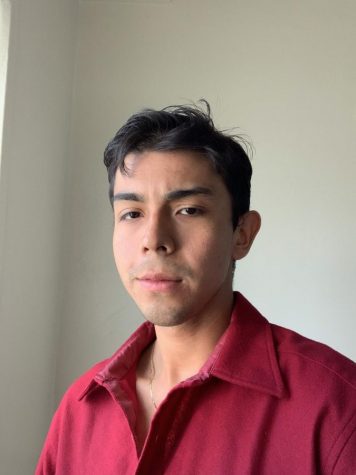 Fernando G. Pacheco, Staff Writer
Fernando G Pacheco is a student journalist minoring in queer ethnic studies at San Francisco State. He writes from Los Angeles, CA. His favorite mornings...