DJs: The women ruling the scene
The following article includes an experience of a sensitive situation involving sexual assault.
As multicolor lights sweep the darkened room, bodies sway, connected for a moment in time. The ground vibrates, sending waves of curated energy throughout the room, the music pulses to a beat carefully chosen, perfectly coordinated by an artist —  a DJ, a curator of ambiance and atmosphere.
They're DJs. They're women. They're creating space for themselves in an industry they've been traditionally excluded from. In doing so, they're opening up a world of possibilities for generations to come.
Three DJs discuss their personal journeys, musical influences and experiences within the industry.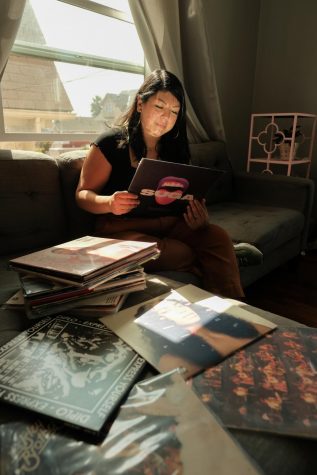 MAR.E.FRESH, OAKLAND
Maryela Perez, a 31-year-old DJ, and visual artist is at the heart of the vibrant Oakland scene. She's made a name for herself by bringing smooth, rhythmic sounds of Cumbia music to the community.
Perez was first introduced to the music scene while living in San Jose over six years ago. Her sound is a mix of Cumbia, reggaeton, R&B and hip-hop. She describes the San Jose music scene as "close-knit," especially within the Latino community.
Perez never intended to become a performing DJ. She was happy to enjoy it as a hobby simply because she loved music. After gaining popularity in the San Jose area, she was approached to join Chulita Vinyl Club (CVC), an all-vinyl collective of women and gender non-conforming DJs.
"It's different than DJing with men," she says, adding that men in the industry tend to be ego-driven. "In spaces like Chulita Vinyl Club, there's such a support system. It's engraved and I think it's because these spaces were originally not made for us."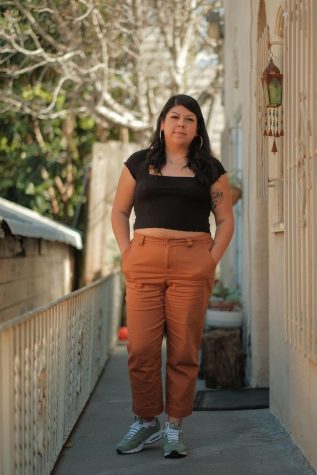 Despite finding a musical safe space, Perez notes that unequal treatment is still very much alive in the industry. She describes a situation when CVC was approached to open for a "pretty famous" band that didn't want to pay them, despite having a large budget.
While she doesn't know for certain, she believes if her DJ collective were all-male they would've been paid.
"It feels really disrespectful to just not compensate folks for their work, especially when other people are getting paid," Perez says. "We're artists too. We are dedicating time to this, we could be doing other things."
For Perez, DJing is about giving back to the community. Her goal is to create a space where everyone feels safe. She grew tired of seeing male DJs "playing music for women" and building their egos with the purpose of "making girls dance."
Perez has made it her goal to eradicate that narrative and instead DJ "to make my friends dance."
She acknowledges that ego is a common theme throughout the industry. Rather than be discouraged, she sees this as an opportunity to break through and connect with people even more.
Perez hopes to overcome the issue of gatekeeping in the community. She explains that the Bay Area, especially, has been overtaken and changed drastically by gentrification. She hopes that through music, the community can retain a sense of closeness.
"At the end of the day, music is just some kind of frequency," she says. "There's so much power behind music and what it can do and if you're able to curate a certain mood for a room, I think that is so freaking cool."
"
We're artists too.
— Perez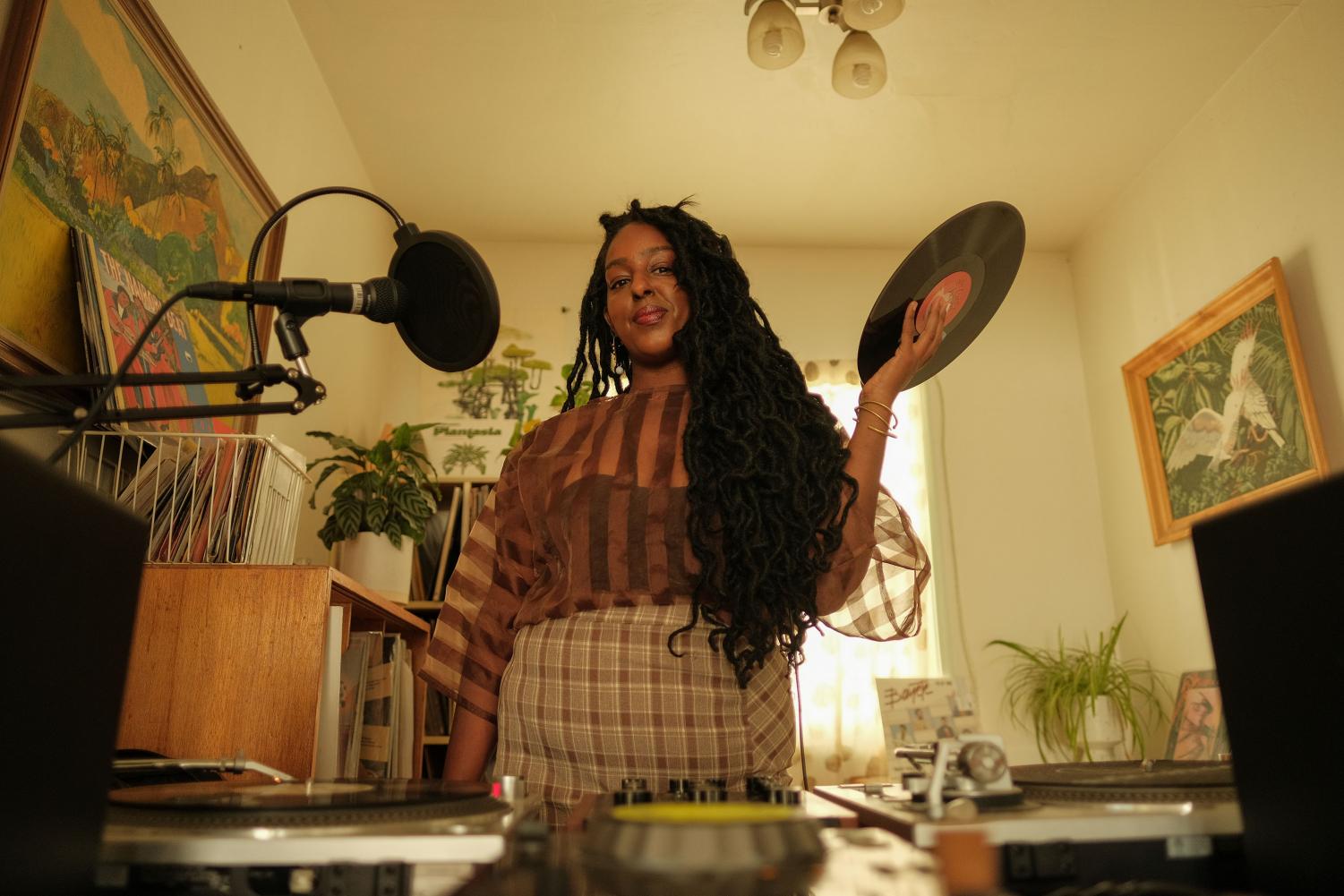 PASSIONFRUIT, BERKELEY
Tana Yonas, known in the DJ world as Passionfruit, brings an eclectic, international element to the room through her unique vinyl finds.
The 34-year-old DJ has recently emerged in the San Francisco scene as an undeniable force of musical vibrancy. After collecting vinyl records through her many travels, Yonas finally found the time to invest in her craft during the lockdown. She's now made a name for herself DJing for local underground radio stations such as HydeFM and writing articles for In Sheeps Clothing.
She refers to her sound as a beautiful oddity.
"It attracts a more thoughtful person, someone who intellectualizes their music," she says.
The rarity of her vinyl collection sets her apart from the competition of nightclubs and popular music.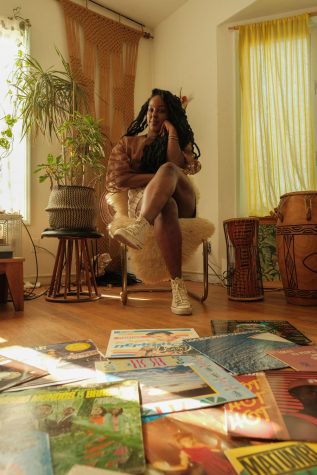 Music was something Yonas always wanted to be a part of.
"Being an outcast in school, music connected me to a world that I knew existed, but it wasn't anywhere in my life," she says.
When choosing a college, Yonas narrowed her choices down based on how strong the university's radio program was. She eventually settled on UC Riverside and radio became the center of her life, both socially and creatively.
Yonas emphasizes the importance of confirming her presence in music. As a first generation Ethiopian-American woman, she feels most comfortable on "cultural edges."
On these edges, "there's nothing to cling to. You have to develop a brand new self-identity. This idea of home has always been very complicated to me. I find home on these cultural boundaries," she says.
She's found a supportive community of artists in the Bay Area.
"Who you are as a person will attract the communities where you'll be the most comfortable," Yonas says.
As a result, she has unintentionally found herself surrounded by mostly female DJs, whom she describes as "some of the nicest people ever." Yonas credits this community with giving her a platform to improve her skills as a technical DJ.
There is still room for the community to improve, however, as they strive towards a more inclusive environment Yonas recalls she has rarely been asked to play at an event that isn't advertised as a "female-only" lineup.
"In order to disrupt the power structures, we need to have integrated lineups," she explains. "People need to be very conscientious about not slapping a 'female-only' thing on an event and saying, 'look how progressive we are.'"
She explains that the issue goes beyond the topic of gender.
"It's not just the fact that I'm a woman, but the fact that I'm a Black woman," Yonas says. "So much music is affected by Black music. And yet, there's not very many Black people, especially women, who are popular DJs, who do get the big accolades or the attention…it's just odd when you consider where the music came from."
"
Who you are as a person will attract the communities where you'll be the most comfortable.
— Yonas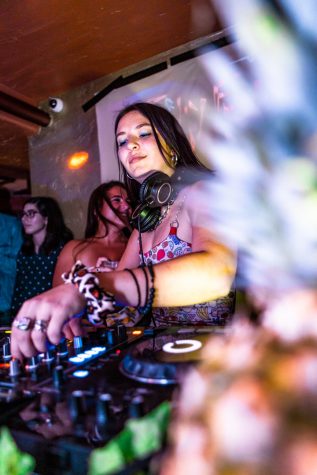 FELLY FELL, SAN LUIS OBISPO
For MacKenzie Fell, DJing is about empowerment.
"I love curating an environment that allows people to feel comfortable, feel amazing in their own skin and express themselves through dance," Fell says.
The 22-year-old DJ found success curating mixes of house, disco, and desert-tech in San Luis Obispo. She creates upbeat, positive atmospheres through pounding basslines and heavy beats.
"The term DJ, you think of a man," she explains.
Fell has made it her mission to change that.
Fell was introduced to the world of electronic music after attending Coachella as a sophomore in high school. At the time, she was a self-described "AUX cord DJ," known by friends as DJ Felly Fell. After watching an amateur male DJ perform at a Cal Poly State University fraternity party, Fell knew she, too, could make a space for herself in the industry.
"That was the first time I saw somebody on a similar level to me. I was like, 'okay, if that guy can do it, I can do it,'" Fell says.
She bought a mixing board, adopted the stage name "Felly Fell" and taught herself to DJ before starting her first semester of college.
As one of the only female DJs in San Luis Obispo at the time, she was painfully aware of the role gender played in the music scene.
"I think I got so popular so quickly because of my gender. Nobody had ever seen a female DJ, so all of these frat dudes were just like, 'we want this chick to DJ our event.'"
Despite her popularity, Fell still finds herself in situations where she's been mistreated. She describes her discomfort in the far-too-common scenario where she's underpaid, or not paid at all. Promoters often argue that exposure is payment enough for DJs. Fell disagrees.
"No," she says. "This is my craft, this is my art, I'm making your events sick."
She admits it's never easy to ask for money, but "why would I question being paid for something that is my job?"
Being a rarity in the industry has its advantages, Fell describes her success with this crowd as "super awesome" but also disappointing as it has highlighted the disparity between men and women in the industry.
"Freshman year, I was getting asked to DJ parties left and right. And I knew that it was because I was a woman DJ. But I was like, 'Okay, whatever. Yes, I'll DJ your party, pay me $100 an hour.' So I made a lot of money off of frats," she says with a laugh. "It has been a pro and a con at the same time. But using it to my advantage has been awesome."
Being alone as a woman in the music scene inspired Fell to encourage other women to join the community. Her mission became to empower underrepresented people in the industry such as trans women, non-binary folk, and femme-identifying individuals.
Fell had been DJing at the Cal Poly State University in San Luis Obispo radio station, KCPR, for two years when she was approached by SubSessions, an arts and music collective based in SLO. After playing a few events, Fell realized she was ready for a leadership role in the collective and advanced to the role of director.
SubSessions was a breath of fresh air for Fell, who found herself in the midst of a toxic work environment prior to joining the collective. She describes an experience with a "misogynistic" leader of a previous collective, who ran things as a "dictatorship."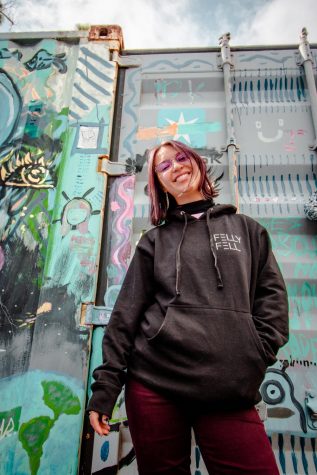 "He would give people better or worse slots based on their actions towards him and how he felt about them at the time," she says.
For the women of the group, this treatment extended to whether or not they would flirt with him.
This controlling behavior came to a head after a show where Fell performed.
"He had given me a really good set time because I was on his good page at that time. I got super, super nervous and I drank too much," she recalls. "He actually ended up sexually assaulting me."
It took Fell a while to comprehend the severity of his actions.
"I don't think I realized what it was for a very long time," she says. "And nothing ever happened because I didn't think that anything could really happen."
Fell recognizes that coming forward with her story is equal parts difficult and necessary.
"This has happened to so many artists in the music industry, I can't even imagine," she says. "I feel like people don't talk about that or publish it because it's like, who knows what the backlash is gonna be, but it needs to be talked about more."
Fell has since removed herself from that environment and found a safe space in SubSessions. She describes the collective as a place to express herself with more support and room for creative freedom.
Her passion project is Femme Sessions, an event thrown by SubSessions that aims to highlight femme-identifying DJs. She describes an otherworldly energy at these events, unlike anything she's experienced before.
"Seeing people dancing with a smile on their face, having the time of their lives is what keeps me going," she says.
Above all else, Fell stresses the importance of uplifting underrepresented people without tokenizing them, calling it a "fine line."
"I'm proud to be a woman and be a femme-identifying person and have that be highlighted," she says. "But also, I don't want to be booked just because I am a woman. Like, I am a fucking DJ."
"
Seeing people dancing with a smile on their face, having the time of their lives is what keeps me going.
— Fell
View Comments(1)
About the Contributors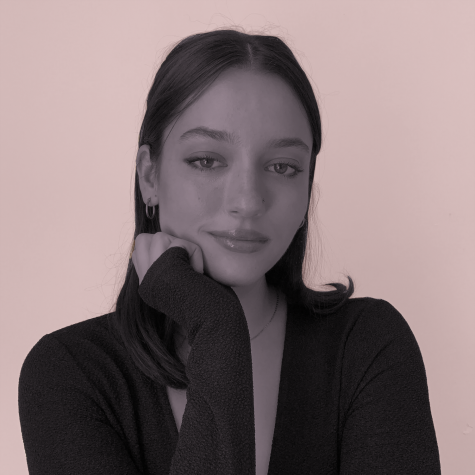 Kenzie Aellig, Editor in Chief
Kenzie Aellig (she/her) is the editor in chief of Xpress Magazine. Through her work, she hopes to highlight stories of community and culture, including...