Record stores survive and thrive
Music lovers and industry workers took one of the biggest hits during the pandemic. The sense of belonging that was once found in big sweaty crowds, has now translated to virtual performances in Zoom chat rooms. 
Although it may seem as though live streaming has taken over the industry, fans turned to record shops and physical media to satisfy their cravings for new tunes. 
San Francisco record shops have experienced a new wave of interest during a lull of concerts – where record collectors, both old and new, found solace exploring music in person. 
By staying in compliance with CDC health guidelines and support from their smaller, dedicated community, local record shops were able to stay open during the pandemic. A majority of owners found that new customers turned to record collecting, to connect themselves with a  largely disconnected music scene. 
People need music to create their own comfortable environment for enjoying music with friends and family.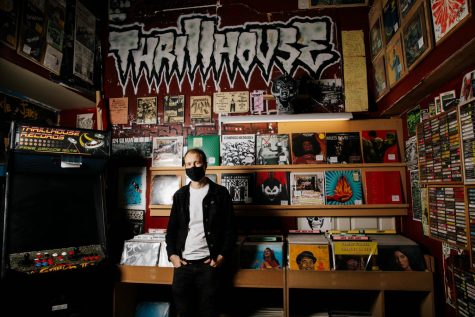 Thrillhouse Records- Fred Shrunk the owner runs a volunteer-based punk record shop in Bernal Heights that has been around for 14 years. His love for collecting started at age 14 when his parents gave him an old player and he took a copy of Nirvana's Bleached from a Hot Topic. Shrunk describes collecting vinyl as "a gnarly habit I can't break," and once saw it as "a means to discover the world of music out there and give yourself access." Shrunk also owns Thrillhouse's sister venue, The Knockout, which holds a winter formal show for regulars and friends every year. When asked what makes Thrillhouse different, he said "it's a place made by the love people have for it," and only exists off the community's love and excitement.
R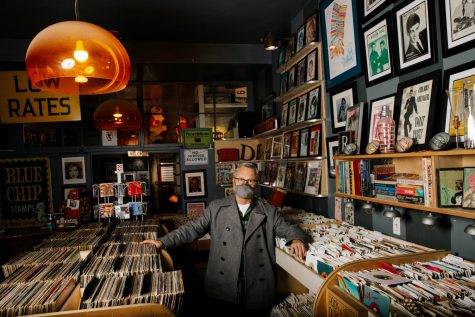 ooky Ricardo's Records- The owner Richard Vivian, have been serving the Haight-Ashbury community since 1987. 
34-years of existence has brought forth many changes for Rooky Ricardo's, but the soul and Motown atmosphere of the shop has remained the same. 
Being a collector for 65-years, Vivian says the hunt used to be more fun and was "a nice, inexpensive way to discover new music." Some of his favorite records are Mr. Postman by The Marvelettes and Where Did Our Love Go? by The Supremes. 
He recalls hearing those songs on the radio when he was a kid. "The second those songs started, it just went deep down inside of me," said Vivian. With a different focus on soul, Motown, and R&B in the age of psych-rock, Vivian always identified well with the Black community. "I was selling that music," he said. Today, Vivian feels valued by his Haight-Ashbury community and even hears from customers' grandkids that they still have records that were bought at Rooky Ricardo's back in the day. He is a firm believer that "anybody that owns a record shop is giving to the community."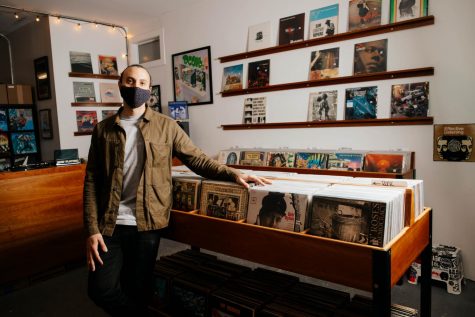 Originals- "Collecting records means the world to me," says Matt Siracusa, who has been a collector for 20 years and a record shop owner since 2013. He considers himself an advocate for instrumental hip-hop, R&B and lo-fi records. 
"I spend eight hours a day here listening to music, go home, and listen to another four more," he says. 
Originals, his record shop near Alamo Square, carries a lot of records that can't be found in the U.S. Siracusa also offers an ultrasonic cleaning service that can repair warped records, a process in which a machine pushes tiny air bubbles through the grooves of a record then fan dries it. 
Although the pandemic brought forth challenges for Originals, Siracusa believes his shop came out better on the other side. He explains, "A lot of people have more time at home and I think a lot of people are buying more music to be at home with."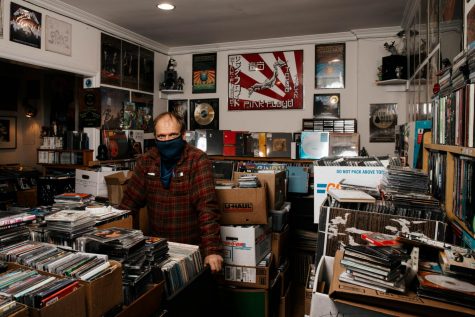 Mill Valley Music – Owner Gary Scheuenstuhl, has been collecting 45's since 3rd grade. 
Scheuenstuhl's 40- year- career in the record business began at world-famous Village Music, where he was exposed to a lot of the music he loves today. After Village Music's closing, he opened Mill Valley Music in 2007. 
His music taste ranges anywhere from classic rock, to progressive rock, to soul and blues. Scheuenstuhl loves being around music because he believes it broadens your horizons. His three-listen rule is "you can't make a decision on an album until you've listened to it three times." 
When asked what his favorite Mill Valley memory was, he recalled a time local musician Dan Hicks threw an album release party in-store. 
Scheuenstuhl said he had never seen the store more packed than that day when Hicks played two sets upstairs they hung a ginormous stage banner in the street.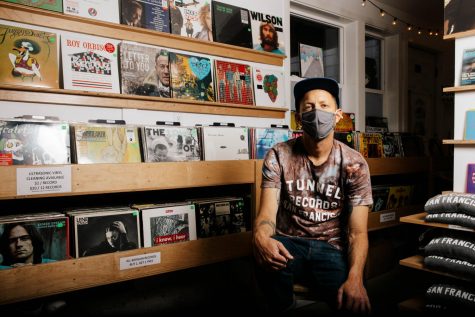 Tunnel Records- Owner Ben Wintroub loves rare groove soul and jazz albums. 
He was influenced at an early age by his uncle, who was a jazz music producer. Wintroub recalls his first record being Beastie Boys' Licensed to Ill and has been a proud vinyl collector for the last 20 years. 
When asked about his favorite memory in-store, he said "there's not one particular one, but it's the same memory that's happened many times, when you recommend a record to a customer and they come back and tell you how much they like it." 
He emphasizes that it's not about making money, it's about "if you can provide happiness to someone, especially in this world." 
Wintroub explained that, despite having to close temporarily, the COVID-19 pandemic actually helped his business and Tunnel Records is coming off their best month ever. 
"People especially in this area still really want an escape, physical media and a safe place to congregate and I think we provide that," he said.
Leave a Comment