Stomping gender fashion norms one step at a time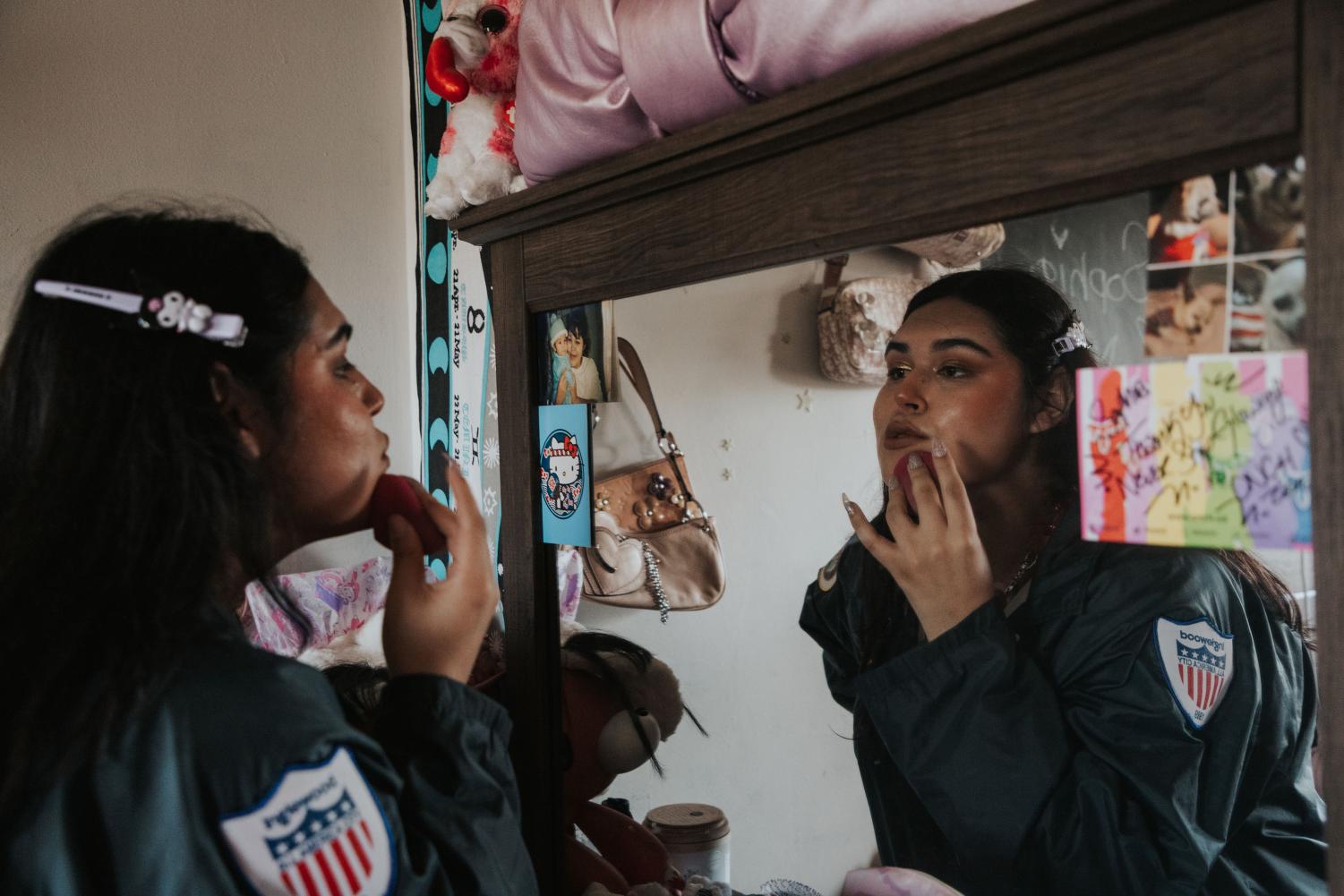 During a party in 2013, Sophia Jaime, 24, found herself in a sea of skinny denim jeans, overpriced Hollister printed v-necks and excessively ripped denim. 
"I felt like a diamond surrounded by Michael's craft store gems," she recalled. 
Her outfit that night? A sleeveless Levis button-up with black striped leggings and a pair of Jeffrey Campbell night walks. She expressed that, to her, everyone looked "normal."  For her, they were too casual and boring, and their lack of individuality made her feel special.
"There's nothing I have in common with these people, look wise, personality-wise or anything," she said.
"

There's nothing I have in common with these people, look wise, personality-wise or anything.""

— Sophia Jaime
From that point on, she decided to continue to pave her way and stand out in a way that was uniquely her. 
She began dyeing her hair. The only bleach blonde at school spiraled into a never-ending effort to make a fashion statement – immersing herself in the fashion world. 
Today, the go-tos in her closet are the famous hoove-looking shoes from Maison Martin Margiela, known for creating luxury pieces led by John Galliano. She loves to wear bodysuits like the bedazzled sky blue bodysuit along with her pink teddy fur sweater. A green tutu skirt with a green crop top and heart printed skirt with cyan seven-inch platforms is only the tip of the iceberg of all her looks.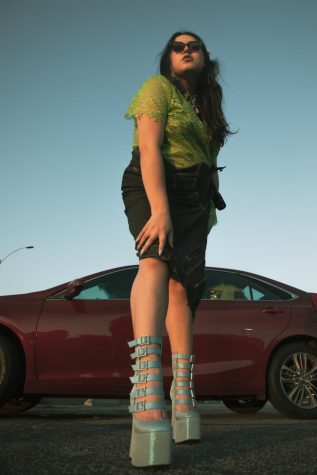 "I use clothes and fashion as an avenue because I do not see gender in clothes. Why is fashion so one-sided? Like why can't it be fun? Expressing myself with clothes is always nice," said Jaime. 
As a trans woman, Jaime described the transition as challenging. She recalled her friends often tried to force her into a box of what a woman should be and how she should dress. 
She always knew she was different from other people in her neighborhood and schools. As a teenager, she ignored the possibility of being trans but still wanted to wear women's clothing and do her makeup. 
"I knew that I was gay, but being gay was just not it. There was something else that didn't feel right," said Jaime. "When I was 16-17, I started doing my makeup and did not want to take it off. I liked how I looked. Then 18 comes around, and holy shit — I realized I'm trans. I'm not just gay; I want to be a girl. I am just in the wrong body." 
After graduating high school, she decided to start hormone replacement therapy and remembers the transition as a "crazy journey." She still has days where it's hard to feel comfortable in her body, so she reminds herself that her transition is a process. 
Jaime described her process of standing out as a labor of love. She uses fashion to leave her mark wherever she goes, unapologetically and staying entirely true to herself. 
Hidden under her bed is a colorful collection of designer shoes. She believes that a nice pair of shoes could make or break an outfit and make a basic outfit look unique.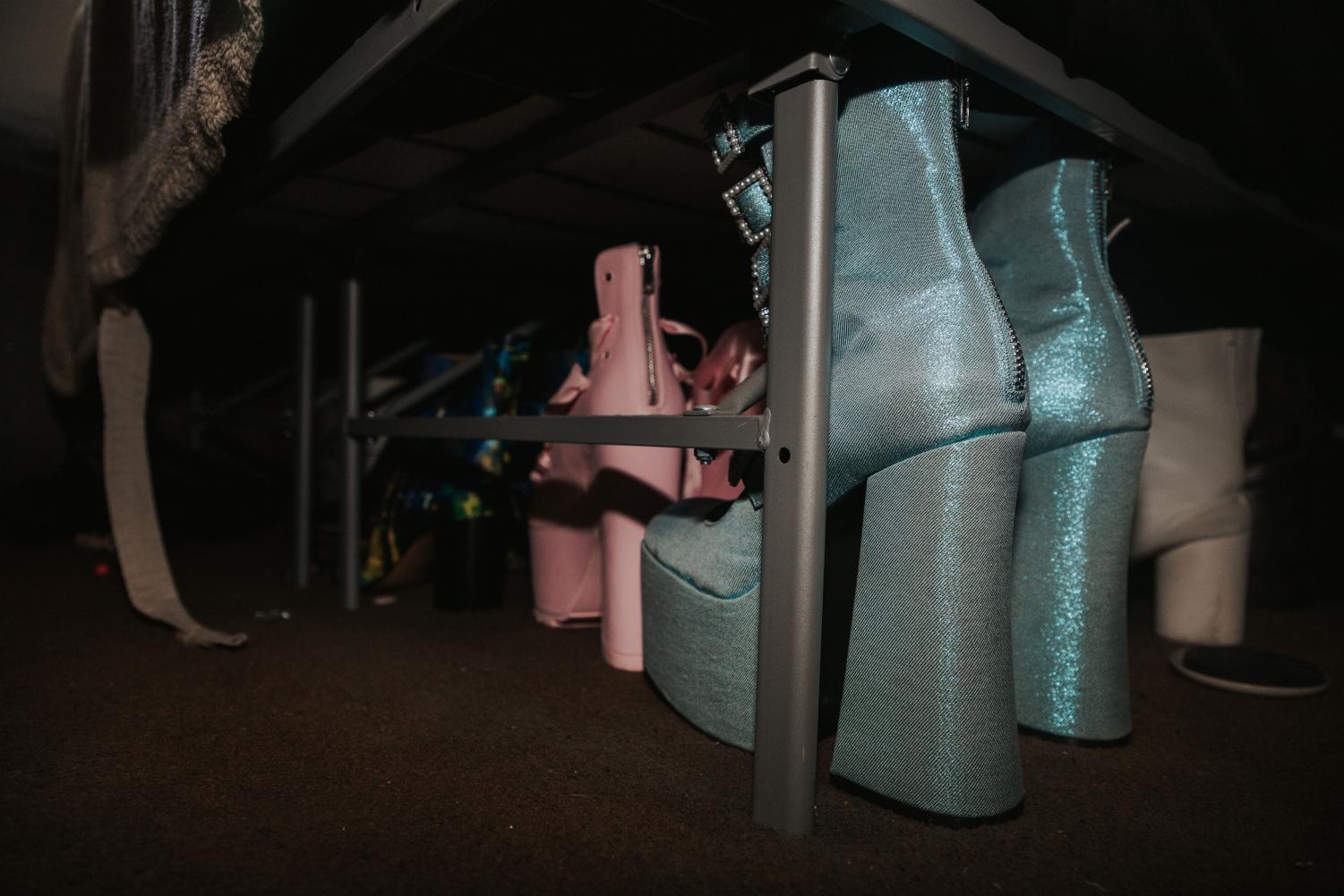 It's been two years since she started her self-described "shoe obsession," and she continues to look for her next best pair. 
Currently, she is saving up for a pair of Saint Laurent boots and a barney purple Telfar bag. Her dream is to one day own a pair of red bottom Christian Louboutins.
"The first-ever designer heel that I fell in love with was Christian Louboutin. That red bottom makes it so unique. Just a sleek heel with a tiny stiletto and like a big high arch was just so beautiful," said Jaime. 
Most of her shoes have heels and soles well over four inches. She describes this as a confidence booster and a "powerful" fashion move. Wearing boots that have a seven-inch heel is a norm for Jaime. She loves the feeling of being the tallest in the room and standing out. 
"When people look at you up and down, they look at my shoes, and it's like, 'Oh she's wearing those shoes?' It just makes me feel powerful," she said.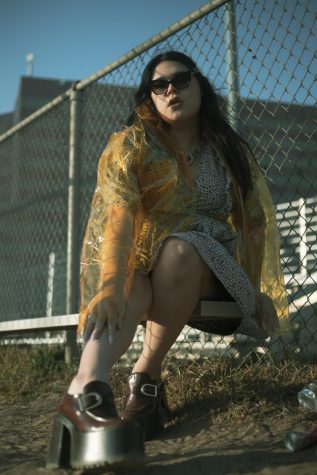 Feeling powerful is essential for Jamie, especially during times where she feels uncomfortable.
Finding comfort and acceptance within oneself is important for trans individuals, according to Tray Robinson, lecturer of Multicultural and Gender Studies at Chico State University.
"It is incredibly important for someone transitioning, and anyone in general. One may say they don't care what others think. But in reality, if we are accepted into society for who we are, we have a sense of belonging," said Robinson. "In the case of a transwoman or transman, if they feel accepted by society, then it brings a sense of comfort." 
Robinson added that unisex clothing and androgenous clothing could play a big role in the future. 
"Stores that sell unisex clothing do a good job in fighting the gender norms. If this continues, people that identify as the non-binary will feel comfortable and accepted," said Robison. 
A study in 2018 by The European Journal and Social Science Education titled "Deconstruction of Gender Stereotypes through Fashion" described how fashion houses aim to eliminate masculine and feminine labels in their garments. It also mentions that doing so will help break gender discrimination in fashion and society.  
The article highlighted fashion houses like Gucci Catwalk in 2016 and Calvin Klein by Raf Simons in 2018. These fashion houses use color, silk and floral patterns to deconstruct stereotypes of gender in clothing. The clothes in the collections are interchangeable and can be worn by anyone, no matter their sexual orientation. 
Bay Area resident, Cricket Cabrera, identifies as a transman. He described his struggles of finding unisex clothing at a young age, before transitioning at age 18. Often, he wished clothes would just fit everyone the same way. 
At a young age, Cabrera found his tomboyish style comfortable because it allowed him to be himself. He eventually wanted to find clothing that would match his masculinity. He noticed men's clothing was a lot bigger in size and grew frustrated when he could not fit in some clothes. 
Now 23, Cabrera is happy to go to a store and fit into most men's clothing. 
"Honestly, the unisex section saved my life as a kid. The shorts that fit everyone and the one size fits all type clothing; it was comfortable too. It was something I was able to enjoy, well out of my range away from women's clothing," said Cabrera.
Cabrera and Jaime have different transition stories, but both have found ways to find clothing that make them feel like themselves.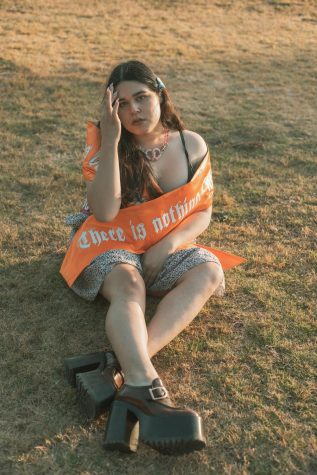 Although she owns designer shoes, Jamie never felt the need to buy the clothing.
She expressed that designer garments are too overpriced and make her feel "broke." Because of this, she limits herself to only buying designer shoes. 
"A shoe with a toe split is expensive, and people won't understand why I buy them. But they will never understand because they aren't wearing them," she said. 
The most important thing to Jaime is being herself and feeling like she can be the center of attention at any given moment. 
"I'm looking forward to seeing what new pieces I can find, just to even own them for a bit so I can just bask in its glory and feel like, 'Yes, I did that because that is all I need sometimes,'" she said
Leave a Comment
About the Contributor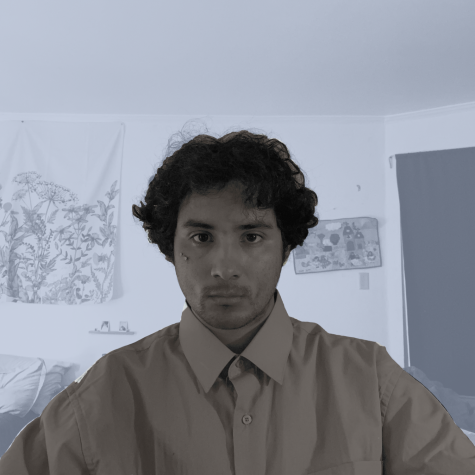 Tèo Mata, Online Editor
Tèo Mata (he/him) is a graduating senior and the online editor for Xpress Magazine. He is a journalism major with a minor in race and resistance studies....