The Smoke and Mirrors of Cigarettes
Dressed in an all-black vintage Givenchy satin dress, Audrey Hepburn holds a drink in one hand, and in the other, she has a cigarette holder that looks like an extension of her body near her shiny necklace.
She dances the night away with a man dressed in a red silk ascot neckpiece, white dress shirt and a fitted blazer. Occasionally, she puffs at her cigarette, sending a cloud into the air, filling the room with smoke.
"Glamorous" is how David Jimenez, a 24-year-old San Francisco State University alumnus, described this scene from Blake Edwards' 1961 film, "Breakfast at Tiffany's." He said that Hepburn's cigarette holder acted as another accessory to accompany her dress and jewels. 
"It's not so much about her smoking, it's more about the way she was holding it and how cool she looked. It was all about the fashion and its use as an accessory in the movie," Jiminez said. "It was perfect for that outfit."
For decades, fashion models, actors, teenagers and more smoked for effect. Nicotine is part of the reason why, but the other is how smoking makes someone look. Whether it's Audrey Hepburn's classic sleek cigarette holder or Clint Eastwood's rugged and shredded cigar, they evoke an aesthetic for each user — power and playfulness, sophistication and sloth. 
Smoking, both historically and at a young age, is often seen as a social activity to look cool and to fit in. Over time, societal perceptions of smoking have changed and, as people get older, it has become a force of habit that people come to regret as the illusion they once had worn off. 
For Jimenez, smoking has provided him a sense of identity — a feeling of glamour. He feels like a movie character out of the '50s when he smokes and dresses his best. It makes him feel high class and part of his favorite era; he is heavily inspired by the looks of that time.
A 2003 study by the University of Western Australia examined the connection between films from the '90s and teenagers' perceptions of cigarettes used in films. The characters smoking in the films were perceived as normal, which allowed teens to ignore the consequences of smoking. They compared smoking to other socially acceptable acts, like drinking tea or having a cup of coffee. 
The study states, "The acceptability (of smoking) as part of a 'cool' image was also noted. Positive images of smoking in the media have the potential to downplay the serious health consequences of smoking by portraying it in a way that young people interpret as a normal part of everyday life." 
Sixty-year-old Bay Area resident Maria Nocete remembers growing up in the '60s when smoking was socially accepted. The sophistication of models smoking in films and ads led Nocete and her friends to start smoking cigarettes at the age of 14. She said the ads during her youth targeted younger generations.
Cigarette advertisements showing actual smoke were banned in 1971, when Nocete was 10 years old. She still remembers the Newport cigarette billboard ads. She said the ads made her want to smoke with her friends and it made her think of the positive slogans that were accompanied by the graphics.  
Nocete also mentioned how cigarettes during her time were used as a way to fit in as well as an easier way to make friends when joining someone for a smoke. But as she got older, smoking was no longer for social purposes and instead became a habit.
 "I found myself smoking more than usual. When I was 25 I started smoking every day," she said. 
The invention of e-cigarettes has opened smoking up to a younger demographic. A 2018 study by McGill University found that 42% of American youth in high school have tried an e-cigarette at least once. This product targets youth by incorporating different colors and flavors. Its form resembles a USB port and only needs a cartridge and battery to use. 
Much like the traditional cigarette, this form has already become socially acceptable.
Rebecca Grace, a 19-year-old e-cigarette user from San Francisco, remembers being highly influenced by the 1978 film "Grease" and high-end fashion houses to smoke. She remembers the Moschino capsule collection from the Fall 2016 collection. She found it clever how the brand was able to use cigarettes as an accessory again without actually showing anyone smoking. 
The cigarette pose that dominated early magazine covers often comprised the image of a young woman or man holding a cigarette and looking in the opposite direction. The cigarette is placed in the hand of the model posing with a cloud of smoke.  
This imagery has stayed in Grace's mind. She started by smoking cigarettes with friends and has now shifted to e-cigarettes. She also carries her pink e-cigarette as an accessory. 
"It's fun and it's high fashion. And so I think the irony there is really powerful. They just are a cool prop to have around. Almost like, 'Hey I smoke too, what's up?'" Grace said.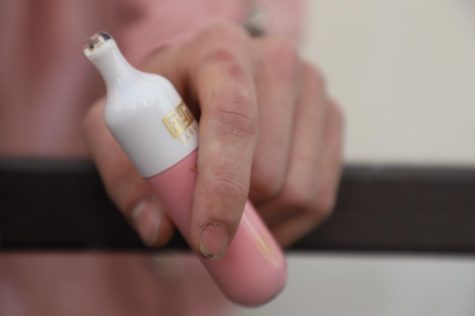 Emma Weissensee, a 20-year-old psychology major at SF State, explained how social smoking can make someone feel part of a group. She added that humans are social creatures who naturally want to fit in and be accepted, making them easily influenced by the social activities others do. 
"It plays like you are part of the in-group. Smoking can make them feel 'cool' in social settings. Then, the addiction makes them smoke alone and makes it difficult to quit," said Weissensee. 
Weissensee also mentioned that smoking ads purposely target the youth. According to Healthychildren.org, tobacco companies spend billions of dollars each year to promote their products. Research shows that these efforts strongly influence teens and children.
The fashion industry is starting to realize the influence it has on popular culture; the cigarette has been pulled away during ads and photoshoots according to Altorrin Mcintyre, a stylist based in New York City. 
Mcintyre said the fashion industry has tried to move away from the cigarette as an accessory. He mentioned how cigarettes add on to a model's character during a shoot but that he has never come across a mood board that mentions the use of a cigarette as a prop. 
"If the theme of the look is classic, then I would consider the use of the cigarette as a prop. But the industry has moved away from it and does not want to promote the use of cigarettes like before," said Mcintyre. "But the reality is, it's not considered chic like before. The idea of it being glamorous is left behind."
Leave a Comment
About the Contributor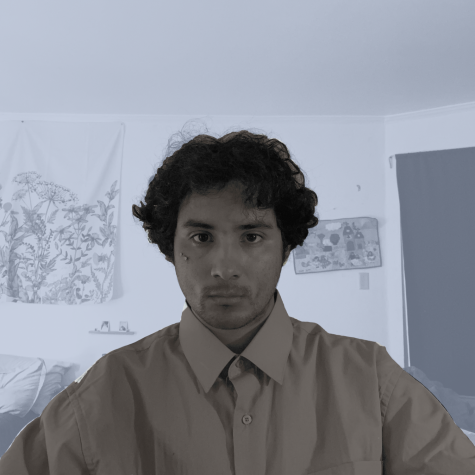 Teo Mata, Online Editor
Tèo Mata (he/him) is a graduating senior and the online editor for Xpress Magazine. He is a journalism major with a minor in race and resistance studies....