A Journey to Peace: The Yogic Way
December 15, 2021
As soon as 29-year-old Kirin Power grounded herself, sunk her feet into the Earth and looked up to the sky, she immediately found her place and felt connected to the nature surrounding her. Yoga was not just an exercise to her anymore, it was a way of life. 
Yoga has evolved from an esoteric meditation technique to a state of mind people immerse themselves in throughout their daily life. What first began as an ancient practice has subsequently advanced into an $84 billion global wellness industry that has attracted more than 37 million people in 2016, up from 4 million in 2001. While yoga is still deeply rooted in uniting the mind, body and spirit, those who practice it view its methods as a way to heal past traumas and escape the harsh realities of the world. 
For Power, yoga was something that she always found herself interested in. As a dancer, the San Franciscan had to remain flexible, so she viewed yoga as the perfect practice to stick to. She began taking yoga classes on and off at her local gym when she was younger but she never found herself connected to the teachings in the classes she participated in. 
"In the past, I always felt a little bit separated from the practice," Power says. "I would go through the motions and I would feel better in my body, but I didn't quite feel like I fully belonged in the yoga room, or like I was similar to the people around me. I felt a bit imposturous when I would go into these yoga studio rooms." 
She struggled with finding acceptance in the practice until she had a life-changing experience with a brand new yoga teacher when she was 22 years old. The instructor introduced her to Bhakti yoga, one of the four paths of yoga that is aimed to channel and transmit our emotions into a higher purpose. Bhakti is referred to as the yoga of devotion and uses mantra and meditation to replace any internalized negativity with wisdom, joy and peace. 
Power's bhakti yoga session included song and laughter, which has never happened in one of her yoga classes before. With her newfound discovery of how touching yoga can truly be, she felt as if bhakti opened a new door for her. She finally felt aligned with the teachings of yoga.
"I thought, 'Ah, wow. This is lovely, I really enjoy this,'" says Power. "It sparked an interest to continue on this journey of learning about what else is there within yoga, because maybe I haven't quite resonated with what I've experienced thus far."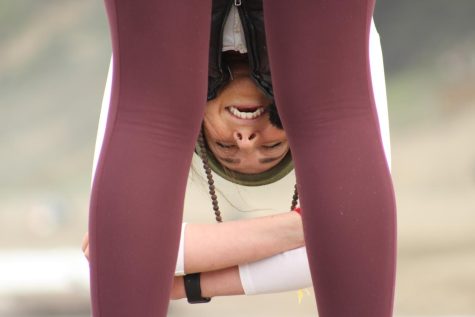 After Power's life-changing experience with bhakti, she began to practice elsewhere. She felt energetically trapped in the yoga rooms she previously participated in, which resulted in her taking her practice outside. With the change of scenery, she felt aligned and connected. 
"This sort of alignment happened when I didn't put a limitation on the expansiveness of my energy and reached to understand the practice better," Power explains. "I found this passion and almost a sense of purpose. If I've connected to their practice, I'm sure others could as well. I want that for everyone."
After being a yoga student for most of her life, Power started her journey into becoming a bhakti yoga teacher that practices devotion and love through singing. Power teaches at Outdoor Yoga SF, a weekly yoga event that is available to students of all ages, sizes and skill levels. 
Abbey Loberman, an Outdoor Yoga SF attendee, first experienced yoga when she was a teenager. Much like Power, she attended classes for years but found it difficult to connect with the practice. The now 40-year-old San Francisco native explained that she felt lost in her own insecurities as she constantly compared herself to others during classes. In her eyes, she wasn't as flexible, calm or as meditative as others.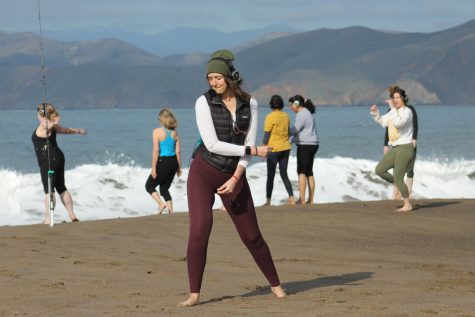 Due to her experience, she stopped attending yoga classes. A year after she had her first child in 2013, Loberman rediscovered yoga by attending a candlelight yoga class. Candlelight yoga is an option to practice yoga in soft lighting surrounded by candles. Though she still felt intimidated, she pushed through by staying at the back of the class and absorbed the dharma (life teachings) that her instructor taught. The more she learned, the more perspective she began to have. She was able to relax and embrace how far she had advanced on a personal level. 
"I was beginning to feel glimpses of the truest version of myself," says Loberman. "I also found that I suddenly had more energy, strength, clarity and patience."
In 2016, Loberman became pregnant again. She became ill throughout the pregnancy and was unable to do much more than walk. With no energy to exercise, her depression and self-hatred came roaring back. She explains that she was in a "constant and isolated survival mode." 
While enduring complications with her pregnancy, she also experienced other hardships in life. After it seemed like everything in life was going downhill, Loberman realized she had a choice to make. She could either let life's negative aspects consume her, or she could grow and evolve. 
Once she got the courage to pick herself back up, she began a teacher training course on dharma and yoga at Spirit Rock, a meditation center in Marin County, California. Loberman's deep exploration into the teachings of yoga brought her to the realization that yoga is much more than just a way to be active. To her, it's a way of life that has taught her to be open, curious and grateful to and for everything life throws her way. Loberman enjoys showing her passion and guidance in yoga through her Instagram page @yogamommalove, where she also seeks to find the art within the practice.  
"It literally changed my life," Loberman explains. "I began practicing Buddhist principles and learning 'the yoga,' which is so much more than the asana (physical posture) poses. It's about viewing life from a place of wonder, curiosity and love."
With this newly developing skill, she began practicing radical acceptance and gratitude every day. Loberman says her life changed in ways for which she will forever be grateful.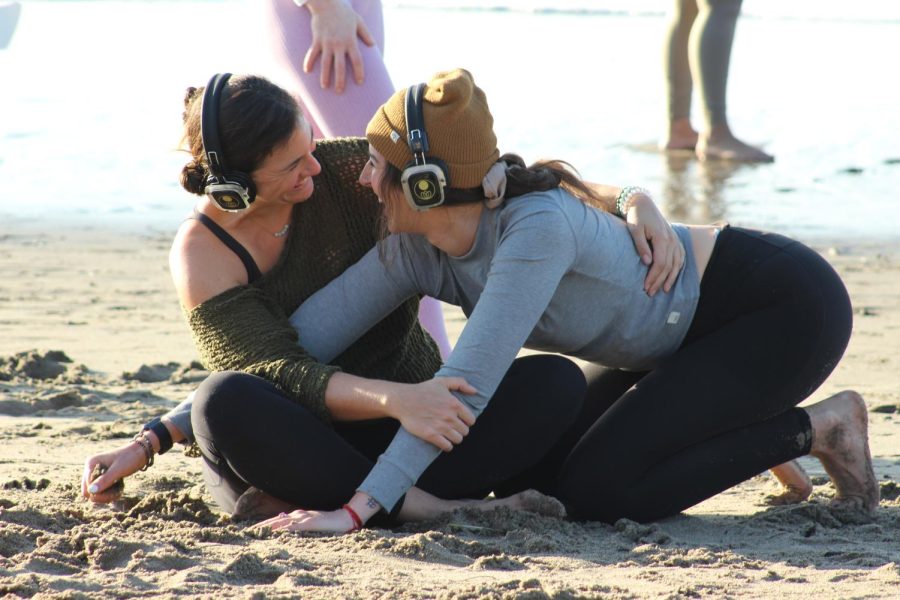 Steven Inghram, a 33-year-old yoga therapist, agrees that yoga is more than asana. Yoga therapists are qualified individuals who have been trained to instruct yoga in a therapeutic small-group or individual setting. Although yoga and yoga therapy are separate and are practiced differently, the teachings are still rooted in uniting the mind, body and spirit just as the Indian traditions intended. Inghram explains that yoga is more than a 75-minute to 90-minute class and asana is not the only way to practice yoga. 
"In every moment, yoga is a daily lived practice," says Inghram. "You know you have tools and practices to calm yourself and recenter yourself. Yoga is a practice when you're talking to the boss that you don't like or the colleague that you have. You have a divide with anything that's going to cause some level of anger, emotion, or frustration."
Yoga therapy may be beneficial to people who are interested in holistic treatment approaches that are compatible with Western medicine. In a standard yoga class, the instructor does not go over the deep and intensive health history of their students. For yoga therapists, this is required in order to create a personalized care plan for each individual.
"We view the human body from the perspective of the koshas (Sanskrit word for sheath or layer)," says Inghram. "Yoga therapists are viewing the human body and human suffering from the perspective of the physical nature of suffering."
Inghram explains that a regular yoga class is great for people who enjoy being in groups. However, yoga therapy is for people who want a personalized care plan to get to the root of their issues. In their words, it's a more holistic approach as compared to actual physical therapy. 
"It's holistic in nature," Inghram says. "Yoga therapists are working with people on the levels of mind on all the layers of the koshas. People are not getting that in physical therapy or psychotherapy. There's a profound power to a practice in a therapeutic environment that combines that work of mind, body and spirit."
Inghram aims for their sessions to be inclusive to everyone since they are aware that not everyone can have a clear enough mind to sit down and meditate. Inghram explains that it is important through tradition for yoga to be accessible to all, which is why in their yoga therapy sessions, they break it into shorter time periods and they encourage their clients to contact them if they need anything. Inghram believes accessibility is more conducive to healing.
Similar to Inghram, 36-year-old Keisha Courtney aims for her practice to be accessible and inclusive for all. The Utah native, who claims Los Angeles as home, founded The Driven Yogi, a California-based brand, after having her own negative experiences with yoga. 
"My introduction into the yoga space wasn't a pleasant one," says Courtney. "I was questioned if I was in the right place, and the front desk associate gave me a look of disappointment that I was in the space in the first place. Fortunately, I was able to push past this experience, and years later became a yoga instructor."
Although Courtney's introduction to yoga was not pleasant, the practice itself was transformative for her stress. After yoga, she feels reinvigorated with a clear mind and balanced energy channels. 
"As humans living in a city, we are on autopilot just trying to get through the day," says Courtney. "Yoga reminds us to be in our bodies, to breathe, and to focus on what is happening right now versus thinking about our to-do lists, tasks and responsibilities."
After practicing yoga for over a decade and being a teacher for half, Courtney wants students to feel comfortable in their bodies while also helping them discover new ways to move that work for their anatomy, muscle structure and practice level. She explains that in yoga, the main focus is to understand the key functions and movements of the body. She wants to teach students how they can keep their bodies safe, especially because all bodies are different.