Gentle Giants: Equine-Assisted Services
December 15, 2021
The following article contains a mention of suicidal thoughts.
They may seem scary due to their 1,000-lbs. frames, yet horses provide empathy, trust and kindness to those in need. 
From children who struggle with mobility issues to veterans who suffer from posttraumatic stress disorder, equine-assisted services help people of all ages and backgrounds. 
"On the mental side, horses give unconditional love. They don't care what you look like or whether you have disabilities or anything else," says Jean Johnstone, executive director from Xenophon Therapeutic Riding Center in Orinda, California. "So for those kids, they have an opportunity to be in control, which they don't often have in other aspects of their life. They can be in control of this 1,000-lbs. animal and that goes a long way."
According to development and marketing director Cherie Hammer from the National Center for Equine Facilitated Therapy (NCEFT) in Woodside, California, there are three main types of services that horses can provide. 
Adaptive riding consists of horseback riding and horsemanship programs. Hammer explains that this type of service doesn't always include riding on a horse and that clients don't need a medical referral from their doctors in order to participate. However, she says adaptive riding can help one's disability or challenge. Bathing, feeding and grooming horses are some examples of adaptive riding through horsemanship activities.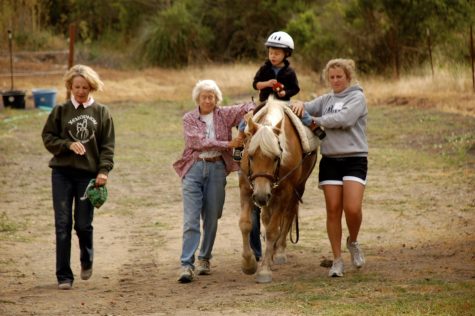 The second type of horse-assisted service is therapy, which Hammer says includes medical therapists such as speech and physical therapists. This type of service targets equine movement into the patient's plan of treatment and a medical referral is necessary. One example of this type of therapy includes riding a horse at different tempos in order to gain core strength and balance. 
The last type of service is mental health resilience, which Hammer says uses equine-assisted programs and workshops that are designed to address the emotional, mental and behavioral needs of patients. One program that NCEFT offers is called Strides, which aims to help decrease anxiety and depression through guided activities with horses and group discussions.
"Horses are prey animals. They behave very differently than predators like humans," Hammer says. "But they are also very sensitive. They mirror people's emotions, so you can use horses in a mental health setting. Instead of sitting across the couch from somebody, you're maybe standing next to the therapists brushing the horse, and that enables you to speak."
Liam Caraher, 21, has ridden at NCEFT for about nine years. His father Peter Caraher says that he was diagnosed with a chromosomal deletion that resulted in a cognitive delay and speech delay. He says that through working with therapists, Liam Caraher is able to communicate a lot now and that his mobility has improved. 
"If it wasn't for horseback riding, he would have a hard time being able to walk and being able to sit at a table or a desk for a long period of time," Peter Caraher says. "He has a speech delay. Liam has apraxia, a motor planning deficiency that affects his ability to speak. He never had a speech therapist, but he had a therapeutic riding instructor who was always talking to him and making him talk back to her. So his speech just got better that way."
Johnstone's close friend and co-worker Janet Alexander convinced her to leave her own business after volunteering with Xenophon for 17 years. Johnstone has been the executive director of the organization for the past three years. 
Alexander, who is an occupational therapist, mostly works with children. She says that there have been many children at Xenophon with speech issues that have benefited from working with horses and speech therapists. 
"A lot of our kids are nonverbal and to have them speak their first words on the horse is pretty powerful," Alexander says. 
Similar to Xenophon, NCEFT also treats people with diagnoses such as multiple sclerosis, cerebral palsy and autism.
"We routinely see kids who, especially with autism, may not be able to look another person in their eye or even speak to their parents," Hammer says. "The children will speak to the horse before speaking to another person and you can get those breakthrough moments. It's amazing."
Kaye Marks, director of marketing and communications at a nonprofit organization called Professional Association of Therapeutic Horsemanship International, says that equine-assisted services have also greatly benefited veterans who suffer from posttraumatic stress disorder.
"We've had countless veterans who've literally come out and said, 'This stopped me from putting a gun to my head,'" Marks said. "It's wonderful when they tell us that, but at the same time, it's like, 'Dear God, I hope that you keep going every day.'"
Besides helping heal from trauma, Hammer says that since a horse's movement is similar to a human's movement, they are the perfect animal to assist with physical therapy, occupational therapy and speech therapy. 
"When you take somebody, especially somebody who doesn't walk typically or is in a wheelchair, and you put them on a horse, that horse starts to move that natural side-to-side movement," Hammer says. "It's that horse's movement that is stimulating their muscles, their skeletal system, their muscular system, their circulatory system, their vestibular system."
Alexander says that many parents have told her that without equine therapy, their children would have to undergo certain surgeries in order to address mobility issues. 
"Horseback riding helped keep their kids mobile and keep their muscles flexible," Alexander says. "Just thinking about a kiddo in a wheelchair, which we've had over the years, they live a life of having people look down on them. And for them to be then up above everybody, it's pretty powerful for them."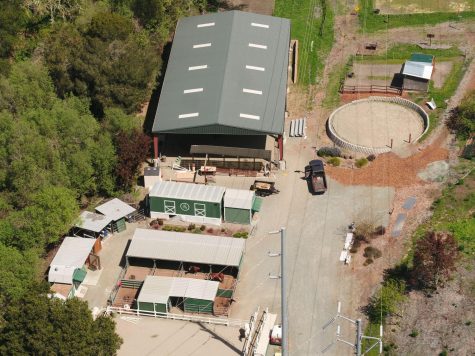 Kyle Anderson, 16, has been riding at Xenophon since he was about five years old. After his first birthday, he developed a condition called encephalitis, or inflammation of the brain. Anderson is nonverbal. However, he uses an iPad with speech-generating software to communicate. 
His mother Jenny Anderson says that riding has significantly helped his mobility and reinforced his communication. 
"He can push a button and tell the horse to walk on. It's a really powerful way to teach Kyle about communication," Jenny Anderson says. "The biggest benefits for Kyle have been with his movement skills, his balance and his posture." 
The Professional Association of Therapeutic Horsemanship International (PATH) has 750 accredited centers worldwide. Their website says that they support their customers with credentialing, education and standards. 
"With our patients with dementia, that is actually the first program in the U.S. that is working with the patient themselves and their caregiver," Alexander says. "They work to be grounded. They work to have a brand-new experience so that they get rid of that history and anxiety."
Marks says that their members are highly trained to meet patients' needs. Furthermore, if a patient is scared to approach or ride a horse, she says their trainers know how to best handle the situation. 
"We have 5,500 certified instructors and they go through a pretty rigorous credentialing process. And they won't throw someone into a situation willy nilly," Marks says. "They see if someone expresses a little bit of trepidation or fear, they'll take it really slow. Maybe their first session, they're just watching through a glass window into the arena."
Hammer says that NCEFT's highly trained horses are the ideal animal for helping heal patients because they are highly attuned to how humans feel.
"Those horses know when someone special is on their back. If a kid is yelling or screaming or hitting, the horses are just rock-solid," Hammer says. "So there really is something about horses that makes them different."
Editor's note: an earlier version of this article quoted Caraher as saying his son has "praxis motor planning deficiency." It has since been updated to "apraxia, a motor planning deficiency that affects his ability to speak."