Students Navigate Pricey Parking at SF State
April 15, 2022
It's 8 a.m. at San Francisco State University. Classes start in thirty minutes, and there is no parking in sight. Arturo Garibay begins to get nervous as he drives around campus in search of an available space. Cars are jam-packed at the four-hour parking behind the Mashouf Wellness Center and on Lake Merced Blvd.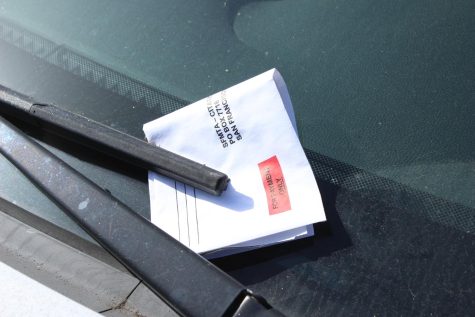 "You get so stressed out that you just have to end up going in the parking lot," said Garibay, who often commutes by car and pays for parking at SF State, despite the high costs.
According to SF State's Parking website, a parking space costs $6.25 for two hours, $10 for the day, and $20 for a two-day parking pass. Students also have the option to purchase a $500 parking pass, valid for the entire semester, Monday through Friday. These costs include the recently implemented 25% San Francisco parking tax but not the 2.75% credit card fee.
None of these prices are exciting for Garibay. Like many commuting students, he also has to spend money on gas, bridge tolls and parking fees. These small costs eventually add up throughout the week and cause him stress.
For student commuters, costs have risen over the last several years. Presently, commuting to SF State often requires paying bridge tolls, record-high gas prices, and a myriad of intertwined direct and indirect costs.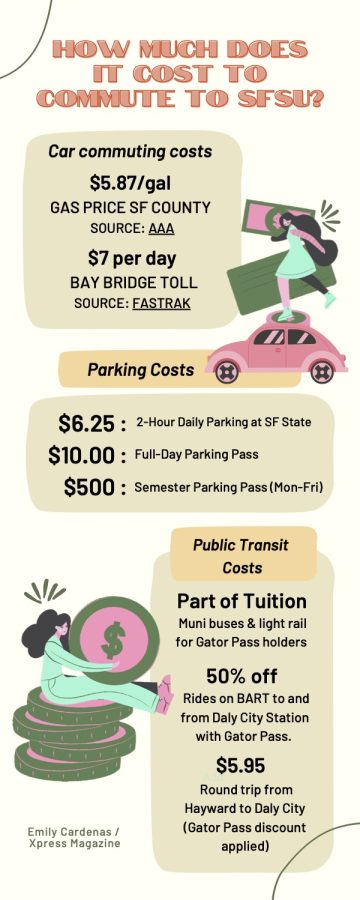 On the days when Garibay finds free street parking, his studying or work gets interrupted because he has to move his car every two hours or risk getting a parking ticket. Usually, he prefers to just pay for parking to avoid the inconvenience.
"It costs so much to commute, I have to be very strict with how much I am allowed to spend outside of literally just parking," Garibay said.
Joy Manaois, the director of operations and finance at SF State, sympathizes with students' costs and struggles. She commutes and pays many of the same costs herself. According to Manaois, the parking facilities are an auxiliary system within the university budget, meaning it receives no outside funding from students' tuition or the state government. What funding they get comes from daily passes, permits and citations. She wants students — and other faculty members — to consider these aspects when contemplating why the aging SF State parking lots are not free or less expensive.
"In order for us to staff the program, the department, we need to have employees, and then we have to pay for all the expenses. That's where the revenue is being used," said Manaois, who added that the 60-year-old garage also requires costly maintenance and repairs.
When choosing to park at SF State, students have two major options, either park on the campus or park somewhere nearby, like Lake Merced Blvd, where hundreds of cars and caravans line the busy street every morning. Students like Matthew Sy, see parking on campus as a safe and convenient option.
"I've had no issues finding parking at Lot 20, even before the pandemic, and I have been fortunate enough that my car hasn't been damaged or broken into," Sy said. "I would rather pay for peace of mind and park at Lot 20 than try to risk and park somewhere else."
Outside of the convenience and safety of the parking lot on campus lie many options explored by SF State students. Many students look for ways to pay less or even nothing for parking.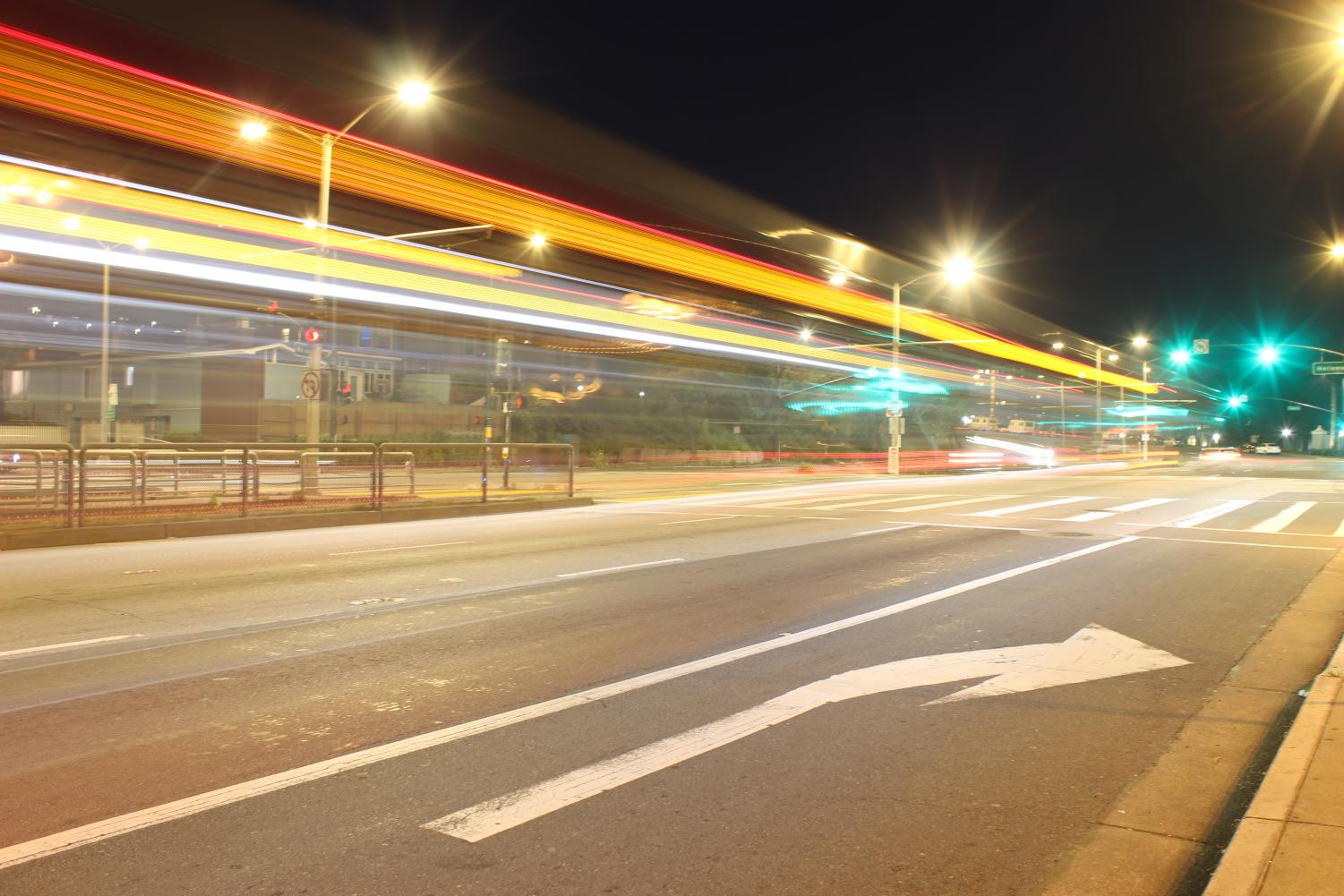 Sergio Nunez, who is a former resident of San Francisco, avoids the garage and chooses to park exclusively in a variety of places surrounding the campus. He finds free parking around areas like the Parkmerced apartment complex, behind the wellness center or around Juan Bautista Circle. He prefers when he can park in the four-hour parking behind Mashouf, though he does not mind taking a walk for the savings.
"If I have a class here that's more than two hours — because two hours is the maximum wait time — you have to go park in the four-hour section, which isn't too bad," Nunez said.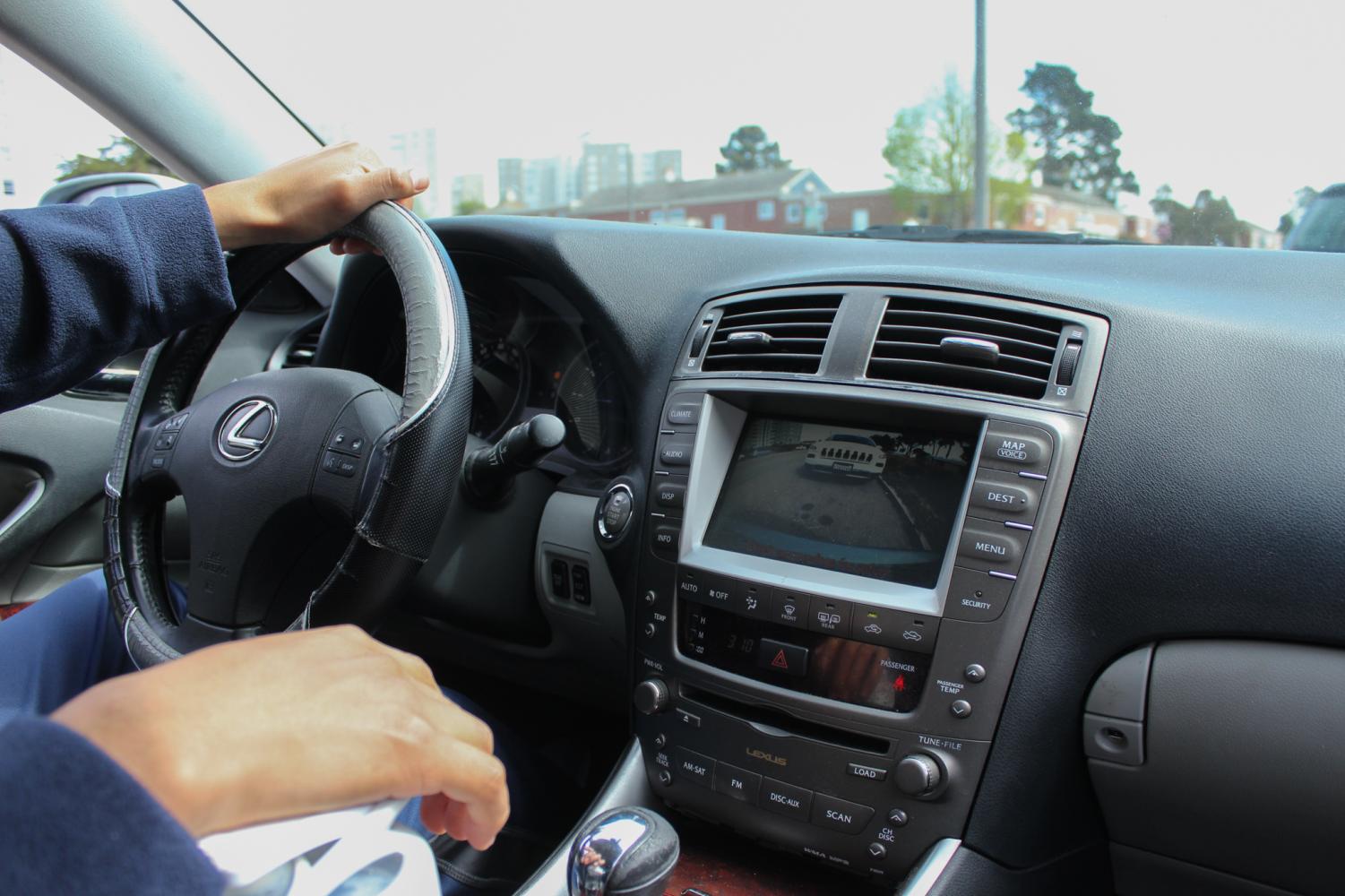 Karla Barrera does not necessarily find walking from remote parking places to be effortless but is willing to do so when the price is right. So long as she does not have to worry about any extra expenses on her budget, the sweat is worthwhile. She prefers parking past the front of campus, where there are two blocks of all-day parking spots.
"It does take me sometimes 10 minutes to walk to my class from my car, so I'm exhausted at the end of the day when I walk to my car," Barrera said.
Barrera uses her knowledge of offsite parking areas to find places where she says spots are always available. She said that she often has to drive further away from campus when she is late for class. Barrera is no stranger to San Francisco's parking nuances and lives in a part of the city where there is limited parking — meaning that she has to walk extra blocks just to get to her car in the morning.
"It's pretty exhausting because I would prefer not to wake up early, so I wake up as late as I possibly can," Barrera said. "I'm just running around trying to get ready in a couple of minutes, and then I finally drive and run to my classes."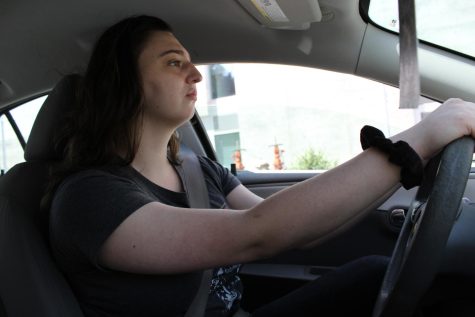 Parking off-campus comes with expensive risks in the form of parking violations. According to the San Francisco Municipal Transportation Agency, parking during street cleaning hours can result in an $85 citation. Unauthorized parking in residential parking areas carries a $97 fine. Being caught with an expired parking meter in the downtown area of San Francisco has a $96 ticket and outside of it is an $87 fine.
Fulks does not mind commuting on public transportation but prefers driving her car to and from school. She found commuting with her car safer than waiting for a bus, especially because she returns home from class late at night. With these parking prices, students like Clara Fulks have weighed other alternatives to commuting — such as public transportation — but in doing so, have faced new sets of issues.
Fulks has found herself with two $97 citations parking at SF State. One ticket she received was for staying several hours over the time limit in a two-hour parking spot. She believes that the other citation was unfair.
"I looked at the timestamps, and I had moved my car in between the timestamp that was on my ticket. [My car] was in a different spot, and I tried to contest this, and they wouldn't accept it," Fulks said. "My theory is that the chalk didn't wipe off from my car tire, and I moved it too close to an area where it didn't really rub off my tires, and I had to pay."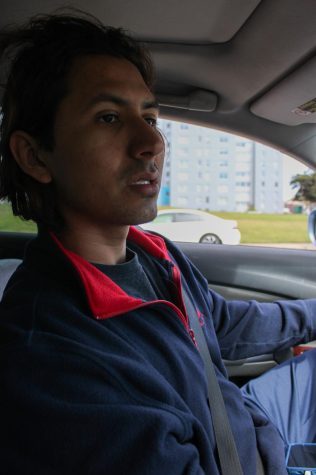 Nunez noticed what times of the day parking rules are most often enforced, specifically street cleaning hours and designated two-hour spots on Juan Bautista Circle.
"In two-hour parking, they don't come all the time, every two hours. It's just on certain days or occasions; they'll come and do a check," Nunez said.
For Patrick, Fridays are not a day for relaxation or relief. Considering it a "black hole" in his week, it is the day he commutes two hours one way to SF State from his Sacramento home. Patrick, who asked to be referred to by his first name out of concern about his housing benefits, has a drive to campus that requires preparation and sacrifice of time.
"I don't feel like I have a lot of choice in the matter. I'm just going to have to tell myself it's only for this semester or it's only for two semesters," Patrick said. "People can be remarkably resilient when they need to be; it's not going to be fun. I don't feel like there are better options available to me right now. So it's going to be what I have to do."